Monika Ziehl was tired on Tuesday. The miles she had covered, over 65 since Friday, were felt.
As of May 1 she had a new routine. Run a half marathon. Gulp down a recovery drink. Stand in a cold shower. Foam roll, foam roll, foam roll. The next day: Do it all over again.
By May 31 she'll have completed 31 half marathons, over 400 miles. But logging big miles wasn't really the main focus of this challenge, though it's a part that lets her mind reconnect with what — or really, who — is: her late husband, Travis, who she lost last year to glioblastoma, an aggressive form of brain cancer.
"Definitely a lot of the time I think of him is when I'm out on a walk or on a run," Ziehl said. "And because it was something we did together so much, it just seemed really fitting. Especially after he got sick, it was something he really missed. He would tell me all the time he hated he couldn't go out and run anymore."
With May designated as National Brain Tumor Awareness Month, Ziehl knew she wanted to do something to honor his life and his battle, as well as raise awareness and raise money for the Michael Matters Foundation, an organization that awarded the Ziehls with a $2,000 grant to help cover their medical expenses.
She knew movement would be an important part of the challenge, and debated setting a daily step goal. After she reached out to her former running coach and friend Lisa Smith-Batchen, a goal of running (or walking) 13.1 miles, a half marathon, was thrown into the conversation.
"What? I can't do that," Ziehl protested.
She had run 6 miles, maybe, in one shot in the two months prior. She had not been in training to run that far, every day, for 31 days.
"Of course you can," Smith-Bachten told her. "And here's how you're going to do it."
"One thing I love most is coaching people to do things that they really never thought were possible," Smith-Batchen said. "Monika is an incredible athlete but doesn't really realize it. Running 13.1 miles a day will not be nearly as hard as what she's already done."
The camera focused on Monika Ziehl, who pulled on a set of gloves. On her back, a hydration pack; on her head sunglasses; on her feet, running shoes. It was May 1, and Smith-Batchen was filming.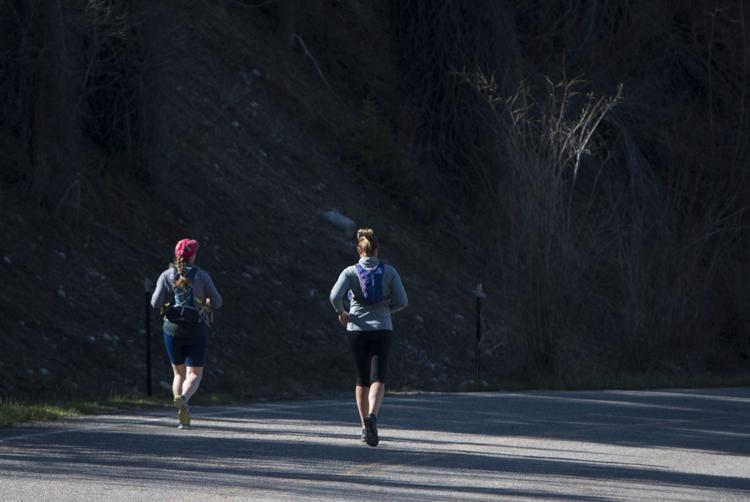 "What I'm about to do is run a half marathon every day for the month of May for Brain Tumor Awareness Month, specifically in honor of my husband, Travis, who passed away in February 2019 of glioblastoma," Ziehl said.
She stood outside the entrance to Teton Pines in preparation for the first 13.1 miles, an out-and-back run to the entrance of Grand Teton National Park. (At the tail end of the run she would come to find "we kind of had to loop around the parking lot to get the full 13.1.")
On screen, she continued explaining the challenge.
"I also just want to raise awareness for everybody else who is facing it and fighting it and do my part to carry that forward," she said, "because he was so good at doing that while he was fighting it."
The running challenge came with a fundraising goal, set at $4,000, an amount that would provide two families with $2,000 grants through the Michael Matters Foundation. She kicked off the donation pot with $500 from her own account.
"I just picked a number," she said. "I just thought given the coronavirus and everything going on in the world that maybe it just isn't a great time to ask people to give. I really just had no idea that it would take off like it did."
Her initial goal of $4,000 was met before she had even taken her first step. Smith-Batchen suggested she boost the goal to $13,100, a play on the number of miles in a half marathon. As of Tuesday, five days into the challenge, over $10,000 had been raised.
"I'm shocked," Ziehl said. "Especially given the climate that we're in, I didn't expect that at all."
When interviewed Monday afternoon, Ziehl said she was "a little bit sore and a little bit tired, but so far so good. I'm feeling pretty confident about it so far."
When reached by phone Tuesday morning, Smith-Bachten, who was just finishing up her 13.1 miles over in Teton Valley, Idaho — "My hope is to do as many with her as possible," either by her side or in spirit — said Ziehl was starting to feel the strain of the miles building.
"She's tired today," Smith-Batchen said. But she offered her the following encouragement: "As of today," she told her, "you've helped five families."
Ziehl knows what $2,000 means when your loved one has been diagnosed with a largely incurable disease. With glioblastoma comes a slew of medications and procedures, experimental drugs and experimental treatments. It is not cheap to fight cancer. The bills add up.
"Anytime those sorts of stressors are relieved, it allows you to be more present with your loved one," Ziehl said. "Having some of the financial pressure off meant I got to spend more quality time with Travis."
So far Ziehl has checked off her daily half alongside friends or family and, over the weekend, a group of Teton Valley runners who were strangers at the start and friends by the end.
Online, "I have students all over the United States joining her," Smith-Batchen said. Locally, members of Teton Pines Country Club have also joined.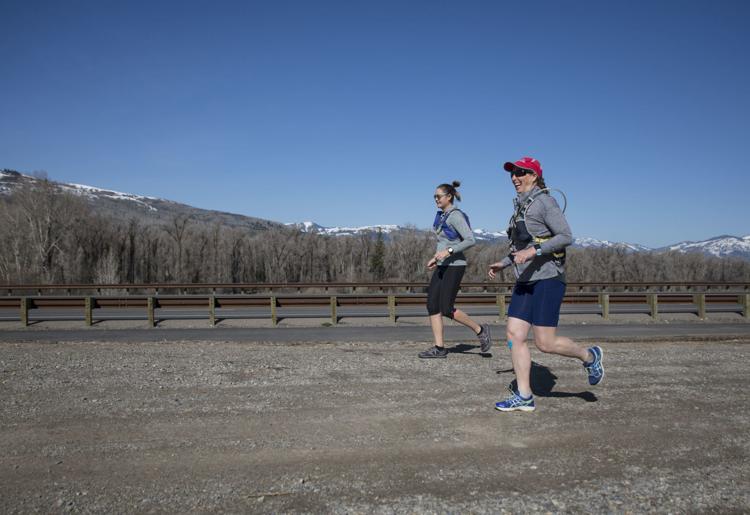 Some Ziehl knows. Many others she doesn't.
"This is in life how we're supposed to love one another," Smith-Batchen said. "You don't have to know them. She doesn't know the other people she's helping."
Runners are encouraged to post photos from their journey in black and white to align with the "Go Gray in May" slogan for brain tumor awareness. Ziehl is also posting updates on the challenge on What You Do From Here, a website and corresponding Facebook page.
"I think that's the power of social media — you can end up connecting with other people that have a similar story or have faced something like you," she said. "Knowing you're not alone in what you're going through, there's a lot of power in that.
The platform, created shortly after Ziehl's husband was diagnosed, allowed them to share their experience with their family, friends and others facing a glioblastoma diagnosis. It's a catalog of the couple's experience, even the really ugly and heart-wrenching parts, and in the past year, a journal of the messy process of grief.
"I still have difficult days or moments, and I think I always will," she said. "It's painful to lose somebody so close to you. I don't think that grief ever fully goes away, think there's parts of it that are always going to be there."
For now, for today, she's focused on moving, putting one foot in front of the other. Just as she's been doing since she lost Travis.
"I don't view it as just a fundraiser. I view it as raising awareness for what brain cancer is," Ziehl said.
"If you can't donate, join us in some sort of active endeavor throughout the month of May and feel a part of it."