Skiers in Jackson Hole will have to pay slightly more next year for their season passes.
With the ski season coming to a close, the News&Guide took a look at Jackson Hole Mountain Resort, Grand Targhee Resort and Snow King Mountain Resort's spring and summer pass sales and compared them to the year prior. While the comparison is not exact — some passes come with slightly different benefits than the year prior, and the length of the pass sales are different because of the COVID-19 pandemic — costs are generally going up.
Adults looking to purchase a Jackson Hole Mountain Resort season pass, for example, should plan on spending around $1,500 for their season of turns. That's a bit more than last year.
Ski passes for that resort are seeing different price bumps, with the Rendezvous Peak Pass, which includes an Ikon pass, jumping the most in the spring sale that ends May 31. The price of an adult Peak Pass will increase $189 from $1,740 to $1,929 in this year's spring sale, roughly 11%. The youth Peak Pass will increase the most of any spring offering: about 31%, a $134 price hike from $435 to $569.
Resort president Mary Kate Buckley told the News&Guide the increasing Peak Pass prices were in part because of increasing Ikon pass prices. The resort is still partnering with Ikon.
"It's the Ikon pass bundled with the other amenities, the early up, the demo skis, the free ski tunes," Buckley said. "It was that package that we thought was a higher value."
The Grand Pass is also available, with a relatively smaller 6% jump for a spring-priced adult offering.
That pass is a more stripped down pass available for people that don't want to pay more money for an Ikon pass, an early ride up the Bridger Gondola, or free ski tunes.
"If you look at the Grand Pass — the pass that has been consistently the season pass — those prices haven't changed very much," Buckley said.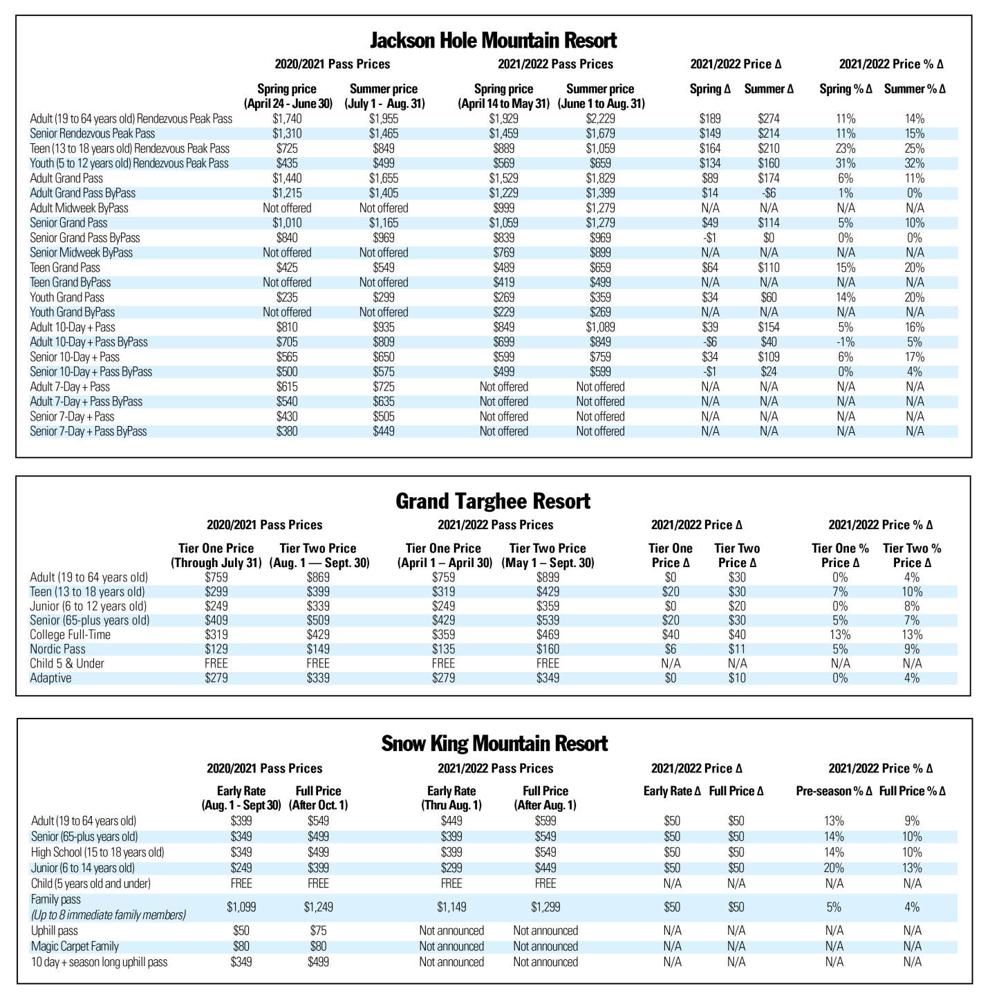 This spring the Grand Pass will leave a $1,529 hole in your pocket, $89 more than last year and $300 less than what it will cost come June 1 when prices go up.
The Grand Bypass, which offers cost savings in exchange for blackout dates around the holidays, will see only a small spring price jump compared to the year prior ($14, or 6%) and cost less overall: $1,229.
Over at Targhee, increases in prices during its first spring sale will be relatively small, capping at 13%. Prices will go up after April 30.
Until then, the western Tetons' resort will keep prices for its adult ($759) and junior ($249) passes the same when compared to its first sale last year. The largest price bump otherwise is $40 (13%) for the college pass, which will cost a total of $359 before May 1.
Changes that all Targhee season pass holders will see are mostly small adjustments to the ancillary benefits the resort offers.
Targhee opted this past season not to offer tubing or Early Tracks, its pre-first-chair powder skiing program, marketing manager Jennie White said, and that will hold true this season as well.
Season pass holders will also see less of a discount on cat skiing: a 10% versus 20% markdown.
The reason, White said, is because the cat skiing experience is one of the resort's "premier products."
At Snow King, prices for all discounted and full-priced products will go up $50 compared to the 2020/2021 season. That will bring an adult season pass at the town hill to $449 through Aug. 1, and $599 thereafter.
General Manager Ryan Stanley did not respond to requests for comment by press time about the reason for the increase. Prices for the uphill pass, the magic carpet family pass, and 10-day passes that come with an uphill offering were not available by press time.
— Tom Hallberg contributed to this report.