A group of roughly 10 snowmobilers exploring the Palisades on Friday followed one of the most accomplished riders in the world, Rob Kincaid.
The 46-year-old Victor athlete went first down a slope and triggered an avalanche, Bonneville County Deputy Judd Aeschbacher said. The slide swept him up and ultimately claimed his life. One member of his party left to find authorities and the rest stayed behind to search for him.
"They were going to head out, and Rob was the first one," Aeschbacher said. "It's a chute they use to get out of the canyon they were in, and he was the first one to go."
Authorities reported Kincaid was wearing a beacon, but it wasn't operational.
The party that stayed behind to search for Kincaid eventually found him by probing the snow.
An attempt to resuscitate him failed. Air Idaho Rescue flew in Friday evening to recover Kincaid, but weather and terrain conditions, coupled with nightfall, made it impossible to complete the mission. Deputies and search and rescue members recovered him Saturday morning.
Kincaid leaves behind his wife, Kim, and children Riley and Shelby. He leaves behind a legacy, too, as one of the most accomplished in his sport, having competed at the Aspen X Games in 2015, as well as numerous world championships at the Jackson Hole World Championship Hill Climb at Snow King and other hill climbs across the West.
Saturday morning, names and brands inside and out of the snowmobiling world took to social media to remember the professional Arctic Cat snowmobiler who dedicated his life to various exploits in the backcountry.
Arctic Cat's Instagram post shows a photo of Kincaid launching up an incline with only wispy clouds joining him on top of the mountain.
"He was a big part of the Arctic Cat family and so much more," the post reads. "We are honored he chose to share his passion and love of snowmobiling not only with the Arctic Cat team but also with the whole snowmobiling industry and really — anyone else he could."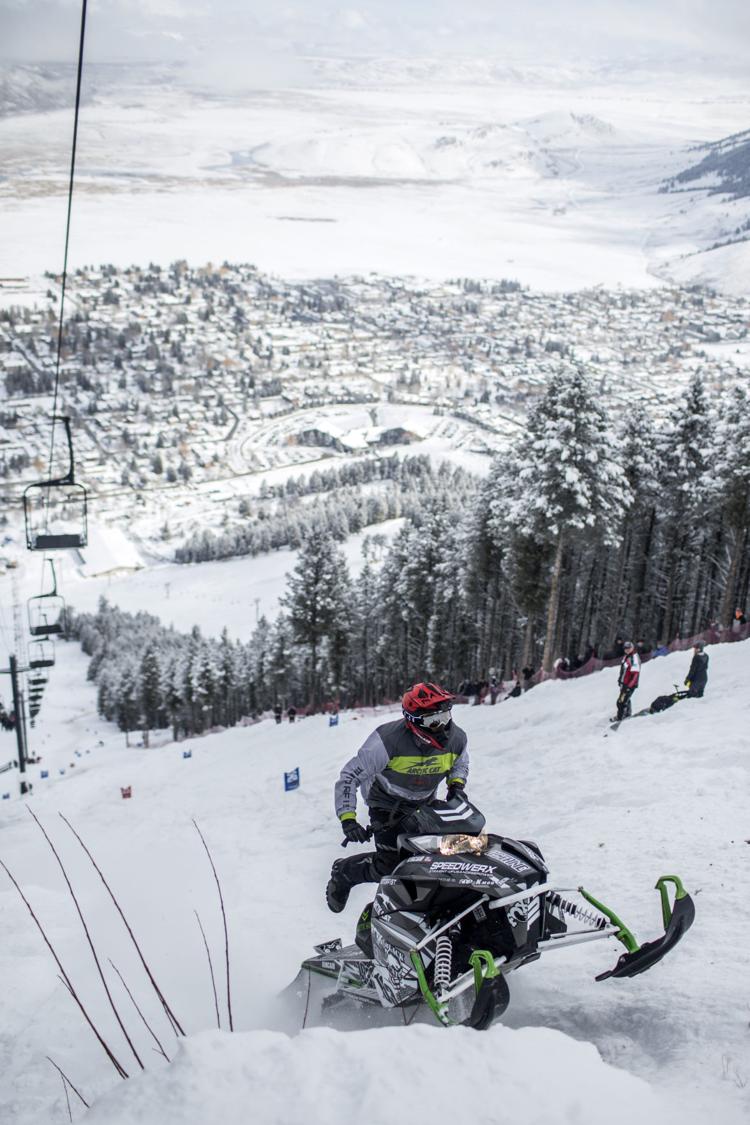 As disturbing as Kincaid's death is, it's perhaps doubly so because of the legacy he leaves in promoting backcountry safety for snowmobilers. A wealth of YouTube videos and social media posts feature Kincaid over the years describing the required gear and mindset for adventuring on snowmobile.
In one, posted by SnoWest Magazine in 2013, Kincaid stands in a garage over top of one of his machines, detailing the ins and outs of each pack he carries with him in the backcountry.
"I spend probably 300 days a year in the backcountry, whether it's on horses, snowmobiles, motor bikes, pedal bikes, I just love being in the mountains," he says in the video. "I'm always kind of taking it to the limit and extremes in the backcountry; Mother Nature is a dirty thing."
Todd Tupper, longtime friend of Kincaid's and an associate at Arctic Cat, said he had taken the same backcountry tour in the Palisades with Kincaid twice before.
"Anytime I've ridden with him, when you get dressed you know the sequence is right," Tupper said. "You have your gear on for the most part, then your beacon goes on, you turn it on.
"He loved the backcountry, he lived for the backcountry. To see this is really hard and disheartening because he's always prepared. It's just really a drag that it went down the way it did."
Shad Free, a Jackson-based hill climber and former teammate of Kincaid's with Arctic Cat, said he learned of the avalanche Friday evening. When Free spoke with the News&Guide on Saturday morning, he was preparing to unload his snowmobile to get out and ride in the backcountry.
"Because that's what [Kincaid] would have wanted us to do," he said.
Free remembers Kincaid as a total ambassador for the sport inside competition and out, not only a safety advocate but a fierce protector of a snowmobiler's rights to access public lands.
"Outgoing, big heart, truly passionate," Free said. "In a lot of ways I would say one of the most passionate snowmobilers that I've ever known.
"Rob was a personality that the snowmobile industry will never forget. His enthusiasm and passion for the sport was unmatched in many instances. He will be greatly missed and his legacy will stand as a true ambassador to the sport of snowmobiling."
A GoFundMe to benefit Kincaid's family is currently running online, having already reached just over $46,000 as of Tuesday evening.
"He was such an awesome, stand up person," Tupper said. "He loved everybody, I think everybody loved him.
"He was a goofball, I loved flicking him sh-- and razzing him, and he and I went back and forth many a times doing that to each other, just having fun.
"He always ended [a conversation] with a 'goodbye, buddy,' or it was 'nice talking to you, buddy.' You know you're not going to get that again, which sucks."
Free said a prominent feature of Kincaid's reach in advocacy was his early embrace of social media.
On Instagram, where he had some 30,000 followers, Kincaid's final post last week shows him looking up a mountain behind a set of snowmobile goggles.
"We are broken," he wrote, "so much uncertainty right now! Crazy how quick life can change. Hope you guys are all well."