The Jackson Hole Rodeo is back and bigger than ever.
"I think people are so ready to go back to normal, it's unreal," said rodeo manager Phil Wilson, shocked by the sold-out crowd.
"It's just one of those things that we didn't anticipate, right off the bat. We've never been full on Memorial weekend."
With folks watching from neighboring roofs and the tops of parking lot pickup trucks, the summer presentation of bucking bulls and barrel racing kicked off just five minutes late on Saturday night after a brief technological hiccup. From then on it was straight-up fast and furious, at least for the short staff trying to keep everything moving.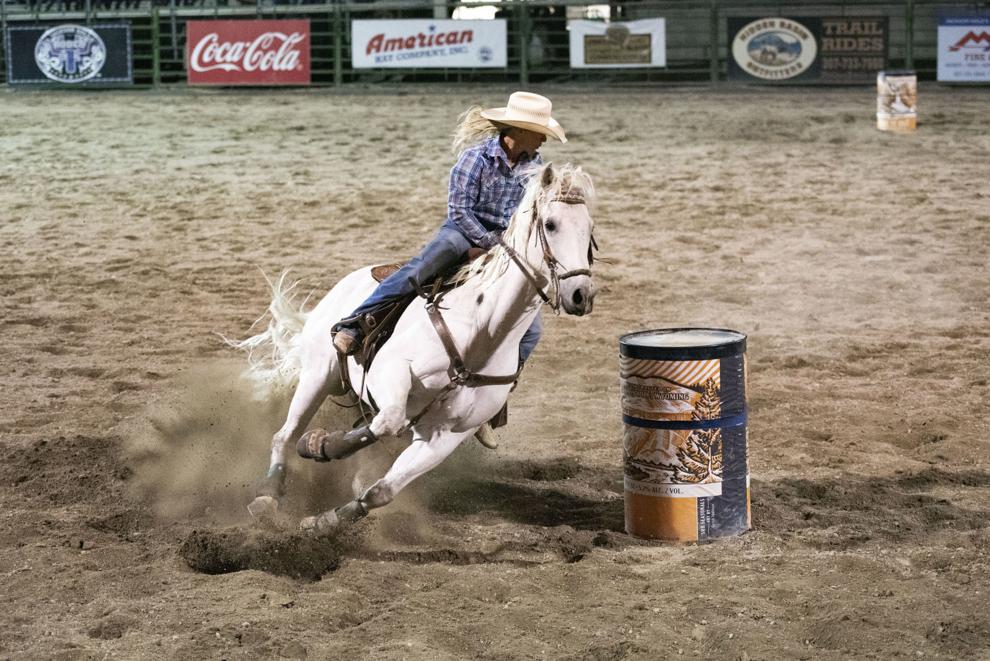 "We were all working three jobs," Wilson said.
Hw emphasized how proud he was of the team, which is noticeably smaller this year due to the same cost of living problems plaguing other businesses in town.
But with a lighter staff, the cowboys stepped up, and the camaraderie was remarkable to see. As soon as riders made it back to the bucking chute, they'd hop up the rungs and help straighten out the next rider.
After last year's pandemic forced a stunted crowd, the sold-out grandstand was a sight for sore eyes.
On opening night a blue-shirted Blaine Mathews prepped for his saddle bronc ride by slapping his thighs and shaking his head, giving sidelong glances to his buddy Caleb Brangham, dressed in orange, who was just vibing to the music.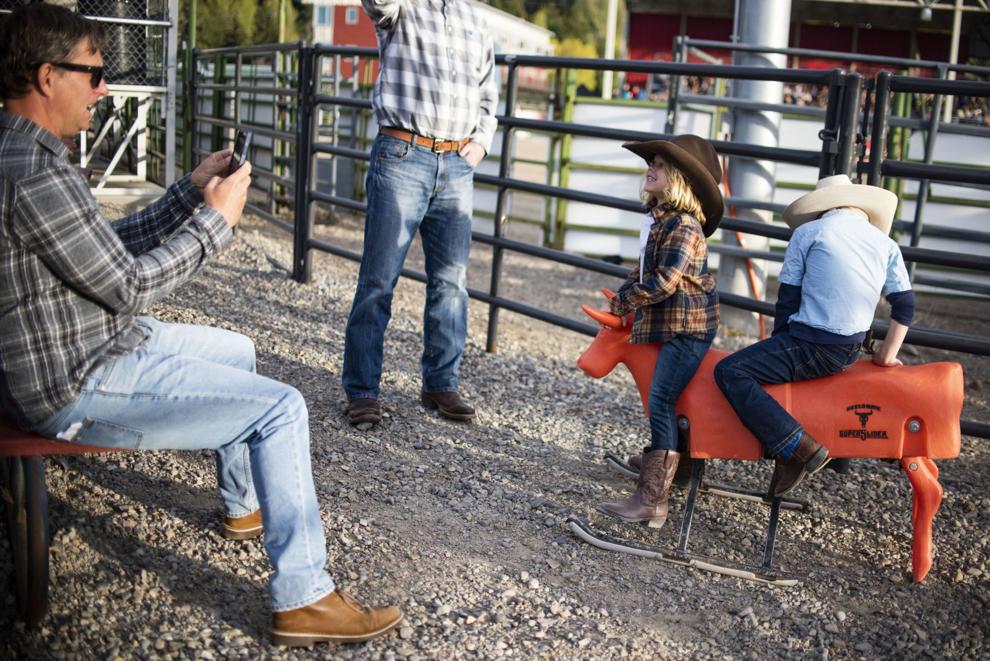 He did have one goal in mind though: beat Mathews.
The sky had turned cotton candy pink and a crew of hands helped hold the pair's broncs in place before the gates swung open.
In the end, both of their spotted steeds gave the guys great rides. Brangham's took off like lightning, kicking madly with its rear legs while taking the fearlessly flopping rider straight to the main grandstand, hooking left to continue the circuit.
Branham thought for sure he'd lost his grip for a second, but he somehow got underneath it and found a way to hold on.
Not everyone's ride was so clean on Saturday — but that's what makes for a good show. Some were tossed almost immediately, falling victim to a nasty turn or a shuddering buck.
Others held on long enough to face-plant in the middle of the arena, rolling into a fetal position to try to avoid a sideways stomp.
One rider's bull veered right, and when the cowboy tried to dismount by falling onto a rallying horse, one extra buck from the bull sent him flying clean over the saddle, straight to the mud on the other side.
He popped up, swearing bloody murder at the beast and giving him a faux punch for good measure.
Other than a few bruises and thrown-out backs, there weren't any serious injuries on opening night.
Callaway Wilson, who was kicked in the head late last season, took on mini bull Peach Nut for eight seconds and then some, spinning circles close to the release pen in a set of iridescent green chaps.
Hopping back onto the platform, the 11-year-old got a proud pat on the back from his dad, bull wrangler Buskin Wilson, and said, "That was real fun."
Jackson's Biggest Rockstar, Tim McLaurin, was also having a blast, fist bumping the athletes and munching on a cheeseburger.
"It's great to be back out here again. … We're blessed to live in such a beautiful place like Jackson," McLaurin said.
The packed stands really turned it up a notch once rodeo clown Trenton Givens asked for a round of volunteers.
Unsure what they were getting themselves into, Philly natives Pat Bellot and Andrew Luhmann hopped the rungs and joined a dozen other brave souls in the center of the arena. It was time, Givens told them, for a dance battle.
GALLERY: Jackson Hole Rodeo
The Jackson Hole Rodeo returned to the arena Saturday, May 29, for the 2021 summer season. The rodeo will run weekly on Wednesday and Saturday nights through June, with a Friday night rodeo through July and August. The season will wrap up with the YETI Finals on Sept. 1 and 4 and the Shriner's Rodeos Sept. 8 and 11.
The competition had just two rules. No partner dancing, and "please keep all articles of clothing on," which promptly received a round of boos.
As soon as the cowboy shuffle started up, the Philadelphians promptly broke both rules, enacting a mock matador performance, with the "bull" eventually taking out the hoodie-waving matador.
Both of them were the first to go. Propelled by a cheering crowd of his Goosewing Ranch co-workers, Ryan Greenwood made it almost all the way to the end thanks to his sultry hip gyrations. From the stands, Jenna Vail said she was his dancing partner and taught him everything he knows. The entire ranch team was on their feet screaming.
Givens later said that was the loudest reaction he's ever heard at that event.
In the end it was recent Louisiana Tech graduate, Hanna Blanchard who took home the No. 1 spot for her breakdance headstands, a move she learned from her TikTok-savvy sister.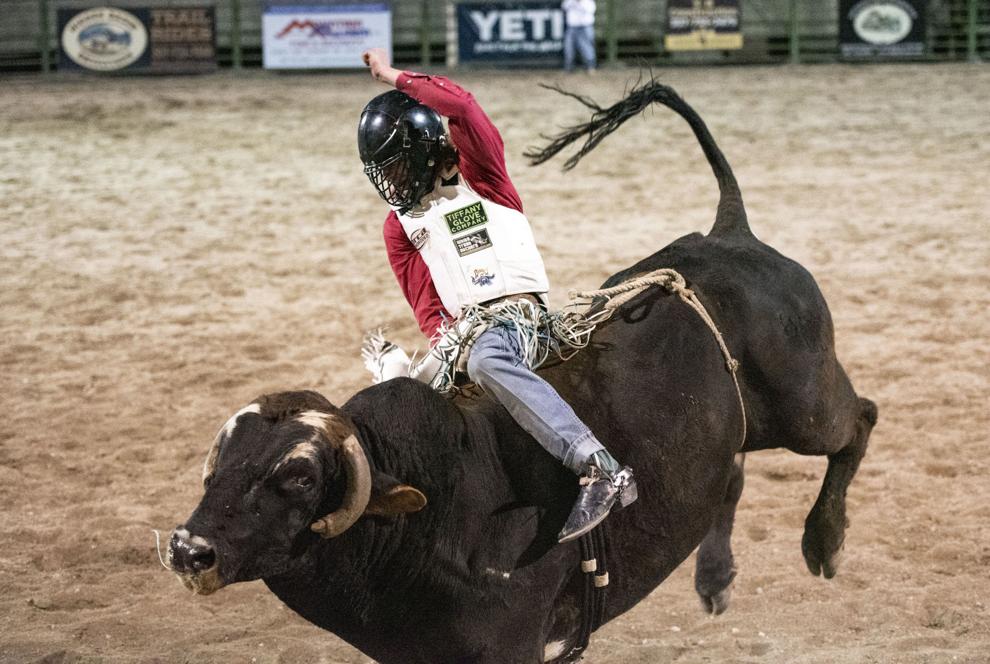 With folks so eager to get back to in-person events after months of quarantine, the crowd was ebullient and grateful on opening night. One young fan documented the drama with his disposable camera. Others brought more pro setups, while some just curled up under a blanket with popcorn to enjoy the show.
Lauren Fischer, 29, was out with a dozen of her girlfriends for her bachelors party trip from upstate New York. They got a special shout-out from the announcer, only partially embarrassing the bride-to-be, who said she felt like she was going to barf. Rocking cowboy hats and full of giggles, the celebratory cohort whooped and hollered as two cowboys successfully cross-roped a rambunctious calf.
As the sun set and the floodlights came on, the final riders of the evening suited up with helmets and chaps.
Bullrider Brock Udy was in a simpler getup — a jean jacket with the embroidered "Judge" insignia. Having torn his shoulder in a practice ride last month, Udy was forced to swap his spurs for a stopwatch.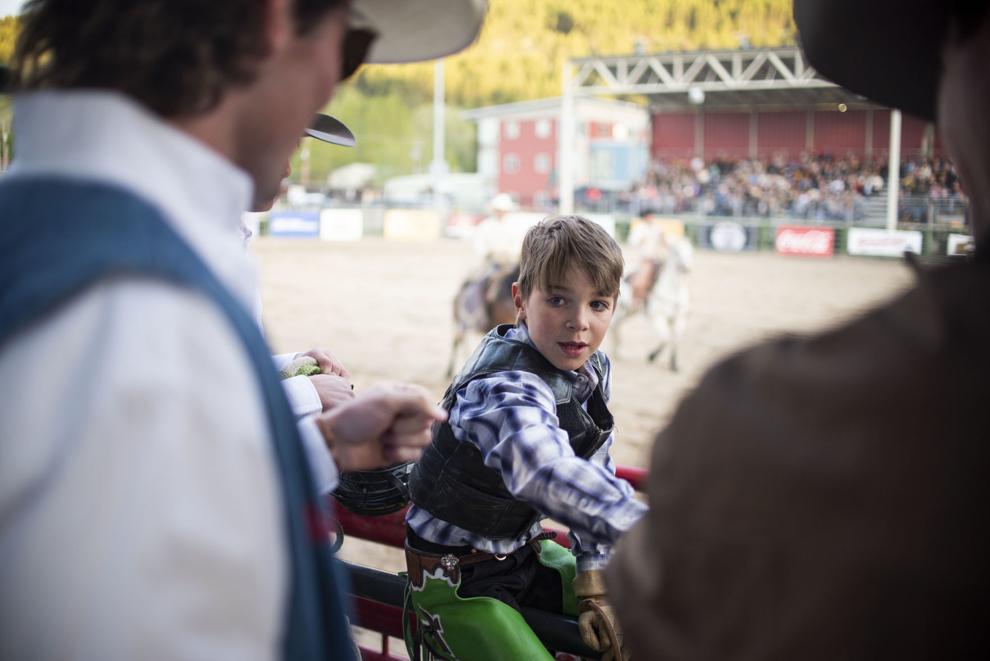 At the start of the night, the pressure of being a back judge was getting to him. After clocking one rider at 7.97 — a mere three milliseconds short of a scoring time, he groaned, saying, "I'd much rather be riding."
But by the end of the night he was starting to get the hang of it. A small posse of fur clad rodeo first-timers had gathered round him to hear his hot takes on each bull and rider.
One woman asked him to hold her beer so she could video him on her iPhone.
"That's Peyton Nelson," the back judge told the camera. "He's good."
Turning back to the gate, he held the woman's beer in one hand and the stopwatch in the other. The last run of the night, Nelson didn't disappoint. He cleared the 8 seconds easily, bucking high into the nighttime air on a bull named Peanut Butter Falcon.
"It's great to be back out here again," he said after ending his ride. "I'll definitely be back."