In a sea of plastic steer heads sitting alongside trailers, trucks and campers, Greg Peart pulled his rope taut around a set of genuine horns.
He was just a few minutes from heading back to the Teton County Fairgrounds for another go in the World Series of Team Roping qualifiers on Sunday, and he was getting in his last few practice tosses on a steer skull strapped to a metal frame.
"I've had steers for 20 to 30 years," the Randolph, Utah, roper said. "And so you've got some that die and you eat some of them, and you end up having some skulls around."
Peart said he hadn't performed well and wasn't keen on his chances of qualifying for the World Series in Las Vegas come the end of the year.
But he wasn't in Jackson with dreams of heading back to Vegas again, anyway.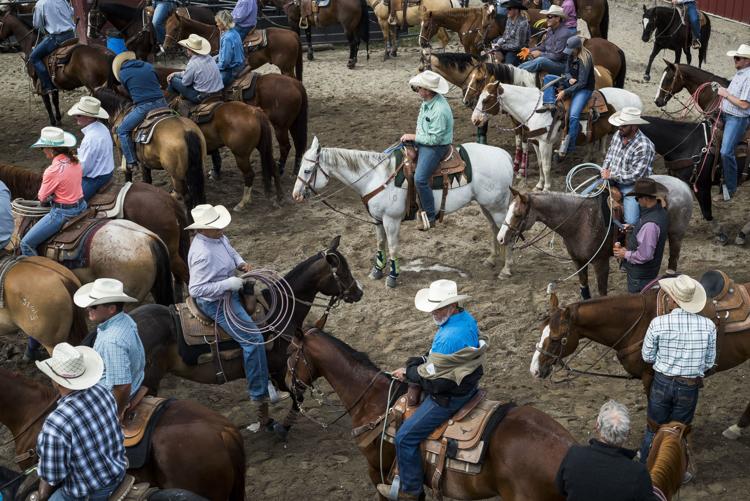 "I'm getting too damned old to go to a lot of these rodeos, so I go to a lot of jackpots like this," Peart said. "But I'm not hitting the road and doing stuff like that."
With ropers allowed to enter up to five times a day with an entry fee of $150 over the three-day qualifier last week, there were no doubt cowboys with eyes for bright lights and big checks in Las Vegas. Who qualifies for the finals, which will be in December, depends on who has the highest earnings from the qualifying events. Results from last week's event were not available at press time.
But while the fairgrounds was filled with horse trailers and dummy steers, it was also filled with campers and coolers, families and friends for the cowboys who traveled from all over the West to rope in Jackson.
Bob Bing, a veteran roper from Pinedale, said he last went to the World Series seven or eight years ago. Like Peart, he didn't expect to move on this year, but he wanted to keep up with the sport he knows best.
"It's a lot like golf — hand-eye," he said. "What's happening now is Father Time gets to clicking a little bit, and things aren't as easy as they used to be."
Bing still makes it to Jackson for the Wednesday and Saturday night Jackson Hole Rodeo, and, scanning the grounds on Sunday afternoon, he said there's a lot of faces he recognizes from years of roping in the area.
The ones he didn't recognize he expected belonged to folks who wanted to mix work with pleasure, roping in Jackson and using it as more a vacation than a potential for big earnings.
It was evident by the spot carved out just adjacent to his own truck. He pointed to a horse trailer with a patio-type set up right outside it.
"You look at this horse trailer behind us," he said. "That trailer, they've got almost $200,000 in that trailer and truck, and who knows what they spend on the horses and stuff. … To try to make money at this deal, it's a love of the sport."
Jackson Hole Rodeo had to hold off its Saturday night performance with team roping taking over the rodeo grounds.
For that the company is planning to put on a four-night show this week, beginning today.
In part that's to make up for the missed Saturday. It's also a chance to capitalize on the July Fourth holiday, known as "Cowboy Christmas" in the rodeo world.
Cowboy Christmas is the week around the Fourth, when cowboys travel frantically for some of the biggest payouts they'll get a chance at through the season.
Operator Phil Wilson said that while rodeos around the West will fill up quickly with Professional Rodeo Cowboys Association contestants, those who miss entries are likely to spill into Jackson for a night or two this week.
"Some of them will come one or two days and then go to another rodeo," he said. "It's going to be a busy week. Jackson is busy, so we're hoping to have a super rodeo week."
Outside the draw of bull riding and bucking horses, Thursday night's rodeo offers a prime seat for fireworks. For the contestants who plan to call Jackson their home this week the rodeo is planning to reward an average winner for the week's contests.