After a season of long lines, deep powder, COVID-19 precautions and a not-so-innocuous Gaper Day fire, Jackson Hole Mountain Resort closed the winter's books on an upbeat note: a mellow, but nonetheless exuberant closing day.
"I've been skiing here since 1983. So, I mean I've seen a lot," skier Richard Mogan told the News&Guide Monday. "But I can say that the feeling yesterday reminded me of the '80s and the '90s because it was locals and everybody was having a good time."
The resort's April 11 closing day, which was followed by a day of employee-only skiing, capped one of the weirdest years in recent memory at the southeast Teton powder playground. While the mountain's winter weather did what it more or less always does — albeit with a supremely snowy February — the humans who usually flock to Teton Village did so differently.
Some changed their behavior because they were told to by health and resort officials.
Others did so because they were concerned about catching COVID-19, the contagious respiratory virus that spread across the globe in the spring of 2020, closing the resort and the Tetons' other two ski hills about a month early.
When lifts started spinning again in December, face masks were required in line, people were asked to stay six feet apart in lift lines (a distance that was difficult to maintain throughout the season), and single riders frequently got into Bridger Gondola cars alone, which was allowed to prevent the spread of COVID-19 between households.
Lines snaked around the resort, especially during February's many powder days. Even typically less crowded haunts like the older, slower Marmot lift had lines.
But after rolling out a policy earlier in the year that would have compensated season pass holders if the virus forced the resort closed, the hill stayed open.
Skiers and resort officials alike are pleased with that outcome, though some grumbled less about the virus and more about the Ikon pass — and how it might be crowding the mountain.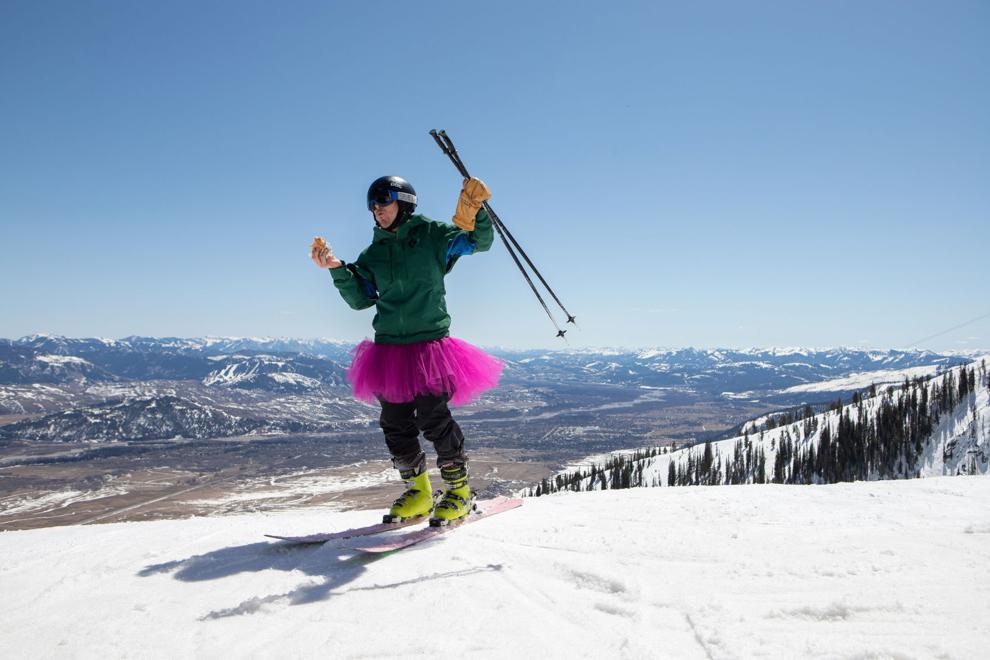 "I'm so proud of our community for rallying," 14-year resort employee Eric Carr said on closing day, toasting the end of the season with a fat slice of pizza before skiing away in a pink tutu.
Jackson Hole Mountain Resort president Mary Kate Buckley felt similarly.
"We are really pleased with the season," she said. "We had a very simple and focused goal and that was to deliver a safe, memorable season, and make it through to closing day. So against that objective, we are very pleased with the outcome."
Buckley was proud of the resort's staff — every department was required to "completely change everything that they had ever done," she said, because of the virus — and some of the events the resort was able to pull off despite the pandemic.
A local stop on Travis Rice's revamped Natural Selection Tour, a freeride snowboard contest that ended at Alaska's Tordrillo Mountain Lodge, was one of Buckley's "wins." Another was pulling off a Kings and Queens of Corbet's competition atop Rendezvous Mountain.
"Our objective was to make the season feel as normal and as natural as possible," Buckley said, offering a "destination for people who could forget about the virus, being outside and getting exercise."
And in that, she felt the resort was successful.
Lift lines were, however, an issue throughout the season for both skiers and the resort.
Like other hills in the Mountain West, Jackson Hole Mountain Resort announced early on that it would reduce its capacity but did not say what its limits would be.
Instead, it said it would keep skier numbers down by limiting and requiring advance purchases of day tickets, and having Ikon pass holders reserve space to ski at the resort.
But after two seasons of increased traffic that many longtime skiers blamed on the Ikon pass, a season of longer-than-usual lines had some guests questioning the capacity limits.
"Nobody believes they limited," Mogan said, reflecting on waits and conversations he's had over the winter. "I don't know how much they open their books to let people see and that's their prerogative. But for people that really care, it's just hard to see."
Mogan worried that the lines the resort saw this year could turn it into a "Mammoth, or a Vail or a Squaw," the Tahoe-area resort that's changing its name after the 2021 season.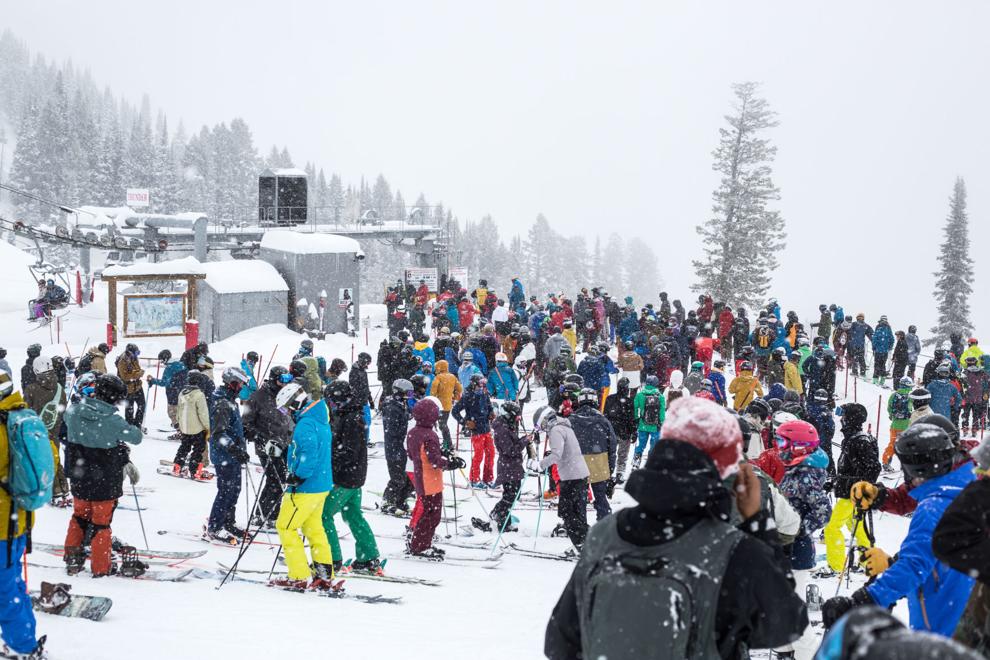 "People certainly observed that we've never had lift lines like that," Buckley said. "But most people will observe that once they got up on the hill, it was clear, there were not as many skiers up there, and the terrain and the snow stayed fresh much longer."
But "the capacity of the lifts" — not the resort as a whole — "was the key driver of those lines," the resort president said, referring to COVID-19 rules that required and, later, allowed households to ride their own lifts. That kept lifties and other resort staff from fully loading the resort's chairlifts, gondola and Aerial Tram, which ran at 25% capacity.
Tyler LaMotte, the resort's chief brand officer, said wind blowing higher-elevation lifts down also contributed to the issue. But loading protocols, he agreed, were the biggest contributor.
That "created the perception of longer lift lines even though people were still moving," he said.
And, contrary to the perception that the resort had not, in fact, reduced its capacity, Buckley said that officials reduced capacity further as the season went on, realizing that fewer people than expected were riding each chairlift — and that was creating longer lines.
The resort nonetheless received pushback when it sent out a mid-season update that said, among other things, that "longer lines may also be attributed to the increased volume of JHMR season passholders coming out to ski or ride."
Michael Glover in turn wrote a letter to the editor accusing the resort of blaming crowding on season passholders, arguing, tongue in cheek, that the resort was basically saying "if only they would stay home there wouldn't be a problem."
Responding to that criticism in last week's interview, Buckley said when the resort was estimating volumes for the year — and capping daily ticket sales and Ikon reservations — it did not restrict season pass holders. It also made its visitation forecasts anticipating an average snow year. But the February dumps changed that and, as a result, its forecasts of demand were off.
Other resorts took a different tack, restricting the numbers of season pass holders that could ski on a given day. But Buckley said Jackson Hole Mountain Resort would likely not do that.
"We are grateful for our season pass holders," she said, saying the resort is "hoping for a normal year where we can load the lifts to full capacity."
"But it's just early," Buckley said. "We're not sure if coronavirus will rear its head again. But it's hard to imagine that we'll limit our season pass holders and restrict them in any way."
Jackson Hole Mountain Resort may, however, require people to purchase day tickets in advance and have Ikon pass holders make reservations to manage capacity in the future.
"The reservation systems and the advanced sales are good tools for our toolkit," Buckley said. "It was a good year to introduce those tools and experiment with them."
The conversation about capacity is also not likely to end anytime soon. Some skiers are going kicking and screaming into the world of Jackson Hole on Ikon.
"Even before COVID the lift lines have gotten out of control," Theresa Dowling wrote in a comment on the controversial mid-winter update. "Are the profits from renewing the Ikon contract more important than a good mountain experience for all?"
Mogan felt similarly, worried about the crowding and its impact on the resort's character.
He recognized that Ikon gives people from elsewhere a relatively affordable way to ski at the resort, where day passes otherwise clock in just shy of $200.
But he worried about the quantity of the visitors coming through, and what he chalked up to a lack of "respect" from some visitors: people stepping on skis, leaving trash around the hill, not tipping tip-dependent workers well, and going out of bounds without proper gear or knowledge.
"I don't want to limit. I want to share all the good things with everybody," Mogan said. "But Ikon's changed everything here. It's changed the mentality ... there's way more people, which makes more people agitated on the hill than I've ever seen before."
Mogan asked the resort to have a "roundtable."
"They need to sit down with like five or 10 people and just brainstorm on 'How can we get this back to where it used to be' because it's all just gonna keep spinning out of control," he said.
Buckley said she'd given a number of presentations and statements about Ikon, and that the resort would continue working with the company. She did acknowledge that people appeared surprised to see Jackson Hole offered again — for a fee — on the Ikon base pass.
"We've seen the U.S. market move to multi-resort passes," Buckley said, adding that "effectively there are two passes that bring great value to the people that buy them" and "make skiing accessible."
"It seems as though it was prudent to participate in one of them," she said, adding that the resort chose Ikon for the "premiere destinations it offers."
"We felt that was a good grouping to be with," Buckley said.
The resort president did not directly answer a question about whether there were any upcoming decision points about continuing the Ikon contract.
Instead, she referred to the changes made to the resort's partnership with Ikon last year that increased the cost of skiing in Jackson Hole on the pass.
"We will continue to monitor how we do with it," she said.
And, Buckley said, the resort is thinking about crowding more generally.
"Had we not had COVID, we would have had some tools in place that would have helped us to manage crowds," she said, not specifying what those were. "We'll be curious to see what a year would look like with managed capacity and full access to loading the lift."
Other resorts are thinking similarly.
Big Sky Resort announced last week that only one pass — its Gold Pass that costs $1,899 for adults — will allow guests unlimited access to the Lone Peak Tram. Resort spokeswoman Anna Cole declined to comment on that action Tuesday.
Contention about lines and crowding aside, the last day at Jackson Hole Mountain Resort was a family affair, with friends coming together to celebrate the year — and the resort staying open.
One skier called their season "72 days of absolute giddiness."
Most were sentimental, feeling grateful and privileged to have skied all year.
Older skiers said they felt safe this season thanks to the resort's COVID-19 restrictions, though it did mean "a whole lot of sandwiches on the lift."
As Nancy and John Elliott rode up Bridger Gondola one last time, they reminisced about the heavenly February pow and opportunity to ski with friends.
"It's got a draw to it like no other resort," John Elliott said.
The couple has already bought their pass for next season and said as long as they're healthy they'll be back out come opening day.
Teton Gravity Research and Jackson Hole Mountain Resort athlete Tim Durtschi likewise racked up his 103rd day on Sunday, closing day, capping a season of "nonstop fun."
Surrounded by neon-clad friends, Durtschi celebrated his final runs in shared revelry, making closing day what he called the "best day" of the year. The last lifts are always bittersweet, and as the aerial tram returned to the station, a crew of snow princesses watched satisfied skiers return to base.
"It's sad," one said. "We want more days."
Evan Robinson-Johnson contributed to this story.