Like so many adventure sports, rollerblading can be intimidating to those who have never tried it, and indeed most who mount the thin-wheeled setup will fall repeatedly.
But for those daring enough to don their wrist-guards and rise again, Jackson is an oasis for in-line rides. Miles of routes give bladers views of the Tetons and hours of creekside galavants.
Thanks to the valley's world-class network of pathways, the asphalt is smooth and the routes are largely protected from traffic. They're perfect for beginners and experienced riders alike, as long as you keep an eye out for swift e-bikes and small dogs, who tend to be bothered by the four-wheeled vibrations.
Rollerblading took off across the country during the pandemic as people searched for creative breaks from Zoom and quarantine. TikTok promoted influencers with eye-catching moves, and beginners used the video-sharing app to document their training. Online wheel suppliers were months out of stock.
Before 2020 the common response to rollerblading was "oh, I used to do that when I was 14." Now it's becoming mainstream.
In Jackson the movement is being led by Chad Jakubowski, a Rollerblade-sponsored athlete who was able to use his corporate connection to secure wheels so first-timers could try out the sport. He leads Monday night practice sessions at the Presbyterian Church.
"My big thing is to help people who want to get into it find skates. Whether it's me selling you stuff I find and fix up or helping you buy your first pair. A lot of people don't even know where to start."
During Monday Movements, Jakubowski doles out pairs from his demo fleet, which ranges from a Women's 6 all the way up to Men's 12 1/2. Tentative skaters can swing by and try the sport free of charge, with tips and tricks from a seasoned blader who doubles as a ski instructor in the winter.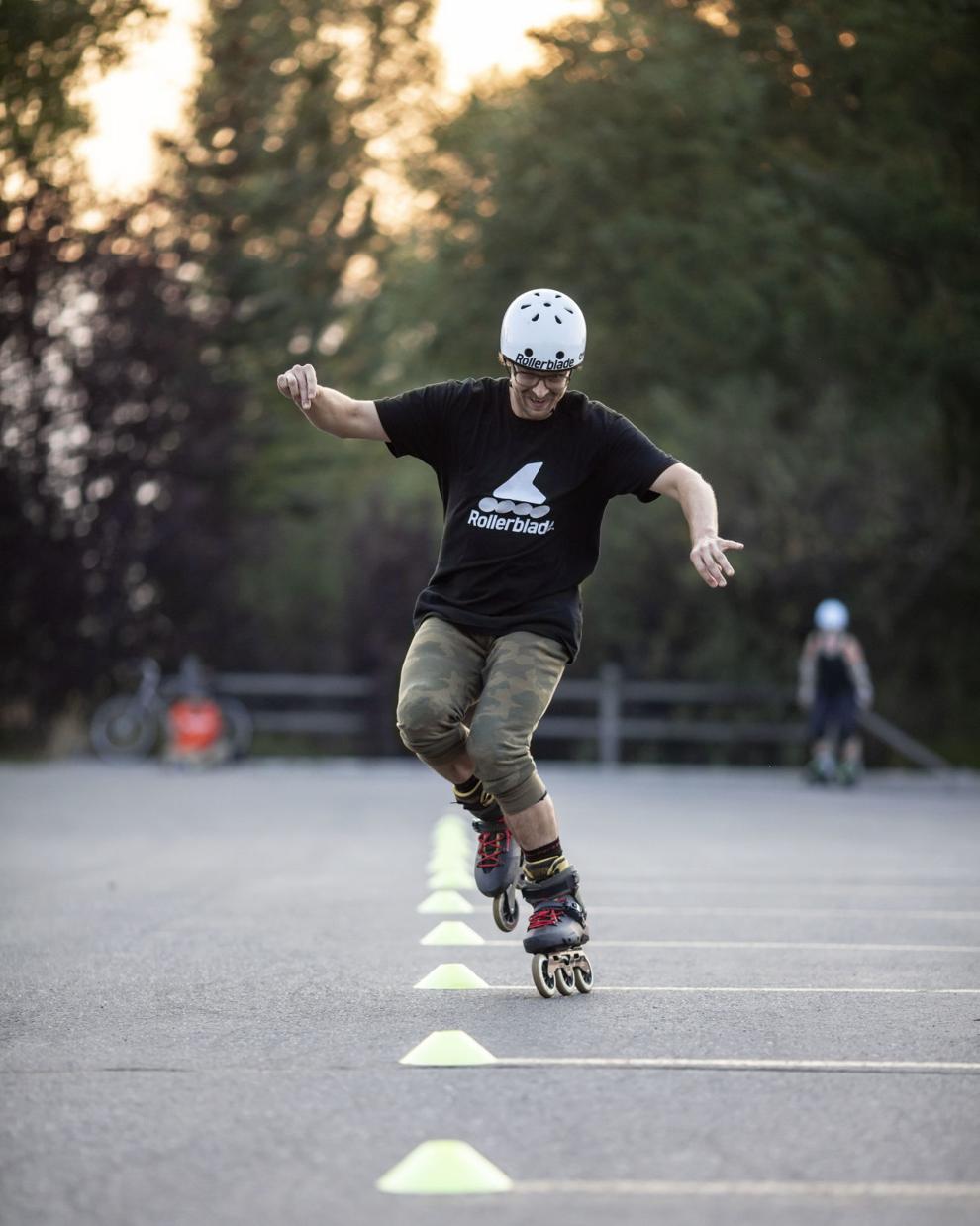 Danielle Petriccione has been coming out since the start of the summer. On Monday she was decked out in elbow pads, knee pads, wrist guards and a fluorescent helmet.
"I've seriously lost so much skin," she said. "And pride."
But through the sessions the Jackson Hole Mountain Resort employee could feel herself getting better. What began as superman spread-eagles are now elegant S-turns through Jakubowski's equally-spaced neon cones.
And she's also upgraded from "flimsy little fabric skates" to Rollerblade's top-of-the-line Twister Edge X model. On the new three-wheeled setup she rides higher off the ground and reaches greater top speeds as she zips down hills.
Petriccione has lived in Jackson 18 years and skied most seasons, but nothing has changed her relationship with the outdoors quite like rollerblading. She has gained confidence and had a blast thanks to Jakubowski, who she warmly refers to as "Rad Chad."
"When I go down Melody Ranch Hill, I'd been really trying to hone my turns in a little bit. And I've finally gotten there," she said. "I don't have to bail out in the grass at the bottom any more."
For some, a single session is enough to discover a new form of expression.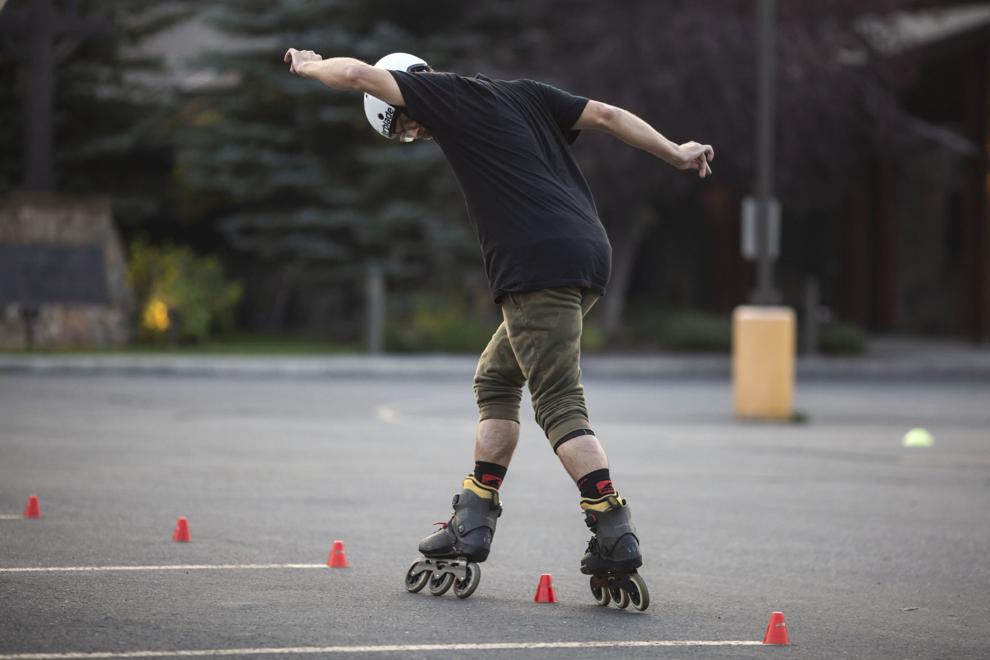 At the end of August, Angel Colon Ramirez came out for a Monday Movement and tried on his first ever pair of Rollerblades. You could see the fear in his eyes.
Rad Chad, ever eager to bring new bladers into the fold, said: "I'll hold your hand if necessary."
As the duo made their way from the high school parking lot over to the smooth church parking lot, Ramirez stumbled and fell twice. But, encouraged by fellow Jackson Hole Rollerblade Society members, he got back up.
Jakubowski mirrored the beginner's movements in reverse, pressing his palms against Ramirez's to slow his descent.
Once in the lot, the Monday bladers rolled off to begin their slalom practice. A figure skating instructor taught a teenager how to do backwards cross-overs. A long-boarder stopped by to take in the scene. A pair of skateboarders rolled past too, but they were more interested in the skate park.
Jakubowski can show you some tricks in the park too, once he swaps his big wheels for an aggressive setup — the two center wheels replaced by a block for grinding. He's been hitting the parks since the '90s.
But for the new dad, even his daily commute to work is bettered by blades.
"When I go and skate the bike path," he said, "I can't tell you how many people I pass going the opposite direction, who probably have just as big or a bigger grin than I do when they see me zooming past. That's always a fun moment."