As Kelly Halpin sifts through her travel journal, a small booklet she uses to record minute details, it prompts memories of her recent endurance running adventures.
Halpin is organized but not an overplanner. She's adventurous but not careless. Among other titles, she's a boundary-pushing mountaineer.
Following her passion for mountain climbing and trail running over nearly a decade, Halpin seems to eclipse each feat with ever higher aspirations.
She adventures into the unknown, exploring each peak, twist and corner that the West has to offer. Even with life taking her to different areas in the region, ultimately it was home in Jackson where the highly decorated runner conquered her most difficult expedition yet: the Teton Center Punch.
This route, like many others she treads, can't be found on Google Maps or AllTrails, and has been made possible by using the three-dimensional technology of Google Earth. In a region where seemingly every inch of mountains has been climbed or discovered, Halpin has blazed another route in the Grand Tetons.
"I love the aspect of running these routes that haven't been done before, or that we can't find information on, because it adds a whole extra level of unknown," she said. "It's really exciting because you have no idea what you're getting into for the first time."
Now, when you search up the traverse online, the names of Halpin and climbing partner Fred Most stand alone in the world of Google queries.
The two were introduced to each other in the winter of 2019, while hiking the bootpack up Mount Glory, and have had each other's back on the mountains ever since.
Perfect trail partners, the two push and pick each other back up in the mountains while sharing a common love for the outdoors.
"Having a positive partner is huge," she said. "Someone who is at the same level of risk management as you is really important. You both know what you're capable of and both know how to get in and out of certain situations. That's a hard thing to find in a partner."
Their journey through the Punch dates back to 2019, when the two plotted a route that could travel the entire length of the Teton Range, following the path of the hydrological divide, a ridgeline that had, to their knowledge, never been attempted before.
For those unfamiliar, a hydrological divide doesn't follow the route of the highest peaks, but follows the path of where the water runs to the east or west of the Tetons.
With no set path or straightforward trail markers, Halpin and Most embarked on a roughly 70-mile journey with minimal resources: a GPS, enough food to sustain themselves and an emergency heat blanket.
Unsure if the ridgeline would link up or if the route could be completed without ropes, the two began their 16-peak traverse in September 2019.
Traveling through the night and midway through the Wigwams, they hit a roadblock.
With nightfall upon them, the two faced navigational troubles, and as rain set in they struggled to find the correct route. After a handful of attempts they were forced to take shelter around 3 a.m.
Cold and disoriented, they hung onto the arrival of first light, a beacon that could get them back on track for the duration of their trip.
"We got there way later than we thought we would," Halpin said. "The northern part of the ridge was way more technical than we thought. It started raining, and we couldn't find a safe way through in the dark. We tried so many ways to get through and we just couldn't safely find one."
The combination of unfamiliarity and untimely precipitation made for a defeating first night. Doubt snuck in.
Pulling out her two-person emergency blanket, Halpin and Most laid their heads on the edge of the rocks at 10,000 feet and gave themselves an hour to try to fall asleep.
After rolling around in the sleeping bag for two hours, the team left at the first sign of daylight and attempted to finish what they couldn't the day before. Technical climbing with little daylight, they trekked through the wet and flaky terrain of the Wigwams, the most demanding stretch in their route.
Battling fatigue, Halpin said, she clung to the self-promise that she would allow herself to sleep for the rest of the winter, if she could just get through.
Forty-three hours after setting out on the journey, Halpin and Most descended from Mount Glory, above Wilson, in the dark.
One day, 19 hours, 29 minutes and 34 seconds later, the two claimed victory over the traverse.
An incredible feat. But they knew they could do better.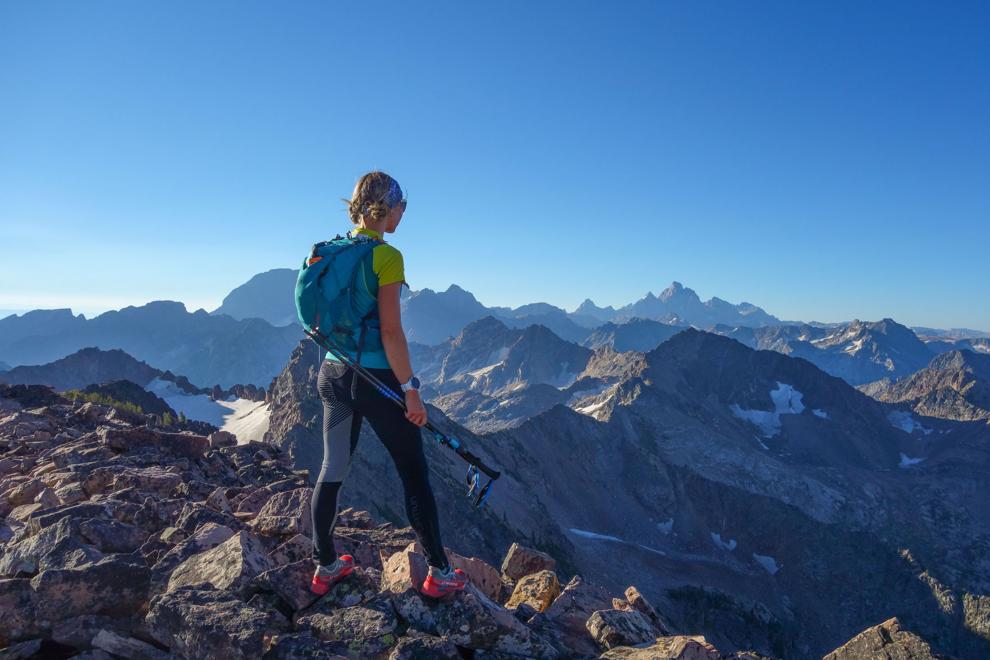 In September 2020 the two regrouped and set out again, that time with a better idea of the technical climbing and obstacles that had tested them the year before.
They conquered the 2-mile stretch of the Wigwams, trekking through the area of shattered sedimentary rock that proved to be the most rigorous and technical section of the first attempt. It's a no-fall zone, where even a slight misstep could have fatal consequences.
Despite the stakes, Halpin said, she never climbs for the adrenaline rush, but instead the flow her mind drifts into during those moments.
"I enjoy being in a very concentrated flow state, where you're so concentrated on getting through that everything else just quiets down in your life," she said. "Your whole life boils down to these seconds, where you're focused on getting through these technical sections."
With Halpin and Most's extensive climbing background, they were able to move through the entirety of the traverse safely in their second attempt, despite unexpected moments when loose rocks pulled off during the climb.
While that was equally draining, they soared through the second attempt, following Halpin's rule of not letting herself stop for more than two minutes at a time, without any sleep.
Crossing Red Mountain, Moose Mountain, Glacier Peak, Doubtful Peak, Littles Peak, Table Mountain, Mount Glory and other unnamed mountains, the two finished in the style that they had hoped for just a year earlier.
Cutting nearly six hours from their previous attempt, Halpin and Most completed the traverse with 37 hours of nonstop movement.
The two rejoiced as they completed their route at the somewhat poetic spot of the Glory bootpack, blending right back in with the tourists that typically scatter around the top of Teton Pass, completely unaware of the achievement.
In her endeavors, Halpin often leaves modern comforts behind, and pushes herself with mentally and physically demanding challenges that expand the boundaries of human capacity.
"Everything is real," she said. "All of the risks are real, all of the beauty is real and you only have each other or yourself to depend on. I think that's what makes it authentic."
A graduate of the ArtCenter College of Design with a degree in film, Halpin has found a way to fuse her love for the pure outdoors, her interests in art and film, and her surrealist takes on biology and astronomy to fuel her on-the-go lifestyle.
"You end up depending upon only yourself or your partner with your own knowledge and your own fear. And I feel like it's a very authentic, primal experience because it's you in nature with minimal stuff."
Partnering with director Noah Waldron and a team of talented visual creators — including Picnic athlete David Gonzales — Halpin was able to shoot footage for a short film, "Teton Center Punch,'' with the help of her trusty GoPro. Showcasing their expedition, the film illustrates the rigor of the Punch with footage Halpin shot during moments of security while on the route. Halpin and Most plan to submit the video to the WyDaho Adventure Film Festival in August, an event where she plans to speak.
Halpin is hesitant to reveal her next climb, but seems certain to continue leading the way in the world of Teton exploration.