Mark the calendar and get your "Whoa" face ready. Some of the world's best all-mountain freestyle snowboarders will descend on Jackson Hole Mountain Resort next week, and the competition will be livestreamed on Red Bull TV.
The 2021 YETI Natural Selection at Jackson Hole will run for two days during a six-day window, from Feb. 3 to 9.
Sixteen men and eight women are slated to face off in terrain accessed by the resort's Teton Lift. They'll tackle steeps, choose the best lines and huck flips and tricks off everything they can find on runs that will have been closed for several weeks in preparation.
Jackson is the first stop on the tour, which will travel to Baldface Lodge in British Columbia, and then Tordrillo Mountain Lodge, Alaska — where the top two competitors will battle to be crowned the best male and female all-mountain riders.
Conceived in 2008 by pro snowboarder and valley native Travis Rice, the event was first run at Jackson Hole, then held at Baldface in 2012 and 2013. Now it's back as a three-stop tour.
"Growing up at the mountain, it's been cool to see this come to fruition," Rice said. "It's authentic to the spirit of Jackson Hole."
Rice, named one of the most influential snowboarders of the last 20 years by Snowboard Magazine, is a force to be reckoned with when on his board. An X Games athlete, he has spent his fair share of time in front of the camera. Now he is taking his passion for riding to the backcountry and Natural Selection's tour to unexplored terrain.
"Rice has impacted the world of snowboarding by constantly exploring new frontiers in freeriding, content production, product design and social media," a Natural Selection press release said.
Alongside the Park and Pipe team at Jackson Hole, Rice has been working for the past three summers to cultivate a course that prioritizes riders' safety and requires tactful backcountry knowledge to come out on top.
"The Natural Selection Tour is designed with Mother Nature as the main character," Rice said in a press release, "and with mutual respect for and from snowboarding."
Jackson's Park and Pipe team and Natural Selection's build crew constructed everything from mountain bike style features to transitions atop what used to be flat landings with the intention of making the trail more rideable. Although they spent multiple summers working on the Natural Selection course, Rice believes as much work was done on the snow this season alone.
"It was a pretty rugged piece of terrain, as it was never really considered inbounds terrain," Rice said. "One of the reasons we selected that area was just the kind of geological oddities and the amount of features, and a big part of developing this course was making sure that we would leave it better than we found it and improve its rideability and safety."
Natural Selection's venue, only 0.6% of the mountain's inbounds terrain, closed to the public Jan. 12 so that Rice and crew could work on the snow and cover hazards well ahead of February's competition.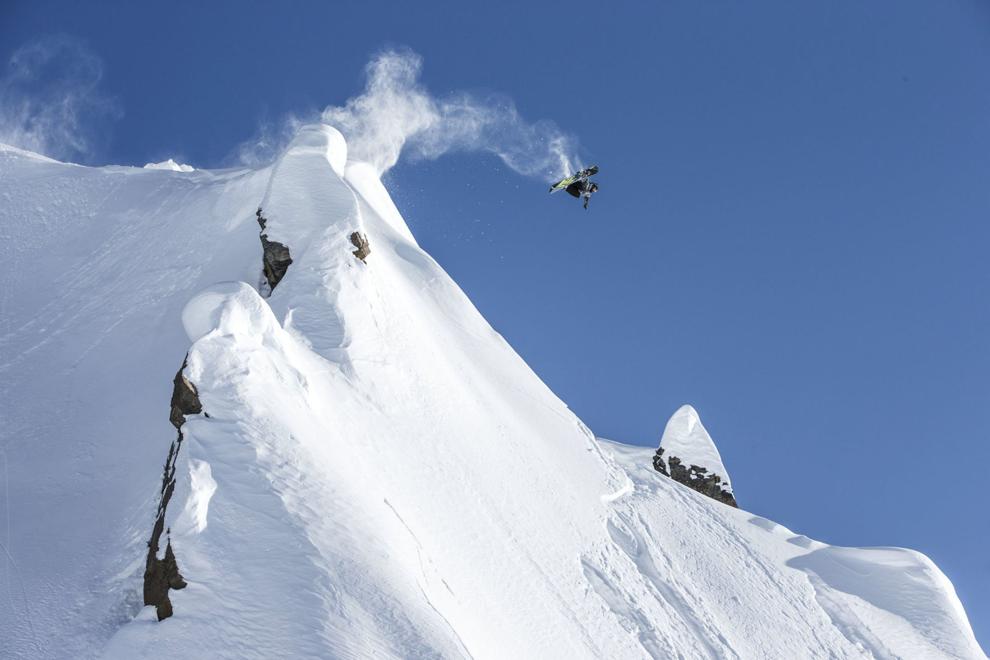 When asked which line he's most stoked to hit, Rice paused.
"I've honestly had my head down with our build crew and the Park and Pipe team; our aspiration was to really create," Rice said.
Due to the ongoing COVID-19 pandemic, and the nature of the course, all spectators are encouraged to watch Natural Selection from the comfort of their own homes. Natural Selection is using follow drone technology to live broadcast the event in lieu of a crowd. Rice is confident that this filming technique will make for "an immersive experience."
Mikkel Bang, Hana Beaman, Victor de La Rue, Anna Gasser, Eric Jackson, Hailey Langland, Pat Moore, Blake Paul, Werni Stock and Austen Sweetin have accepted invitations to join the Natural Selection Tour, according to a press release They will join Elias Elhardt, Ben Ferguson, Sage Kotsenburg, Nils Mindnich, Mark McMorris, Chris Rasman, Rice and Gigi Rüf on the men's side and Jamie Anderson, Marion Haerty, Elena Hight and Robin Van Gyn dropping in for the women.
That leaves two spots up for grabs, with a final male and female rider able to receive an official Natural Selection Tour invite from the Tour's Nomination Committee and Red Bull. Snowboarding icons including Jake Blauvelt, Manuel Diaz, Danny Davis, Yuka Fujimori, John Jackson, Sammy Luebke, Tobey Miller, Mary Rand, Jason Robinson, Zoi Sadowski-Synnott and Stale Sandbech have submitted one-minute montages of their best backcountry freestyle riding to prove why the final men's and women's spots should be theirs.
Submissions are now live and voting has begun at RedBull.com, where people can watch the videos and cast votes for the People's Choice winner. Both the men's and women's wild card winners and the People's Choice winners, who will be next in line if a spot were to open, will be announced on Jan. 29 on the wild card page.
Although Rice and his fellow competitors are used to competing on a world stage in front of a crowd, Rice doesn't think he'll be fazed by the lack of spectators.
"There's something to be said for the energy that comes with competing in front of an audience, but, at the end of the day this event is really about how riders interpret natural snow and terrain," he said.
And the competition doesn't stop at the slopes. Building upon its "mission to bring something of value to the community," Rice said, the Natural Selection Tour also partnered with Jackson's Center for the Arts for a speaker series that "will dive deep into the challenges and opportunities that arise as human beings continually push the limits within themselves and within our planet." Tune into the Center Theater's website at 5 p.m. Feb. 4 through 6 for speaker events, snowboarding films, giveaways and more.
Without the help of all resort employees, Rice knows Natural Selection would merely be a figment of his imagination.
"It's really a community effort at the end of the day," he said. "This straight up wouldn't be possible without the support of all the different teams that run Jackson Hole Mountain Resort — from food and beverage to the snow safety team to ski patrol who will be helping us run the safest event we can."