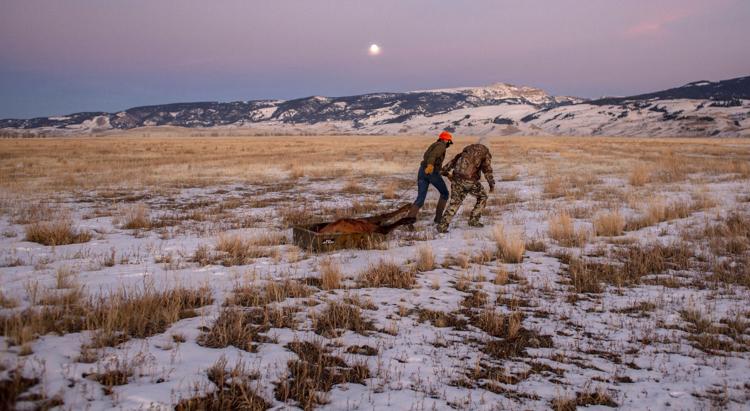 Adriana Ochoa is fond of getting outside hunting with her dad, Victor, but as a thoughtful young sportswoman she doesn't necessarily relish the act of killing.
"They're just animals out living," Ochoa said, "and then we come along and shoot them."
For the 15-year-old from Rawlins, that bittersweet opportunity to help feed her family unfolded most recently on the National Elk Refuge. Ochoa joined 45 young hunters selected to participate in a special annual hunt available only to Wyoming Game and Fish Department youth license holders, who are 12 to 18 years old.
During this year's three-day youth hunt on the refuge, the elk migration was in full swing. Still, going into the final day Adriana had not yet sliced the triangle from her tag, notching a successful hunt.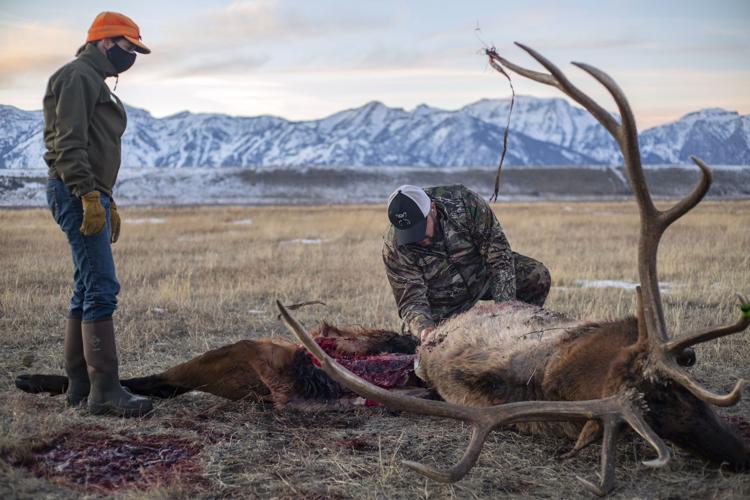 Her luck shifted on the the last day, Saturday, Nov. 28, when she spotted a trophy-class bull with antlers stretching to the sky. Using a rangefinder, she judged the 6-by-6 elk at 411 yards, a long shot, by most standards. But the 10th grader felt good enough to squeeze the trigger.
"Always on the first shot, I hold my breath," Ochoa said.
Through her scope she watched the elk lurch and knew she hit him. Dad, more susceptible to bull fever, overflowed with excitement. A few more insurance shots were taken at the big bull, and Ochoa's target was on the ground.
The National Elk Refuge's annual youth hunt marked its 25th year this fall. Former refuge Manager Mike Hedrick, who wanted to introduce the community's youth to hunting the right way, sprang the idea a quarter century ago.
"Basically, it's something that I had been thinking about for quite a few years because the problems we see from a wildlife management standpoint and a wildlife law enforcement standpoint is that a lot of the problems that crop up later in a person who hunts … are rooted back to, generally, the very first experiences that they have," Hedrick told the Jackson Hole Guide in October of 1995.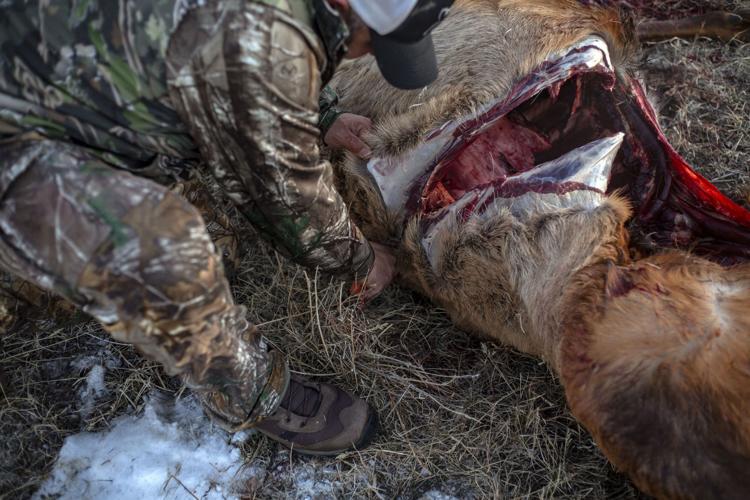 At the time, a hunter orientation, education and safety course was offered in conjunction with the hunt. Initially, hunters taking advantage of the licenses set aside specifically for youth license holders faced competition in the field from adults also pursuing elk on the refuge.
Nowadays, youngsters participating in the refuge hunt have the 24,700-acre national refuge to themselves — and their accompanying adult assistants.
For many years, youth hunters were turned out onto the refuge abutting the Town of Jackson in mid-October, once a fruitful time for elk drifting down toward their winter range. But then the Jackson Herd started delaying its migration, arriving later and later and sometimes not at all in the month of October. Over its final seven years with the earlier start date, youth hunters managed to kill a single elk.
"There really wasn't any elk here, other than the scabies bulls," deputy refuge Manager Cris Dippel said. "Things change over time. Migrations that happened in early October don't happen now, so to give the kids a decent hunt … we switched it to that Thanksgiving weekend."
National Elk Refuge staff made the adjustment in 2017. Youth hunters are now designated a hunt period that starts annually on Thanksgiving and runs through the following Saturday. Migration started early this fall, and the result was that there were thousands of elk in the vicinity of the refuge when the young and sometimes first-time hunters were out and about. Many of those animals were bulls, which are fair game for youth hunters exempted from the usual cow/calf requirement in a hunt that's geared toward trimming the Jackson Herd by targeting the reproductive sector.
Thirteen-year-old Kate Mann, of Jackson, was out with her dad, Roy Mann, on the final morning of the hunt when they spotted a big bull brandishing another hefty set of antlers. The elk stood solo.
"Which we thought was good," Kate said, "because not all the eyes were on us."
The father-daughter duo snuck in to close the distance for a shot, using drainage ditches and cottonwood groves to conceal their location from the lone bull. They managed to go undetected until the bull was 300 yards away and then got down on all fours and crawled another 50 yards or so. Kate fired twice and the bull tipped over. Mom and sis were called in to help pack the meat out and celebrate.
"It's been a great weekend," Roy Mann said. "This is so good for them. Lots of the time you go out and you don't even get to see an elk. Now they get to come out and see them and hear them and call at them and shoot at them. It's just a great opportunity."
Word has spread about the Thanksgiving weekend hunt, which Dippel said is gaining popularity.
"Chances of drawing are dropping with more people putting in," he said. "We're never going to be able to bump up tag numbers substantially."
This fall Isaiah Escobedo, 13, beat the odds, winning one of the coveted licenses. Up at 5 a.m. on Thanksgiving, he was accompanied by his grandfather, Fernando, who knows the refuge well. Fernando Escobedo works for the U.S. Fish and Wildlife Service as a heavy equipment mechanic for the refuge.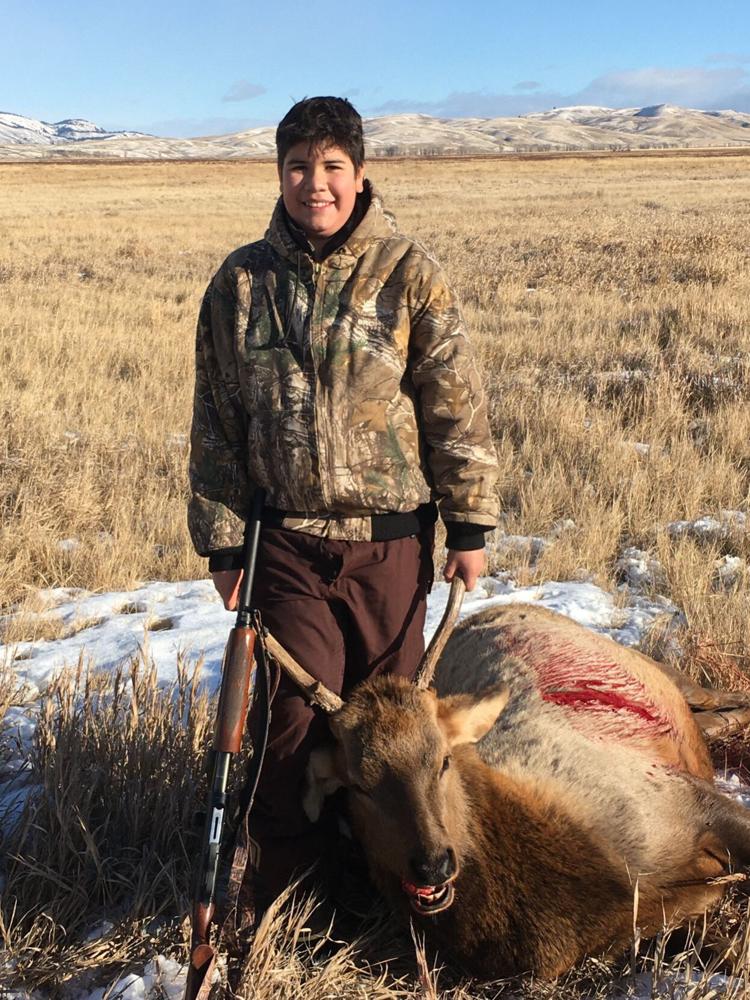 The Escobedos also used a drainage ditch that cuts through the sleigh ride area to their advantage, staying low to close in on a herd. They had to get close, because that portion of the refuge is open only to short-range weapons like shotguns and muzzleloaders. When they popped out of the ditch for a view, the herd was just 50 yards away. A single shot rang out, and whether it was successful was initially unclear.
"When he shot, I thought he missed because I saw a bullet hit the snow," Fernando Escobedo said. "I walked away to get my pack and glassed to see where the animals were, and there was a dead animal."
"I was so proud of him," he said. "He took his time."
The Jackson Hole Middle School student had downed his first elk, a spike bull. That's when the real work started: field dressing the animal and packing out hundreds of pounds of meat. A couple of Escobedo's other grandchildren joined, and they loaded everything up into a sled.
"All four of us pulled, like a bunch of mules," he said. "It was an easy drag, but it was a long drag."
Then on the hunt's final day, as the sun set beyond the Tetons and the temperature plunged, Adriana Ochoa also labored to pack out her elk. Her father, Victor Ochoa, handled the cutting, but when the time came to sled out the carcass the teen looked the part of a budding Artemis, tugging at 100-plus pounds of venison with help from Game and Fish wildlife biologist Aly Courtemanch, who happened to be in the area. Within minutes they skated the elk across the snow to the family's truck.
Ultimately, the meat headed into their Rawlins freezer.
The hulking skull and antlers will be mounted on their living room wall to remind the Ochoas of their weekend on the National Elk Refuge.
"We have a spot picked out," Adriana said.