A year ago Utah's Roger Arnell watched Spencer Johnson, John Jantz and Nathan Manwaring break away early in LoToJa, with all three smashing the course record.
Arnell was seventh in the category 1/2/3 race, over 30 minutes back of first.
So when this year's race began, Arnell made the vow not to let the race get away from him. He came out of Hoback in Saturday's race leading the way and had built some separation with just a final stretch separating him from the 37th LoToJa title.
"This year my thought was just be aggressive, even if I lose I don't care," he said. "I'm just going to be aggressive."
Arnell took the 207-mile race, finishing in 8 hours, 45 minutes and 51 seconds.
Johnson, meanwhile, was back on Saturday in an attempt to defend his 2018 title. He came across the finish line third, two minutes after the champion was decided, with a scraped up bike and dried blood covering his hand.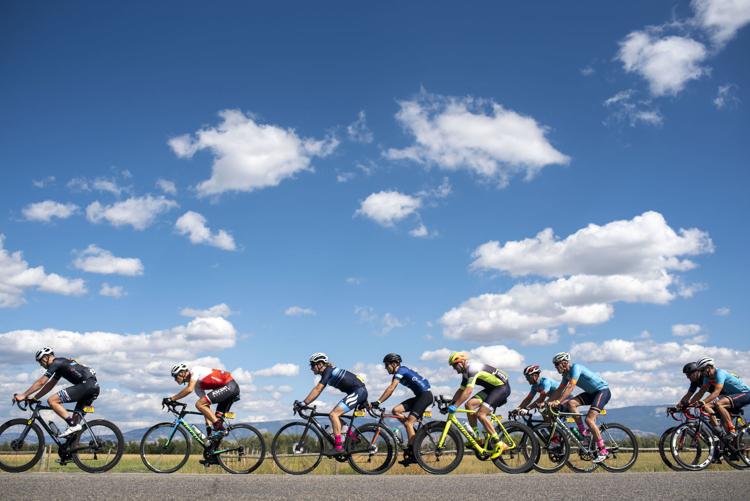 Early on in the race, maybe 5 or 10 miles after leaving Logan, Utah, at the start, Johnson attacked. Arnell took note and made an effort to catch up. He pulled ahead of Johnson and slowed a bit, and Johnson took a quick glance backward to scan the field before his front tire went into Arnell's back tire. Johnson was sent to the ground, a shredded side wall of his front tire and a broken curve to his handle bar.
"I felt horrible, because Spencer won last year and he's in such great form this year," Arnell said. "And certainly, from a team perspective, I wanted him there."
Arnell hesitated for a moment after the crash, but decided to bridge back up to Manwaring to not set the team back two bodies.
Johnson regrouped while the front pack sailed away and mounted his effort to catch up. Some 45 minutes later he made it back to the leaders.
"It was almost a relief for me when we did get caught, because the whole time I'm like, 'where's Spencer?''' Arnell said. "I didn't know if he was hurt, still riding or what."
But even after Johnson took inventory of his bike and his body after the race, he didn't seem too hung up on the early going of the contest. It's a long ride. These things happen.
"I don't honestly think it had too much impact," he said. "I had to chase them down, but that's racing."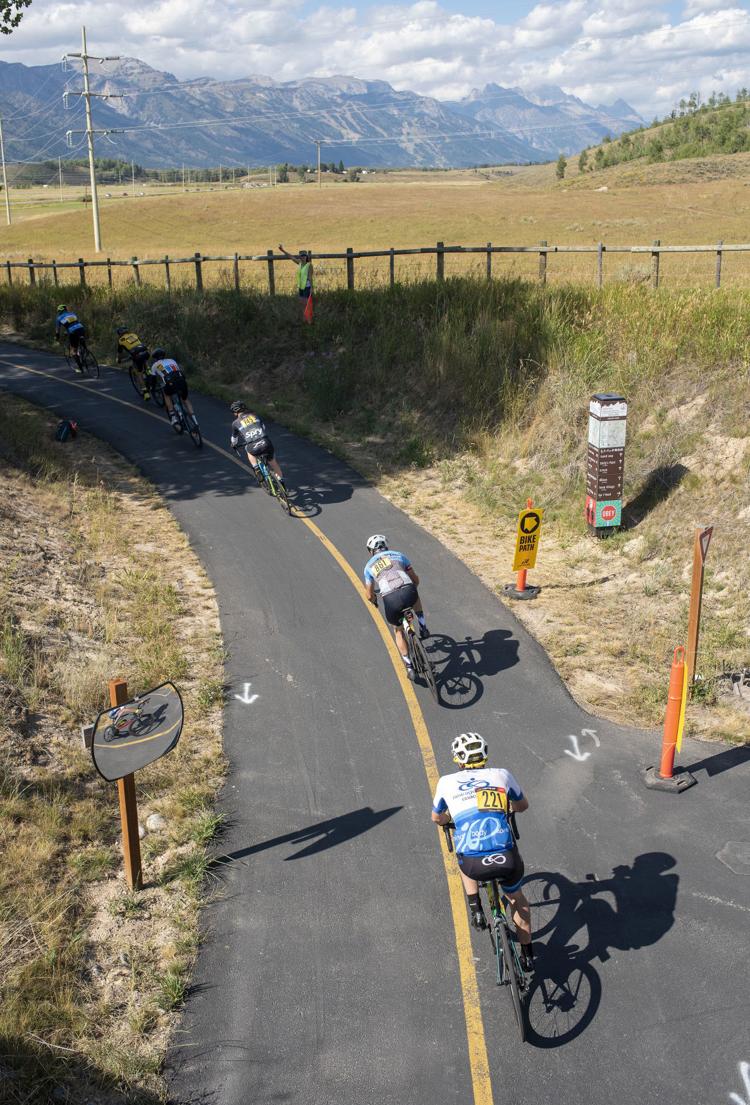 Johnson's course record will hold at least another year, but the field likely didn't expect to be close heading into Saturday's race. A year ago a strong tailwind through Star Valley was key. This year the wind was not in their favor.
And for Johnson, a year after his victory he said he felt the rest of the field might have seen him differently. Trying to get away early wasn't in the cards; no one would let him get away again.
"People follow me after last year," he said. "Last year people didn't know who I was. Now it's, 'that's the guy. He won, he's got a good chance of doing well,' so I think people are going to naturally follow."
Arnell pointed out a number of recent races in which he was in the hunt as the final tape loomed, but his sprint would let him down, time after time. Each race there was a pride in finishing near the top, but always a subtle sting for not putting the cap on a victory.
This race came down to him and Arizona's Gilberto Melendez, who caught up to Arnell heading onto the bike path just before the finish line near Jackson Hole Mountain Resort. Arnell was dealing with heavy cramping, so intense he admitted the thought of stopping crossed his mind. But that changed when it turned into a two-man race for the title.
"I just said, 'Dude, let's see what we can do,'" Arnell remembered. "I knew I was feeling better than him and I just stayed with him until the end. He went first, I marked him and was able to go past him pretty easily."
Melendez was second in 8:45:54.
Johnson, meanwhile, spent less time tending to his wounds after the race and more time heaping praise on his team, and on Arnell, for finally winning down the stretch.
"The first choice is always to take first, second choice is for your teammate to take first," he said. "The wreck, I mean it happened. I maybe burned a match catching up, but I honestly don't think my body was injured, and I can't say that's why I didn't take first."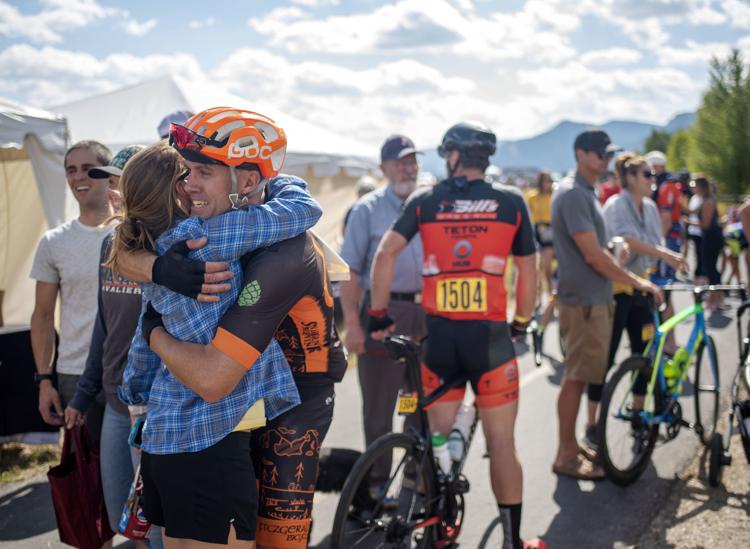 J. Trevor Robinson was the top local, placing seventh overall in 8:48.
On the women's side, California's Alison Tetrick took the title in 9:42:07, over eight minutes ahead of second place.
Katharine Lovett was the top local finisher on the women's side, placing 16th in the women's category 5 race in 11:27:04.
The race, named for its course trajectory that starts in Logan, winds up into Idaho and crosses into Wyoming, had over 1,500 participants this year. Racers hailed from 37 states, Canada and the United Kingdom.
An earlier version of this story had Arnell 17th in the 2018 race. He was 17th overall, but seventh in the category 1/2/3 race.