While the rest of the 3A West scrapped for position in the conference Friday night the Jackson Broncs were putting on a clinic.
It didn't take long for the Broncs to assert themselves over Evanston during their homecoming game at William T. McIntosh Stadium, with Jackson scoring 28 points in the first quarter alone. By the time halftime rolled around, the scoreboard read Jackson 49, Evanston 0. Only in the second half, with Jackson's starting unit impatiently straddling the football field from the sideline, was Evanston able to score. It really didn't matter, anyway. The Broncs won 58-7, improved to 6-1 (3-0 3A West) and now sit alone atop the conference.
Before being pulled, Jackson's starting unit was uncontainable. Brody Hasenack scored from 12 yards out to open the first quarter, then quarterback Sadler Smith hit Sam Scott for a 45-yard touchdown. Hasenack scored again, and then Smith hit Colter Dawson for a 27-yard score — still in the first quarter.
In the second Smith hit Scott for a 55-yard TD, Hasenack went 68 yards to the house and then Smith hit Scott for a score again.
In all, Smith was cool and efficient under center, hitting 9 of 12 passes for 217 yards and four touchdowns. Scott caught five passes for 114 yards and two TDs, Dawson caught two for 74 yards and a touchdown. Hasenack carried 15 times for 209 yards and two touchdowns. Clancy Meagher, meanwhile, had a second-half kick return touchdown and caught two passes for 29 yards.
On defense, Jackson swarmed. Steven Heffron led the way, intercepting a pass in the first quarter and recovering a fumble in the next. Jackson scored its final two points with a team safety in the fourth quarter.
"They executed tonight on a very high level," head coach David Joyce said. "We wanted to get off to a fast start defensively and offensively, and we stressed that all week. … It felt like once we got going early there was no turning back."
Things were not quite so simple around the state. Defending champion Star Valley, which had not recorded a conference win before last week, knocked off previously unbeaten Cody 21-14. That win keeps Star Valley afloat, now 2-5 (1-2). Powell, which beat Star Valley two weeks ago and lost to Cody earlier in the season, downed Green River 44-20 to move to 5-1, 2-1 on the year.
GALLERY: Bronc football defeats Evanston 58-7
The Jackson Bronc football team defeated Evanston 58-7 during Friday night's homecoming game at William T. McIntosh Stadium. 
To illustrate the parity, Star Valley has a win over Cody, Cody has a win over Powell, Powell has a win over Star Valley, and Jackson remains the only team to have not lost in the gantlet the 3A West has become.
Does this all make sense?
How much longer the Broncs' top spot remains intact will be in question Friday, as Jackson hits the road to take on Powell. The week after, in the final game of the regular season, Jackson will host Cody on Oct. 23.
Smith, who has put together his best two games the previous two weeks, doesn't quite see that four-team quarrel. He sees one team, then the others.
"I'd say there's one team and three second-place teams," he said. "But Powell is really tough at home, and any team can win on any night. We've just got to come in and play."
Joyce said there was not much celebrating after downing Evanston on Friday night. Instead eyes were up, staring down the next two weeks, which will either prove Smith's vision of the conference right or push Jackson down the seedings come the playoffs.
"It's on the table, if the kids want it, it's on the table," Joyce said. "Win the last two weeks, win the league. They were pretty serious in there, they want to prepare this week and at least give ourselves the chance to close out the last two games because the last two games are going to be real physical and tough."
The contest with Powell is relatively straightforward. The Panthers do not give up much: The 20 points Green River scored Friday night were the most any team has put up on Powell this season. Joyce noted the defensive front the Panthers bring to the table, big and hard to move, as perhaps the upcoming game's deciding factor. If Jackson can't create space to get Hasenack through for his weekly dance sessions, it will be the aerial game where Jackson will need to move the ball.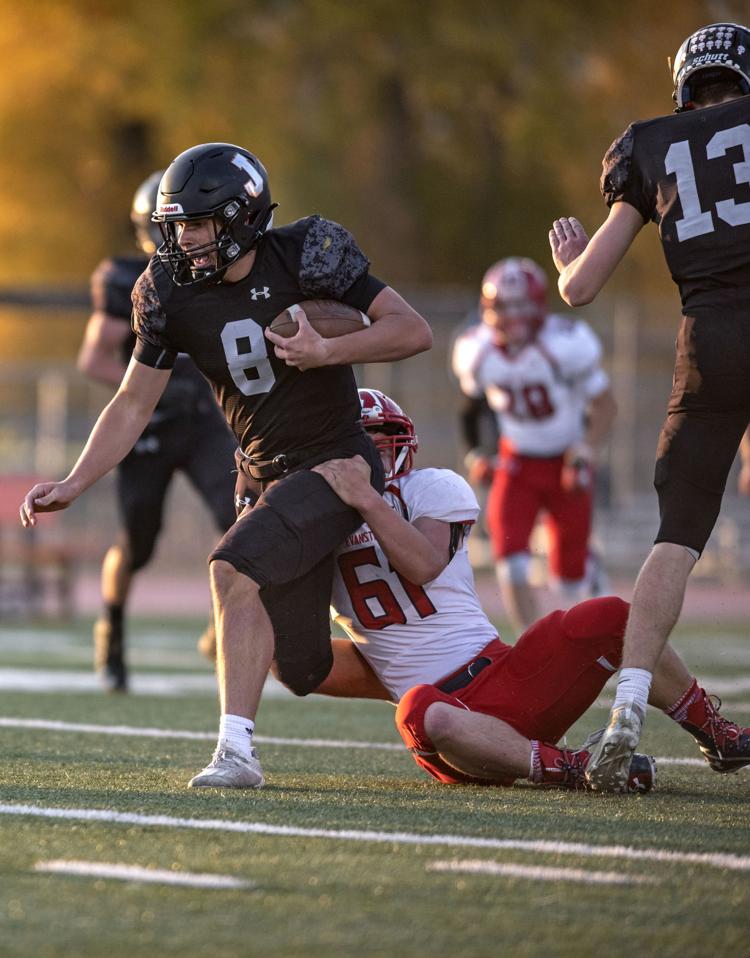 "They don't slant, they don't stunt, and that makes it hard on a team because if you can move them you're going to score at will. But if you can't move them, then you've got to do something else," Joyce said. "I think we have some opportunities everywhere, but every coach going in thinks they've got opportunities."
If the past two weeks are any indication, this is the right time for Jackson to need to rely on its passing game. The Broncs remain without No. 1 receiver Nate Keipert, still sidelined with an injury suffered in the season opener. Developing rapport with targets Scott and Dawson took some time for Smith, but it seems to be flourishing now as the regular season is winding down.
Over the past two weeks Smith has completed 19 of 26 passes for 307 yards, with most of those throws going to either Scott or Dawson.
"He's like the Jerry Rice to my Joe Montana," Smith said of Keipert. "He's been my guy since seventh grade. I could just throw a ball long and he's going to get it. It's been kind of hard without him, but we're human, we can evolve."