Ever since Jackson took its lumps on a road trip to Star Valley in Week Six, the Broncs' collective wandering eye has drifted to a potential rematch with the Braves.
Following Friday's 48-6 thumping of East No. 2 Riverton in the 3A football quarterfinals, West No. 3 Jackson will get that chance.
Star Valley (10-0, 5-0) simply hasn't been tested this season, and it certainly wasn't in its own quarterfinal game. The Braves flew into the semifinals with a 45-12 rout of Douglas to extend their winning streak, dating to last season, to 19 straight.
The closest any Wyoming team has gotten to rattling the Braves was West No. 2 seed Cody, which lost to Star Valley 20-7 back in Week Seven.
Perhaps against better judgment, the Broncs seem to believe they're still the team capable of sending the Braves packing when the two sides meet Friday night in Afton.
"We're coming for Star Valley," sophomore Clancy Meagher said after a three-touchdown performance in the quarterfinals. "I feel like we just sent a message that we're no joke and we're here for real."
What wasn't there for real the last time was the Broncs run game, the hallmark of the team. Jeydon Cox, the reigning 3A West Offensive Player of the Year, is capable of chipping off 200 or 300 yards a game seemingly each time out. When Star Valley dumped Jackson on its head 30-0 earlier this year, he totaled less than 50.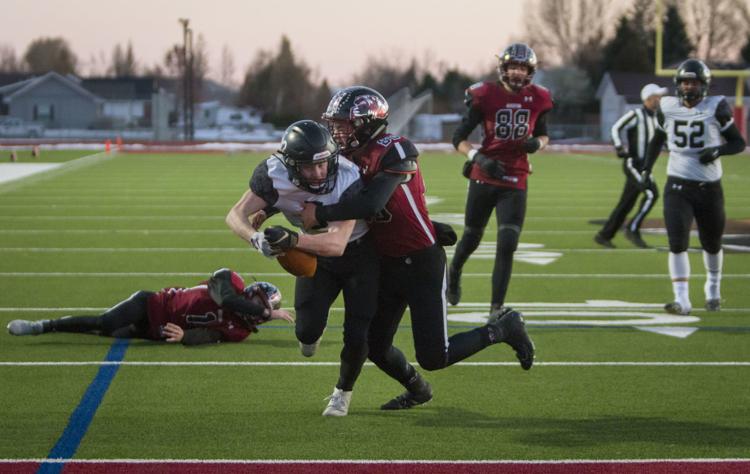 But Cox is only one cog in the Broncs run game, and the bodies he follows on the Jackson offensive line seem to have brushed off the lackluster performance they delivered the last time the rivals met.
Frankly, fresh off Cox's 275-yard rushing total against Riverton, they feel as though they're a different team.
"They played real hard and I respected the way they played, but I feel like we just didn't show up the way we have," senior lineman Sterling Smith said.
"Last week felt like a new high for us," line mate Ben Phocas said. "If we had the opportunity to play every team we played since the season started again, it would all be different."
'Just not clean football'
Cox was admittedly banged up when Jackson suffered the loss to Star Valley earlier this year, but the team as a whole failed to execute while the Braves proved to be among the most disciplined, well-rounded squads the state has to offer at any level. Twice the Braves pinned Jackson inside its own five on punts, and it even came out with a safety by blocking one of the Broncs' punts while the game was still in reach for Jackson.
"When you add up everything that happened, we took a few sacks, an intentional grounding, dropped passes — it was just not clean football," head coach David Joyce said.
Braves running back RJ Cazier was one of a number of playmakers who made stops hard to come by for Jackson last time out. He finished the game with 22 carries and a game-high 113 yards and two touchdowns.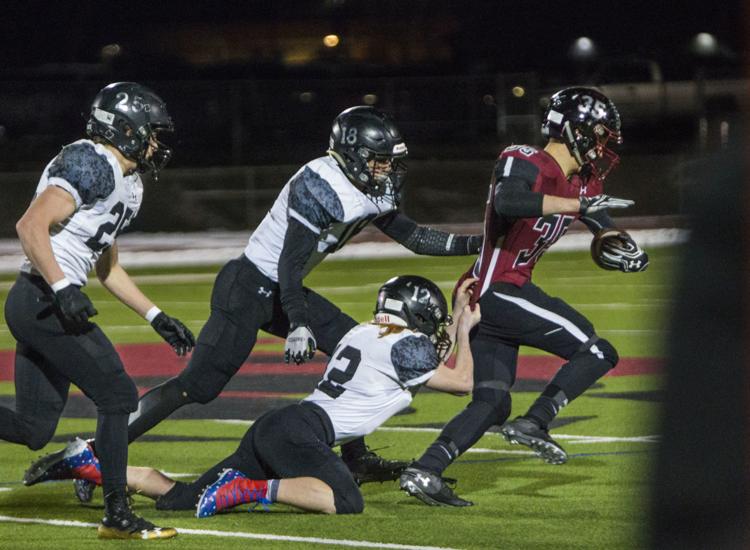 Joyce doesn't expect Star Valley to deviate much from that attack Friday night.
"They've got a lot of talent, a lot of size and some speed," he said. "Everyone knows what they're going to run. Stopping it is just hard to do with the horses they have up front.
"When you score 30 points, I don't think you should adjust. I think we're going to get the same basic look from there."
On the offensive side for Jackson, the lack of an effective run game forced it to become a passing team, and it struggled. The Broncs threw 36 times in that loss, completing just 16 of those passes, although there were a number of drops that hurt that percentage significantly.
"It just wasn't us out there that night," Smith said. "We had to start passing, and our identity is playing hard, nitty-gritty, three-yards-at-a-time football. We just weren't executing."
The expectation is that the run game will be there this time, and the scoreboard will look much different than it did the last time the clock hit double zeros.
Avoiding Star Valley in the state semifinals might have been preferable, but as has been the mantra each week leading up to this one, Jackson wants to get one back on Star Valley.
Add in the implications for Friday night's winner, and what better way for the Broncs to retake the field in Afton?
"The guys just have a different mindset it seems like this week," Joyce said. "For the seniors, what an opportunity to have: You get the chance to go to the state championship by beating your arch rival."