Despite another victory keeping the Jackson boys soccer team unbeaten eight games into this season, there were some sour moods heading off the field at William T. McIntosh Stadium on Friday.
The Broncs had managed to down conference rival Evanston, 2-1, but for a team that is the reigning state champion, sometimes wins simply aren't going to be enough.
"The longer we don't put them away, the harder the game gets on us," senior Leo Harland said afterward.
Indeed, Jackson did allow the Red Devils to linger just a day removed from smashing Star Valley 6-0.
Against Evanston, Jackson struck first, 10 minutes into the first half when junior Charlie Hoelscher crossed the ball to freshman Teddy Opler, who promptly buried the opening goal. Ten minutes later Evanston leveled it, and just 13 minutes later Opler scored what became the game-winner off a rebound.
The Red Devils traveled to Jackson last Friday to take on the Broncs in varsity and junior varsity matchups. The boys junior varsity team won …
When Evanston scored its lone goal, it was a full-on celebration, and the Red Devils kept that energy throughout. Even in the last 30 seconds of the game, with the ball buried deep in their own third, the Red Devils continued to lope forward, desperate for an equalizing goal that never came.
"When we don't put them away early, it comes back to kick us in the [butt]," Harland said. "We need to bury teams and then it's an easy ride home. But when we don't, it's a game like that that we'll probably treat like a loss, honestly."
Though the Broncs did not get the opportunity to defend their 2019 state title a year ago, they entered this return campaign with the expectation of defending a title. That's come with a confident style of play week in and week out, but also a large target on their backs. That's a point head coach Matt Hoelscher has noted since the season's onset.
"The more you remain undefeated, the bigger the target gets," he said. "Teams are psyched if they're in the last minute of the game, down 3-1, or 2-1. They're playing really hard at that point, and good for them. But I guess when you have that target it makes for a little more pressure."
Whether too bright-eyed to fully grasp the pressure, or simply too good, Opler has stepped into his role as a starting forward on this team and brought his best each time out. In the win over the Braves on Thursday, Opler notched a hat trick, which brought his two-game total to five goals scored for the Broncs. And that came a week removed from a four-goal showing across two contests.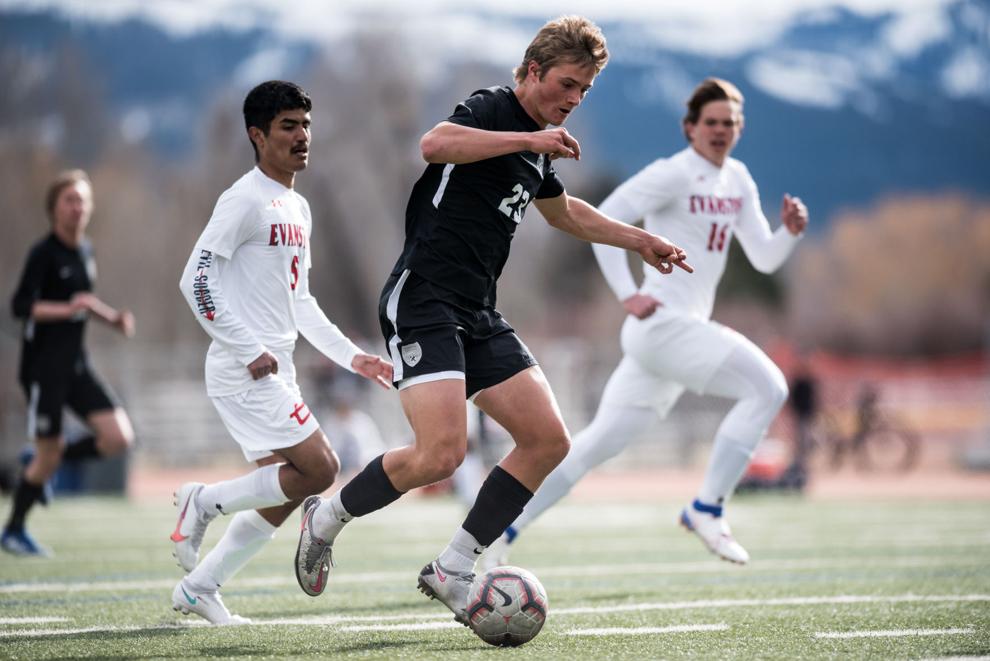 Being a freshman starting at the varsity level is tough enough, but Opler didn't even arrive in Jackson until last May.
"I wasn't expecting to really contribute," he said. "I've known these guys since I came here from Chicago, so I wasn't as nervous as you'd think playing with the older guys. But my confidence grows each game I score."
Despite his frame — he looks like a freshman — Opler is good. Time and time again he would size up a lanky, older defender one-on-one, and beat them. He attributes it to training. "Training is a different story, where I focus on every single pass, every touch I take," he said. And as he acknowledges the physical disadvantage he takes into game time with him in size alone, Harland shrugs off its impact for him.
"Technically he's on a way higher level. He's a freshman, he'll grow and he'll become an insane soccer player in the future," Harland said. "He's already insane, but once he fills out and gets taller, it's going to be a whole other story."
Jackson (8-0, 6-0) remains the only unbeaten side in the 4A West, with Kelly Walsh second in the conference standings at 6-1. Up next for Jackson are two opportunities to remain unbeaten in conference games, as the Broncs head to Rock Springs on Thursday before hosting Green River on Saturday.