Friday night gave Jackson Hole High School girls basketball its first home contest of the year, and first chance at a victory.
But the Broncs up-tempo offense resulted in more turnovers than quick transition buckets, and as the game wore on it seemed only to have gotten away from Jackson.
An 18-point halftime deficit became a 20-point hole entering the fourth quarter. But as the final frame wore on, the Broncs' offense suffered fewer of those turnovers, the speed began to wear out Teton, and it was only the clock that kept Jackson from its first win of the year. A final-frame rally finished just short, with a 56-50 loss to the rival across the state border.
The loss aside, the message head coach Jason Huggins delivered to his team after that game was resoundingly positive.
"Even though we got down by 20, we just kept fighting," he said Friday night. "And that's all we can ask from our kids."
That fight paid off the following day, with Jackson traveling to Pinedale and returning with a 49-40 win, the first of the season.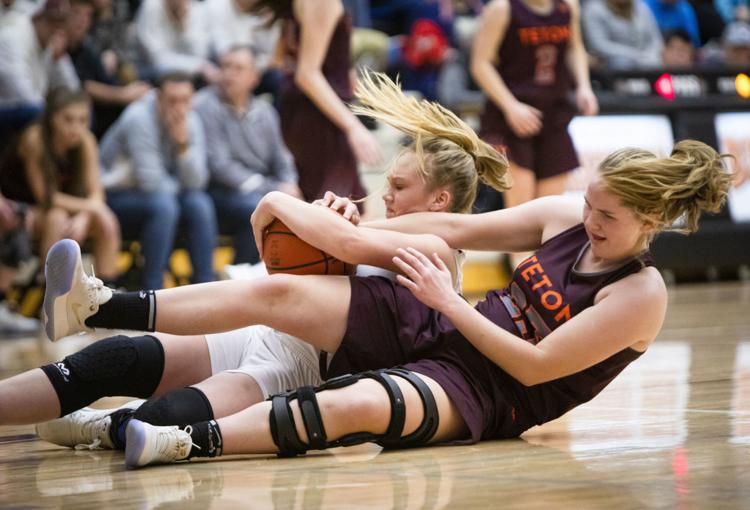 The non-conference game had Jackson (1-7) in a hole early, though the game never got away like the contest with Teton did. The Broncs hung close until the fourth quarter, where a 20-point outing paid off with victory that time as the Wranglers slowed and sputtered under Jackson's pressure.
"That tells me things are starting to click, things are starting to work," Huggins said. "It's a matter of staying close until we get to the fourth quarter. Then we just wear them out, and that was kind of the plan."
Jackson did face some adversity, with starting point guard Hailey Hardeman leaving the game in the second quarter after clunking heads with a Wrangler. Hardeman is often responsible for pushing the ball quickly up the floor; without her the Broncs relied on a slew of players from up and down the bench to execute the game plan.
Huggins said 13 kids from his roster saw floor time in the victory. Bella Gwilliam was the standout, recording 15 points and 13 rebounds a night after going for 11 and eight against Teton. But there was also 10 points from Megan Tucker, five from Gracie Hardeman, and five from Holland Gaston. Instead of relying on one player to keep Jackson afloat, Huggins hopes his team identity will simply be "next woman up."
"It's that mentality of we're going to go as hard as we can until they can't go anymore, and then I'm putting the next one in," he said.
Despite Jackson playing at 4A and Pinedale at 3A, nabbing the first win of the season over the Wranglers was a pleasant way to right the ship for Gwilliam. As one of the seniors on the squad, she's been front court to both programs' struggles to string together wins over the years.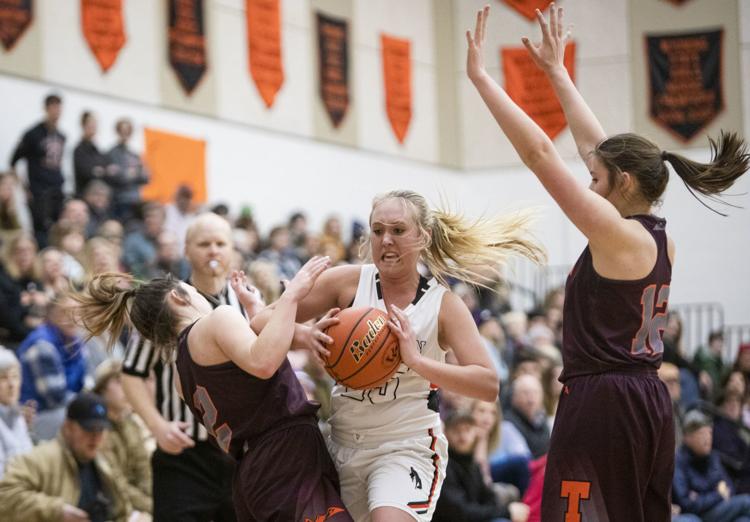 "I feel like with Pinedale we've always had this little rivalry with them," she said. "We're kind of in the same boat, we don't win a lot of games and we want to win a lot of games."
The game against Teton on Friday night is no doubt a loss, but perhaps it could be the catalyst for an early-season turnaround for the Broncs. Huggins was confident after that game that Saturday's meeting with Pinedale would be the first win of the season, and it was.
That confidence even in a loss wasn't lost on Gwilliam.
"I think we wanted that win so badly that we carried it into the Pinedale game, like we're going to play all four quarters like we did that last quarter [against Teton]," she said. "And I think we definitely did that."
Jackson is still a few weeks out from conference play, but the Broncs will have a shot at redemption with Teton when Jackson heads across the pass to take on the rival again Thursday.
As for how they expect that one to shake out, Gwilliam doesn't think it's the clock that will run out on Jackson this time.
"We're about the same team, we've got big girls, they've got big girls," she said. "We've got it. All I know is we're going to win."