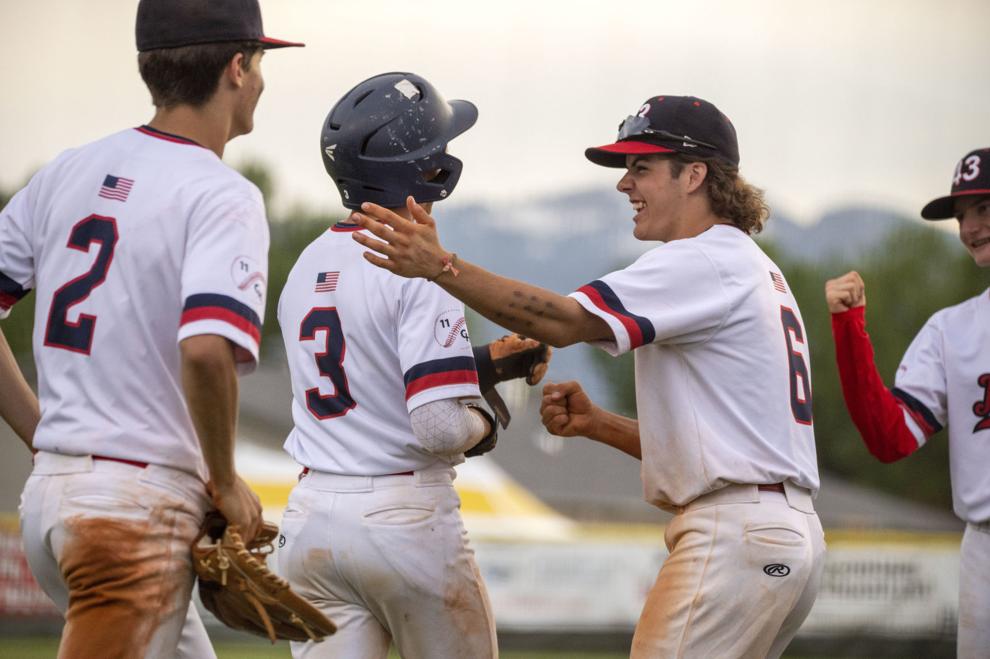 In baseball, a sport that demands a daily grind, a team's record often doesn't reflect what goes on behind the scenes.
For the Post 43 Jackson Giants the team's up-and-down 2021 campaign finally came to an end July 27 with losses to the Laramie Rangers and Casper Oilers in Laramie's Class AA state tournament.
With the defeats the Giants capped their summer season at 14-43, a far cry from some of their dominant finishes in recent seasons.
Despite finishing under .500 in 2020 the Giants churned out a 36-22 finish in 2019, and have been relatively consistent as a contender in Class AA for the last five summers, including a 2018 season that saw the Giants finish 39-19.
While this latest season certainly strayed from their usual success, the change in fortune wasn't due to a lack of talent, effort or dedication. It was actually something much different.
This season the Giants simply didn't have the luxury of as many experienced players that some of the past Giants teams had on their roster. Instead of third- and fourth-year players, the Giants were mostly freshmen and sophomores beginning their high school careers.
While the 2021 record shows wins and losses, what it doesn't show are the long hours spent at weekday practices and weekend tournaments that had the team shuttling around the West, with few breaks in the action.
"All summer long they've probably had five days off," said Jason Huggins, Giants head coach.
This year's baseball season stretched across four months, with the Giants racking up 57 games in 94 days with practices squeezed into the days that the team didn't compete.
"We start the first week of March and we don't end until [July,]" Huggins said. "Then we do fall and winter workouts where these kids are coming in. We practice five days a week and then, once we start our games, we'll go Monday through Thursday and may play Friday, Saturday and Sunday. We might give them Monday off and then we're back at it again."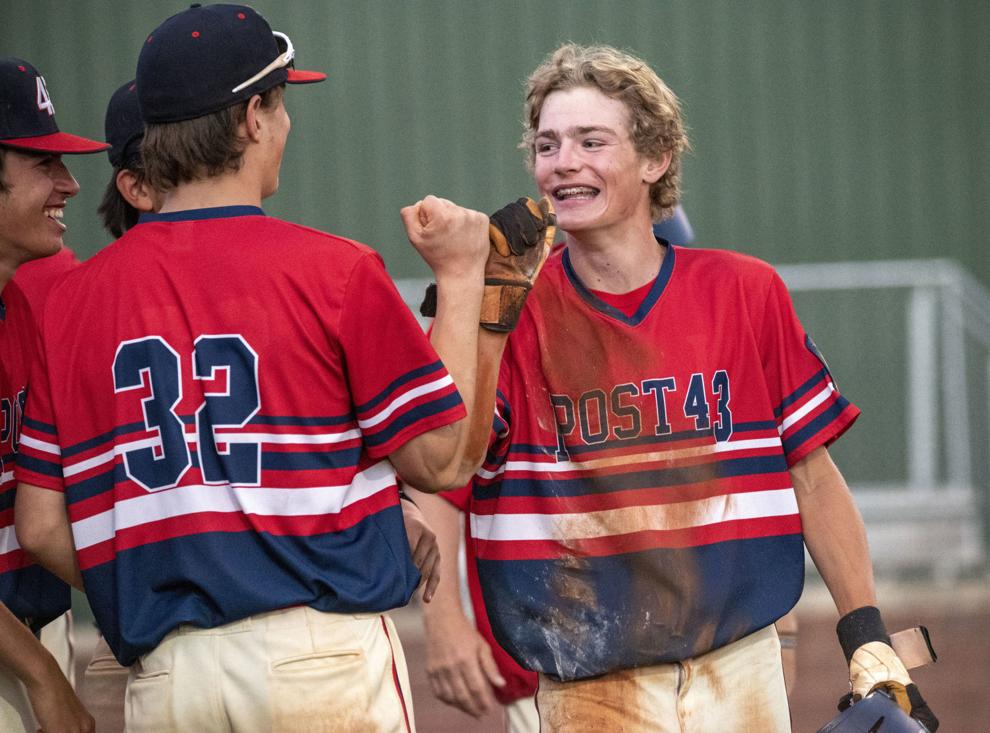 With Wyoming remaining one of the few states without sanctioned high school baseball, the team benefits from a long summer season of American Legion baseball. Teams can make major progress traveling together all summer and playing 50-plus games without having to worry about classes or homework.
"That's one area where I feel like what we do here maybe is different from other sports," Huggins said. "We'll go on the road, and we might be on the road for three, four, five days. These guys have to get to know each other … build a rapport with each other. We go out to eat with each other. It's one of those things where you become close with these guys."
Players develop lifelong relationships and friendships.
"These kids will be at each other's weddings," Huggins said. "That's one piece of how we're just a little different here."
The reason Huggins wasn't worried about the struggles is because he recognizes that there's much more than wins and losses with a younger team.
While the team worked to improve fundamentals on the field, players also spent long bus rides together, eating together and kicking back together at their hotels throughout the season. With many players competing with each other for the first time, their communication took time to build. Eventually, the progress they were making started to show on the field.
Competing against some of the top talent in the region, the young Giants often found themselves mismatched, but ultimately saw firsthand what it looks like to play together as a team.
According to Huggins, the difficult schedule was by design and gave his team a chance to see what clean baseball looks like.
"We need to play really good programs and really good teams, because well-coached teams that have really good kids, makes you better," Huggins said. "You don't know really good baseball until you see it and you play against it. Regardless of age, I think it's really important for our kids to always play the best competition that they can. I think it makes them better."
Though the Giants were young they did benefit from having a "college returner" to keep the team grounded during the losing streak. That's a player who has an extra year of Legion eligibility after high school because of his age. According to Huggins, those players are key to the team's development because they have experience playing at the next level and have been with the Giants program longer than anyone.
During the 2021 season, that player was Parker Bleggi.
Bleggi "did a great job," Huggins said. "I can't say enough about how great it is to have a college returner come back just because of that leadership role. He's been there, done that. He understands that baseball is a game of ups and downs and everybody is going to struggle. Everybody struggles … that's part of the game, right?"
Recognizing the importance of college returners when he was a student, Bleggi relished the opportunity to fill that role this season.
"It's pretty important to me," said Bleggi, an infielder for Treasure Valley Community College in Oregon. "When I was younger there were always a couple college returners, my brother included, that would come back, and they would lead the team and teach you a lot of stuff. I kind of wanted to be that [player] for a lot of these younger guys."
Bleggi helped keep heads up during their long losing streak by focusing on more than the final score.
"Our biggest thing was just focusing on what was important … the conference and state tournament," Bleggi said. "Those regular season games are more of just to prepare you. Wins and losses, it doesn't matter as long as you're getting better as a team, then that's what really matters."
Despite the team remaining under .500, Huggins never panicked. The longtime Jackson baseball coach understood the process and continued to highlight individual performances throughout the tough summer schedule.
In the past, coaches and players have developed their own small rewards to praise individual performances after victory. The Giants have their own version of that, coming in the form of a 10-pound sledgehammer.
Referred to as "The Hammer," the award goes to the Giants offensive star of each victory and gives the recipient the chance to sign his name on it before handing it off to the offensive star of the next victory.
Although it may not seem like a big deal to outsiders, the recognition helps build camaraderie among teammates and promotes unselfish baseball.
"It goes with them everywhere," Huggins said. "I'll tell you, the kids love it. They want that hammer. That's a huge piece of our program."
Getting months of baseball under their belt, the team turned on the jets toward the end of the season, claiming victory in six of its final 10 conference games.
Despite going winless in the state tournament, the two games in Laramie provided valuable experience.
Huggins recalled being approached by other coaches at the team hotel about the Giants substantial improvement over the course of the season.
Now that the young Giants have their 2021 season officially in the rear-view mirror they will waste no time in getting prepared for the 2022 season.
The team will take this month off before scheduled conditioning begins in September.
While the team often takes three to four nonconsecutive months off from throwing to protect their arms, the team will use its facilities to begin weight lifting and hitting in the cage throughout the winter.
"We're not young anymore," said player Ayden Gralund, who will be a junior this fall. "Going into next season, I'd like to see all of us in [the gym] working, I know I'm going to be in there working this winter."
Offseason conditioning plays a significant role in the Giants' development and camaraderie. With first-year players entering the program for the first time, the off season allows for an open environment where players can focus on improving their individual game as well as learning to play as a team.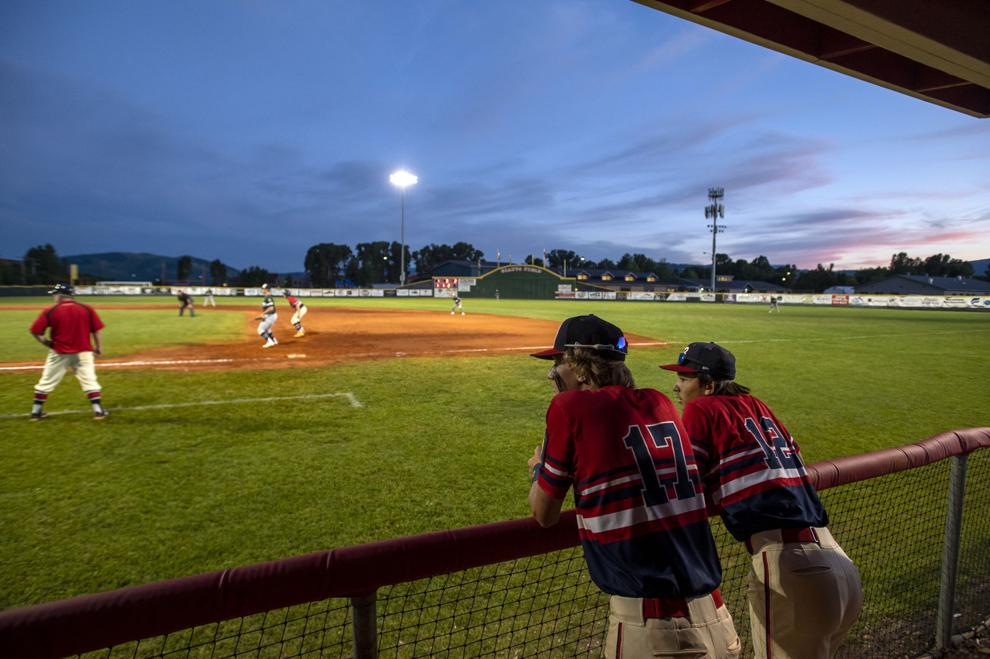 "That's a huge piece of it," Huggins said. "Just getting everybody to know each other. The kids that are moving in from the younger team up, they need to get to know everybody and how we run things. I think that's a huge piece to the success of the program for sure."
Although the Giants will take time off from throwing, they will soon be right back in the gym working on other areas.
"In the fall, we'll get back in the building and start hitting and lifting weights," Huggins said. "All these kids will just grow up together. We'll see next year, [people] will be like, 'Man, who are these kids?' and we'll be like, 'These are the same kids that were here last year, they're just a year older'."
With each Giants player now having around 150 at-bats under his belt and countless reps against top talent, there is no question that the Giants will be much more experienced when the team runs onto the field for its first game in 2022.
"You don't know really good baseball until you see it and you play against it." — Jason Huggins giants coach