Homefield advantage took on a whole new meaning Friday night in Torrington.
With the help of a slow clock the Torrington offense put together a season-saving, 17-play, 67-yard TD drive to cut Jackson's late lead to 21-20 with no time left. The Trailblazers decided not to play for overtime and instead converted a two-point try for a 22-21 win.
The Blazers never led at any point during regulation in a game that will be remembered for a variety of reasons.
"I've never seen anything like that in high school football," Torrington coach Mark Lenhardt said. "More than anything I thought our guys just found a way to keep composed. Luckily we made enough plays at the end to get it done."
Torrington's final drive began with 1 minute and 10 seconds remaining following a 55-yard Jeydon Cox TD on the Broncs' last possession of the night. Cox's biggest run of the game came on his 44th carry to cap a four-play, 70-yard drive that put Jackson 70 seconds away from its first state title appearance since 2007.
Seventy seconds turned into a little more than that on Torrington's final possession. The Blazers were able to snap the ball six times over the final 10.4 seconds of the controversial finish. Bryan Lemmon made the most of a slow clock and took a direct snap from center before stretching just over the goal line for the 2-yard score.
Lemmon, a tailback, was in shotgun again for the 2-point try and was again met right at the goal line by the Jackson defense. It was unclear if he had crossed the plane until the refs threw their arms in the air to signal a score and the end of the ballgame.
Jackson coach David Joyce said he began to notice the slow clock at the 31-second mark. His worst fears were realized when Torrington threw a swing pass with 6.3 seconds left on the game clock. The play lasted over four seconds, but Joyce said the clock read 5.8 seconds at the play's conclusion.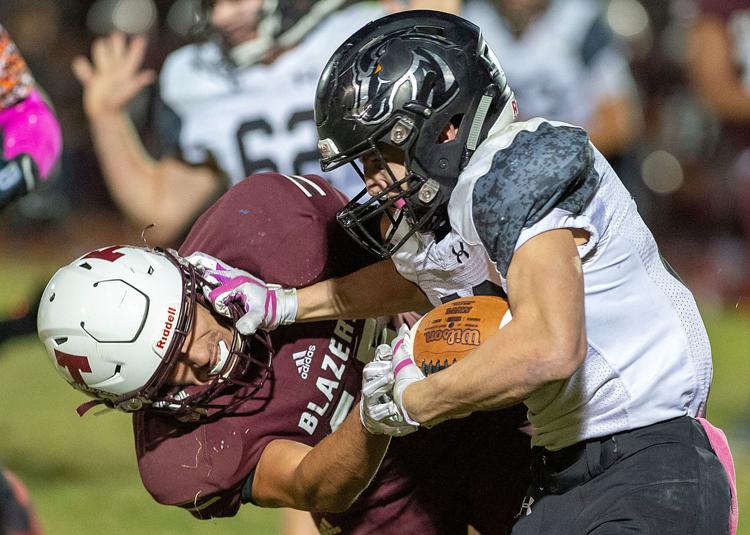 "It was surreal," Joyce said. "You're in the moment, and the crowd's going crazy, and you're trying to get your guys lined up, and you look up and say 'Is this really happening?'"
There wasn't much Jackson could do. Joyce said he attempted to get the officials' attention but was ignored and he had no timeouts to call for a discussion. Had they noticed, the refs would not have been able to take time off the clock, according to National Federation of State High School Association rules. Time is allowed to be added but not subtracted.
Jackson's defense hung tough, despite the discrepancy. The final two plays in which Torrington (10-0) found the end zone were close plays at the goal line. Both calls could have gone either way, but the microscope wasn't on the two plays that Jackson (8-3) players say should have never happened in the first place.
"Had it been officiated and timed correctly we would be heading to state next Friday," senior defensive end Keagan Butler said.
Senior linebacker and guard Ted McDaniel said his team sat in shock in the locker room following the game. He and his teammates struggled to accept a defeat they feel they didn't deserve.
"Nobody really knew what to say," McDaniel said. "We knew we had won. But because of the extra allotted time for Torrington by the timekeeper, we just feel we were cheated out of a win."
Jackson struck first with a 38-yard touchdown pass from junior quarterback Pearson Evans to junior receiver Peter Goettler on 4th and 15. The 7-0 score stood after one quarter before a short touchdown run by Lemmon cut the Broncs' lead to 7-6 following a blocked extra point by the Broncs.
Jackson's defense held the Blazers' second-ranked offense to just 105 yards in the first half. The Torrington offense was forced into a trio of three-and-outs before intermission. The Broncs' offense finished the half with 161 yards, including 84 on the ground from tailback Cox.
Jackson extended its lead to 14-6 in the third quarter when Evans found junior fullback Kirby Castagno on an 18-yard slant that Castagno turned into a 68-yard TD. Torrington came right back on its next offensive possession with a 40-yard drive capped off by a two-yard TD run by Lemmon. The Blazers got the two-point conversion to tie it at 14 with 4:06 left in the third quarter.
Jackson finished with 374 yards of offense, including 44 carries for 241 yards and one TD from Cox. Torrington had 264 yards of offense.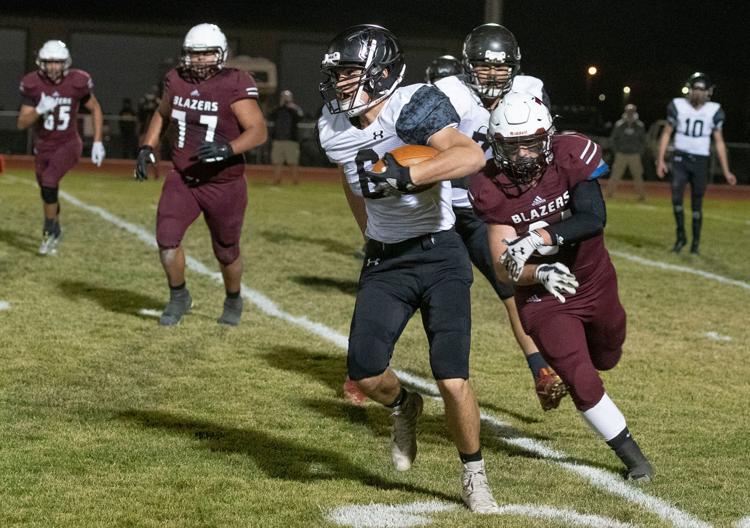 Cox ended his season with 2,257 rushing yards, 26 yards shy of Theo Dawson's school record set in 2015. Cox's total puts him at third all-time on Wyoming-Football.com's unofficial single-season rushing list. Had the Broncs advanced to Friday's state championship versus Star Valley (9-2), the junior would have almost assuredly surpassed Dawson's school-record mark of 2,283 yards.
Joyce felt bad for a senior class that suffered through a one-win season in 2016 and a winless season in 2017 to get to this point. He credits the outgoing group for the Broncs' revival, and it sickens him that they won't play in Friday's title game in Laramie.
"They sacrificed so much, and we won't get to spend any more time together on the football field," Joyce said. "I think they'll be remembered as the team that started the turnaround, that brought us out of the depth of the black hole they were in. When I took over the program was in a bad spot, and these seniors were the ones that brought us out of it."
This season's senior class was part of a school-record, 16-game losing streak that stretched from week three of 2016 to week zero of 2018. The Broncs then reeled off five straight wins before finishing with the school's second-highest win total since the state championship season of 2007.
"It's incredible to be able to say that we had the longest losing streak in Jackson football history and then we turned it around and nearly went to state, and, quite honestly, should have gone to state," senior defensive tackle Ben Brown said. "That's a good legacy my senior class will have as we leave this program."
McDaniel credits the turnaround to his coach and a group of teammates who consistently held each other accountable.
"After those results in those years this year means the world to me," McDaniel said. "What I know is that my boys trusted each other, we do the right thing and we give 100 percent. In previous years it wasn't necessarily like that."
Jackson has sent numerous emails and complaints to the Wyoming High School Activities Association protesting the outcome of Friday's game. Video evidence of the slow clock exists, but rules state that "the use of any replay or television monitoring equipment by the game officials in making any decision relating to the game is prohibited."
The outcome won't be changed. Some will have another shot at the state title next year. Others won't ever strap on pads again. Most all of them won't soon forget what happened on a contentious night in southeast Wyoming.
"It's going to leave a sour taste in my mouth," senior tight end Derek Griebel said. "I have just been nonstop thinking about that game since it happened, and I don't think I'm ever going to stop thinking about it."