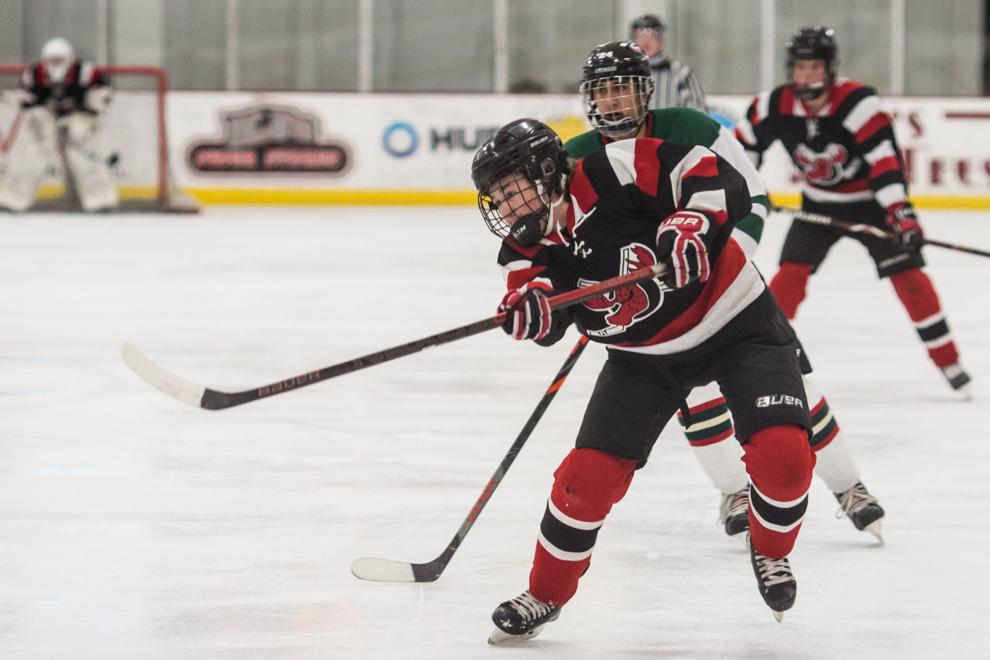 There was a bit of chirping back and forth between the two sides, a signal that some animosity might remain from their state championship game a year ago.
The final horn sounded on a 4-2 Jackson victory Friday night over visiting Pinedale, but those good vibes didn't last too long. Pinedale returned for the second game of the weekend series on Saturday at Snow King Sports and Events Center and knocked the Moose off 5-3.
"I think they're a little ticked off because of last year, that big state championship win for us," Jackson senior Will Kucera said after Friday's game. "They're a great team for us to play, and it's always fun to play competitive hockey in this state."
The loss Saturday was likely a tough one to stomach. Jackson led the game 2-1 heading into the final period, and that's when Pinedale came alive. The visiting side scored four goals against Jackson's one in the period to escape home with a 1-1 series split this weekend.
Friday's win was Jackson's first over the Glaciers after a 5-5 tie and a 6-1 loss in their last series back in early January.
But Friday night's game was a show of skill, an announcement that the defending state champions aren't yet going anywhere. The Moose began with a Kucera goal, slotted away nicely after deflecting in front of the goal just over eight minutes into the game. Max French added another toward the end of the period to give Jackson a 2-0 lead heading into the second.
Once there, Jackson continued to roll. Kucera scored his second of the game roughly seven minutes in, but Pinedale answered with a Jayden Currah goal despite Jackson being on the power play. Liam Sullivan got that one back not long after to send Jackson into the third period with the three-goal advantage.
"Feeling good, always fun to do that in the last season," Kucera said of his two-goal game. "These games are numbered, so it's always fun to go out there and go as hard as you can, bang a couple in."
Pinedale scored its final goal of the night with 3:31 left to play, and didn't see the inside of Ben Delaney's net again.
It's been an odd season, notable by Jackson's lack of contests this year, as a portion of the season was missed due to COVID-19. Gillette sits atop the standings at 18-1-1, Pinedale follows at 12-3-3 and Laramie sits third at 11-3-3. That leaves Jackson in fourth at 8-3-1.
And yet Delaney said the lack of schedule hasn't affected his side too much. They've been practicing of course, and the victory over Pinedale means Jackson has now dealt defeats to both Gillette and Pinedale this season, the teams Jackson beat in last year's state semifinals and finals, respectively.
"Gillette has played a lot more games than us, but I don't think it's too big a deal," he said. "We know what to do and it's just a matter of going out there and doing it."
Kucera and Delaney both seemed to be lunging toward the state tournament and the possibility of a repeat title and then immediately reeling in their gumption. The rest of the month has regular season games for them before they can dial up a repeat run at state.
It's possible the run Jackson made last year might need to be repeated this time around. In 2020, Jackson knocked off Cheyenne, then barely got past Gillette 4-3. In the final all the momentum in the world was on Jackson's side, as it took down Pinedale 7-2 to claim the team's first state championship since 2017, and it did that on home ice.
"Hockey is all about getting hot at the right time, and I think last year we saw that a lot," Kucera said. "Last year I'd say we got hot at the right time and knew we were the team to beat in that state tournament."
Jackson's season continues this weekend with a road trip to Sheridan.