On Saturday the Jackson Hole Broncs varsity volleyball team (1-2) earned their first victory of the young season, in a home match against the Teton Timberwolves (0-6).
After falling in two highly contested games to start their season against Lander, the girls responded immediately, capping off a convincing victory against the Timberwolves, winning all three sets: 25-8, 25-10 and 25-13.
The Broncs rarely trailed, and received steady contributions from the whole unit, especially from their group of experienced upperclassmen.
Understanding that last weekend's competition wasn't as strong as their first opponent, head coach Tera Yantzi said it was important to go out and play with the same energy as they would against a top-ranked team, as the match presented an opportunity to try out new plays against live competition.
"We knew it wasn't going to be as intense as our game against Lander, which was really thrilling on Thursday, but our biggest goal was to make sure that we didn't stoop down and play to a lower level than what we expect," Yantzi said. "I don't think we played at our top level, but I was proud that the girls didn't slack off and just goof around out there."
A noticeably tight-knit group of students, the team is made up of mostly familiar faces, many of whom grew up learning the sport together. Some of the Broncs have been playing together since the sixth grade, which has only paid dividends to the team's communication.
"We all hang out with each other outside of volleyball, so we're more than teammates, we're close friends, which is good," senior captain Cartina Carlson said. "That definitely helps."
Celebrating individual achievements after each point, team camaraderie has never been an issue for the group of girls.
"We have really good chemistry together," said Lizzy Robinson, a senior captain. "We all flow really well together and I think we all just get really excited when someone does something well. That's really important in volleyball, because energy is the most important aspect in order to have a good game."
The season opening losses to Lander didn't affect the girls' confidence for the season; they still have high expectations with the bulk of their regular season remaining wide open.
"It's going to be a really good year," Robinson added.
With different responsibilities for each player on the court, another team captain says that with the chemistry amongst the players, each Bronc knows their role and never tries to do too much.
"The team is clicking really well," said Karsen Breeding, a sophomore captain for the Broncs. "Everybody knows their position and does their job."
Breeding, an outside hitter, led the team in kills against the Timberwolves with nine, while senior Bella Santomauro finished with six.
Traditionally a strong defensive team, the Broncs' main focus this season has been improving on the offensive side of play, Yantzi said, as well as volleyball fundamentals.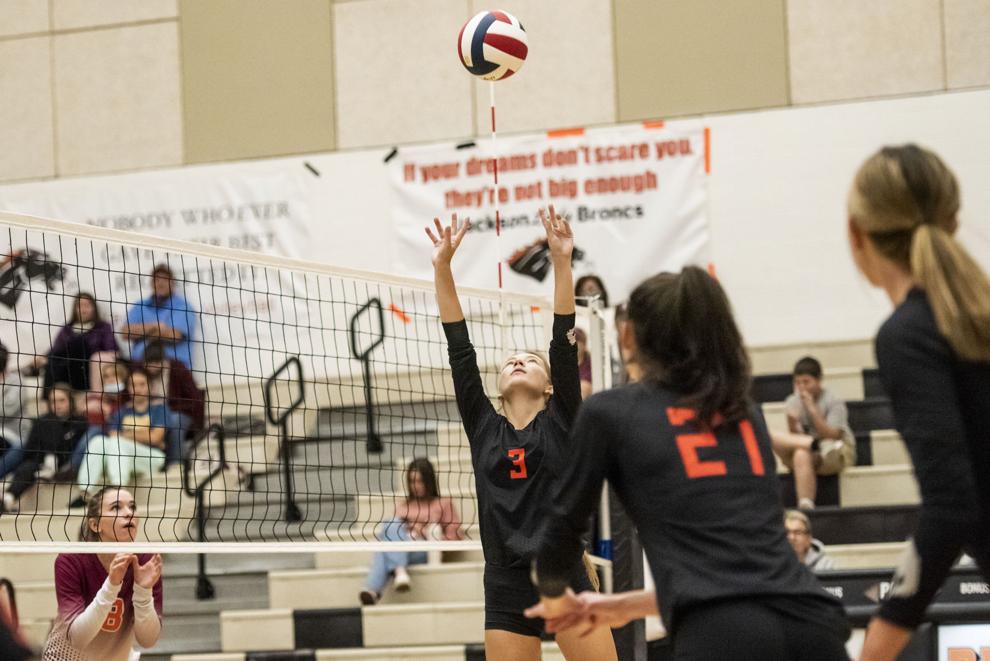 "Our main focus has just been becoming more well-rounded as a team," Yantzi said. "We've had some pretty solid defense in the last couple years and one thing that the team and I are working on is becoming more of an offensive threat and also having a better mindset when we're playing ... Not letting us psych ourselves out before the match even starts, or in the middle of the match, but actually going in, being a bit more focused and fearless, while having some fun."
Spending time running offensive drills in practice, Yantzi said that in volleyball, she preaches to make the smart play, while hitting with purpose and not trying to do too much.
"Just having them become a better offensive threat with mixing up their shots, having more tools in their toolbox, than just getting up there and swinging away and hoping that it lands in ... like actually having purpose behind every hit," Yantzi said. "Knowing what is the smart play on offense."
With three matches under their belt and the season in full swing, the Broncs are now looking forward to their next non-conference match on Tuesday, when Jackson will host Riverton at home.
The varsity match is set for 5 p.m.