Isabel Warner had just ground her way up the grueling hill at the start of race course at Grand Targhee Resort on Saturday when her bicycle chain came off.
The 14-year-old was near the front of the pack in the freshman girls' race at the Grand Charge, one of the Idaho Cycling League's National Interscholastic Cycling Association mountain bike races, when suddenly she felt no resistance on her pedals. The Jackson Hole Community School freshman had been trained not to panic. She's been riding on NICA's Teton Valley Composite mountain bike team since she was in sixth grade. She knew when she had a mechanical problem, she had to deal with it on her own. So as riders passed her by, she jumped off her bike, put her chain back on, remounted her bike and started pedaling hard.
"I knew panicking wasn't going to help anything," Isabel said. "Once I was back on, I had to figure out how to pace myself to catch up with the pack and be where I wanted to be."
She ended up in fourth place, less than three seconds behind the third-place finisher, Kaya Kandolin, from the Jackson Hole Composite team, and just over a minute behind her Teton Valley, Idaho, teammate Daisha Jacoby. It was Daisha's first win in a NICA race.
NICA's Idaho Cycling League has 21 teams from across the state of Idaho and includes two Wyoming teams: Jackson and Pinedale. The league brought between 600 and 650 racers in grades six through 12 to Grand Targhee on Saturday. The Jackson Hole Composite team had around 45 riders competing, while Teton Valley had similar numbers. The two teams used to be part of one regional team until too many kids were interested in joining and they had to split into two. Now each team has around 90 riders registered.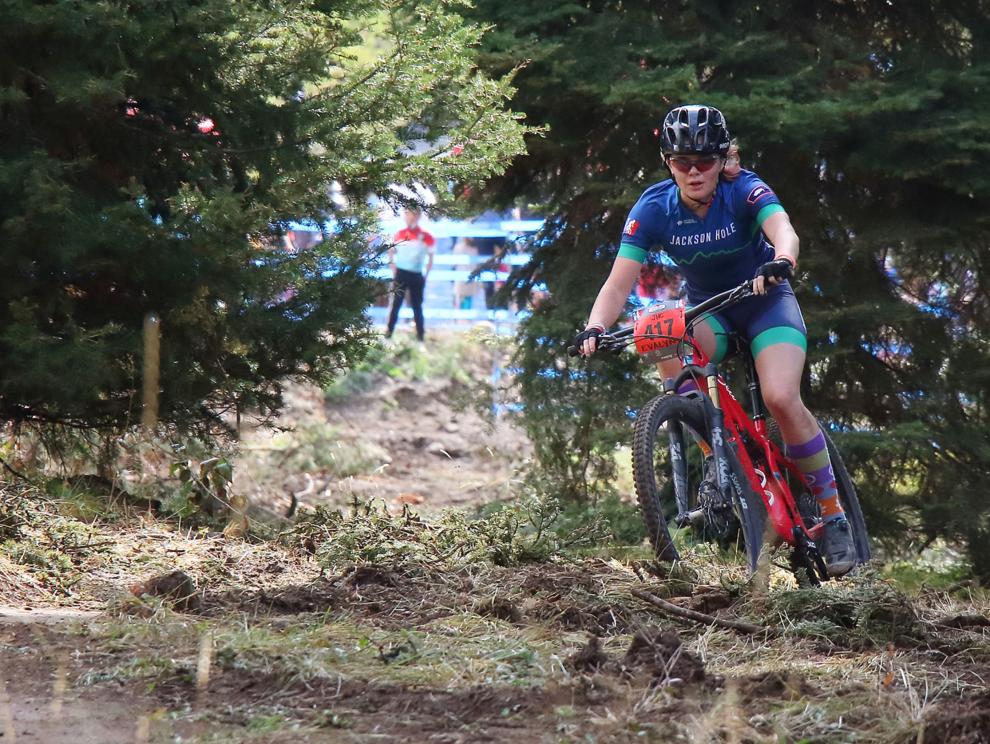 "Probably only half of our riders choose to race," said Mike Welch, who coaches for Jackson and has two sons who compete for the team. "The program is about way more than results or even racing. Our core values are fun, inclusivity, equity, respect and community. There are some super fit, fast rad kids, but there are also great stories in the first-time racing kids."
"Some of my favorite memories are of kids in tennis shoes and gym shorts, backpack strap hanging off their shoulder, pedaling their hearts out, coming in at the back of the pack with a huge smile and getting cheered all the way to the finish."
Saturday was no exception. The parking lot at Targhee was full. Campers and tents crowded the back field, and everywhere you looked there were kids on bicycles. Spectators crowded the course, cheering on the riders. Even the kids who were coming in last place, with an adult sweep rider right on their tails, seemed to be pushing hard and smiling as they came across the finish line. Tight finishes at the back of the pack — just seconds separated some of the last-place riders — told of their enthusiasm and grit regardless of where they ended up in the overall results.
The Grand Challenge was 11-year-old Nathan Mortenson's first race. The Teton Middle School student just joined the Teton Valley Composite Team this year.
"I'm really into mountain biking, and I wanted to work on my body, my strength and do more cross-country riding," Nathan said. "It's a pretty big commitment, but it pays off. The race was fun. I was expecting less people. It was a pretty big event, and I was quite scared. I worried that people would think I was really slow."
But Nathan wasn't slow. He guesses he passed around 18 kids (although he says it felt like 30), and ended up in 16th place out of 36 riders. He says he's hooked on racing.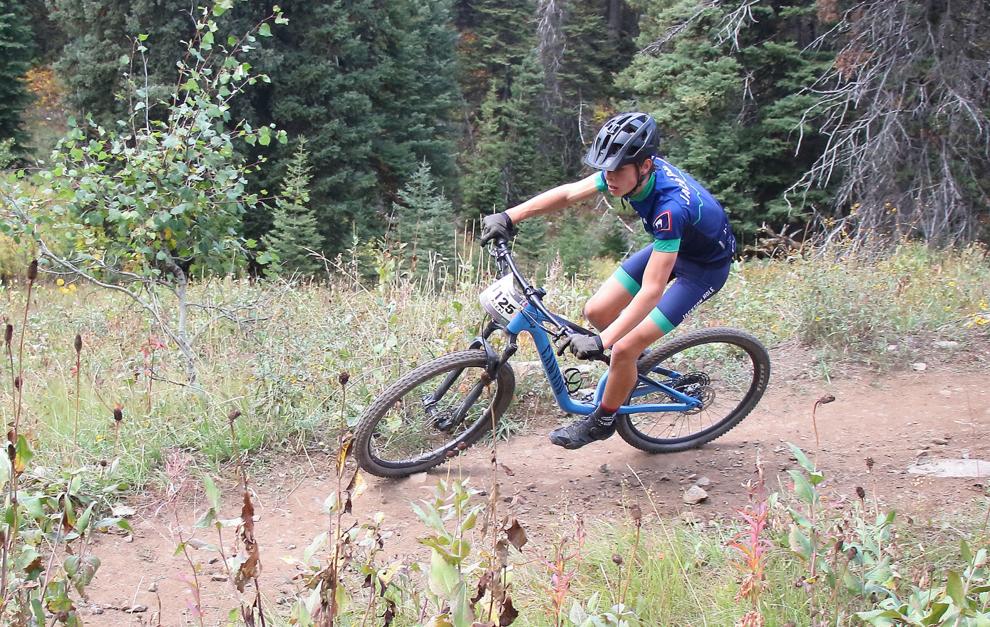 Nico McGee, 16, a junior at the Jackson Hole Community School, who started riding with NICA when he was 11, says he remembers that feeling of the first race.
"I felt sick to my stomach before that first race," Nico says. "The pit zone where all the tents are is pretty legit. There are a lot of people. So it was kind of scary."
Nico doesn't remember how he did in that race, but he does know it was fun and he was hooked. He enjoys the racing, but he also loves the team atmosphere and the community of friends he's made bike racing.
"I hated my first practice," Nico said. "It was raining and hailing. But my parents made me go back a second time, and I fell in love with it. When I first started sometimes it was only me riding, but now it's grown to over 50 or 60 kids at a practice. The team dynamic is really friendly and supportive. It's different than other sports. People are consistently supportive. I'm there to do my best, but a lot of people are there just to have fun, which you don't see as much in other sports, especially when you get to high school."
Nico wasn't thrilled with his performance Saturday. He said he knew on the warm-up ride that his legs weren't feeling as fresh as he'd hoped, but he still had fun, which ultimately is the point for NICA racers.