While COVID-19 overshadowed the attention of many of the other struggles across the world, one New York entrepreneur has set out on a bike race fundraiser to support a cause dear to him.
Cycling along the western Continental Divide of the United States, Darren Jer, a 47-year-old entrepreneur from Brooklyn, N.Y., has pushed the envelope in the world of charity, finding a unique combination of extreme adventure and charitable fundraising.
Taking part in the annual Tour Divide race, a self-supported endurance race with no entry fee and no prize fund, Jer has set up a GoFundMe to collect donations to Embers International, a charity he has been connected to since its start.
Founded in 2014, Embers International dedicates its time to protecting and empowering children born into brothels who face repeated cycles of exploitation.
Jer was first introduced to the issue that year after hearing stories from one of his friends who had just returned from an eye-opening trip to India. During their trip, Jer says his friend was exposed to many of the cycles that Embers looks to break.
By putting himself through a struggle, Jer believes he can contrast the issues that we face in the United States with the issues many face across the world. Spending all of his essential travel costs out of pocket, Jer has committed to donating 100% of his proceeds directly towards the cause.
"When you're in the middle of the desert and there's no service or resupply, the only way out is through," Jer said. "I'm kind of putting myself in the shoes of these women who are subject to all this injustice. At the same time, it's not the same because I do have a choice. I chose to do the Tour Divide, make myself vulnerable and bike 10 to 12 hours a day ... these women didn't choose that."
From his start in Roosville, Montana, to Antelope Wells, New Mexico, right at the Mexican border, Jer initially planned out a goal eclipsing 1,000 miles, but midway through made the decision to push himself to complete the 1,500-mile race.
Jer's adventure has already crossed through Teton Valley, into Jackson and has continued down the great Continental Divide through the heart of the West.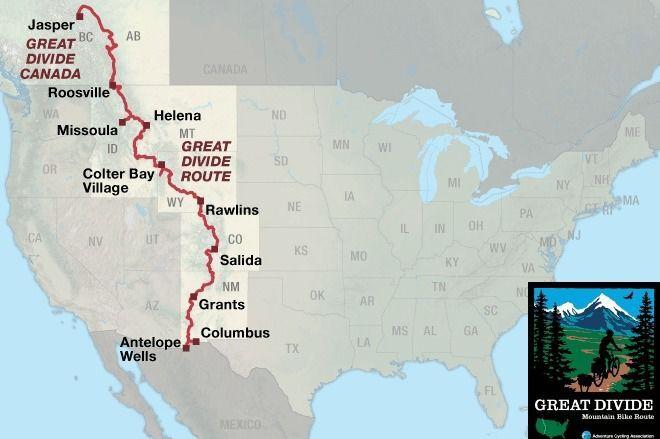 During his trip, Jer will also have the opportunity to enjoy some of the most beautiful scenery that the United States has to offer.
A passionate individual and lifelong cyclist, Jer is not taking any shortcuts either.
Continuing to go against the norm of traditional long expeditions, Jer has agreed to bike his entire trip without the aid of a support car, only adding to the impressive nature of his 29-day trip.
In lieu of fancy hotels and accommodations, Jer has spent each night hunkered down at campsites, hostels and motels that he has come across during his pit stops. Sacrificing many of his basic amenities, Jer has relied heavily on the generosity of strangers during his daily stops across rural America.
"To do something like this with no support cars, just shows how important he thinks it is to do it the real way," said Jeff Platt, GoFundMe's regional spokesperson for Jer. "In a very literal sense, he is putting this charity on his back ... I think that is very impressive and speaks a lot to his character."
While taking on the adventure by himself, Jer is the last thing from alone, as he has received an outpouring of support messages from friends, family and so-called "trail-angels" during his ride.
"If I had one word to describe him, it's just a giver," Platt said. "This guy is sacrificing his body, his time and his everything to go out, do this ride and raise awareness and money for this worthy cause, for people who he'll probably never meet who are suffering through this travesty."
As of Monday, July 5, Jer had raised $16,751 for Embers International, with the help of 100 generous donors, as he works towards his goal of $25,000, with a large chunk of his trip remaining.
Jay Petervary, an ultra endurance cyclist from Victor, Idaho, finished the route June 28, earning the title of first place for the 2021 event.
Those interested in Jer's journey through the divide can continue to follow him online at TrackLeaders.com/tourdivide21, under the name Darren Jer.