Blaine Gallivan and Franny Weikert reached their Kickstarter goal of $40,000 to convert a 1990s horse trailer into a state-of-the-art, mobile kitchen to make pizza and bread just days after a Teton County public health order closed dine-in service at restaurants in March.
The couple had established their company, In Season Wood-Fired Pizza, as a regular presence at the People's Market as well as a caterer of Jackson Hole weddings by renting out a brick wood-fired pizza oven from Full Circle Education over the past few summers.
But in the wake of the coronavirus pandemic, summer business prospects remain uncertain. Many weddings are being rescheduled or downsized. So Gallivan and Weikert are looking for other ways to drum up summer business.
"Our community purchased this trailer, so we really want to have a spot in the community," Weikert said.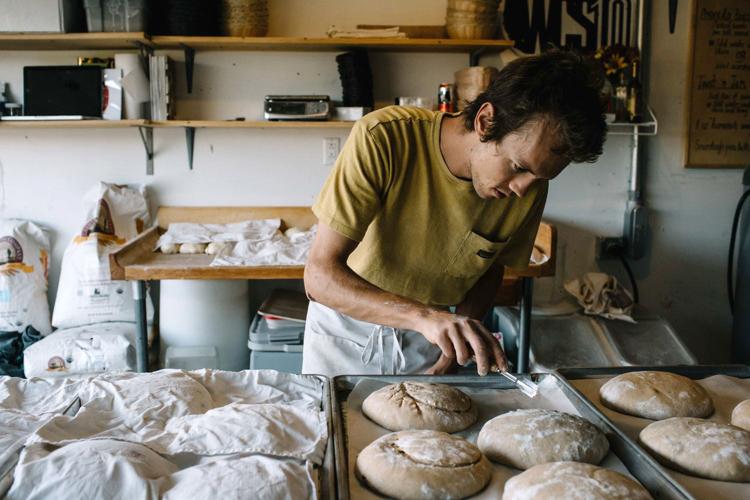 Food trucks like In Season's popped up during last Monday's Jackson Town Council meeting when Director of Community Development Tyler Sinclair presented the council with seven projects aimed at "supporting and reopening businesses in response to COVID-19." One project proposed allowing food trucks to operate from 8 a.m. to 9 p.m. on private land after they undergo a permitting process. Another proposal identified six areas with public parking and ample nearby green space to host food trucks during the same hours.
Ultimately both projects were tabled after facing opposition from restaurant owners and the Jackson Hole Chamber of Commerce.
"I don't know that right after a pandemic where we were closed for two and a half months is the right time," Gavin Fine, owner of Fine Dining Restaurant Group, said during public comment at last Monday's meeting. "I really say this for the little guy more than myself."
For restaurant owners like Fine, the prospect of having to cede summer patrons to food trucks is anxiety provoking. Diners have already decreased due to concerns over sharing indoor spaces and decreased tourism traffic in the valley. Fine believes that food trucks would take away essential summer cash flow from businesses already struggling to hold on to staff.
"I'm trying to keep all of these employees going, trying to keep them on health insurance," Fine said. "We've got only a couple of months to make it happen."
Weikert understands the fears of local restaurants.
"We respect the opinions of local restaurants," Weikert said. "They have been hit so hard and have been so innovative in their responses."
Where her opinion differs is in how to move forward.
"My viewpoint is collaboration over competition," Weikert said. "I think we will attract totally different people on different days than a restaurant would."
In Weikert's view, food trucks could elevate the cultural value of downtown Jackson and attract more traffic through local businesses. Food trucks could also provide an option for affordable, healthy prepared food.
"The pizzas range from $13 to $15 for a personal pizza, and it's all organic, handmade and sourced as locally as possible," Weikert said.
The catch-22 here is that food trucks are able to provide affordable dining options for the same reasons that they may have the potential to hurt the local economy. Because food trucks don't have to contend with the high cost of real estate in Jackson, their startup costs are much lower. Especially if they are allowed to use public parking areas to host their businesses.
The consensus among town councilors was to push off the issue, at least in regard to independent food trucks.
"To me the key metric is: Is it a brick-and-mortar business?" Councilor Jonathan Schechter said.
Cafe Genevieve owner Fred Peightal wrote an email to town council that expressed his support for allowing food trucks to operate with the stipulation that only trucks associated with a local restaurant be allowed.
"We are seeing, as things open up, our brick-and-mortar business are going to operate around 50% of normal sales revenue. Any dilution of the business that will be there this year could be devastating to brick and mortar stores," Peightal wrote.
That would leave businesses like In Season out of the equation. But, Weikert has been trying to get in touch with the planning department for weeks now, and she is not apt to stop advocating for independent food trucks anytime soon.
"We want to be able to post up in Jackson once or twice a week and get to see our community, interact with them and share our food with them," she said.