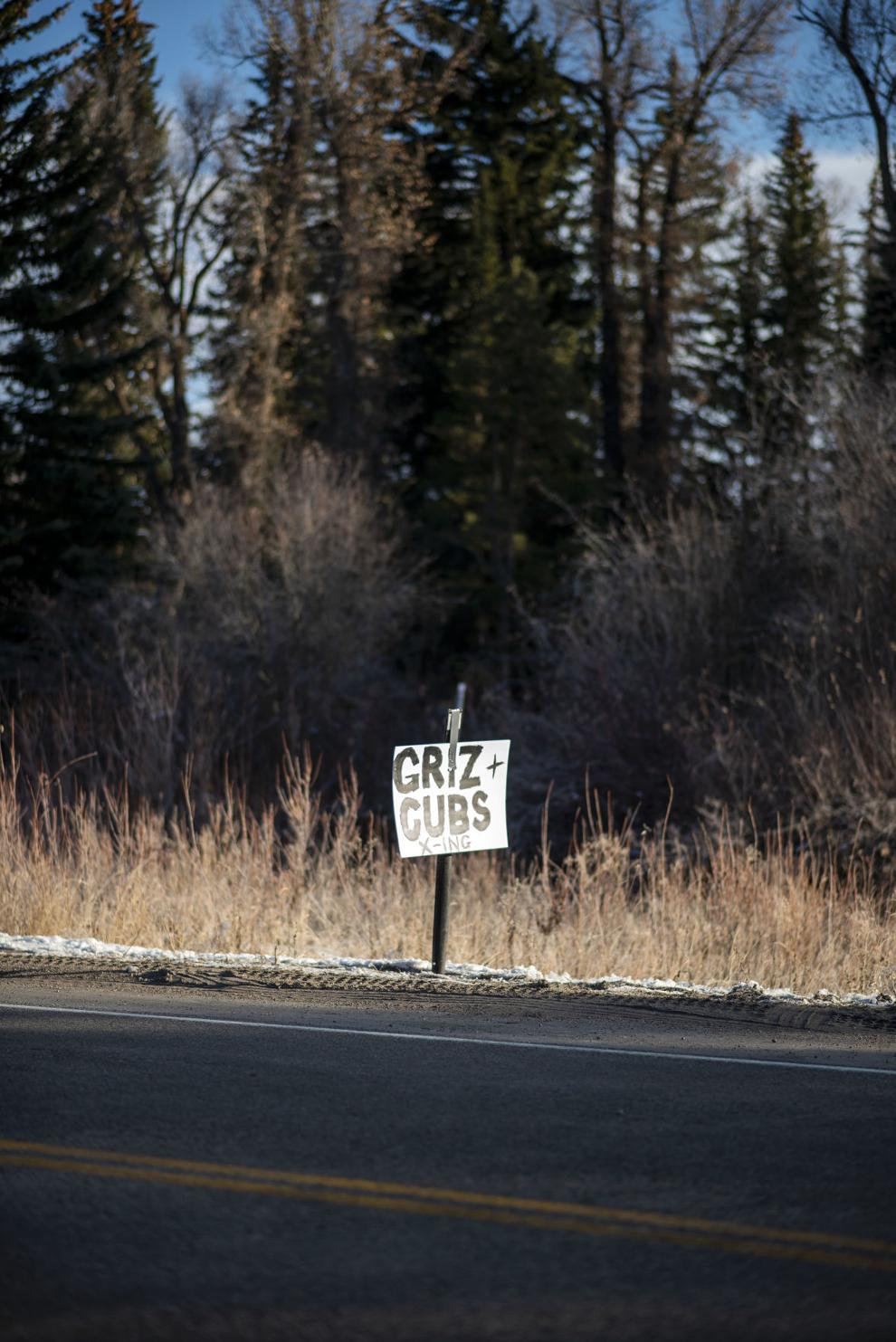 Star Valley Ranch resident Jill Hall was driving northbound toward Calico Restaurant for some evening Italian dining with her family Tuesday when a succession of brown bears caught her eye along a small residential road spurring off Highway 390.
Hall, an avid wildlife photographer, noted there were five bruins, all grizzlies. She knew what she was looking at, immediately: This was sow grizzly bear 399 and her four cubs, well south of their normal range in Grand Teton National Park. She pulled over and attempted to help play traffic police.
"That's a scary thing, because those cars are fast there," Hall said from the shoulder of Fall Creek Road the next morning. "They're honking at us just for pulling over."
The well-known grizzly family was able to safely stride across the Village Road during a break in the traffic, then disappeared into the residential area just outside Wilson.
Reports and videos filtered in of more sightings of the famous family of bears later that night and Wednesday morning: near Nethercott Lane, the Stagecoach Bar, along Fall Creek Road and on the snowy surface of Old Pass Road.
Those areas, of course, aren't where one expects to see a grizzly, let alone a four-cub litter following a sow that's been called one of the most famous grizzlies in the world. So they weren't surprised, Wyoming Game and Fish warden Kyle Lash was making the rounds early Wednesday, trying to give people a heads-up about what was going on.
"We're just monitoring where she goes," Lash said. "I'm just trying to get the word out that she's in the area, so that it doesn't take anybody by surprise."
Ordinarily, he said, reports of grizzlies south of Wilson are sporadic.
Lash's colleague, bear biologist Mike Boyce, observed 399 crossing over a ranch and heading up into the Bridger-Teton National Forest later that morning. Grizzly 399 looked agitated, he reported, and not particularly comfortable in her surroundings.
Boyce hoped the five grizzlies' movement onto the forest meant the family group would likely steer clear of the West Bank neighborhoods for the day.
For the time being, federal and state wildlife managers are allowing grizzly 399 to move around the landscape, including through developed areas, as she pleases. Partly because her demeanor is well understood and she's a famous bear, Game and Fish is not immediately looking to haze the grizzly family away from neighborhoods or ranches, agency spokeswoman Sara DiRienzo told the Jackson Hole Daily.
"We've been tracking her for so long," DiRienzo said. "It is a little bit different, because we know her behavior so much better than an unknown bear that might show up in town."
Grizzly 399, 24 years old, typically does not travel south of Grand Teton National Park. But the officials who manage that park say people shouldn't make too much of her southern movements. Gopaul Noojibail, the park's acting superintendent, said Wednesday that he has not requested that the U.S. Fish and Wildlife Service and Game and Fish treat world-renowned grizzly 399 differently than they would any other bear.
"From my perspective, the bears are going to do what the bears are going to do," Noojibail said. "Our job is to certainly protect the bears while they're inside the park and work with other land agencies on a larger scale to protect the habitat."
But some of grizzly 399's most dedicated followers, like photographer Tom Mangelsen, are anxious about the sow's southern movements into areas where conflicts are easier to come by. Mangelsen and others have been communicating with Game and Fish, keeping each other updated and attempting to keep tabs on where she goes.
"She's never been south — that we know — of the Elk Refuge," Mangelsen said. "I don't know what she's going to do, and I don't know what she's doing down here. All I know is, I hope she heads north."