Even before the slimmer-than-average snowpack melted off weeks ahead of schedule, hydrologists expected that 2021 would be a poor year for river flows and water storage.
Sensors reading soil moisture in places like Grand Targhee and the Lewis Lake Divide were detecting historically dry ground before the snow even melted off in earnest. Down lower in the watershed there was a warm spring and crispy, dusty conditions. Cropland in southern Idaho's Magic Valley was thirsty, and the farmers hundreds of miles downriver from Jackson Hole held water rights to most of the 850,000 acre-feet of water the dam added to Jackson Lake.
So downriver that water went.
Flows in the Snake River itself stayed well above average throughout the summer, even while some tributaries carried less water than any other time on record.
At a rate of up to 5 inches a day, Jackson Lake emptied out. A wetter, cooler August somewhat helped, but nevertheless the impounded lake slowly started to look more like its natural self. Fully impounded Palisades Reservoir was also transformed.
Going into winter, just 15% of Jackson Lake's added water remained. Palisades held just 5% of its capacity. The Snake River is low again, but only after an abrupt 90% reduction in flows that stranded fish and raised the hackles of anglers.
In photos, here's a look at the current state of the lowest water levels in decades at Jackson Lake and Palisades Reservoir.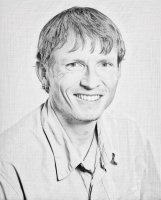 Brad Boner has worked as a photojournalist for 25 years and has directed the News&Guide's visuals since 2004. He lives on the west side of the Tetons with his wife, two kids, two grumpy cats and Rosie the red heeler.