A male grizzly spooked out of a daybed by a 41-year-old Cody resident, out hunting for antlers, resulted in a helicopter ride to the hospital.
Outside Big Sky, Montana, a cyclist in his 60s pedaled along a trail for a birthday bike ride. He turned up critically injured, with broken bones in his face, jaw and ribs after a surprised grizzly acted to neutralize the unexpected, rolling threat.
Near Old Faithful, in Yellowstone National Park, a 37-year-old Missouri woman hiking alone came upon a grizzly sow and cub. The adult bear charged, knocked her down and scratched her thigh. The hiker made it out OK, all things considered.
A wildlife biologist, out researching sage grouse at Montana's Red Rock Lakes National Wildlife Refuge, was seriously bitten by a charging grizzly despite deploying bear spray.
These are four of seven documented human-bear encounters resulting in injuries in the Greater Yellowstone Ecosystem so far this year. That rate of injury easily surpasses the average ahead of the fall hunting season.
Typically in the first six months of any year, just a single interaction with Ursus arctos horribilis ends in harm to a human. The frequency of grizzly-caused injuries to date in 2020 is a clear-cut record, surpassing 2007's high mark of three, according to data provided by Interagency Grizzly Bear Study Team supervisor research biologist Frank van Manen.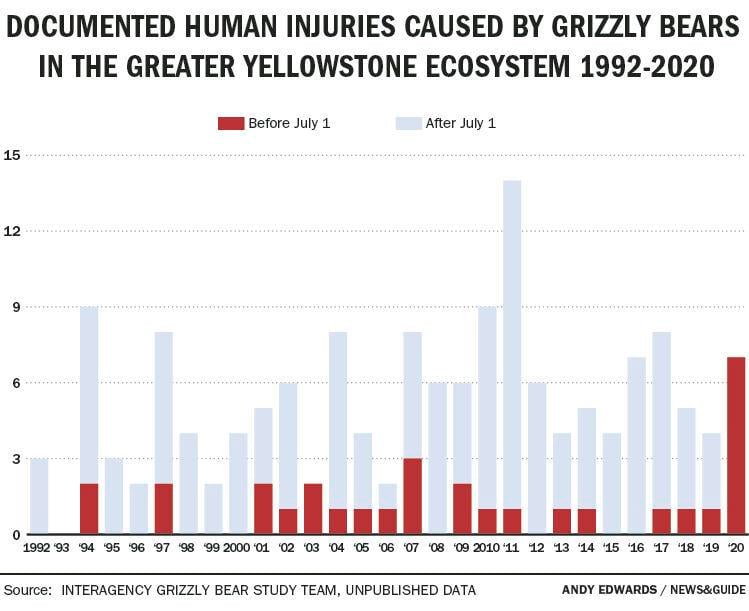 There is no straightforward explanation, and it's possible that the unprecedented volume of pre-hunt human injuries is the product of chance. But it hasn't helped that there have been more people recreating in more places around the Yellowstone region, one consequence of a global pandemic that has opened up schedules and put a premium on spending time in Northern Rockies' outdoor splendors.
"I'm totally speculating," van Manen told the News&Guide. "We don't have the numbers yet, but we know that there have been a lot of recreationists out on public lands, especially during the time when the parks were closed."
Read the full story in this week's edition of the News&Guide, on newsstands now. Support community journalism like this and subscribe for $1 a week.