It wasn't just sparks from Mylar balloons on electrical wires that spread like wildfire in 2019; some of Jackson Hole's fascinating stories also caught fire on social media channels. 
From wildlife videos and beautiful scenic shots, to documentation of near-disasters and coverage of breaking news, the Jackson Hole News&Guide's Facebook content, alone, garnered well over 20 million views. 
One of the most popular posts reaching more than 350,000 viewers was video of something you just don't see every day (except maybe in Jackson Hole) — a video of wild bison being hazed down a snowy road.
With the incomparable backdrop of the Grand Tetons in view, national park officials, along with Wyoming Game and Fish personnel, moved about a hundred head of wild bison down the highway to access southern areas of natural forage. The herd of bison had been having a few run-ins with horses belonging to a private ranch inholding in the park. If you were one of the few who didn't see it the first time around, click here to watch the video.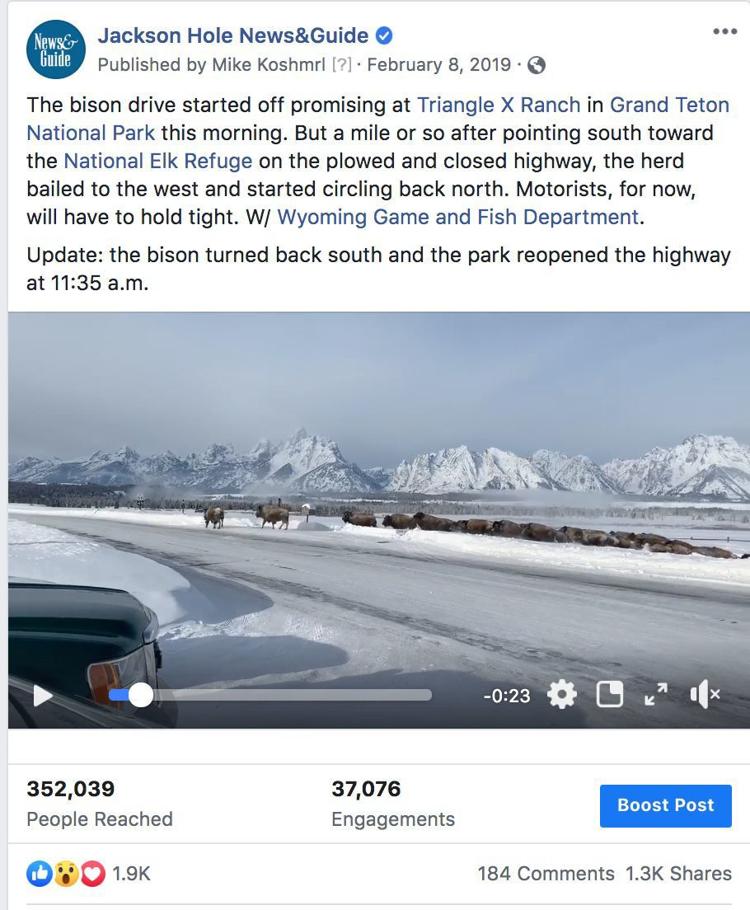 Here is a sampling of some of the other engaging posts that you might want to check out if you haven't already seen them.  
• Wildlife petting instructions, courtesy of the National Park Service. Check out the graphic here, and reporter Cody Cottier's entertaining story behind the story, here. 
• First lady Melania Trump visits the Jackson Town Square. 
• Girl tossed by bison in Yellowstone National Park. This one's tough to watch, but thankfully, she was OK. 
• A helicopter drops water on the fast-moving Saddle Butte Fire, which was later determined to have been started by a bouquet of balloons that got away and entwined itself in a power line. 
• A truck hauling a load of potatoes lost its brakes and barreled into the gravel storage shed at the base of Teton Pass, as shown in this video of the aftermath.
• Skywest ground crew changes grabbed national interest in the goings-on at Jackson Hole Airport. 
• There's a joke in the world of social media professionals that says all you have to do to get clicks is to put Jennifer Aniston's name on it. Yep. We can vouch for that. 
• Much of the world loves Jennifer Aniston, but here in the Hole, one of our favorite Jennifers is this one — Jenny Karns, who survived a terrifying near-death experience. 
• Speaking of near-death experiences, we're glad the News&Guide's Brad Boner made it through this crazy ride over Teton Pass. "It's kind of a rodeo up there," he commented at the time.