Diana Miller playfully blurted out a "yaayyyyy" as she grasped a mountain whitefish, dripping with the Hoback River's freestone waters.
The 10.8-inch fish, she noted, had been stunned and measured earlier in the week — a clipped adipose fin on its back evidence of its seizure by the same Wyoming Game and Fish Department fisheries crew.
"Recapture," Miller explained the morning of July 17. "It's a fish we got on the first day."
Miller, a fisheries biologist, was psyched because recaptured fish are good. The more of them she handles, the more confidence she has in the accuracy of the task at hand: coming up with a population estimate for the mountain whitefish that dwell in the Hoback River, upstream of Kozy Campground. Plenty of cutthroat trout swim in the same waters, but, at least this time, the revered native game species were left alone.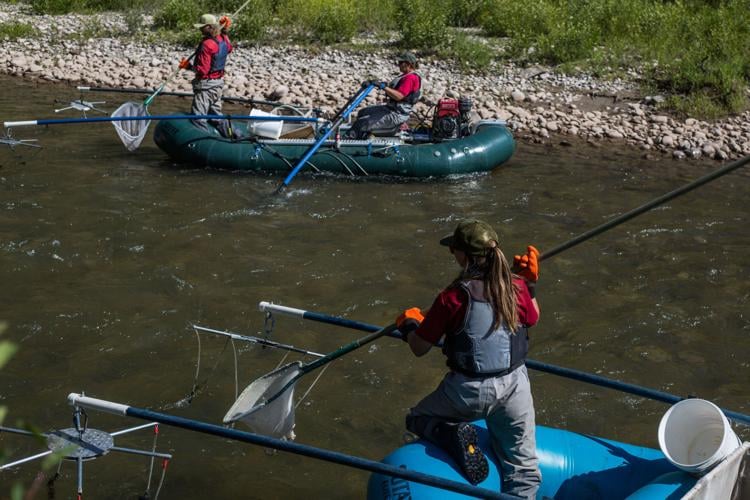 The entire effort, instead, focused on the other trout-like fish — whitefish — whose inclusion among the salmonids is poorly understood because of their physical appearance and name.
"They're a trout, and people don't know that," Miller said. "People think of them like suckers, but they're way more closely related to trout than they are to suckers or carp or chubs. You can't really lump them together with rough fish."
Misunderstanding about the whitefish is perhaps part of the reason why they've garnered mild interest from most anglers. Their appearance at the end of a fly line is often greeted with disappointment by anglers who thought they'd hooked a more sought-after cutthroat. Historically, that lack of angler interest has been a non-starter for fisheries managers, who paid relatively little attention to Prosopium williamsoni, even though it's the most well distributed native salmonid in the Rocky Mountains.
The Wyoming Game and Fish Department took note of that shortcoming, and in 2009 booted up a concerted effort to better understand the Equality State's whitefish, a species locally common in the Snake, Green, Bear, Madison, Yellowstone, Big Horn–Wind and Tongue river watersheds.
Read the full story in this week's edition of the News&Guide, on newsstands now. Support community journalism and subscribe for $1 a week.