A Yellowstone hot spring, a hunch and a revolutionary discovery decades ago are playing a major role in the global fight to contain the highly contagious novel coronavirus. 
It all began in the 1960s when Professor Thomas Brock of Indiana University was traveling through Yellowstone National Park. He became curious about the colorful microbes that were able to live in extreme temperatures in the park's thermal features. He obtained permission to return to the park to research the heat-loving microorganisms under a grant from the National Science Foundation.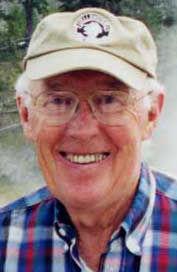 During that research, Brock and an undergraduate student, Hudson Freeze, collected and isolated a pink bacterium, Thermus aquaticus, from Mushroom Spring in the park's Lower Geyser Basin. The bacterium's ability to tolerate high heat — plus an enzyme discovered in the bacteria called Taq polymerase — made it possible for other scientists to invent a method called polymerase chain reaction, or PCR. 
The PCR process, credited to Kary Mullis, was considered so significant, it won a Nobel Prize in Chemistry in 1993. 
Today, public health officials in the U.S. and around the world have been relying on the PCR method to determine who is currently sick with COVID-19. The information can be used not only to help the sick, but to strive to contain the virus' spread by also identifying asymptomatic carriers. 
Health professionals use a swab to collect a sample of mucus from the a person's nose or throat to look for the genetic material of the SARS-CoV-2 virus. Running the samples through a PCR process allows even very small amounts of viral DNA to be rapidly reproduced into millions of copies. This amplification process produces a large enough sample for lab workers to detect if a person is actively infected.
"This Nobel-prize-winning technique that allows for the rapid replication of DNA continues to be used today by healthcare professionals across the globe in the testing of COVID-19," Yellowstone National Park wrote in a social media post.
"Even decades-old, discoveries like this one underscore the importance of scientific research to the overall health of humankind."
Learn more about Thermus aquaticus and other important scientific research in Yellowstone here.