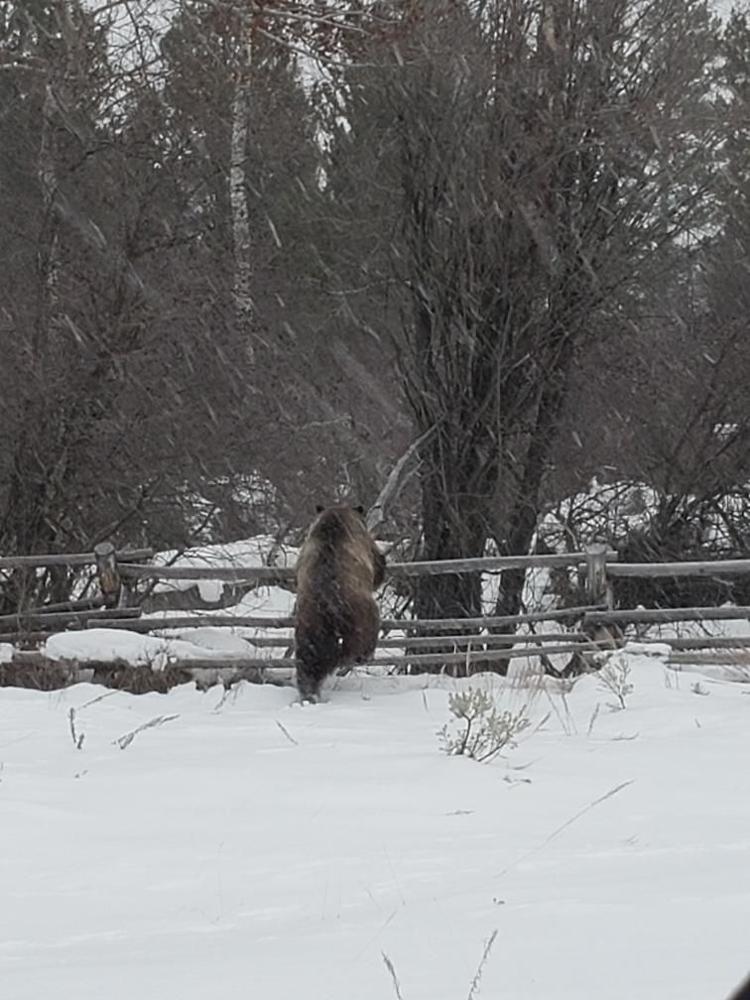 The grizzly gossip mill was in full swing Wednesday as word spread that bear 399 and her four cubs were on the move, headed back to their normal territory around Grand Teton National Park.
Once the Wyoming Game and Fish Department heard of the five famous bruins' northward travels, bear biologist Mike Boyce was on the scene, essentially escorting the grizzly family to the boundary of the park.
"Yep, they are back north," Boyce said via text. "Watched them cross the park boundary yesterday afternoon. Happy Thanksgiving!"
Grizzly 399, a 24-year-old sow with a global fan club, spent almost an entire month living on and near southern Jackson Hole ranches and subdivisions, foraging on elk and deer carcasses, shriveled berries and occasionally more concerning foods like beekeepers' honey and livestock feed.
She came north once, but just for a day, and seemed to have localized on private land, which was a first for a sow grizzly bear with cubs in modern Jackson Hole. The family group's southern sojourn enraptured the community but caused ample anxiety for wildlife fans and managers who yearned for a happy outcome.
Bear 399 and her brood's movement back north unfolded in about a day, according to eyewitnesses. Five grizzlies on the go did not go unnoticed: They reportedly passed across and through Wenzel Lane, the Aspens, Shooting Star, and the Snake River and the R Lazy S ranches on her way to stepping over a buck-and-rail fence marking the national park's boundary.
Turner Resor, of the Snake River Ranch, caught sight of the five famous bears as they were crossing Highway 390, which was a little nerve-racking, even with traffic brought to a halt and cars quickly stacking up.
"They were moving fast," Resor said. "They appeared to be on a mission headed north. Mike Boyce was shadowing them the whole time."
Grizzly 399's month in the southern valley was fraught at times. Her travels exposed her to human-related foods on multiple occasions, a reward that can doom bears and impressionable cubs by drawing them back to developed areas again and again.
Wildlife managers also struggled at times to wrangle the crowds the celebrity grizzly sow attracted. Unlike in Grand Teton National Park, there are no rules in place preventing photographers and others from closing in on the habituated bear family.
"Our role is to provide education, but we don't have the authority to direct anybody's activity around bears," Wyoming Game and Fish's regional supervisor, Brad Hovinga, told the Jackson Hole Daily.
Sometimes, the guidance was ignored. Hovinga noted a bear jam that formed last weekend while the grizzlies were foraging lingering berries alongside Fall Creek Road.
"I know there was quite a few vehicles out there, and we had some people getting within 10 feet of those bears," he said, "which is completely inappropriate."
Two days before grizzly 399 headed back north, Hovinga and Boyce escorted a high-ranking U.S. Department of the Interior official, Rob Wallace, on a ride-along to see the southern valley spectacle for himself. In his Trump administration post, Wallace, who's a Teton Village resident, oversees the U.S. Fish and Wildlife Service, the agency that calls the shots over federally protected grizzlies and that made decisions over how to address the bear 399 situations.
"I think the plan is to let her go where she's going right now," Wallace told the Jackson Hole Daily the day before grizzly 399 opted to travel north, "and minimize the chance that there's [a conflict] with the community, whether it's somebody with a camera or somebody with a plate of dog food out in the backyard."
While federal wildlife officials were making decisions, it was the state agency, Game and Fish, that devoted its staff to handling bear jams and going door to door to educate landowners. Longtime Jackson resident and grizzly bear enthusiast Ann Smith dubbed Boyce a "saint" for his efforts corralling crowds and helping ensure grizzly 399's safe passage back north. Boyce, in turn, thanked the Teton County Sheriff's Department for its assistance over the past month.
On Thanksgiving Day, grizzly 399 was sticking in and near the park, according to photographer Tom Mangelsen. She passed through his Meadow Road neighborhood and then cut across Highway 89 before ascending Blacktail Butte.
"I'd much rather see her up here in the park than down there in the traffic on the Village Road, that's for damn sure," Mangelsen said. "It's a good thing for her to be back."
If grizzly 399 sticks around her normal haunts until hibernation, she'll be sharing the landscape with late-season cow elk hunters who are out and about trying to fill freezers and thin out the Jackson Herd in places like Teton park, the National Elk Refuge and private land between Moose and Wilson. The ongoing hunting seasons also opens up a food source: gut piles and whole elk that are shot and injured or killed but not recovered. Because of the chance of conflict, Mangelsen worries grizzly 399 is "not out of the woods."
Still, hibernation for North America's most well-known grizzly bear and her extraordinary four-cub litter is likely nearing. It's guesswork when exactly the elderly sow will return to her denning area, historically in the Pilgrim Creek area.