ABOVE: Kanye West celebrates with friends and supporters Thursday evening during the first listen of his eighth album, titled "Ye," during a private party at the Diamond Cross Ranch in Buffalo Valley. West has been traveling to Jackson Hole over the past year to work on the album. PHOTO BY RYAN DORGAN
Kanye West shot the cover art for his new release on an iPhone as he and Kim Kardashian West drove to the biggest hip-hop party Buffalo Valley has ever seen.
The photo shows the Tetons, close to dusk, with the phrase "I hate being Bi-Polar its awesome" scrawled over it in lime green.
The album, "Ye," dropped at midnight June 1 on East Coast time and was simultaneously played over very large and expensive speakers at Diamond Cross Ranch. The ranch, dubbed "West Ranch" by various national media people flown in to attend the listening party, drew a who's who of "hip-hop royalty," as Chris Rock said in his introduction to the listening portion of the affair.
Big Hole BBQ catered the event, Roadhouse Beer was served from an open bar and the view of the sun setting over the Tetons was live-streamed across the world via the WAV app as fans awaited Yeezy's new creation.
West has taken a liking to this area in recent months, so it's hardly a surprise he decided to throw his album release party in the same venue that inspired him. He spent months crafting beats at Amangani and other locales in the Tetons.
All winter, rumors spread of his and his wife's location, and which A-list rapper he had flown in to collaborate with him. The list included Chance The Rapper, Pusha-T, Kid Cudi, Nas, Travis Scott and other big names.
Pusha-T's "Daytona," released last Friday, was also recorded, with West producing it in the Jackson area.
GALLERY: Kanye West album listening party
Kanye West hosted an album listening party Thursday evening at the Diamond Cross Ranch in Buffalo Valley. Hundreds of people were flown in from across the country to celebrate the rapper's eighth studio release, titled "Ye," which was released Friday morning.
The party was announced just the day before, with an image from Instagram making the rounds online. All it said: "Kanye West album listening party Thursday May 31 Jackson Hole Wyoming itinerary confirmed upon RSVP."
From there, rumors started to fly: It was at Amangani, or Spring Creek, or in Moran. It was a hundred people, or 800. You could get in if you had a Wyoming ID, or it was a private party.
What we do know is that you had to be on a list to get in and pass multiple security checkpoints. Sorry, attempted party crashers. Media from New York City and Los Angeles were flown in via private jet, all ready to write think-pieces on the state of Kanye today, and what his new art means in the wake of his Trump comments. At 10 p.m, after three hours of making live-streaming fans stare at a small fire (good move, Ye), the man of the hour gathered his guests around a bonfire, and after an introduction by Rock, the quick seven-song album began blasting.
Rock's comments were circulating everywhere Friday, highlighting the contrast, or connection between wealth and African American-made political music and musicians, all of which converged on a northwestern Wyoming ranch for one night.
"Hope you enjoy the bonfire tonight because tomorrow night it'll be a cross burning," he said.
Rocky Vertone, known as DJ Vert-One, ended up at the party DJing and helping set up some of the sound gear West rented. The Jackson DJ described it as the kind of night that will never happen again.
"It was pretty wild, just the contrast of those dudes and hip-hop in this ranch scene it was so funny," Vertone said.
He said it changed, or at least made him rethink, his opinion of West.
"People can talk s--t about Kanye West, like, 'he says this and he says that,' I don't know, last night he was super chill," Vertone said. "He's a super nice dude and he has his moments. He's an artist like everyone else."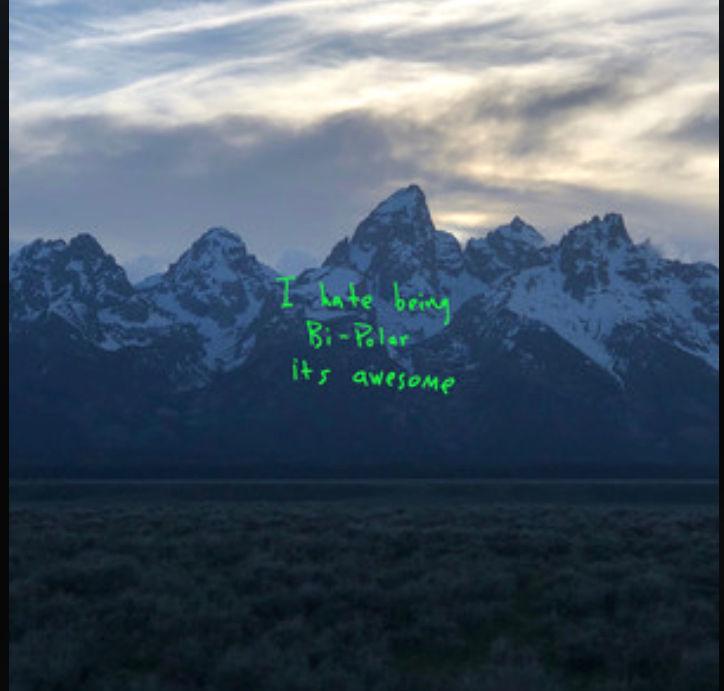 Dep. Clayton Platt from Teton County Sheriff's Office was one of two deputies assigned to the party. He estimated around 300 people attended, and besides one DUI arrest, it was a mellow night. However, he said he didn't really fit in with the rest of the party-goers, with his sheriff's badge and cowboy hat.
"It's the strangest one I've had here," Platt said of the job assignment.
The after-party was far more public. Wade Dudley was at the Million Dollar Cowboy Bar last night around midnight when the crowd turned from the typical cowboy crowd to something else entirely.
"At some point a bunch of very fashionable people came in one after another," Dudley said. "Ty Dolla Sign, Kid Cudi walked in, and I knew that Kanye West was about to come in. Frank Ocean also walked in. It turned from the Cowboy Bar scene to this Hollywood-type scene."
Check back with JHNewsAndGuide.com on Saturday for a gallery of photographs from the album listening party.
— Emily Mieure contributed to this article.