Planet-warming greenhouse gas emissions likely declined in Jackson Hole throughout 2020, the year the COVID-19 pandemic gripped the valley and muddled with usual patterns of traffic and tourism.
That's the first dip in emissions since 2012, per a draft of the 2021 Indicator Report, an annual amalgamation of data prepared by the town and county that tracks the community's performance in housing, ecosystem protection, traffic and more. The report is produced to inform planning decisions and contains a series of metrics that informs what the town and county choose to prioritize and work on during a given fiscal year.
Emissions have not, however, fallen below 2012 levels.
That's the goal for reduction set by the 2012 Jackson/Teton County Comprehensive Plan.
"Even with the decline in commercial air travel and commuting in 2020, GHG emissions only declined to just under 2017 levels," the report reads.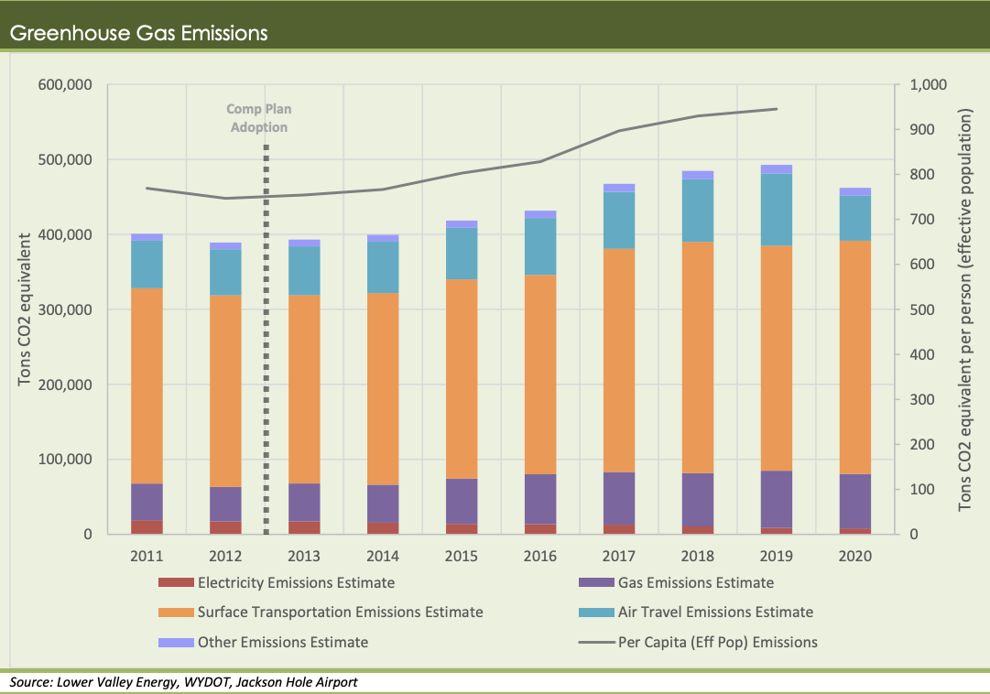 Teton County emitted 462,064 tons of carbon dioxide in 2020, according to the report. The document said the sources of those emissions were electricity, surface transportation, gas, air travel, and an "other" category.
Despite this year's drop emissions have generally climbed since 2012. 
"The resumption of "normalcy" in 2021 appears likely to resume the steady climb of greenhouse gas emissions in Teton County," the report reads. "Changes to transportation and energy usage will need to occur to reduce emissions to 2012 levels even as population continues to grow."
Lower Valley Energy, the Wyoming Department of Transportation and Jackson Hole Airport all contributed numbers to the town and county's emissions calculations.
You can read a full draft of the 2021 Indicator Report here.
The report is set to be presented to the Jackson Town Council and Teton County Board of County Commissioners during the boards' joint information meeting Monday.
That meeting is set to start at 2 p.m. and will be held virtually. Those interested in watching can tune in over Zoom. The webinar ID is 836 6971 5693 and the password is 83001.
There was no phone dial-in information listed on the agenda, which can be found at TetonCountyWY.gov.