The public once again has the ability to comment on a proposed redesign of streets in downtown Wilson.
The project, called the Wilson Downtown Improvement Plan, is a partnership between the Wyoming Department of Transportation, Federal Highway Administration and the Wilson community. And the proposal includes a number of possible changes, like new sidewalks, START bus stops, an extended two-way left turn lane, and a pedestrian and cyclist bridge on the north side of the existing bridge over Fish Creek.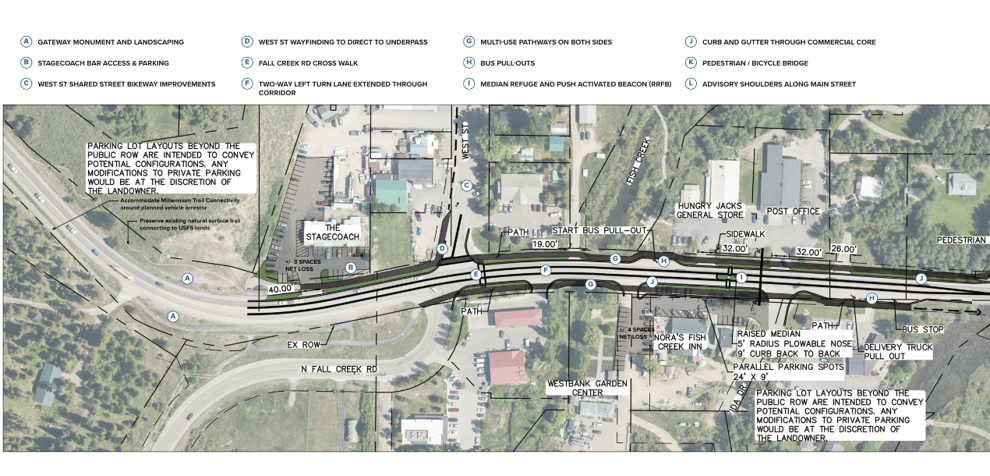 The public can view the so-called "preferred concept" developed by Teton County and its partners online. The link is Wilson.AltaPlanning.Cloud, where readers will be able to find a survey through which they can provide public comment.
This method of providing feedback is called a "virtual open house." This period of public comment is the second officials have opened in the past year.
Replanning Wilson has been a subject of discussion for going on two decades, after the county and community produced a 2001 report outlining a proposal for transportation upgrades in the Wilson area. But by April  2019, when the Teton County Board of County Commissioners revisited the idea and approved a new planning effort for the area, little besides an underpass near the Stagecoach Bar had been built.
This period of public comment is set to end May 7.
It's the last opportunity to weigh in before a final set of recommendations goes to the County Commission and WYDOT for approval.
If approved, the plan is set to move forward through design and construction with funding provided by Teton County and the 2020 BUILD — or Better Utilizing Investments to Leverage Development — Transportation Discretionary Grant.