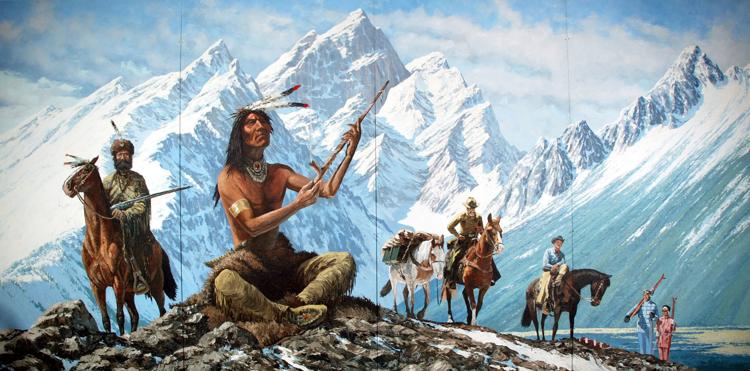 Roy Kerswill painted Teton scenes and Indians and fur trappers and wild animals over four decades, but the Kerswill painting that was seen by the most people is the painting no one has seen for 20 years.
That painting — an oil on four sheets of plywood, 8 feet tall and 16 feet long — is probably the biggest thing the Englishman-turned-Jackson artist ever created. And now it's the biggest mystery.
Ed Cunningham owns the Alpenhof Lodge in Teton Village and the "massive work of art" that dominated its lobby for 24 years. But during a 2000 remodeling "we kind of lost track of it."
Anyone who ever saw the piece would have trouble forgetting it, and not just because of its size: The painting was typical Kerswill, typical 20th-century Jackson Hole art — the Tetons, heroic Wild West people and — incongruously, small and down in one corner — two skiers in 1960s-style gear. Those two were Dietrich Oberreit, who built the Alpenhof as Teton Village's first lodge in 1964-65, and his wife, Anneliese.
It wasn't Cunningham's taste, nor part of his vision.
"The aim was to make the Alpenhof into a Swiss alpine-style hotel," he said. "And the painting, which included the Grand Teton in the background and a big Indian in the middle and cowboys, didn't quite fit in with the theme of the hotel."
But the painting stayed on the lobby wall for a dozen years after Cunningham bought the lodge in November 1988. When the remodeling began, general manager Jeff Deckers was told to find a place to safely set it aside, and Cunningham didn't pay much attention. He remembers talk that the painting might go to a gallery that could take care of it and arrange some minor repair.
"It wasn't a high priority," Cunningham said. "We weren't planning on putting it back up.
"My then manager, he took it and reportedly had it stored in a gallery downtown. My objective at the time was to find someone to buy it or possibly even give it to a charity that could use it."
Deckers moved on, and "when we later found him he said he couldn't remember where he put it, where it was," Cunningham said.
Maybe the contractor knows, Cunningham suggested. But builder John Fixter hasn't had a Jackson business license since 2015, and sold his house north of town in 2014. Phone numbers for Fixter and his business have been disconnected or ring without answer.
No one kept close track of the giant painting, Cunningham said, because "We didn't expect it to disappear."
Roy Kerswill was a character, a character who knew he was a character and carefully daubed over the years at the picture he had painted of himself.
Elaine May, who ran the May Gallery with her husband on Center Street, was educated in the art business by Kerswill specifically to handle his work so he could concentrate on painting. She remembers a dapper man, small and wiry strong, enthusiastic, a hiker, with a neat beard and mustache, a story-teller who never lost the accent of his homeland.
"Roy was larger than life, but also down to earth," May said. "He advertised for a husband-and-wife team to run his gallery. He was our mentor. He sat us down and said, 'This is how you sell art.'"
West Lives On Gallery owner Terry Ray remembers Kerswill as an artist who knew that an artist's personality could play as big a part as the art itself in making a sale.
"He was an interesting guy," Ray said. "I won't call him eccentric, but interesting. ... Impression is important. Roy knew that."
Born in 1925 in Devon, England, Kerswill was a natural artist whose skills were honed starting at age 11 when he won a scholarship to the Plymouth College of Art. Despite his talent, his parents had their doubts.
In a 1989 story in the Jackson Hole Guide, Kerswill said his mom and dad — a sailor and the daughter of a fisherman — "didn't want me to become an artist because they didn't think I could make a living at it.
"But being an artist was all I ever wanted to do," he said. "I was obsessed and consumed with it."
Drafted into His Majesty's navy in 1946, Kerswill served three years, sailing in the South Pacific with the fleet air arm. After he was discharged he traveled and made a river trip that for much of its route was the Lewis and Clark expedition done in reverse. He and a friend, Monty Montague, paddled a cedar canoe up the Columbia River to the Snake and then to the Hoback, portaged to the upper Missouri and then floated downriver to the Mississippi and New Orleans.
Having seen Jackson, he was determined to return. He lived first in Denver, developing his style of Western art but also creating bizarre "spaceship of the future" illustrations for Martin Marietta Corp. and fashion art for the Hudson's Bay Company. He and his wife, Winona, moved to Jackson in 1957.
He painted all the cliche Western things: pioneers, wagon trains, mountain men, wildlife, cowboys, Indians — even the hokey-iconic "naked Indian maiden on a rock" sort of thing.
Kerswill's personality, and sense of humor, sometimes resulted in work that smacked "a little of Western kitsch," said Maggie Moore, a Jackson art appraiser and collection curator who does business as Artemis Art Advisory. And, she said, even when he was on his game, Kerswill was "more regional" in his appeal even than many with similar interests.
But the hardworking artist also had skill and a considerable following, said gallery owner Ray, who has Kerswill paintings on consignment to sell.
"I liked his work," Ray said. "He did the Tetons well, and we sold a lot of his work. You don't sell as much as he did if people don't like it."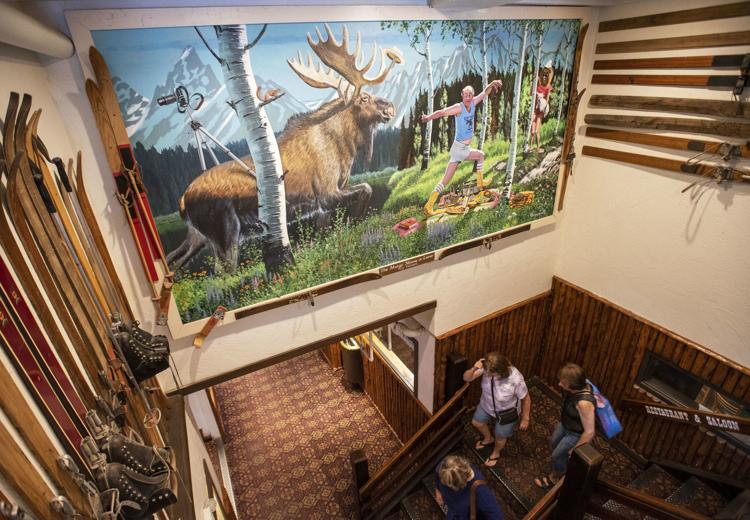 Kerswill's work appeared on posters, the cover of the Frontier Days program in Cheyenne, was hung in local businesses like Jackson State Bank, Jackson Lake Lodge and The Mangy Moose Saloon, where a mural of his still decorates one wall, showing a moose in pursuit of a tourist who is clad in shorts, white socks and cowboy boots.
At the Moose he was known to earn his drinks with portraits sketched on napkins. His charcoal portraits of local folk and cooperative celebrity visitors, often done on the spot, were displayed for years in the Elkhorn Cafe and at LeJay's Sportsmen's Cafe. Many of those pieces now belong to the Jackson Hole Historical Society.
His more serious efforts were in the collections of the Department of the Interior in Washington, D.C.; the Jefferson National Expansion Memorial Museum in St. Louis; the Wyoming State Collection in Cheyenne; and the Museum of the Mountain Man in Pinedale. Among his private collectors were Presidents Dwight D. Eisenhower, George H.W. Bush and Ronald Reagan; Sens. Barry Goldwater and Cliff Hansen; and actors Burt Reynolds, Dick Van Dyke, Charlton Heston and Brian Keith.
Kerswill was a devoted artist who paid homage to English artist William Turner, once spending two days at a Turner show at the Tate in London and seeing not only inspiration but a challenge.
"You don't see something like that without telling yourself you'd better get in gear so you can do something close to this," he said in 1989.
But besides the art, Kerswill was also a man trying to make a living. He painted fast to satisfy the steady demand for his product. At his home studio Kerswill worked from 8 p.m. to 5 a.m. chronicling the West and its people.
"Roy was a very prolific artist," May said. "And he really captured that history of Jackson Hole. There was always a beautiful landscape involved, but then you got the history — the mountain men were what he predominantly enjoyed."
And, May said, Kerswill art was "really well priced." Besides the reproduction posters, even an original was within reach of someone who took a liking. His watercolor landscapes on what's called a "full sheet," about 22 by 28 inches, went for around $300, she said, and with figures, about $450. His oils ran around $6,000 to $8,000, "$10,000 for the big ones," she said. (See sidebar.)
May called the style "impressionistic," noting that "his technique wasn't the picky, tedious, highly detailed type of stuff."
Kerswill was known for bright colors — both in oil and watercolor — careful research to make his Old West scenes authentic and a generally more-than-real approach, showing everything a bit bigger, brighter and more impressive than the reality. He noted that famous Yellowstone painter Thomas Moran, also an Englishman who became American, shared that trait, as did another pioneer Western artist, Albert Bierstadt.
Kerswill liked the idea that the people who bought his work spent their money for enjoyment, not because they had an eye on future profit. He sold many reproductions to pay the rent and to let his fans enjoy having them at home.
"I like to see my stuff hanging up in a kitchen on a ranch," he told one Jackson Hole News reporter. "That makes me feel good. People don't buy my prints as as investment. They buy them because they like them, you see."
And he was also known for painting big, said it took a big painting to show a big country and a big history. He frequently turned out oils that measured 60 by 60 inches. But it was his painting at the Alpenhof that took the prize for size.
Dietrich Oberreit was born in New Jersey in 1924, but when his father died his mother took the family to Switzerland to be with her family. He returned to the United States in 1942, skirting the war, and served in the Navy. He and his family were avid Vermont skiers when he noticed a Ski Magazine article about the new Jackson Hole ski area. They headed west in 1965 and began building the Alpenhof, a 30-room lodge near the base of the Aerial Tram.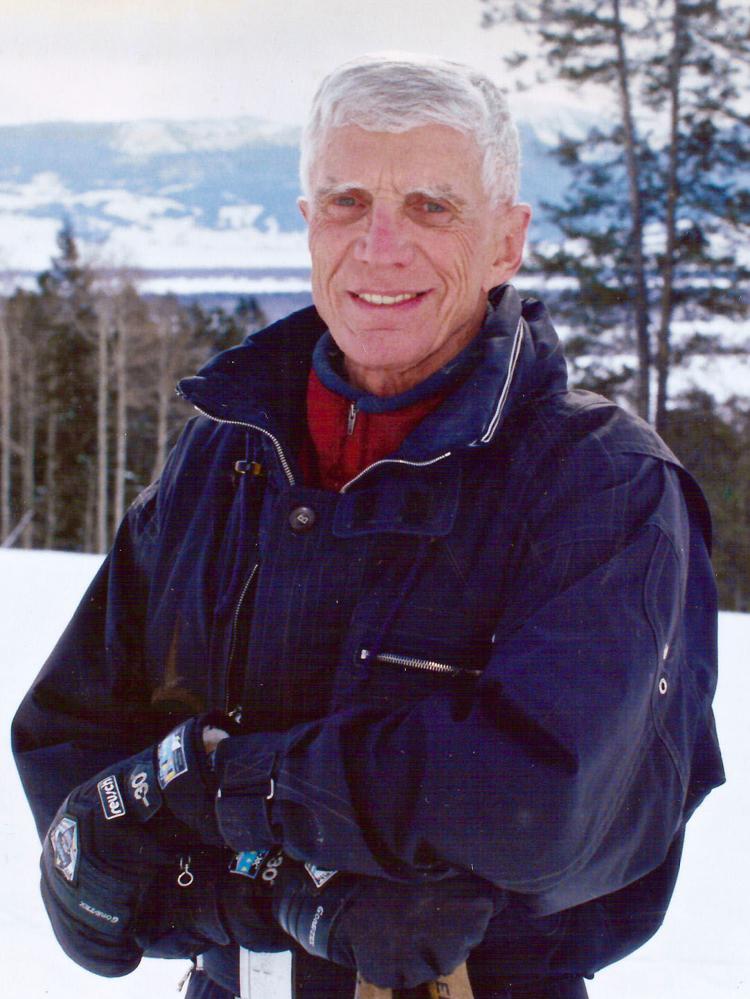 Oberreit wanted decoration. Within a year of opening his lodge — added to the National Register of Historic Places in 2016 — he had met artist Kerswill and arranged for a personal touch. Oberreit died in March, and many details went with him. But one of his three children, Audrey Sorensen, said the painting, done when she was about 8, is center in her memories of the lodge that her parents built and operated and where she worked for many years.
"My memory is that it was always there," Sorenson said recently. "It was the defining piece of the lobby."
The art was hung high on the wall, and people who visited the second-floor bar at the Alpenhof "were looking right at that painting" as they stood on the landing that overlooked the lobby.
Sorenson remembers many people commenting on the painting, and that they often were puzzled as they examined what first seemed a typical Western scene but finally noticed the images of the Oberreits in the lower right.
"'Why are there skiers in this painting?'" she remembers hearing. "But it was just a natural progression, of Indians, trappers, cowboys and then skiers."
Art appraiser Moore considers it a plus that "the original owners had themselves painted in; that was nice." The work, she said, "is not top-tier Western, but it's cute."
Besides modeling the skiers on his patrons, the Oberreits, Kerswill used his own face for the cowboy and the trapper characters, Sorenson remembers being told.
She wishes she had thought to ask her father, but, she said, it didn't seem paramount during Oberreit's final years, when he was ill and she was nursing him. His death earlier this year, the death of his ex-wife Annaliese in 2016 and Kerswill's death in 2002 has left no one alive who was closely involved in the creation of the painting.
It also leaves Kerswill's painting — signed but apparently unnamed — missing, and with any trail long cold. The people still around, though, haven't stopped wondering where it might be.
It could be, everyone agrees, that it's still stored in the back of some gallery, a mystery to the people who have it. Or maybe it never made it farther than a construction dumpster. It might be decorating the wall of a den, the person who has it not knowing its past. It might be that the image of Tetons, Indian, pioneers and skiers is seen only by hens who know no difference between art and chicken coop walls.
Owner Cunningham said he was told by Dietrich Oberreit that the painting cost $25,000, a price as high in 1966 as the art is big. If it could be found, he said, he'd be happy to see it find a place where it could be seen rather than being stashed in the dark.
"My objective is to find someone to buy it or possibly even give it to a charity that would use it," he said. "It should be shown, and shouldn't be just hidden away. It's part of the history of Jackson Hole."
Sorenson said she still hears about the painting from old Alpenhof guests and friends of her parents. For her "it has historical as well as sentimental value for my family, as well as those involved with the Alpenhof in days gone by.
"You'd think if someone had it in a storeroom they'd know it," she said. "It could just be stuck somewhere and no one knows where. ... It would be awesome to find it."
And though finding the painting seems unlikely, the world of art is a place known for such unlikely things, retired gallery owner May said, where items go missing, where sometimes people don't know what they have, where surprises happen.
"There are always interesting art stories about things that turn up in junk shops and antique stores," May said. "It could happen."