YELLOWSTONE NATIONAL PARK— The deep, raspy roars of two grizzly bears battling on their hind legs are audible from hundreds of yards away.
It's just before 7:30 on an early April morning as Rick McIntyre shuffles through the snow up to the drama, capped by a black wolf opportunistically eating on what's left of a bison carcass that spurred the skirmish. Any banter that rises above a whisper (I learn firsthand) is quickly shushed. The scene unfolds at the so-called "Bob's knob" rise overlooking the low reaches of Slough Creek, where around two dozen devoted cameramen and wolf-watchers are entranced, along with a few lucky folks passing by.
Within a few minutes the grizzly fracas eases, the bears' roars replaced by the honks of Canada geese, the bugling of sandhill cranes and the babel of human conversation. McIntyre, too, diverts his attention.
"Take a look at that family," he says. "Everyone's smiling."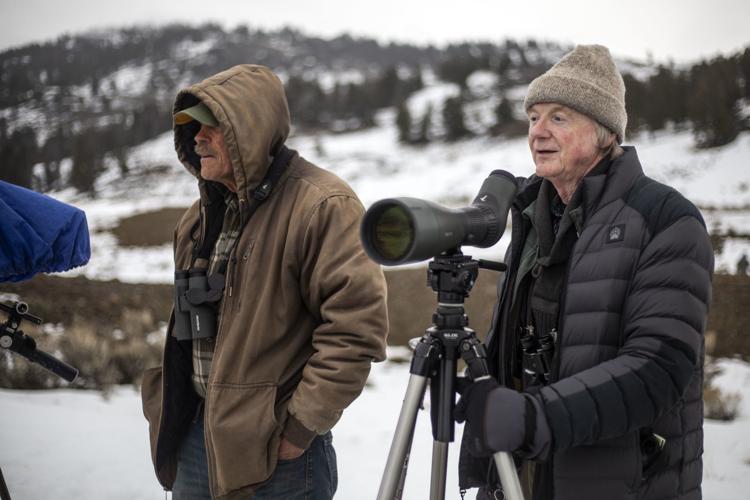 Pick a year and day since the native canine carnivores were reintroduced to Yellowstone National Park a quarter-century ago, and this was close to as good of a start to a day of wolf watching as it gets. At Bob's knob, McIntyre faithfully dictated his observations into a recorder, as he always has. Nowadays, however, the longtime Yellowstone Wolf Project employee is taking down what's happening purely on his own accord. After 24 straight years of almost uninterrupted daily wolf watching, he retired in February 2018 at 68 years old. Spoiler: He's still out there watching wolves, and almost every day.
It's no secret that McIntyre's departure has had an effect on wild wolf watching in the world's best, or at least most accessible, place to do it, which is Lamar Valley. Yellowstone wolf watchers, who are unabashedly a fanatical bunch, for decades had the benefit of using technology to pinpoint the whereabouts of lobos that roam vast home ranges along the park's Northern Range, and in more interior places like Hayden Valley. Taking advantage of very high frequency tracking collars that cast out signals, McIntyre and his colleagues carried directional antennalike receivers that zeroed in on Yellowstone's wolves. The wolf-watching public learned: Find Rick, and you'll find the wolves.
That system was never the intention, said Doug Smith, a senior biologist who leads the Yellowstone Wolf Project.
"The Park Service does not want to get into the business of tracking wolves so that people can watch them," Smith says. "It's not even on our list of reasons why we collar wolves, but the perception was that's what we were doing."
When McIntyre retired, a new line was drawn, Smith said. His replacements, Jack Rabe and Jeremy SunderRaj, no longer broadcast what pack is where to the public, at least unsolicited, every day.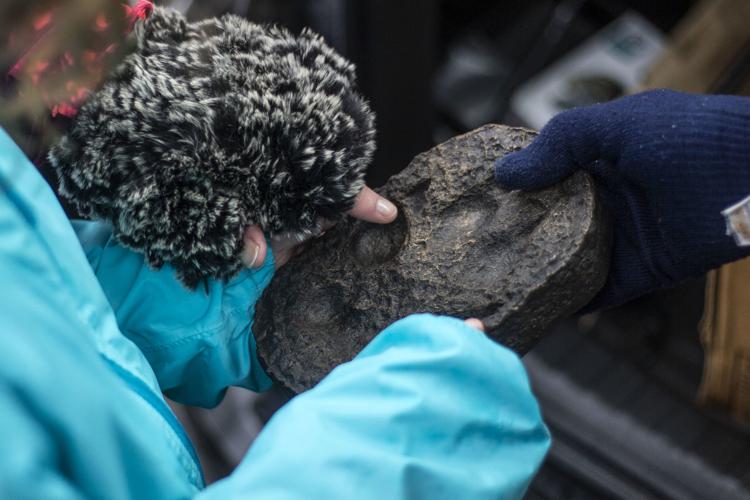 Starting in spring 2018 people had to adjust their habits. The wildlife watchers who flock to Lamar throughout the year now fan out more strategically, and when wolves are spotted there's more guesswork. There was a debate, for instance, about the identity of the brazen wolf that lingered near the two grizzlies. Fifteen minutes after the three large carnivores abruptly trotted and galloped away, the lone wolf stopped to cry out a serious of low-pitched howls from the creek bank. McIntyre's hunch was that the animal was 996M, a male from the Junction Butte Pack, whose territory includes the low reaches of Slough Creek.
"That seems to imply that it's likely that he's in his own territory" McIntyre said, "whereas if you're a lone wolf in enemy territory maybe you wouldn't howl."
Park officials later confirmed the hunch.
Gardiner, Montana, naturalist and artist George Bumann is among the Lamar Valley devotees who say there are upsides to the shift away from a reliance on telemetry equipment.
"You've got to pay attention a lot more," Bumann said. "If you're looking for wolves you have to be attuned to what ravens are doing, bears are doing."
"People say that some of the viewings they have are more wilderness-like," he said, "because people are spreading out and looking."
Other wolf watchers, like Nell Harvey, concede that there was some hardship not having the data-based direction that McIntyre provided.
"It was an adjustment," Harvey said. "We were all kind of milling and lost, and looking for him most of the time."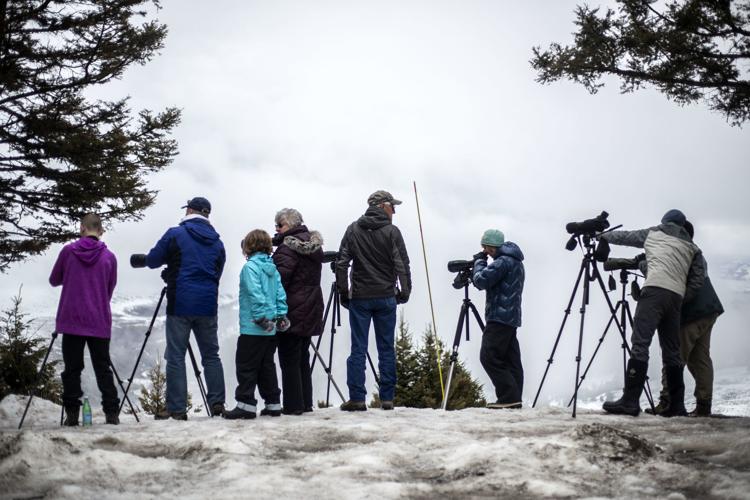 When wolves are spotted, especially during Yellowstone's busy summer season, the experience can still take a turn toward that of carnival, with bustling crowds, people jockeying for glimpses through spotting scopes and kids yelling about what they're supposed to be looking for.
The park says that people are still managing to see Yellowstone's wolves. It's not quite the late-1990s heyday, when the park's wolf population was about double the 80 to 100 animals it is today and McIntyre once spotted a wolf 892 days in a row.
"I'm at a point now, where that's OK," McIntyre said of zero-wolf days. "It's normal, and I've got other things to do."
In the early going of life without daily telemetry readings being shared with the public, the frequency of sightings is largely unchanged. Cell service lacks throughout much of Yellowstone's northern range, where wolf watching is possible on plowed roads throughout the year, but a network of 200 radios keeps everyone on alert for when Canis lupus is detected.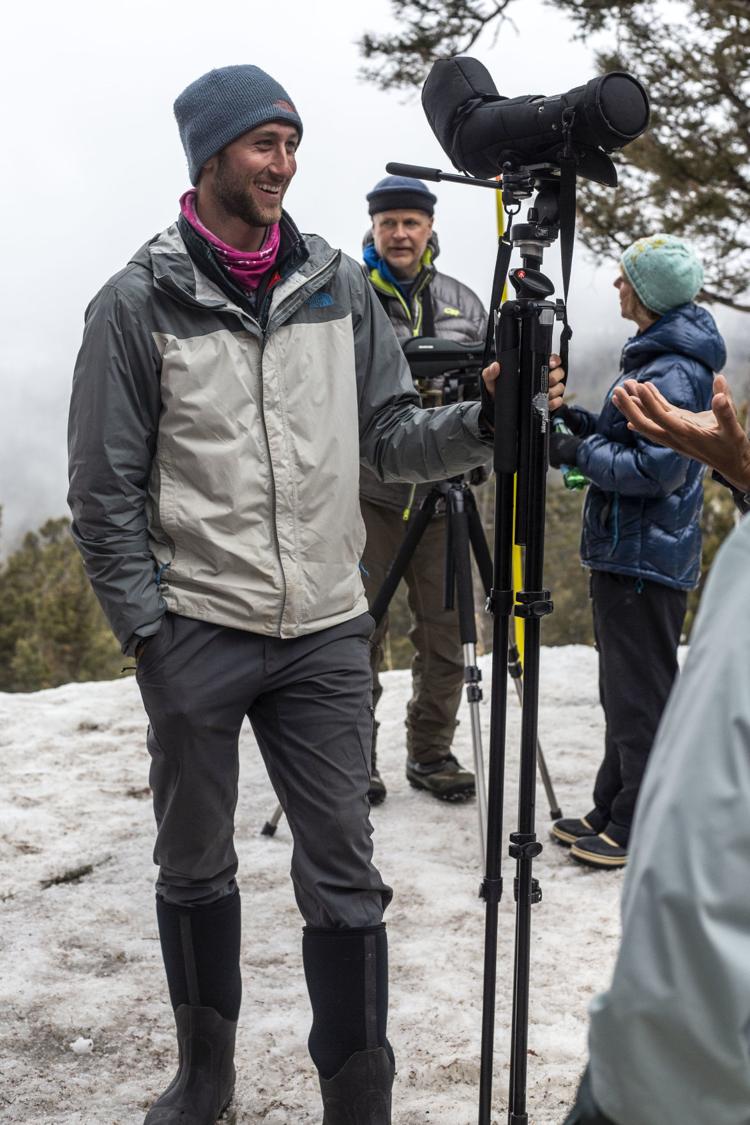 Rabe — one of McIntyre's replacements — said the public was seeing wolves around 85 percent of days before Rick retired. Without radioing out telemetry readings, word of wolf sightings is still spreading at least three in four days, he said.
Although officially retired, McIntyre still rolls around Yellowstone daily and interacts with park visitors much the same. At a pullout across the road from the famed former Druid Pack's den site, he fetches a cast from the paw print of wolf 21, the long-dead longtime alpha male from the world-famous pack. His audience is Baltimore grade schooler Charlotte Clement, who with her family is visiting Yellowstone for the first time.
"He lived right across the street," he tells Clement. "He was the big-shot alpha male who could do whatever he wanted to do, as long as he got the OK from the mother wolf."
A few minutes later, McIntyre is radioed word that the Junction Butte Pack had come into view, visible from an overlook well to the west along Grand Loop Road. It's just midmorning, but rather than driving west he retreats back toward home in Silver Gate outside Yellowstone's northeast entrance. His obsession over watching wolves has abated some, but it's partly to free up some time to write about the research subjects he so reveres. After a hunter shot former Lamar Canyon Pack alpha female wolf 926 last November, McIntyre typed up a remembrance for Outside magazine.
"In my attempt to deal with the death of a wolf I knew so well and admired so greatly, I thought of something I could do," McIntyre wrote. "Wolf 926 was shot about a mile from my cabin. I found the site where she had bled out and collected some of her frozen blood."
He trudged through the snow to the den where wolf 926 was born to redistribute the bloody snow: "I did it for her family, but mostly I did it for her," he wrote. "She deserved to come back home."
McIntyre has plans to publish a new book, "The Rise of Wolf 8," this fall.
At the Junction Butte Pack viewing that McIntyre passed on, Susan Westhoff, a Michigander, has wolves in her scope. She'd been tracking them moving from south to north for over an hour, as the pack intermittently came into view through patchy fog.
"Gosh, if I look away for just a second they're hard to find," she says.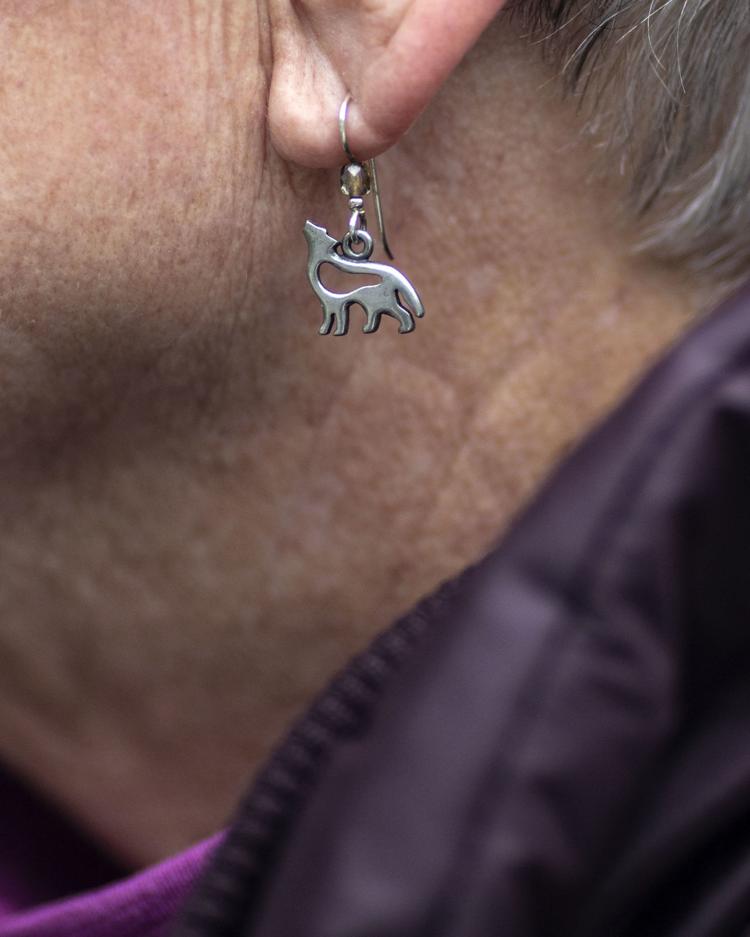 It's her eighth wolf-watching trip to Yellowstone, but back home she checks YellowstoneReports.com daily, a clearinghouse to stay up on wolf observations in the park. Seeing them in person, she said, is "just wonderful."
Rabe, McIntyre's successor, helps with interpreting what's going on with the 11 wolves that are on the run over a mile away.
"The pups are running, chasing each other," he tells onlookers gathered. "The pups are about to pass 1047."
"Replacing" the man who mentored him, Rabe says, has been surprisingly easy.
"It doesn't really feel very different," he says. "It was a really great transition, because Rick's retirement is really no different than when he was working.
"He's still out every day looking for wolves."