About three years ago I was given my first mountain bike. A 1999 K2 900. It was the Velveteen Rabbit of mountain bikes, well-loved, with a couple pieces falling off, but it had real potential. And it was the right price.
I lived in Bend, Oregon at the time and took it to Sunnyside Sports, my neighborhood bike shop. With perhaps a sideways glance, the mechanic gave me an armload of parts and some YouTube videos to watch, and I began the restoration process. After a new crankset, chain, pair of shifters, pair of brake levers, handlebars and new cables, it was ready to go.
That bike, with its 90 millimeters of play in the fork and an old coil-over rear shock, followed me from Bend to Challis, Idaho (not a singletrack hotbed) to Teton Valley, Idaho. I took it down the lift-access trails at Grand Targhee Resort and on some adventure biking in the Big Hole Mountains. That was enough to tell me that my recreational aims had surpassed the bike's abilities. So, as is the wont of every outdoor enthusiast with a whiff of expendable income, I bought a used but new-to-me and much burlier mountain bike.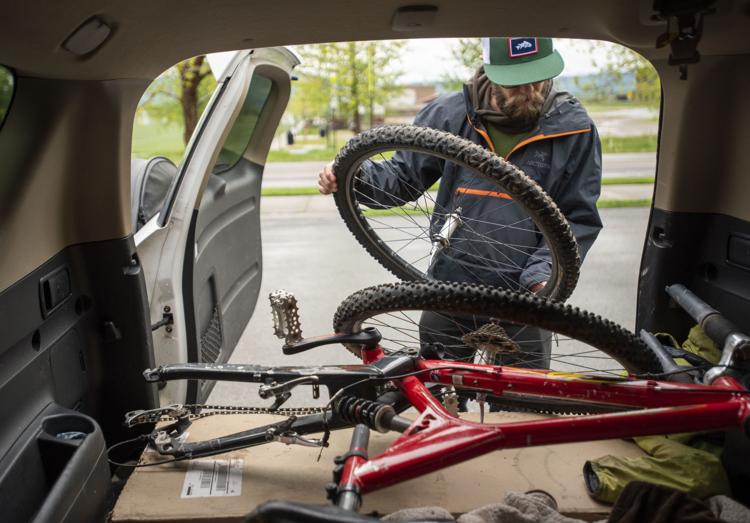 With the help of a new program led by Terra Firma Trails, called ReRide, my K2 has undergone another makeover and, as of Wednesday, is in the hands of its new owner, 13-year-old Ventura Garcia-Perez.
Near the woodpile at the Teton County Trash Transfer Station is the scrap-metal pile. It is populated with the things people would generally expect to find — old pieces of copper wire, iron pipes, flashing, but also some surprising objects: bikes.
"Some of the guys from our composting arm started pulling bikes that were good from the metal pile when they dropped stuff off," said Penny McBride, who heads ReRide. "They started thinking they could refurbish them."
Refurbish might be a strong word. Many of the bikes they pulled from the scrap-metal pile were fully functioning, just in need of chain lube and derailleur adjustments. McBride surmised that Jackson's high rate of turnover leads some to dump their bikes at the transfer station if they can't take them when they move.
Salvaging is prohibited at the transfer station, but Terra Firma approached the county about saving the bikes and was granted an exemption. However, merely saving a few used bikes does not constitute a program.
"I reached out to One22, the Doug Coombs Foundation and Climb Wyoming to understand what their clients' needs were," McBride said. "We made intake forms, and now we have 20 people that want bikes."
She called pretty much anyone with a bike stand, and Hoff's Bikesmith, The Hub, Wilson Backcountry Sports and Jackson Hole Sports took a few to tune. McBride also contacted Friends of Pathways and the county to help her find people in need, and as the partnership grew and they found more interested people they made a surprising discovery.
"We realized it wasn't just a need for bikes, but that some people didn't know how to ride a bike or were scared," she said.
McBride started planning an event, a bike giveaway with One22 that included learn-to-ride demonstrations and free helmets, where my bike would eventually find its way to Ventura. First, it needed a tuneup.
Wednesday afternoons at the Jackson Hole Community School are hectic. Students gather backpacks and books to head to extracurricular activities; some mill about savoring the last moments with friends. In the midst of the transition at the end of the school day the patio at the school's back door transforms into a bike repair shop.
During the school year the Community School is the first stop for bikes donated to ReRide. Smith Maddrey and Pete Ginsbury, teachers at the school, lead the Cycle Z Club. The venture started as an after-school opportunity for students to learn the skills to keep their bikes in working order.
"We weren't sure at the beginning if we were going to be a place for kids to learn how to take apart bikes or bring in their nice bikes to tune," Maddrey said. "We've kind of morphed into, 'Let's fix up some bikes and give them away for free.'"
The tools they use are a combination of Maddrey's, Ginsbury's and lead student mechanic Nick Dunn's. The parts are purchased from a wholesaler that gives them a discount on introductory-level components.
"We're a loose program," Maddrey said. "But there's a lot of spirit holding it together. It has a clear purpose."
The bike shop took shape quickly. Dunn, a sophomore, jumped into action. He told his peers to set up bike stands and arrange tools and boxes of parts.
Dunn is a budding bike mechanic at Peaked Sports, an outdoor store in Driggs, Idaho, and the foremost source of bike knowledge in the Cycle Z Club. He put my bike on the stand, spun the crank, shifted the gears.
"It's in good shape," he said. "Grab me a seat and some bar grips."
After replacing those, which immediately made the bike look newer, he felt the chain. Bone dry, maybe a bit dusty. His teacher, Ginsbury, went inside, returning with a clip-on chain cleaner. Dunn and a classmate ran the chain through the cleaner until the water was black, then again, making sure the water was clear and the grime removed.
Not only is Dunn able to help tune the bikes for those in need, the club is a chance for him to share skills he has with his classmates.
"Working [at Peaked] the past couple years, I've gained a lot of knowledge," he said. "It's been fun watching my friends learn more about bikes in the year we've been doing this."
They repeated the tune-up process on several bikes, Dunn giving instructions and stepping in to perform some of the more technical tasks, like derailleur adjustments. After he took my bike off the stand, another student oiled the chain, then wheeled it to the side with the other bikes ready to be given away.
The trickle of families was slow Wednesday to ReRide's first public giveaway. The bikes were arranged from smallest to largest on a fence in front of Jackson Elementary School. Only one family had shown up by the event's official start time, 6 p.m.
Blanca Gonzalez and her two daughters, Alexandra, 8, and Yessenia, 4, were in the market for a bike. A bike for their mother, in particular. Alexandra already has a bike, and "knows how to ride it," she emphatically pointed out, and her sister has a tricycle.
But their mother was bikeless. So she hopped onto an old commuter bike, a bright blue one, and Brian Schilling, Teton County's pathways coordinator, helped her adjust the seat.
"Have you ridden a bike before?" he asked.
"Oh, yes," Gonzalez said. "When I lived in Mexico, I biked a lot."
Schilling showed her how to change gears with the spin-style shifter and told her to take it for a trial run.
After a bit of trouble swinging her leg over the frame of the bike, Gonzalez put one foot on the pedals and pushed off. She teetered some trying to put her foot on the second pedal, but after a shaky couple of seconds she cruised around the drop-off lane in front of the school, her daughters kicking alongside her on pedal-less Strider bikes.
After a couple laps, she stopped back at the tent.
"Was it fun?" Schilling asked.
"Oh, yes," she said. "But I had to go too slow so they could keep up," motioning to her daughters.
At the end of the event, Ventura and his family pulled up. Though he just finished seventh grade, Ventura is a tall kid, so he meandered toward the bigger bikes. Schilling helped him first with a Cannondale road bike, which as he stood over looked uncomfortably tall.
He rode it around, and it was obvious he would grow into it, but that it was a bit tall. Then McBride came over.
"Let's try Tom's bike," she said. "I have that one earmarked for Ventura."
So he swung his leg over my old red K2 and sat down, testing the suspension. He nodded, a sign that it might be OK, though, admittedly, it was still a bit tall. He pedaled across the drop-off lane, swung around and cruised through the grass a bit on the way back.
"I think it'll work," he said.
Ventura and his brother, Dominic, and his mother, Noemi Perez, all went home with bikes. Ventura learned to ride when he was 9 years old, but he said he hadn't ridden since he outgrew his last bike.
"I think I'll have to spend the summer learning how to again," he said.
His brother left with his first bike and didn't know how to ride it. Would he teach Dominic how to ride it? Ventura smiled.
"Maybe me, but maybe my parents, too," he said.
Asked what he would do this summer besides ride his bike, the rising eighth-grader, who the One22 volunteers described as a "straight-A student" and a "very discerning boy," said simply, "Probably study."
McBride looked pleased that most of the bikes had been picked up. Some of the people who had been slated to take one couldn't come because of work, but just as many had left their size and contact information with her in the hope of getting one in the future.
"You should see my house," McBride said. "People have donated lots of cool bikes they had sitting in their garages, and now the bikes are all over my deck, my entryway."
She said Terra Firma is thinking about renting a storage unit because the bikes keep coming, as do requests from community organizations. Her first hope is to clear her deck of bikes by finding people to take them. She has been working with shops around town to tune them, biding time until the Community School is back in session.
She hopes to hold another giveaway event soon, bolstered by the reactions of the families that attended Wednesday's event.
"I'm very happy," Gonzalez said as she left. "Now we can go for rides as a family."