Orrin Bonney and Lorraine Gagnon met in a way in keeping with the life they were to live together and the reputation they earned in Wyoming mountaineering.
In a true storybook mountain scenario, that first meeting was at high altitude, as they climbed the same mountain separately.
"They went up different ways," Lorraine's brother Paul recently remembered. "They met at the top of the mountain and fell in love right there, right now."
Orrin and Lorraine spent their life together hiking and climbing in the mountains of Wyoming, wrote about what they did, told tales of those who had come before them and explained how to follow in their footsteps.
When their partnership ended the couple were once again bound from their winter home in Texas to their summer place in Kelly, in spite of years of bad health suffered by Orrin.
Orrin's son, Roger Bonney, now 87, remembers that his father was "feeble in his last years," suffering from a bad heart and diabetes, but that he was as determined as ever to return to his beloved Tetons.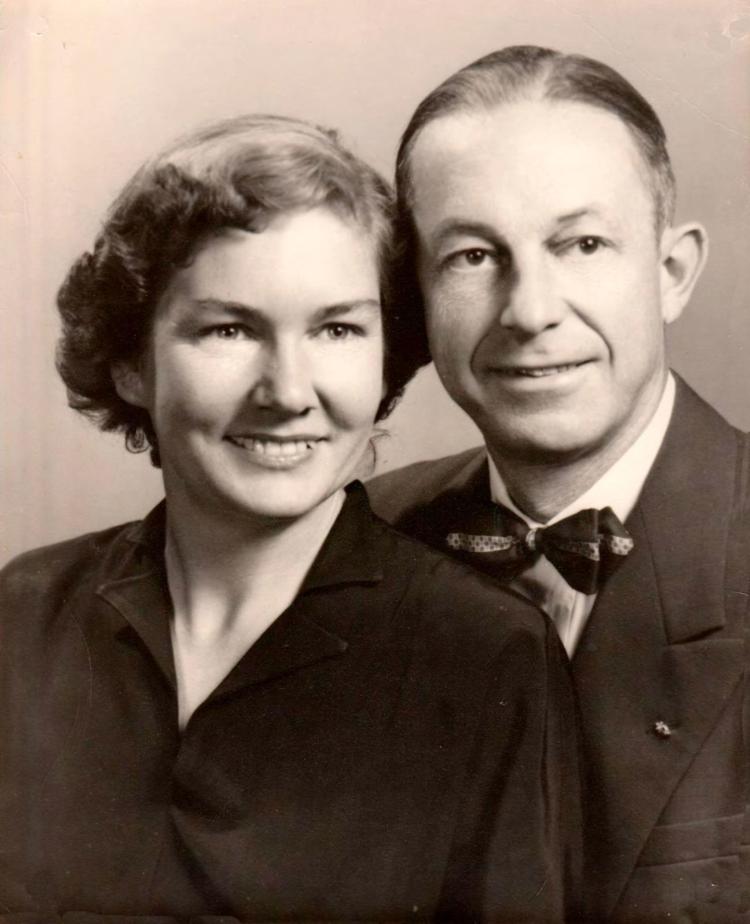 "They were getting ready to go back to Wyoming in the summer of 1979, in June, when he died," Roger said. "He was standing on the sidewalk as she was backing the trailer out. She had just got out into the street all right, and he just dropped in his tracks."
Orrin Bonney was 75, and with Lorraine, his second wife, the two were known around the West and throughout the world of climbing and conservation for their books on the outdoors and the history of Wyoming. She was 57 at the time Orrin died, and continued to write and campaign. Lorraine died in 2016 at age 93.
They will be honored next week when they're inducted into the Wyoming Outdoor Hall of Fame.
Adrienne Ward, a hiking and kayaking buddy of Lorraine's, and an editor who helped her with her books after Orrin was gone, said the only thing wrong with the honor was how long it took to arrive: "It's about time," she said.
"It's just not right that they aren't in the Hall of Fame," said Ric Samulski, who with his wife, Rosemary, led the nomination effort from their home in Pinedale.
Gagnon, Lorraine's 84-year-old brother in Canada, agreed: "They ought to build her her own hall of fame," he said.
Orrin Bonney was born in 1903 in Idaho Springs, west of Denver. He learned to climb while attending the University of Colorado. He went on to scale many of the peaks of the Colorado and Wyoming Rockies, beginning his annual summer trips to Jackson Hole in 1933. He introduced his son, Roger, to high places.
"He loved the mountains," Roger Bonney said. "He climbed everything there in the Tetons, and climbed in the Winds. Right after the war, I was in my teens, we climbed all the peaks in the Tetons, except Moran.
"I'd go up there and climb with him all summer," Bonney said. "We spent a lot of time in Wyoming in the 1940s and '50s, in the campground at Jenny Lake. We'd go up there and set up a tipi. That was our headquarters; we lived in that tipi all summer."
During close to 50 years Orrin Bonney built a law practice in Houston, taking off two years during World War II to help design gear for the 10th Mountain Division, which fought in the Apennines of Italy. But he lived for his time in Wyoming, and as the years passed he began to write about the climbing, opening the way for many younger lovers of the outdoors by telling them where to go and how to get up.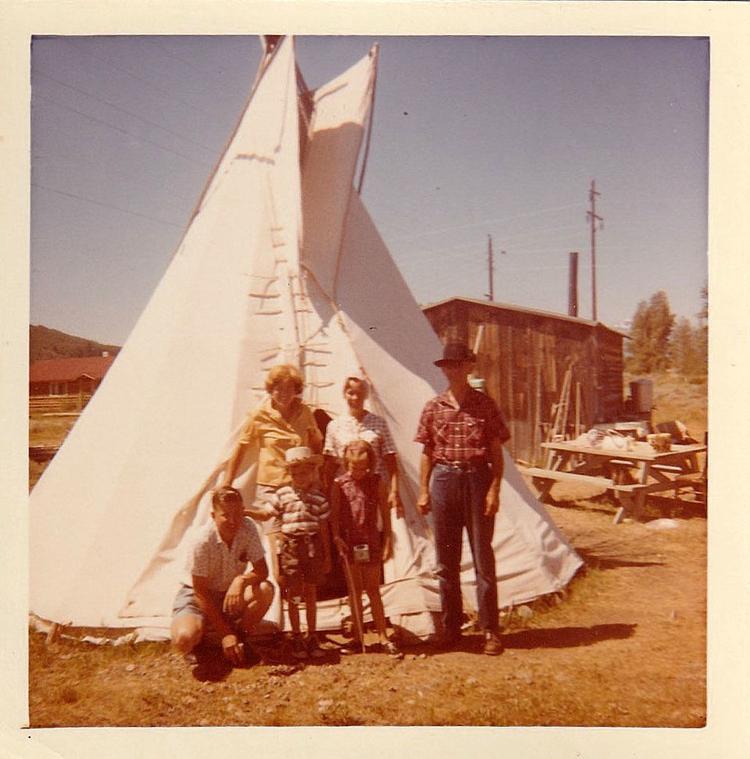 He served as a vice president of the American Alpine Club and the Sierra Club, and back in Texas campaigned to create the 85,000-acre Big Thicket National Preserve. The highest honor of the Lone Star Chapter of the Sierra Club is the Orrin Bonney Award. The Bonney name is attached to a pinnacle on the North Ridge of the Middle Teton, a spire he climbed with his son. Bonney made first ascents in the Wind River Range of War Bonnet in 1941, Pingora in 1940 and Titcomb Needles in 1939. In 1983 the name "Bonney Pass" was attached to the Continental Divide pass that links the Titcomb and Dunwoody valleys, the route Pinedale climbers take to reach Gannett Peak.
Bonney met Lorraine, a native of Edmonton, Alberta, while climbing in the early 1950s. They married in 1955.
The new couple continued the Jenny Lake tipi tradition and became known for hosting "Teton Tea Parties," gatherings of likeminded lovers of the outdoors at which stories could be told and a community created. They later moved to Kelly and lived in a cabin they bought from Oscar Seaton, but those campfire talks provided much of the history of Teton climbing that became part of the books the Bonneys wrote.
And it was the books — eventually nearly 20 of them — that tied them to the growing number of people who flocked to the wilderness for escape and recreation.
They started in 1960 with the huge "Guide to the Wyoming Mountains and Wilderness Areas," an exhaustingly complete guide the the backcountry of the state. The book won an award in 1965 from the Wyoming Historical Society and is still consulted. It's also a fond memory for people drawn to Wyoming wilderness 50 years ago.
"Before there was Joe Kelsey, before Tom Turiano, before Finis Mitchell, there was the Bonneys," said Samulski, who arrived in Riverton with his wife from New York in 1966 and "looked out and saw those mountains and realized no one seemed to know about them, especially the climbing of them.
"There were no other guidebooks out there in the '60s," he said. "The Bonneys showed us the way. ... They said, 'Hey, it's possible for you guys to get to the top of Gannett Peak or the Grand Teton.'"
That first guide, Samulski said, "covers everything from the Tetons to the Wind River Range to the Absarokas to the Medicine Bow Range ... everything you want to know."
Paul Gagnon said the book is so detailed that it offers directions "from this tree stump to that rock" along the various routes.
The guide was also important, Samulski said, in the lead-up to the adoption of the Wilderness Act in 1964, "they had a great influence over where the boundaries of wilderness areas would be," he said.
The Bonneys went on to write another favorite, "Field Guide to the Wind River Range," which was honored by the Outdoor Writers of America Association in 1969.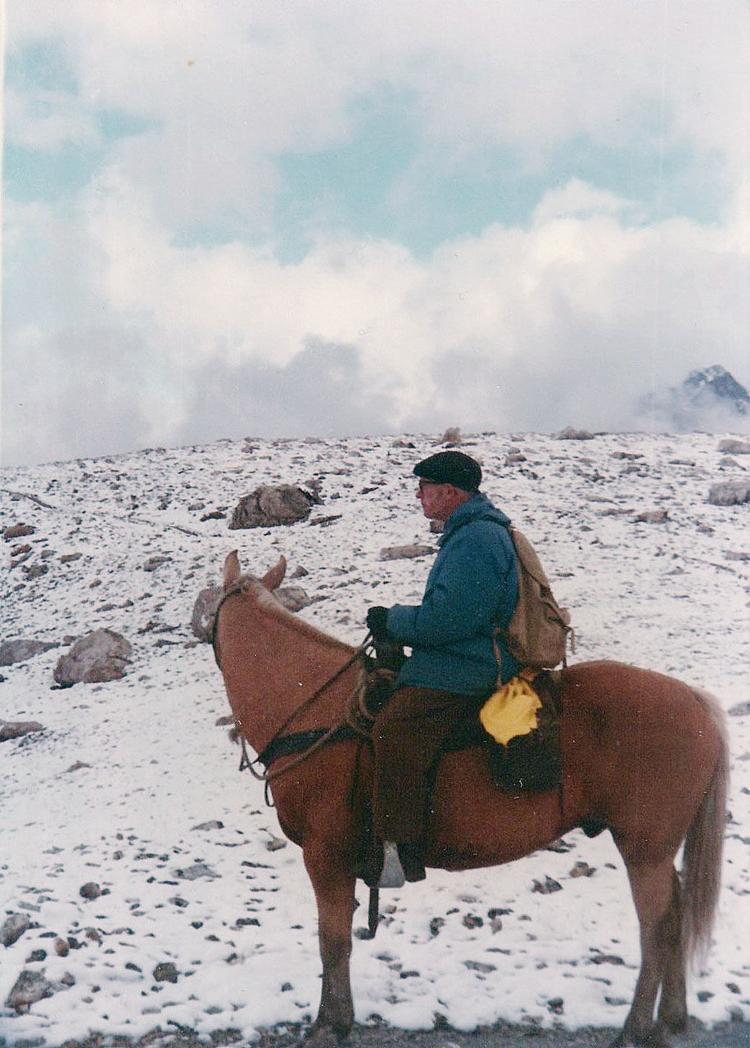 Locally, they wrote "Bonney's Guide: Grand Teton National Park and Jackson Hole," in 1961, which included the reminiscences of Jackson old-timers.
They also delved into history. Their book "Battle Drums and Geysers" told of Yellowstone pioneer Gustavus Cheyney Doane. The book was nominated for a Pulitzer Prize in 1970.
A major mountain history debate — who first climbed the Grand Teton — was the subject of "The Grand Controversy," in which the Bonneys came down on the side of the Nathaniel Langford-James Stevenson party of 1872, a climb during an early U.S. government expedition to Jackson Hole. The Langford claim was accepted for years, but it was later doubted and the credit reassigned to William Owen and Frank Spalding, who said they made the first ascent in 1898.
The Bonneys disagreed. They wrote in "The Grand Controversy" that "Owen managed to pull off one of the most fascinating and masterful scams in mountaineering history" and then "devoted the last years of his life to keeping the controversy alive by corresponding on a massive scale with all those who would listen to or publish his side of the story."
Though Orrin was the writer at first, with Lorraine lending secretarial help, her brother said, she evolved into an editor as Orrin declined, and she ended up the author who finished books Orrin had envisioned. Lorraine completed "The Grand Controversy" on her own, finally publishing it in 1992.
Though the Bonneys made a place in Jackson together, Orrin's death in 1979 at age 75 left Lorraine on her own in the Hole for nearly four decades. She didn't sit around like a widow in a Victorian novel; she didn't even slow down. She took every opportunity to join in, trying to fill the void left by the death of Orrin, who she always called "Bonney."
In a 1991 story in The Jackson Hole Guide, Lorraine's grief was revealed as a spur that kept her energy high.
"I just about went mad when he died," she said. "To get over it, if anybody asked me to do anything, I'd say, 'yes,' and I'd take off."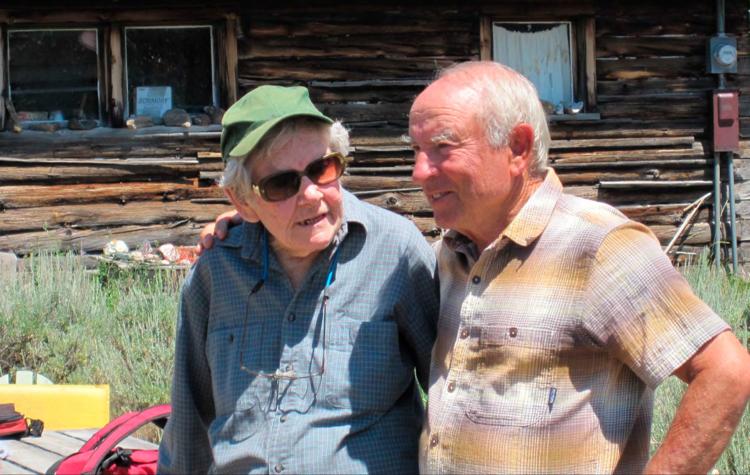 Within a year after Orrin died, Lorraine spent three months kayaking and hiking around Prince William Sound in Alaska. She rafted and kayaked rivers around the West into her 70s, and not just rivers that loafed along. Adrienne Ward and her husband, Peter, traveled with her to rivers around the Rockies, including the Middle Fork of the Salmon and the Yampa in Utah.
When she was in her 60s, Lorraine applied for a job in Antarctica and "told them that if she wasn't hired she would sue for age discrimination," Ward recalled.
Bonney got the job and drove a huge oversnow shuttle in 1987-88. She also worked at the U.S. embassies in Mexico and the Soviet Union.
She hiked through Tibet and Nepal, and when she arrived near Mount Everest she was inspired by piles of trash to join a campaign to clean up after climbers and trekkers — and shame them into not dumping their refuse in the first place. She also climbed Mount Fuji in Japan and Mount Kilimanjaro in Kenya.
Around Jackson, Lorraine campaigned for environmental causes, boosting the Wyoming Wilderness Act, blasting the right-of-way billboard advertising that lined the highways outside town, criticizing the location of Jackson Hole Airport in Grand Teton National Park.
"She was very aggressive, forceful," Ward said. "She had things she believed in, and she espoused them strongly."
Her brother Paul said of Lorraine that "she was a participant, not an observer — whatever it was, she got into it."
Gagnon also remembered Lorraine for the inspiration and guidance she provided, first to him, 12 years younger and raised largely by her, and then to the generations of aspiring outdoors enthusiasts she attracted in Jackson Hole.
"She was a strong influence on many young people," he said. "Every time I went to Jackson there'd be tipis and yurts outside her place in Kelly, and these young people would be there having singsongs and feasts.
"They had a place to hang out, had a teacher, someone they could ask questions of. She gave them spirit and sent them on their way."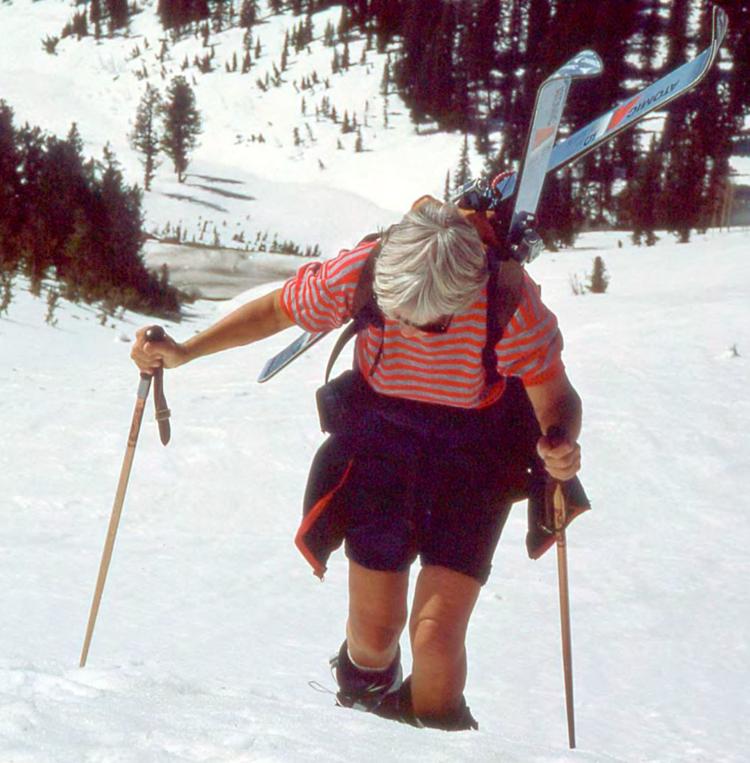 Lorraine Bonney was, above all, one tough lady, never flinching from danger or discomfort in the outdoors.
"She told us, and I think I believe it, that she was hiking in Yellowstone and tripped over something and broke her leg," Ward said. "Then she crawled back to the car, drove home to Kelly, crawled into the house and tried to call for an ambulance because, by that point, she felt she was not doing well."
Her brother remembered the story: "She fell and broke her femur, and she had to crawl about 3 miles to where she jumped in her camper," Gagnon said. "And I can see her doing that. She had that kind of mental capacity to push through a problem. ... She was very tenacious."
But, Ward said, phone service from Kelly to Jackson was capricious in those days, and Lorraine couldn't get through. So she lay there a while. And then, she told Ward, her phone rang.
"It was one of the fire department people trying to sell tickets to the fireman's ball," Ward said. "She told him, 'I'll buy all the tickets you want if you'll come get me.'"