With the go-ahead from instructor Garrett Austen, the melee ensued.
Three robots, built from Legos and armed with various spinning weapons, careened toward each other. Plastic crashed against plastic, punctuated by the whoops and screams from the elementary and middle school-age boys gathered around the battle arena.
The robotic Thunderdome was the zenith of a weeklong camp that used Legos to teach an array of technological skills, including computer science and programming. Throughout the week the kids built robots that employed gears, performed precise movements and used sensors and if/then coding statements to autonomously accomplish tasks.
"Day Five was a reward, getting to build battle bots with all those skills together," Austen said.
Austen runs Teton Tutors, a company that offers everything from traditional academic help to programs like the robotics camp. Many of the kids assembled at the museum have participated in his other programs, including Dungeons and Dragons games, and some are on their schools' robotics teams.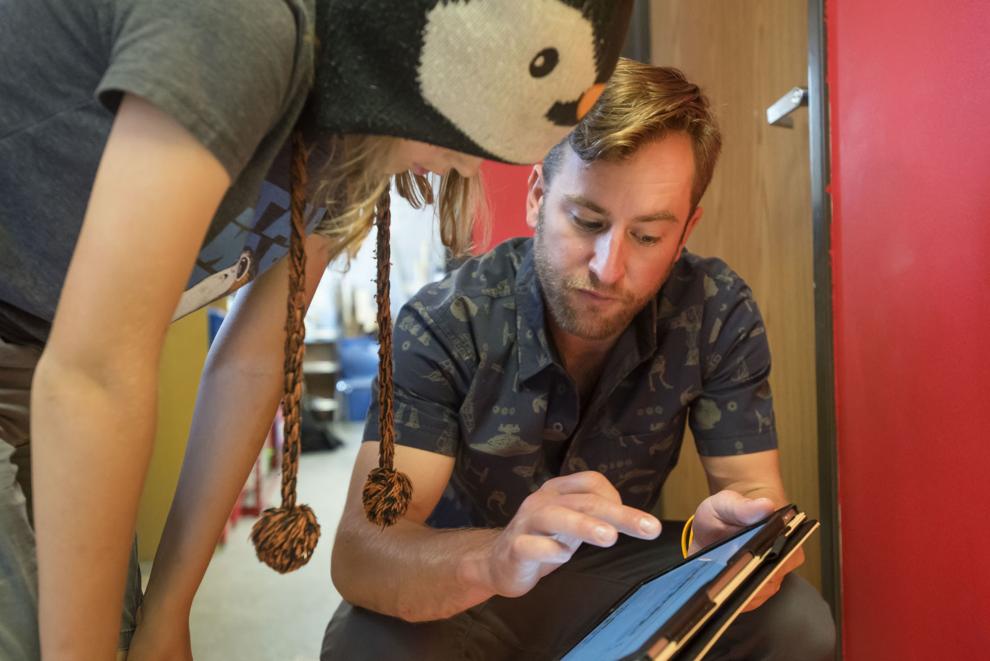 That experience showed. Scimitar-like weapons stuck out from the robots' sides, big wheels powered them and cages protected wires and sensors integral to their performance. Austen instructed the kids to build robots that used sensors for their movement, so no remote controls. But Kai McGee, 10, had other plans.
Rather than use the controller that comes equipped with the EV3 modules the robots are built from, Kai constructed a remote control from touch sensors that hooked directly into his team's robot's EV3 "brick."
"I'm like the puppeteer," he said. "Garrett said we couldn't use these, so I improvised and made my own controller."
Kai's team, which included Nico Santelices, 10, and Vaughn Gillingwators, 12, put spikes on the front of its robot, but other teams had different designs. River Ryan, 9, and his crew built the "Bunker," which didn't move but, true to its name, was basically a brick of Legos with spinning wheels and swords sticking out in all directions. Nine-year-old Thatcher Friess' crew built a bot that looked closer to Kai's, with big wheels at the base and a plethora of defenses around the EV3 brick.
As Austen said, the battle bots were a culmination of skills they had picked up over the week. Some kids, like Kai, were well versed in robotics, but others, like Thatcher, were new to the arena, so they progressively built skills, starting with a drag racing exercise the first day. Using gears and ratios they learned how to make their creations go faster. Then, with their newfound locomotive skills, they built robots that drove a precise track and picked up cubes, as well as ones that used sensors to recognize colors and change direction.
The programming used in the EV3 modules is called drag-and-drop coding, which gives the kids options without them needing to learn coding language first.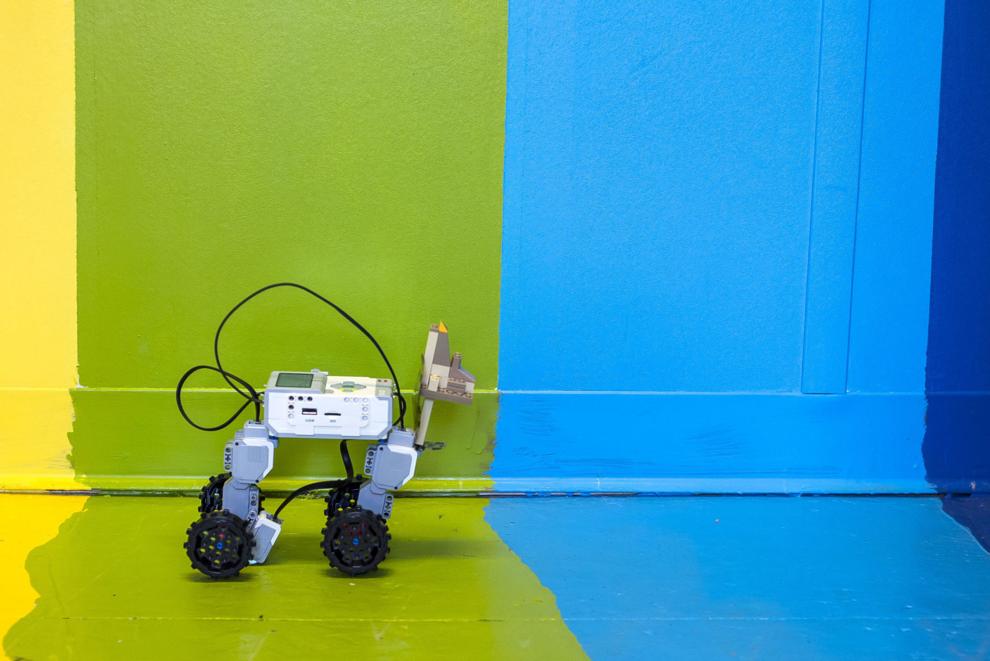 "They're learning that programming mindset, thinking mathematically, and in a problem-solving kind of way," Austen said. "But they're not getting hung up on typos or how many commas you have."
The robotics camp, the third Austen offered this summer and the second at the Jackson Hole Children's Museum, was a chance for the kids to practice their robotics skills while not in school. As has been shown for any number of academic skills, kids can backslide if they take a few months off during the summer. The same can hold true for robotics, which combines high-level abilities like engineering and coding that require practice.
"This was advertised as summer training to get ready for the fall season," Austen said.
The camp is also a chance for the museum to hone its offerings in the computer science niche. Nonprofits like the Teton Literacy Center, which partners with the museum, are looking to give kids "21st-century skills," said Anna Luhrmann, after-school and STEAM lead teacher. And programs like the robotics camp help them learn much faster than if they were listening to a lesson on coding.
As the students readied their robots, Luhrmann dug up a note card with a quote from the late Dr. Karyn Purvis, a renowned child development researcher: "Scientists have recently discovered that it takes approximately 400 repetitions to create a new synapse in the brain," the quote reads, "unless it is done with play, in which case, it takes between 10 and 20 repetitions."
As the clock struck noon Friday, parents gathered to watch the final rounds of the battle. Though the "Bunker" struggled a bit — its programming was such that when one weapon was jammed, all its functions stopped — all three robots stayed in one piece. Their tenacity was a testament to the ingenuity of their creators and to the buy-in created when learning is at once high level and focused on play.
"This kind of thing is great," Luhrmann said. "I mean, can you imagine being 11 and someone tells you that you can do that?"