As seasons change, we have the opportunity to seek new and different adventures. Winter's cold end is here, but summer's heat is still a ways off. Bike rides, corn skiing, ice fishing, crust cruising and running are all to be had. Here we explore some of the best ways. Join in!
Pedal Yellowstone without the RVs
A little pedal through the park is a great way to clear your head.
A two-day bike trip through Yellowstone National Park, planned for months to accommodate busy mom schedules and avoid soul-crushing traffic once the park opens to cars, is just the ticket. This year, roads are being snowplowed about now and cars start rolling April 16, so April 10-11 is the golden weekend.
The spring pilgrimage is halfway between a "credit card tour," whereupon you can resupply along the way, and a bikepacking trip, when you must bring all your food and camping gear. For this excursion you'll need to pack lunch and snacks and a few liters of water each day, emergency repair items, bear spray, park pass, credit card, and book a hotel reservation 55 miles away in Gardiner, Montana.
Be forewarned: There is no bail-out point, no aid station, no mechanic, no cell service. You must be self-sufficient. Check the weather forecast to plan adequate layers and decide a go- or no-go the night before.
Drive up early 2.5 hours on Day One, grab coffee and any forgotten bike-related items at Freeheel and Wheel in West Yellowstone and pedal into the park as it starts to warm up. Bison, coyotes and avian life are abundant, and melting snowbanks occasionally make for slick pavement as you pedal past steaming thermal features.
You'll start at 6,667 feet above sea level in West, top out roughly 1,000 feet higher around Roaring Mountain at mile 33, then scream downhill past Mammoth Hot Springs into Gardiner, Montana, elevation 5,259, at 55 miles. A RideWithGPS app file by the user "Brownie" counts it as 2,094 feet of climbing and 3,458 feet of elevation loss on Day One. Reverse that for the second day. Lazy riders get brownie points for sweet-talking a Gardiner resident into giving you a lift uphill to the road closure gate above Mammoth.
The girl gang dubbed Team Cactus Legs likes Yellowstone Riverside Cottages in Gardiner for its views and hot tub, but choose any bed you'd like. Raise a glass to your toasted legs and get a good night's sleep to double your fun on Day Two.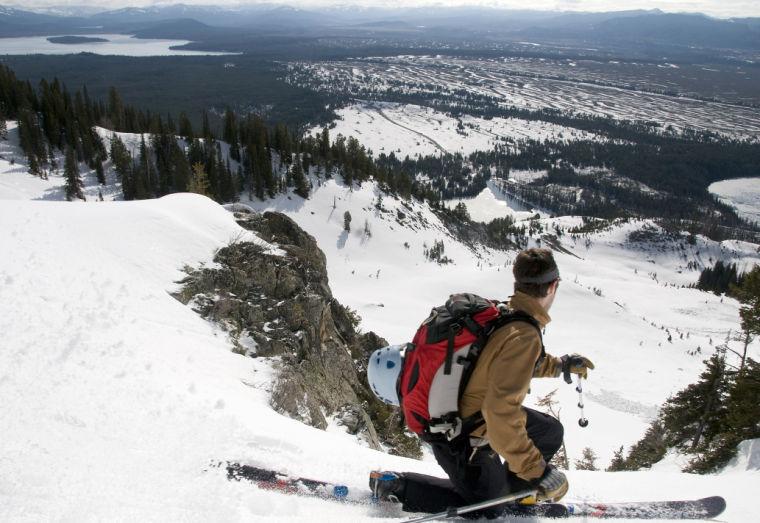 Winter's death knell hasn't sounded yet, but we got our first taste of spring skiing a couple of weeks ago, and it was pretty good. Following the start of daylight saving time, we enter a magical time of year when after-work skiing feels pretty accessible, even for those shackled to a desk until 5 p.m.
Random storms aside, don't set your expectations too high. Sometimes, you can snag that perfect corn ski lap; the sun has melted the snow enough that the top couple of inches hold your edge, but you barely leave a mark. Most times, however, you might find some scrabbly ice, or the grabby slush that stops your momentum like an NBA center in the paint.
No matter the conditions, hiking in a T-shirt and catching a glimpse of the rumpled mountain ranges that surround us (rather than the inside of a storm cloud) are motivation enough.
If you're looking for perfect corn, it's best to nail the timing and aspect. Midmorning or so is when direct sun really starts to warm the slopes. You don't want to wait too long, because if you hit it at slush conditions, you'll leave deep slashes that will freeze solid and ruin the run for the next day. (No one likes skiing over your bumps.)
Start with east-facing slopes earliest in the day, then move around to south and west aspects. And if you're not a fan of spring skiing, you've got a ways to go until mountain biking season.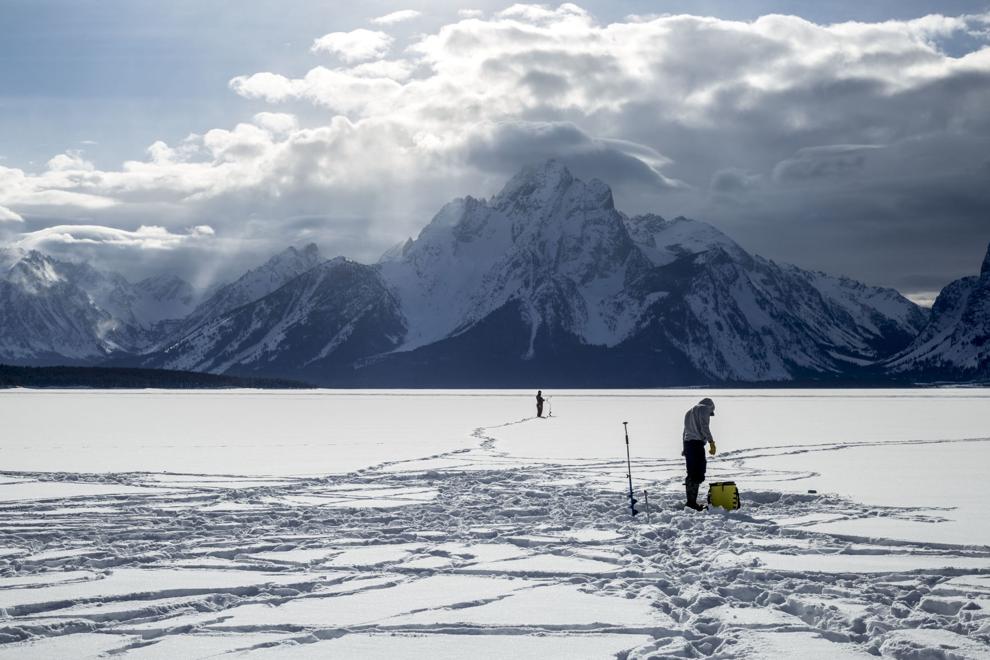 You've got a couple of weeks left to get out on the ice with a bucket or a folding chair, a comically small fishing rod and the opportunity to land dinner.
Options for ice fishing around the valley abound, whether it's a drive out to Lower Slide Lake or a hike up to Phelps Lake. But perhaps your best bet is simply getting out on Jackson Lake.
Aside from the seat and pole, you've got some options. You'll need an auger, whether it be motorized or hand powered. Some folks use a fish finder — those folks are usually smarter — but you can also search for a zen-like feeling while walking the ice to decide where the lake trout have collected underneath you. Another option, one I go for when I'm feeling especially weak in the arms, is to find freshly frozen-over holes, punch through and set up shop there.
Now, the same tackle you use for spin fishing when the ice is long gone is useful when going through the ice. A tube jig is the go-to move, but anything on a jighead with enough weight to quickly drop to the bottom can be valuable. Let your bait drop to the bottom, come up just a bit, and start jigging.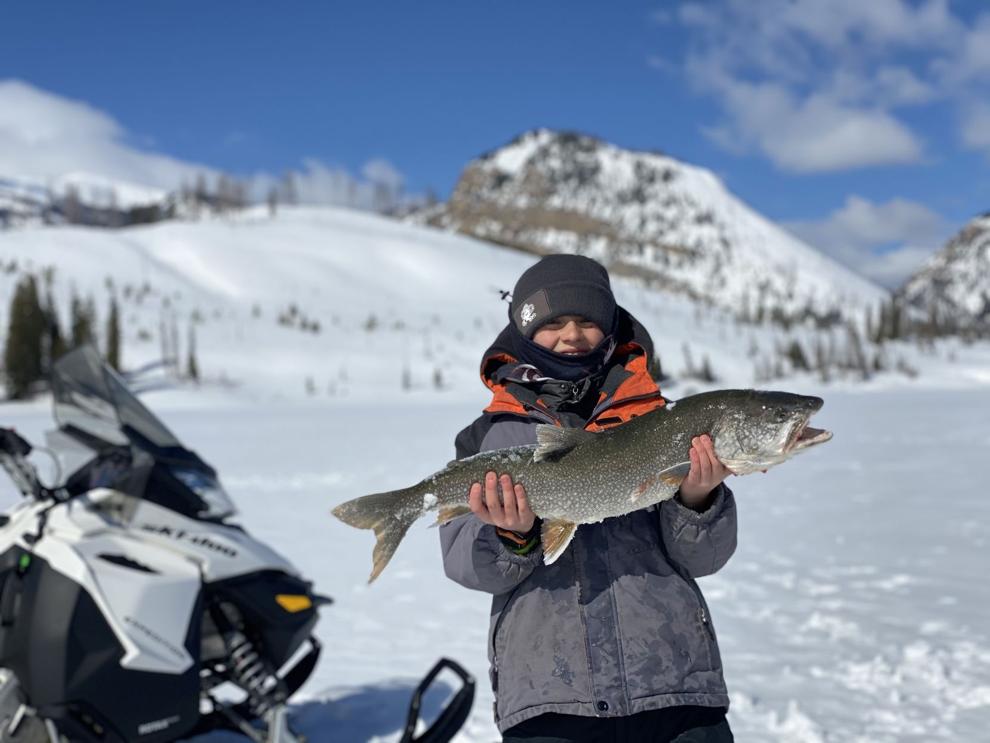 I'm not an expert, but I've watched enough YouTube videos and been scolded enough by friends to know that the name of the game is catching the trout's attention. You can do long, dramatic jigs, bringing your arm up in the air and allowing the lure back down before hitting the up-swing again. Short, methodical jigging action can work too. Either way, keep it consistent for a while and be willing to change it up.
If you're not getting any bites yet, don't despair. Work up the water column, trying different depths for stretches at a time. If you've been in one spot without a bite for too long, your arm is tired and you're bored, it might be time to tap back into that zen and find a new spot.
When a fish does take, it might be deceptively gentle. Often times I find myself spending a second or two wondering if I actually felt something before flinging backwards to set the hook. Pay attention to the rod.
Sometimes you'll walk away from the ice with nothing, and you'll spend the car ride home rationalizing it away with quips like, "It's not so much about catching fish, I just enjoy being outdoors." That's not true when I say it, and it isn't when you say it either. This time of year — when the temperatures rise, the sun stays out and being outdoors isn't an exercise in numbness endurance — is the best thing about ice fishing. Other than actually landing one, of course.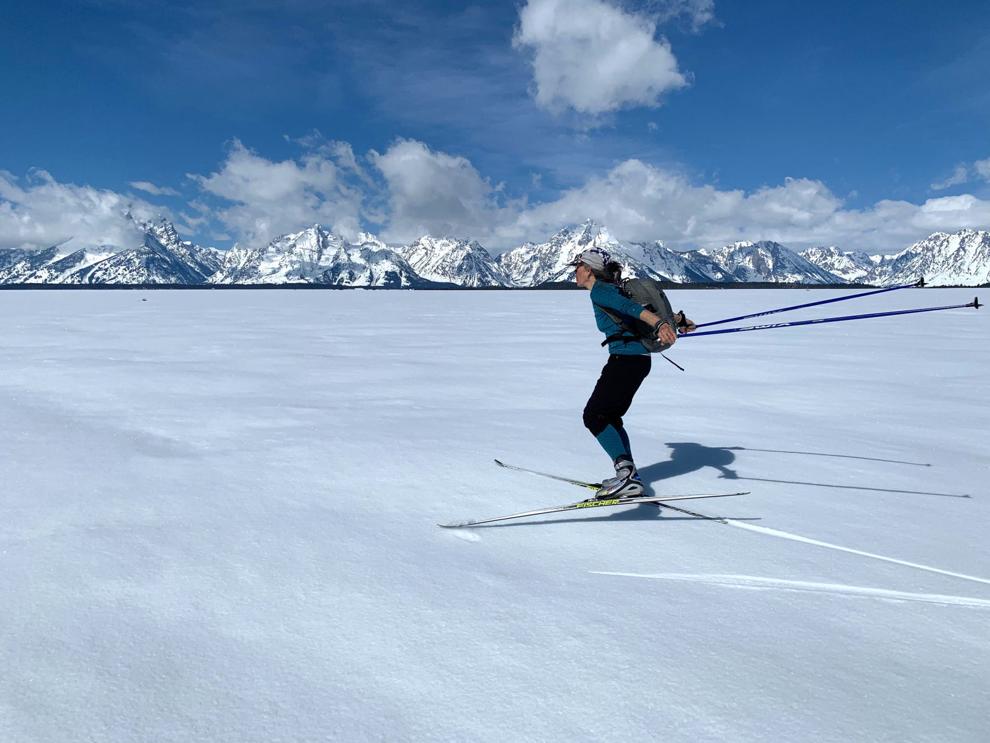 … someone says, with a smile on their face, a happy glint in their eye.
"I always get the feeling of freedom and exhilaration experiencing speed and wind on my face while gliding through one of the most beautiful places on earth," explains a local Jackson Hole skate skier.
Imagine the transformation of the wide-open meadows of Grand Teton National Park and Bridger-Teton National Forest public open spaces into wide-open terrain for skiing without limits. When the cold nights and sunny spring days freeze the valley snow surfaces enough to carry your weight, then soften in the morning sun just enough to make a creamy top to glide smoothly over, it's time. With thousands of acres to glide across, explore flat and rolling terrain that often does not get skied in midwinter.
For the next two to three weeks it's crust-cruising season in Jackson Hole, as many local skiers know. Skate skis or classic cross-country both work well.
Timing is everything. Key is to watch the overnight temperatures to be sure they dip well below freezing for most of the night. Get out early, to get on the snow while it's firm. Typically, if the sun is out, you have only a few hours until the snow softens to the point where it will turn too soft and you need to be off or face becoming stuck. Seek out the smoothest area of snow. Dimpled snow can make a bumpy ride.
Where to go: Grand Teton National Park — central to northern sections, such as the Taggart trailhead north to Jenny Lake to Signal Mountain — both east and west sides of Teton Park Road. Or start at the Signal Mountain Lodge side (be prepared to walk on asphalt while the road is being plowed) to the Potholes area. Head east from Taggart trailhead around Timbered Island, to the edge of the bench. Remember not to drop down to the Bar BC Ranch, which is closed for winter wildlife protection.
Near the base of Shadow Mountain, on the Grand Teton National Park and national forest boundary, heading north. Togwotee Pass has wide-open spaces, too.
Treat yourself for this unique skiing experience of freedom and big Teton views.
For more info, check out JHNordic.com for trail and crust-cruising info.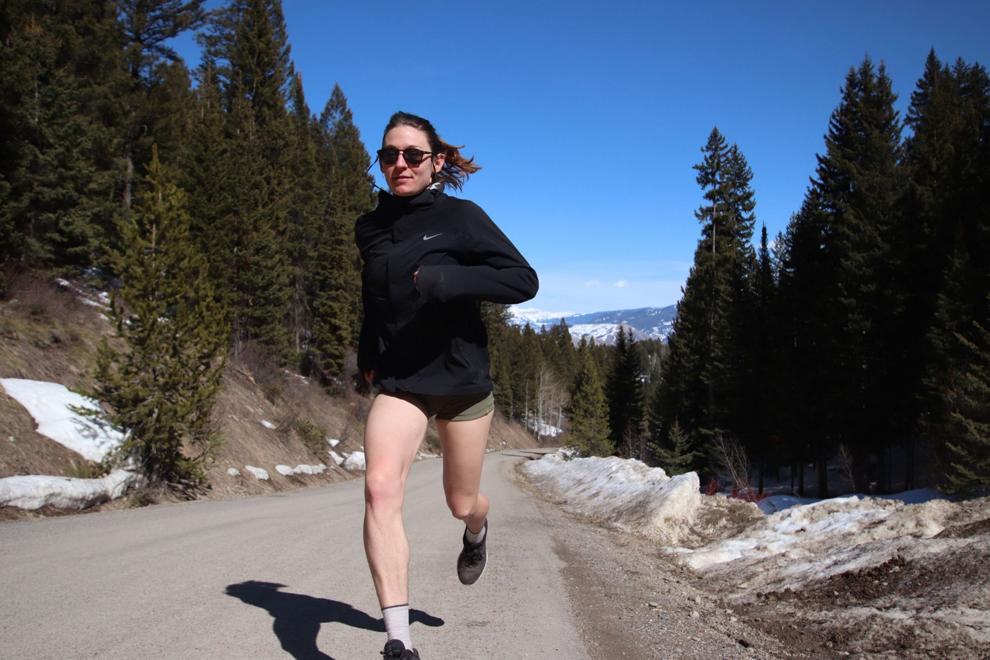 When temperatures warm up enough to clear the ice from Jackson Hole's smooth, quiet(ish) back roads, trail running season begins.
Not that anyone really hits any trails for some time. The winding, hillside paths in the Cache Creek drainage — a mecca for summertime plodders — remain closed through April. And most other elevated trails remain covered in snow for at least another month.
But people who love a lot of cardio (and may have a slight tendency toward masochism) begin to dust off their dirty trainers from the season prior, work the ski season's cricks out of their backs, and hit the roads and sun-cleared pathways across town to start getting in shape for longer, burlier days in the mountains — or hills.
Some people do it because they love it. Others, like this writer, do it because they like it and because they escaped the ski season relatively unscathed, save for a tweak or injury that prevents them from doing other sports.
And then there's the people who like early season hill workouts. But that's another story.
In any case, hitting the path or the road at whatever your skill set is a great, accessible way to get out, exercise, and enjoy the spring sun.