It wasn't enough to simply graduate during a pandemic.
Eight of the 14 members of the Central Wyoming College-Jackson Class of 2020 stood in the upper parking lot of the Center for the Arts on Friday afternoon, spaced at least 6 feet apart. Their teachers stood in the parking lot below, at individual microphones. A table piled with diplomas sat between them, replete with gifts for the graduates.
As Director Susan Durfee began to laud the students in her commencement, strong winds blew across the ceremony, the roar competing with her voice over the microphone. A particularly strong gust buffeted the gift table, scattering boxes filled with baked goods meant for each graduate all over the ground.
Instead of being cause for alarm, a couple of CWC staff members quickly rearranged the table and stashed the goodies out of the wind. Graduation went on, undeterred by global calamity or meteorological phenomena.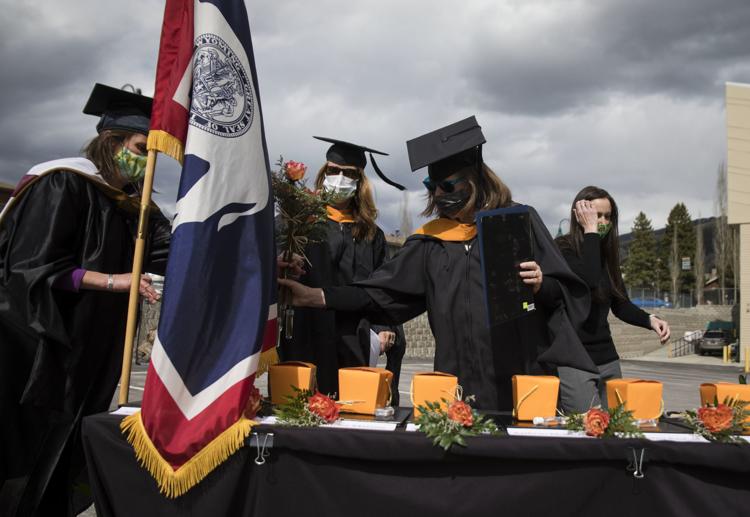 "Surreal is a really good word to describe it," nursing graduate Sam Kitchen said.
In normal years the community college, an outreach campus of Central Wyoming College, based in Riverton, holds its graduation inside the Center for the Arts. Graduates and their families assemble in the auditorium or mingle and eat snacks in the foyer.
Not so this year. With state restrictions that limit gatherings to nine people, the typical party was impossible to hold. Durfee, however, wanted the graduates to enjoy a sense of closure rather than a vacuous feeling that their college experience was cut short.
"It is a traditional and historical form of celebrating the end of this stage of your academic career," she said. "And it takes time to recognize that your celebration during this time of quarantine and pandemic will also be noteworthy in a very different way."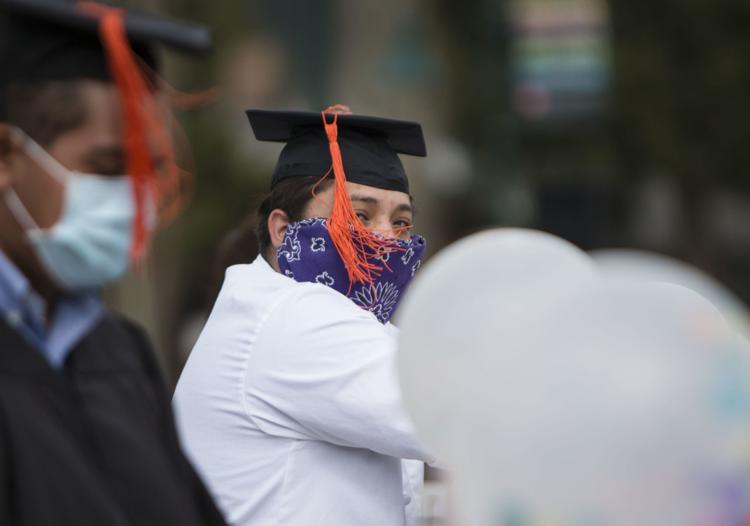 Graduation in the time of quarantine began at the Teton County Fairgrounds. Like a Conestoga wagon train, the graduates bunched their cars in the parking lot at the corner of Flat Creek Drive and Snow King Avenue. Honking their horns, they peeled one by one into a long curl of cars, driving first up Snow King before taking a left on Cache Street.
Arriving at the Center for the Arts, they parked in the upper lot, alternating spots to leave room. Nursing students stepped out in scrubs, culinary students in chef coats. Faculty wore their academic regalia.
Students stood along the railing in the upper lot while family members rolled down windows or popped heads, arms and cameras from sunroofs. Honks, camera shutters and the occasional whoop blended in a cacophonous celebration.
Once the noise settled down, Durfee stepped to her microphone. Besides pausing for the giant gust of wind, she rolled through a speech that would have been at home during any graduation. She described the students as a cohort and talked about the meaning of their experience, the importance of rejoicing with family.
Then she gave them some advice.
"Don't let this pandemic limit your aspirations," she said.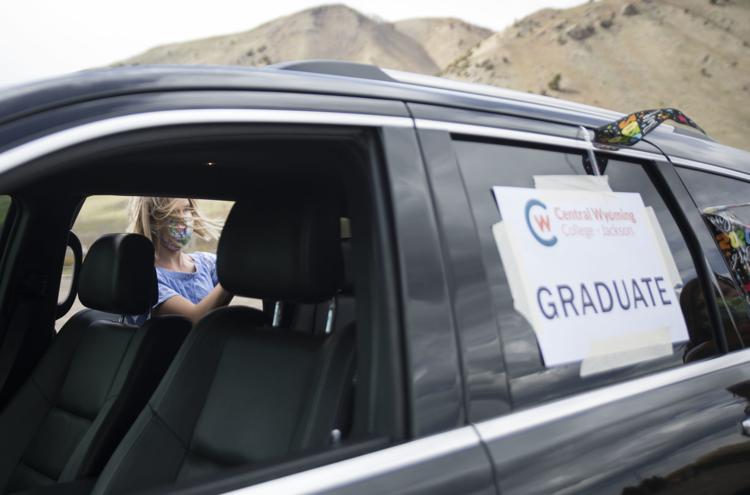 Just days removed from graduation, students are heeding her words. Kitchen, the nursing student, was scheduled for her second round of interviews for a new-graduate role at Eastern Idaho Regional Medical Center in Idaho Falls before the coronavirus outbreak.
The hospital put that program on hold, at least until the pandemic ends, so she is pursuing her Bachelor of Science in nursing through a University of Wyoming online program. She had intended to do the program part time while working but is instead pushing ahead with it full time to make the most of the situation.
Daniel Cardenas-Martinez is also adjusting to a change in his post-graduation plans. A computer technology student, he has an internship set up in the St. John's Health technology department.
It was supposed to start sooner, but he hopes the outbreak will calm down enough for him to start over the summer.
"They extended that until the end of June, so we're still in the green here," he said. "I'm pretty excited to get that started."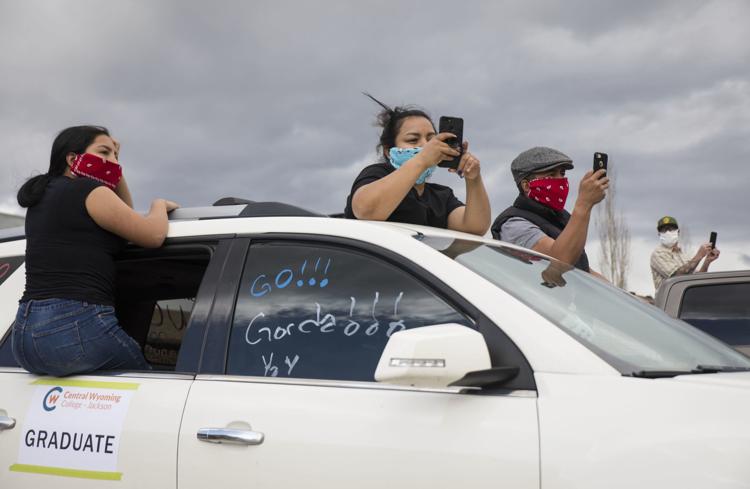 As with many community college students, Cardenas' education did not take a typical path. He took several years to finish his associate degree while working at Simply Mac and other retail stores. He has known he wanted to work with computers for a while, since a mentor introduced him to coding.
"It was inspiring to create something," he said. "That seemed fascinating, how a bit of text and couple of numbers could make a computer drastically change."
Learning how computers worked in school and as a technician at Simply Mac gave Cardenas a deep well of experience to draw from as he approached graduation and his internship at St. John's. Being able to stay in Jackson while taking most classes online allowed him to remain in his community and further his career.
"I never really had it in my mind to go to college," he said. "Having a place in Jackson, and having it be something I could start and progress through it slowly, I saw it as good place to start."
Cardenas benefited from being able to stay in Jackson and draw from CWC's connections with local organizations, as did Kitchen. She and her nursing cohort did their clinicals at St. John's under the tutelage of CWC instructors and St. John's nurses.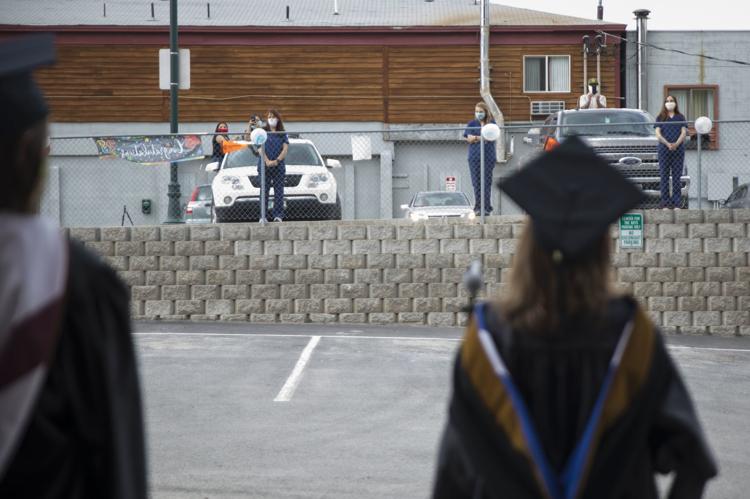 Hands-on experience is crucial in nursing, which requires tangible knowledge like anatomy and interpersonal skills that are best developed through experience. Nursing students worked in the progressive care unit, as well the intensive care unit and emergency department.
Partnership between a hospital and community college is integral to the field of nursing, said Jen Putnam, St. John's director of medical and surgical services. Seasoned nurses gain new perspective from students, who in turn receive foundational knowledge that readies them for the workforce.
"As nurses it is part of our job to educate and bring up the next generation of nurses," Putnam said. "We really take it as part of our job description."
However, the nursing cohort was meant to do a preceptorship at St. John's, a sort of transition period between school and career, during the second half of the last semester. That was canceled because of the pandemic, which made having a graduation all the more important.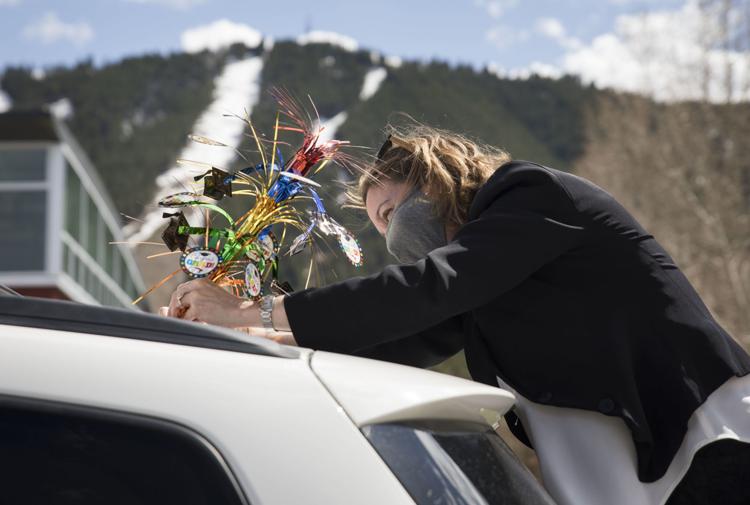 Wind and all, the graduation reflected the tenor of the end of the year.
"Our whole fourth semester was turned upside down and inside out," Kitchen said. "That the graduation was upside down and inside out was kind of appropriate."
As the Class of 2020 disperses, some back to families on the Wind River Reservation, others to jobs in Jackson and beyond, they take memories unlike any other graduating class. No other class was forced into online learning overnight. No other class graduated in a parking lot. No other class had to strain to hear Durfee's commencement speech over the howl of the wind.
That uniqueness was not lost on culinary student Said Jimenez, a Jackson Hole High School graduate who became the first in his family to earn a college degree.
"The Class of 2020 is part of the history of Jackson because we graduated during a pandemic," he said. "Looking at the positive side, I'm glad I got to be part of history.
"This will always be in my memory. I'll be 80 years old talking about it to my grandkids."