Birds are built to adapt. Swainson's hawks famously migrate about 12,000 miles annually.
But some birds — educational avians at the Teton Raptor Center in particular — are homebodies. They like routine. Change can ruffle their feathers.
So when renovations required staff to move the center's visually impaired red-tailed hawks to temporary enclosures in the north barn, they had some adjusting to do.
In this new space the perches were a few feet farther apart. The walls, too, were in different places.
"They would try to hit the perch and miss," Education Director Becky Collier said, "or they would try to fly in a direction and hit the wall with their feet."
But the center's red-tailed hawks and screech owls, who didn't eat or move around much at first in their new mews, did what birds do. They adapted.
Within 24 hours the hawks were finding their nests. In 72 hours the owls were eating again. The center's patient birds — wild raptors, mostly, who were part of the move along with nine educational birds — also adjusted to the change fairly quickly. As wild animals in the Raptor Center's care, they're already out of their element.
And because they're wild they're also used to change. In their natural habitat, things change every day.
"Those birds have the capacity to find their way in a new situation," Collier said.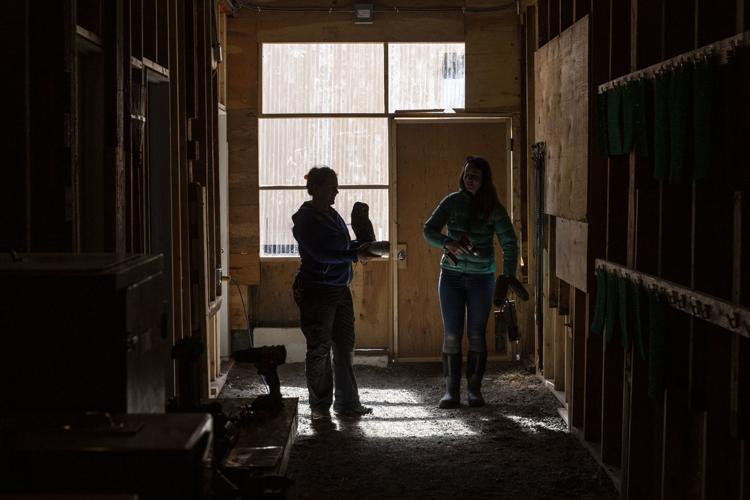 The birds aren't the only creatures who have been adapting to change at the Teton Raptor Center. Collier and the rest of the staff have also had to adjust to the renovation and the realities of the pandemic, which has put a moratorium on in-person education.
The Raptor Center is in the middle of a long-awaited (and long-debated) construction project intended to fluff up their ability to care for birds, teach about the Tetons' avifauna and house employees. Despite the pandemic the project is on track.
Stabilizing the largest, northernmost Hardeman Barn, which is home to the birds' temporary mews, is complete. Building the birds' new homes (separate structures for the center's patient and education populations) is moving along.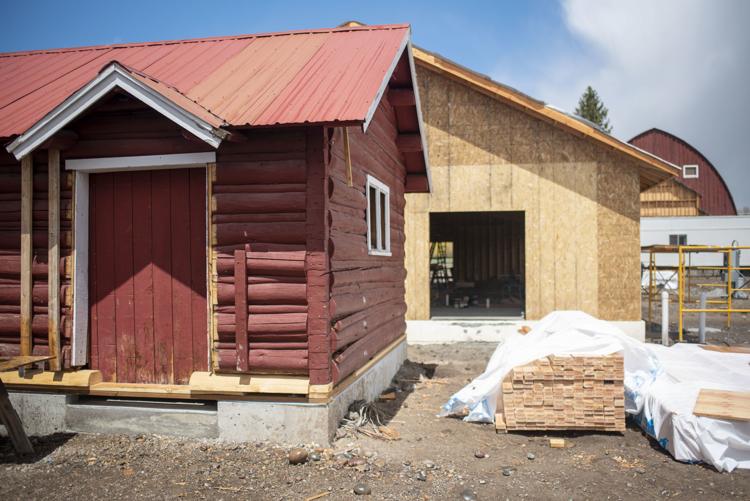 The center also plans to break ground on the flight barn in mid-summer, starting construction on a facility where rehabilitated raptors with large wingspans will be able to get some exercise before being released into the wild.
But while construction causes some disruption — it will take until 2022 for all projects to be completed — it's something the center could plan for.
Suspending in-person education wasn't.
Collier was in the middle of a five-week program with the Rendezvous Upper Elementary School in Driggs, Idaho, when the pandemic struck the Tetons.
"I had visited three times, and we had a great time," she said.
There wasn't a fourth visit.
The center's volunteers, some of whom helped move the birds in the clinic, have since been asked to stay away. How staff is allowed on the property has also changed. People like Collier now split time between caring for the birds in shifts and working from home.
But the nonprofit didnt want to stop teaching people about things like how pellets, regurgitated leftovers from birds' stomachs, are made.
"There's no going back," Executive Director Amy Brennan McCarthy said. "There is only moving forward."
Rather than teaching people in person, staff has moved to showboating the birds online with more or less weekly virtual programs, allowing people to get up close and personal (albeit digitally) with the center's facilities and fine feathered friends.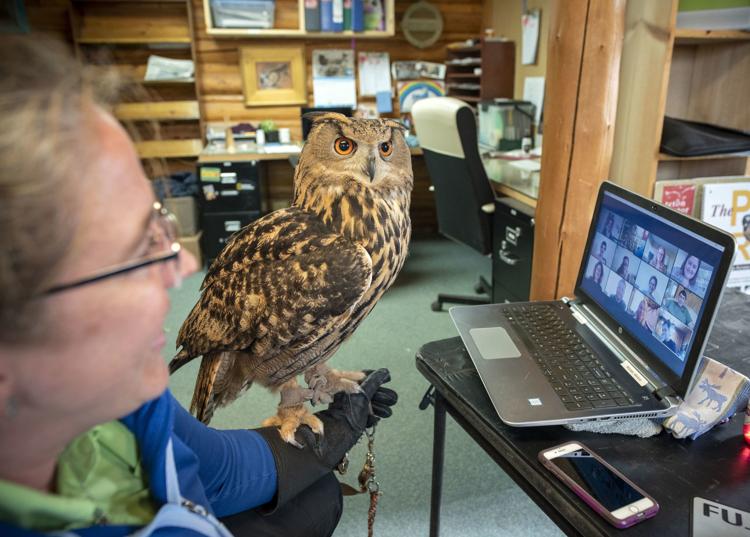 Last week the nonprofit gave a virtual tour of its rehabilitation clinic, which couldn't be done in person. Collier dissected pellets on screen with families from as far away as Connecticut.
The center has also created a new fundraising program, Give A Hoot. People looking to donate a few bucks can have a staff member surprise their colleagues on a videoconference with a guest appearance by one of the educational owls.
And while it's not ideal, making changes is going well.
"It was sort of this forced adaptation," McCarthy said. "Our goal is to get birds in front of people, and we are still able to do that."
Some of the adaptations are going to be temporary — like the Swainson's hawk's seasonal migration. Raptor Center staff expects to welcome visitors to their new facility with in-person tours once renovations are complete and restrictions are lifted. For now virtual tours will have to do.
Some changes that have been made, however, might be permanent, like the bony tubercle in the nostril of peregrine falcons, which helps control airflow during high-speed dives. Online programming could become a fixture of how the Raptor Center operates, as it allows the nonprofit to connect with people around the country.
"I hope we won't lose our desire to reach out virtually," Collier said. "In all of this chaos there is an opportunity for us to reach people across the nation without them being here permanently."
McCarthy called it a silver lining. Rolling with the punches, she said, is something we can learn from birds.
"The natural world is doing that all the time," she said. "I think this is kind of our moment as humans to follow suit."