Fifty-two D-cell batteries.
That's how many it takes to power a Backcountry Access beacon training park.
Lynne Wolfe is keenly familiar with that number. On Jan. 16 the Yostmark Backcountry Tours ski guide grabbed anyone within arm's reach to help her stuff the bevy of batteries into eight transceivers for a new beacon search training park at the Coal Creek trailhead, the second to be installed in the Teton region this winter.
The park consists of a control panel and eight transceivers that are buried in the snow. The control box contains switches that turn the transceivers on and off, allowing people to create dozens of training scenarios.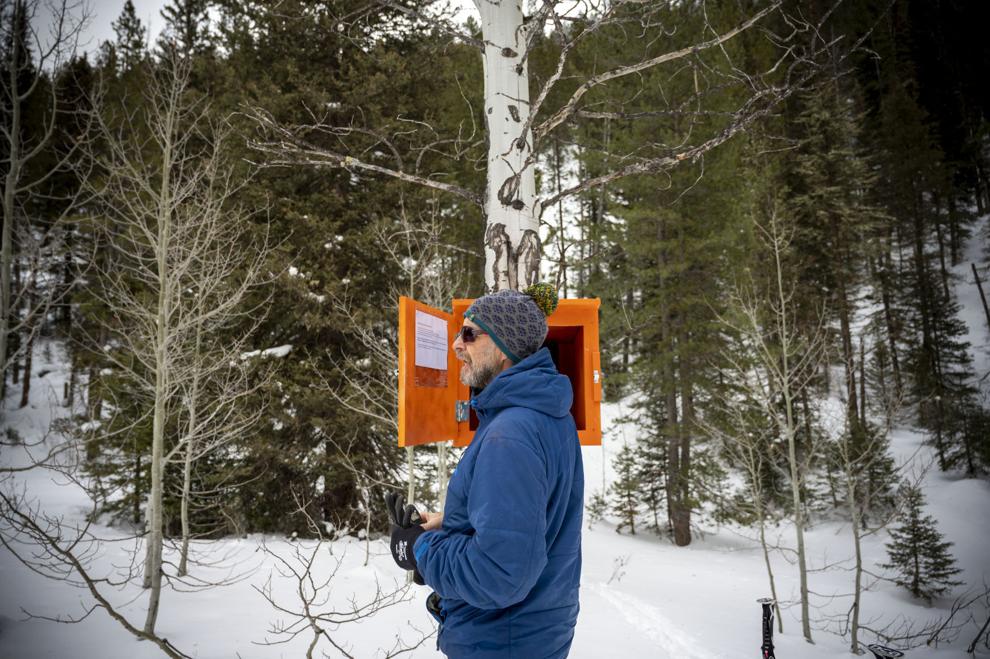 On installation day, Wolfe piled the transceivers on the ground behind her car in the parking lot, setting them next to a cloth tote stuffed with Duracells. As fast as her minions could fill the transceivers, Wolfe had other volunteers walk them into the snow about 100 yards north of the trailhead.
"Set them around the area," she told Gary Kofinas, chairman of the Teton Backcountry Alliance steering committee.
Kofinas tromped off into the snow on his skis, shovel in hand.
The partnership between the alliance and Yostmark helped install an easily accessible beacon park in an area that has lacked one in recent years.
Exum Mountain Guides used to manage one that was set back in the Trail Creek drainage, in a flat area where skiers exit the Columbia Bowls. But that one was removed after the infrastructure stopped working.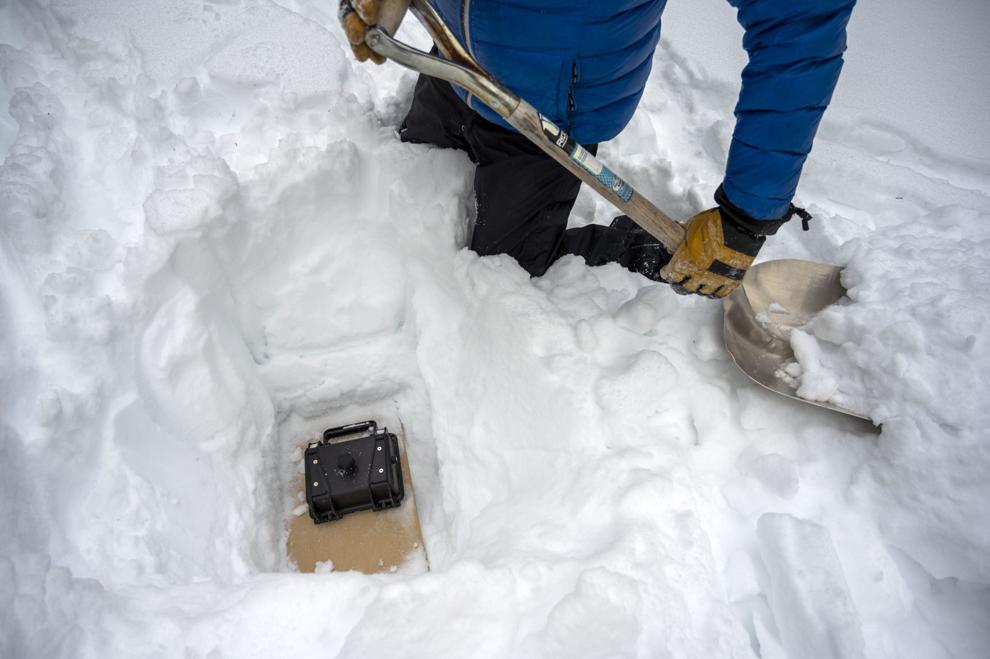 Parks like the one in Coal Creek and a new one in Rendezvous Park, aka R Park, off the intersection of Highways 22 and 390, serve an important purpose for backcountry skiers: They allow them to hone their companion-rescue skills by creating low-stress practice opportunities.
Skiers can easily flip on a couple of transceivers and use their own beacons to search and probes to strike the buried boxes, simulating a rescue scenario. They don't actually dig the beacons up, and they need turn off the transceivers at the control panel when they are finished.
Quickly finding a partner buried in an avalanche is the epitome of a life-and-death situation. In his book "Staying Alive in Avalanche Terrain," Bruce Tremper, one of North America's foremost authors on avalanche mitigation, cites a study of 422 avalanche burials in Europe, It found that 93% of fully buried victims who were uncovered in less than 15 minutes survived. After just 25 minutes half of the fully buried victims died, and the survival rate dropped to under 30% after 45 minutes.
After the Exum-managed park closed, Wolfe saw a need.
"I was thinking about all these people going into the backcountry this winter," she said, "and how it would be awfully nice if we had a beacon basin for them."
Creating capable rescuers
In an ideal world, avalanche rescue follows a simple set of steps: Pull out your beacon and change to "search"; do a quick search down the avalanche path to detect signs of your buried partner, like a glove or ski sticking out of the snow; once close, do a fine search — take out your probe and try to find the buried person; leave the probe in once you have a hit; then start digging.
But nothing is ideal about avalanche rescue, and the stress can make even the most seasoned veteran struggle to maintain focus. Regular practice is the key to reacting calmly and effectively.
"A real avalanche rescue is terrifying, stressful and chaotic," the Utah Avalanche Center's website reads. "Regularly practicing complete rescue scenarios, i.e., locating, probing and digging up a buried beacon, is critical."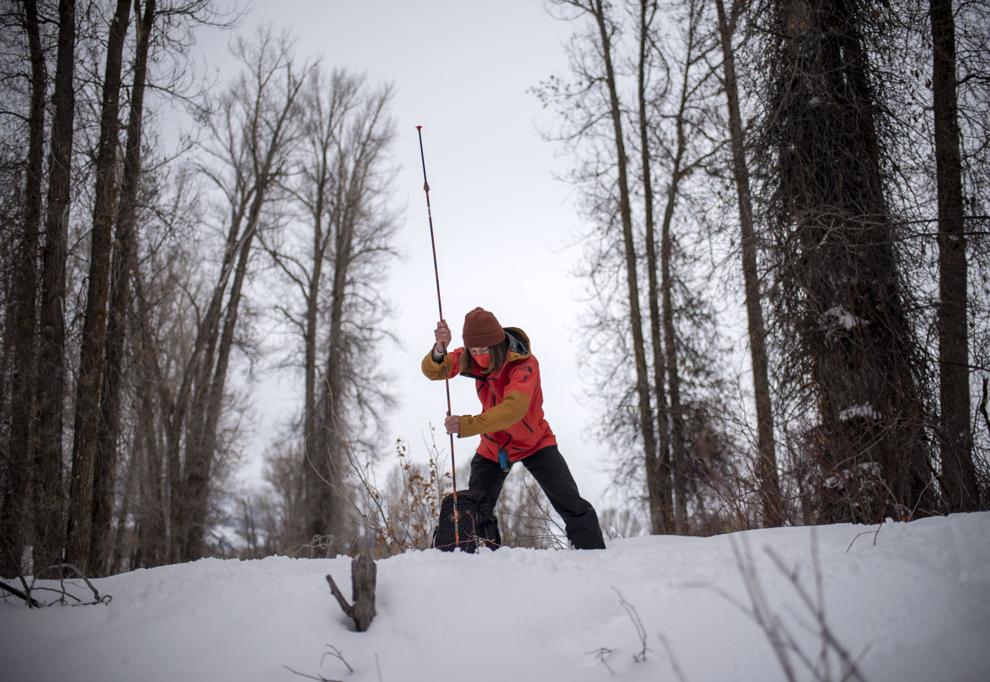 With financial support from the Teton Backcountry Alliance for batteries and signage, the Coal Creek beacon park still isn't a done deal. The system is on loan from Backcountry Access, the manufacturer, which also makes beacons and other rescue equipment.
The company semiregularly loans out the systems with the hope that communities or ski resorts will later buy them outright. Often, the loan is for only a season, Bruce Edgerly, co-founder of Backcountry Access and the vice president of its board, told the News&Guide.
Edgerly knows Wolfe from years of skiing Teton Pass, and he has a "soft spot" for the area. Knowing Wolfe wanted to put in a new beacon park, he loaned the system, though it is slated to head south to Cerro Catedral, a ski resort in Barriloche, Argentina, when winter in the Tetons ends.
Beacon parks aren't rare, but most are owned by ski resorts, Edgerly said. That creates an equity-of-access problem, because skiers generally need to own or rent downhill skiing gear and buy a lift ticket to use them.
Putting in a park by a U.S. Forest Service trailhead appealed to Edgerly.
"One reason why it's kind of dear to my heart is that it's a backcountry system," he said, "and almost all of our other training parks are at ski resorts."
The Coal Creek system is the second free, publicly accessible beacon park installed this winter. The Jackson Hole Land Trust, with a donation from the Jarad Spackman Fund, administered by the Community Foundation of Jackson Hole, also put in a beacon park in the southeast corner of the R Park, near the Spackman Memorial, which honors Jarad Spackman, who died in a 2013 avalanche in Apocalypse Couloir on Prospectors Mountain in Grand Teton National Park.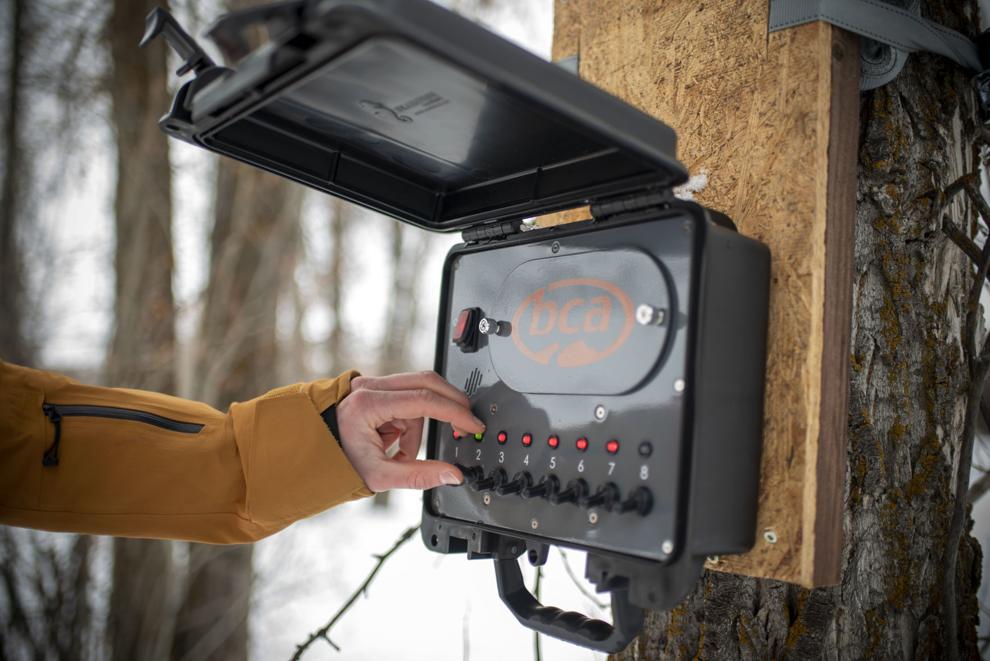 "That's what also drew the Spackman family into it," said Jr Rodriguez, community conservation manager and R Park director for the Land Trust. "They wanted it to be a high-impact sort of project that connected back to honoring Jarad."
Having a beacon practice site at R Park allows Jacksonites to avoid driving over the pass. For everyone involved in the creation of the parks, access and inclusivity was important, designed to lift the overall skill level of the backcountry community.
"When we found out a lot of the beacon parks are in ski resorts and are inaccessible, that really sort of pushed this project forward," Rodriguez said.
It's impossible to draw a direct parallel between beacon parks and avalanche survival rates. Probability of survival obviously depends on the speed of rescue, but terrain, depth of burial and equipment like airbag packs also influence it.
But companion rescue skills start with the ability to find a buried person quickly, so the parks are an important resource.
Edgerly said his company wants to ensure that skiers understand how practicing is just as crucial as buying a beacon in the first place.
"It's really important for people to know that they can't just buy a transceiver and expect to be successful with that," he said. "We like to make sure that the message is clear that you need to practice.
"Rather than just saying that," he added, "we like to provide the opportunity to actually do that."
In the future, beacon parks might give rescue professionals a place to hold low-cost clinics. Rodriguez at the Land Trust said the Teton County Search and Rescue Foundation and the Backcountry Zero program may use the R Park site for such events.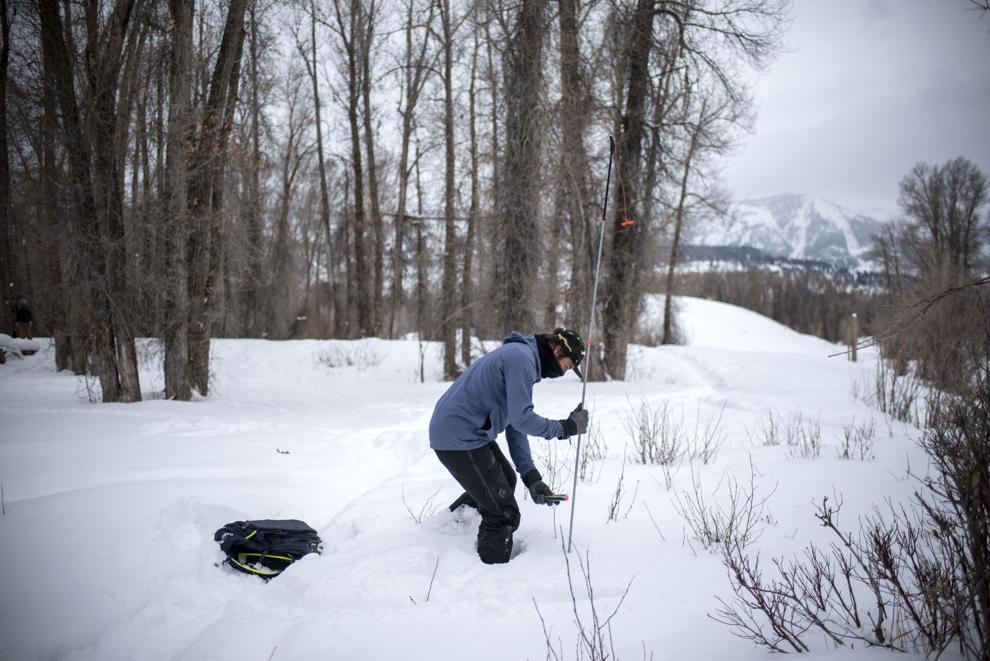 Wolfe, who has deep ties in the ski guiding world, said she has talked with several outfits that would be willing to hold practice clinics at the Coal Creek park, including sessions on how to navigate multiple-burial scenarios.
Until those plans come to fruition, the parks are still a valuable resource for new skiers to get comfortable heading out, as well as for experienced people who want to keep their knowledge fresh.
Wolfe hopes that with easier access, beacon practice can become a routine part of skiers' outings, rather than a special activity they have to plan.
"It's a pretty convenient place to practice after a run," she said.