The documentary begins with the first haunting notes of Billie Holiday's "Strange Fruit" played over a grainy still of a lynching. Images of a Black man's back, scarred by whipping, Ku Klux Klan members watching a cross burn and Black sharecroppers follow.
As the music fades, Mia Brazil's voice comes in, describing the system of racial segregation that followed Reconstruction in the American South. The Jackson Hole High School freshman describes how the mainstream media of the mid-20th century rarely broadcast stories of racial violence, keeping it from the eyes of Northerners and Westerners.
Until the Freedom Riders forced the issue in 1961. The activists rode buses in the South, which court cases mandated should be integrated but was, in practice, still segregated. White Southerners met them with violence, and the coverage gave some Americans their first glimpse into how violence reinforced segregation even as court decisions, in theory, opposed it.
Brazil's first-place winning documentary is her entry into the National History Day competition, a contest that some local high schoolers participate in as part of social studies teacher Jeff Brazil's class.
"I didn't know anything about that," Mia (Jeff's daughter) said of the Freedom Riders. But after doing a bit of research, "it just didn't seem real to me that that was happening. So I just thought that was really interesting."
National History Day has been used in Teton County schools for about two decades. Brazil has taught it for that long, and Jackson Hole Middle School teacher Greg Poduska also uses the curriculum.
From conception to presentation, students spend three months on projects. Drawing on a central theme, they choose from a loose collection of topics and a medium, including documentary, exhibit and website. Then teachers submit several for competition at the state level, and state winners go on to vie for national honors.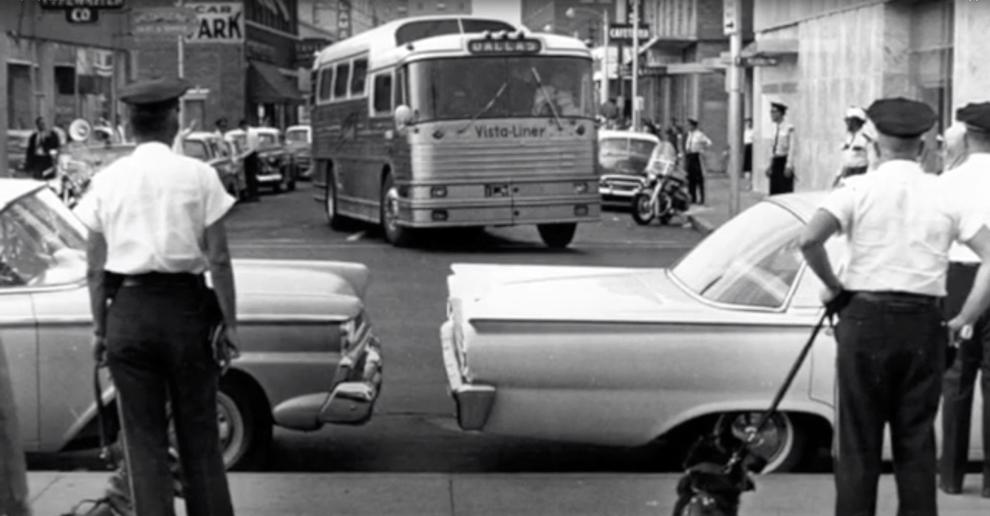 This year, Mia and several classmates took home first- and second-place awards at the state level. They are now entered in the national competition, but they won't find out until at least June if they won.
Communication was the theme this year, and the students took it in several directions. Mia's documentary focused on how the Freedom Riders used mass media to influence public opinion, reflecting on the way journalistic communication contributes to political knowledge.
"Newspapers and mass media helped continue the dissemination of the riders' message of segregation realities in the South," Mia says in the film.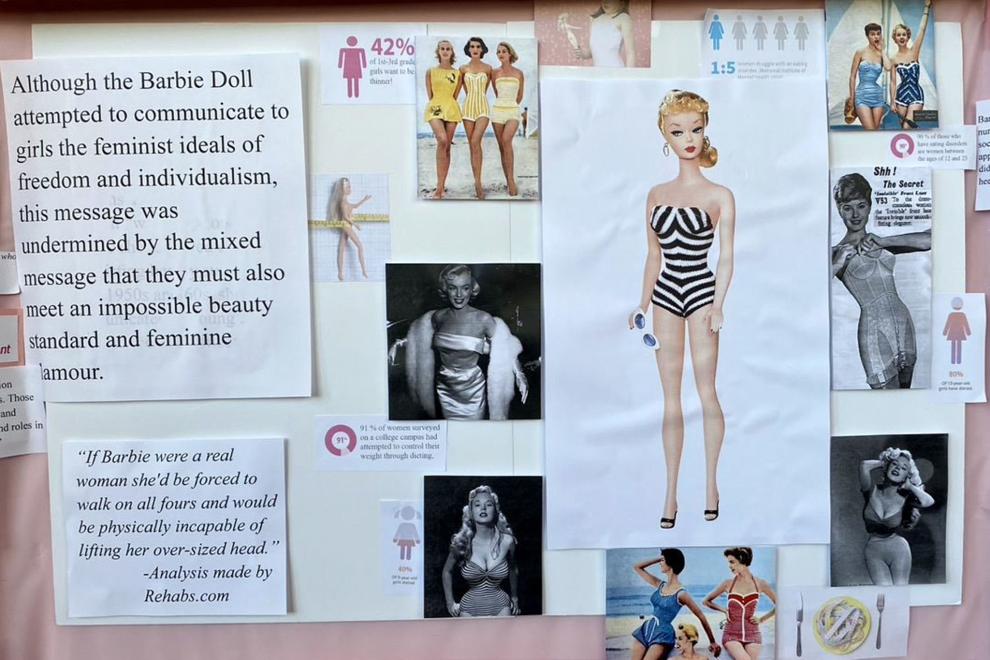 Other students explored ways in which communication shapes thought. Freshman Ellie Hunt created a first-place-winning exhibit about the dueling messages of the Barbie doll, which originally was pitched as a tool of progressive femininity but actually reinforced gender stereotypes.
Though Barbie was sold as an icon of female independence, the doll's slender figure, idealization of a particular type of beauty and obsession with fashion undermined that message, Ellie posits in her project. Mattel, the company that created Barbie, also produced books entitled "Don't Eat" and "How to Lose Weight," further reinforcing a rigid, oppressive version of femininity.
When Barbie was first given "jobs," they were seen as women's roles, like flight attendant. Though not in so many words, Ellie's project finds as its foundation a seminal idea in communication theory, Marshall McLuhan's assertion that "the medium is the message."
Sophomore Fernanda Costilla-Correa liked National History Day so much that she participated this year even though she isn't in Brazil's class. Generally, freshmen participate in National History Day, but Fernanda opted to work on a project on her own time, taking second place in the exhibit category.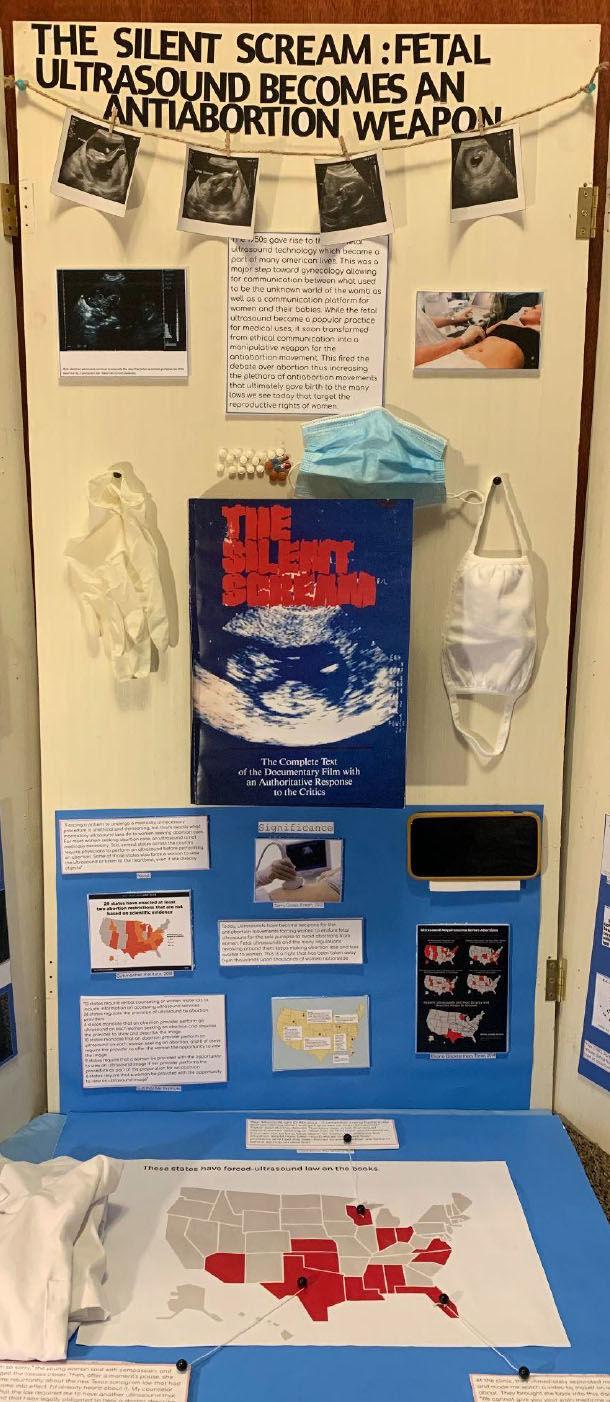 "I don't really like history, but when I research something that I like, history and medicine come together, so I really enjoy that," she said.
Her project this year looked at "The Silent Scream," a 1984 anti-abortion film that used ultrasound technology to show an abortion in the womb. It set the stage for the anti-abortion movement to encourage states to mandate that women be shown ultrasound images of their fetuses before having an abortion.
Drew Hanna, who took a second-place award, created a website detailing how the Sackler family and their company, Purdue Pharma, used doctors and experts to push a false narrative about Oxycontin, fueling the opioid crisis that has swept the nation.
"Regardless of these risks, the drug was heavily marketed to physicians and kicked off with a $207 million launch," Hanna wrote on his website. "Purdue created a very lucrative sales bonus system and doubled the size of their sales team for Oxycontin."
Each of the projects shows the way communication and information can shape the world around us. They all reflect the power of history to educate the present, and represent what Brazil sees as the purpose of social studies education.
Today's tools like Google and academic databases are treasure troves of information, containing more information than a single person can digest in a lifetime. These days, it's less necessary for students to memorize facts, dates and other individual pieces of the historical record.
Instead, curiosity, an ability to navigate the internet and a facility for varied research methods are much more crucial, opening more options for research.
"Teaching kids how to access those materials," said Brazil, "how to analyze those materials, how to use them to investigate history and develop a real unique and individual position that they can take ownership of, to me that's the most valuable thing that we can give kids at the high school level."