If you don't believe in miracles, this story might not be for you.
Because all of the parties involved certainly believe. And it's difficult to fathom how this story went from a Jackson man recording a video of an interaction with a complete stranger he met on the streets of Las Vegas 11 years ago to a recent meeting of the Vegas man and his 42-year-old son — the first time the two had ever met — without believing there was some kind of intervention.
In January 2010 management consultant Brett Harward posted a video to YouTube of his chance meeting with Charles McCallister in Las Vegas as an example of a "stretch" exercise he had his work team undertake. They were to find a stranger, then talk with him or her until they found 20 things they had in common. The video is titled "20 Things," and little did Harward know that his "20 Things" video would a decade later unite a father and son for the first time, albeit with a lot of legwork and trust.
Harward met Charles McCallister, a talented street artist, in Las Vegas and recorded the video — just over seven minutes long — that would ultimately change the lives of McCallister and his son, Pete, who had never met Charles, but had been looking for his dad his whole life. In the video Charles recounts several of the 20 things he and Harward discovered they have in common. Charles said Harward paid him $25 for his time, and the two had an hourlong conversation at a restaurant on the Vegas Strip.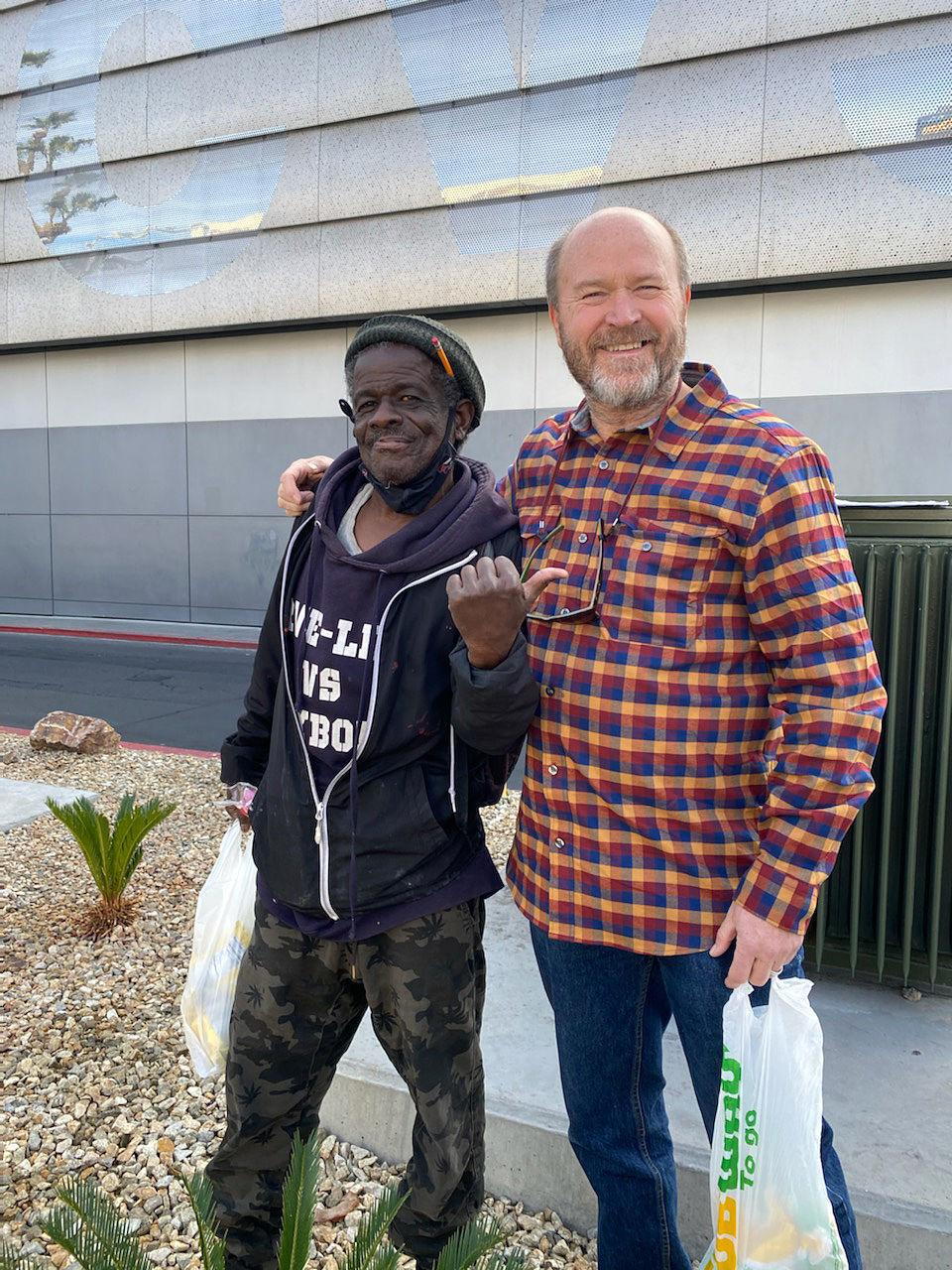 "Super good experience," Charles McCallister says in the video. "It satisfied my belly. It satisfied my brain. It satisfied my pocketbook."
Eleven years later that video would help satisfy Peter McCallister Sr.'s desire and lifelong quest to find, meet and know his father.
After looking for his dad for years with varying degrees of intensity, at the beginning of 2021 Pete put more serious effort into it, searching Facebook and a number of other websites. He finally found a college yearbook photo of his father, who left for work one morning 42 years ago when Pete's mother was eight months pregnant with Pete and never returned.
"I sent that [yearbook photo] over to my mom ... and she's like, 'Yeah, that's him,'" Pete said.
That first real hit invigorated Pete in his search, which eventually led him to Harward's video after he visited a people-finding site called Radaris.com.
"When I scrolled to the bottom of this site, I noticed that there's a YouTube photo of a black guy and the title was called '20 Things,'" Pete said. "So I click on the video and I see Brett [Harward] and I'm like, 'Hey, what's a white guy doing on this video when I see a black guy was the video still?' And the subtitle says, '20 things that Brett Harward has in common with Charles McCallister.' ... And I forwarded that video to my mother and I said, 'Hey mom, is this my father?' and she's like, 'That is 100% him.'
"So that kicked everything off."
Pete reached out to Harward in mid-January through Harward's LinkedIn page — "I shot him a quick inbox [message] and surprisingly he inboxed me back that evening, and then we talked the very next morning," Pete said.
Harward immediately put out the call to anyone he knew in Las Vegas, asking if they had seen or knew of Charles McCallister's whereabouts, as Harward had lost Charles' contact information over the decade.
When that call to action failed to yield results, Jackson Hole resident Harward and his wife, Catherine, felt compelled to take action of their own. They bought plane tickets to Las Vegas for the weekend of Jan. 29-31 "for the utterly impossible task of finding Charles McCallister again after 10 years, with zero contact or new information," Harward wrote on his Facebook page, where he has posted regular updates of the Charles and Pete McCallister saga.
Impossible, indeed. At least that's the way it seemed, Harward explained.
"We're in Las Vegas and there are thousands of people walking the streets," Harward said. "And with COVID, everyone is wearing masks, covering their faces. So I've got to find one guy who I met 10 years ago and recognize him by his eyes."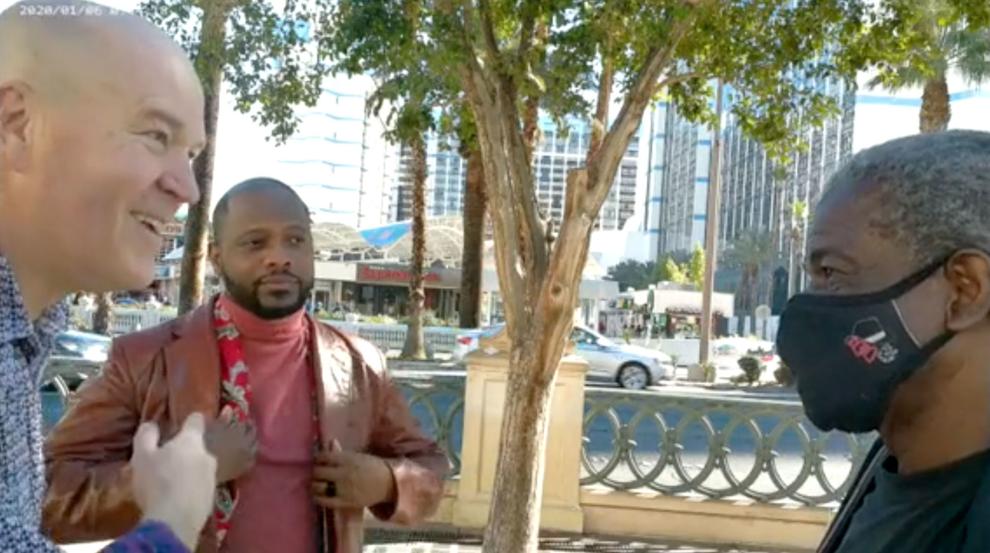 The Harwards walked between 10 and 15 miles that Saturday looking for Charles McCallister — Harward knows the distance because his phone told him the pair had walked about 30,000 steps — but to no avail. Finally they looked at each other and determined "we're working too hard," Harward said. He said they prayed and trusted that if they were meant to find Charles, it would happen by divine intervention.
If you believe in such a thing, divinity intervened.
The couple had been approached all day long on the streets by people wanting to sell them everything from trinkets to drugs, and they had turned a deaf ear to each of them. No longer, the Harwards decided.
"I said to Catherine, 'The next person who comes up to talk to us, let's assume that they have something to tell us,'" Harward said.
Sure enough, minutes later the couple was approached by a man who they later learned wanted to sell them drugs. The man targeted the Harwards out of a crowd of many, and Brett Harward welcomed the advance.
"I said, 'You have something you want to ask me, and I have something I want to talk to you about; which one of us should go first?' And he said I should go ahead," Harward said,.
He showed the man a picture of Charles McCallister and asked if he knew him and where Charles might be.
"'Yeah, I've seen that guy ... but you're nowhere near where you need to be,'" Harward recalled the man saying to him.
A couple of miles later — Harward said the man was willing to walk them to an area of Las Vegas where he had regularly seen Charles — there was still no sign of the man they sought. Frustrated, but not defeated, the Harwards called off their search and returned to their hotel to rest their weary legs.
The following day they had to fly back to Jackson. On their way from the hotel to the airport, Harward said, they pulled off the freeway to drive the section of the strip where the affable drug dealer had told them Charles McCallister frequented.
"We're driving down and we're passing the Bellagio [Hotel & Casino] and I saw a man standing, looking at the water in front of the hotel," Harward said. "He had his back to us, I couldn't even see his face, but I knew it was him. I said, 'That's him right there, that's him!'"
Harward stood on the brakes, jumped out of the car, asking his better half to find a place to park the car, and ran over to the man.
"Charles McCallister?!" Harward asked excitedly, and the man turned and replied, "'That would be me.'"
The rest is history in the making. And 42 years of catching up.
Harward called Pete — a senior real estate manager in Sacramento, California — and set up a meeting with Charles and Pete and Pete's family (wife, Savonnah, and two sons, Peter Jr., 19, and Roman, 18) on Feb. 7, the meeting unknown to Charles. The Harwards even sent Charles — who has been homeless off and on, though he said he's spent the last year or so living in a motel — a couple hundred dollars to buy some nice clothes for the introduction.
The shock of meeting the son you knew was coming 42 years ago, but had never met, might overwhelm some, but Charles was up to the moment when he came face to face with his son for the first time. He said he knew what Harward and Pete were telling him was true — that Pete was his offspring — when he saw Pete's son Roman, the mirror image of a young Charles.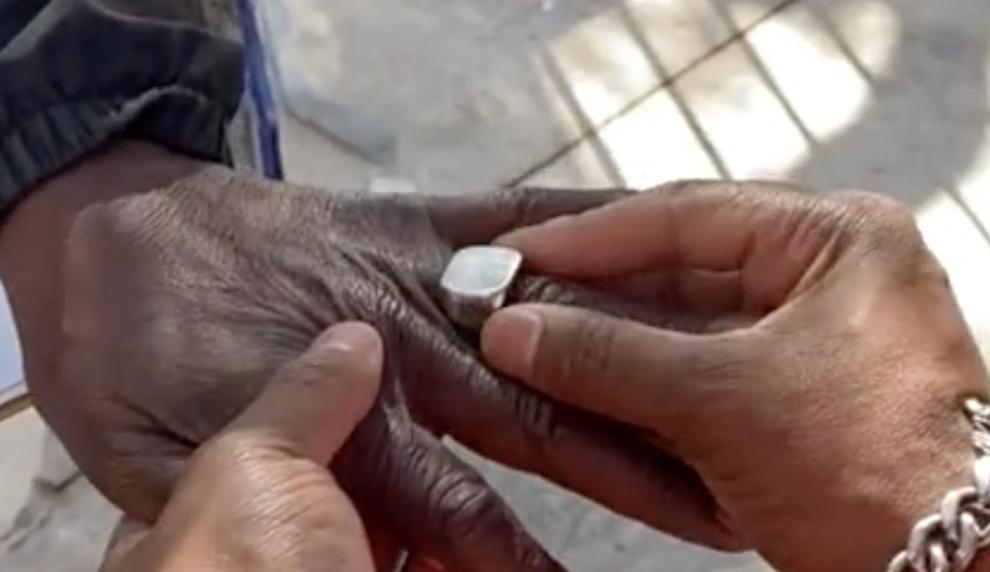 Pete and his family gave Charles a prayer shawl that Savonnah made by hand, and a ring that Pete, a man of Messianic Hebrew Israelite Heritage faith, said is "connected to a prodigal moment." Pete said he and his family have long since forgiven Charles for walking away so many decades ago.
"When I gave him that ring, I wanted him to know, 'What once was lost now is found, and what was broken has become whole,'" Pete told the News&Guide.
The newly united father and son have spoken on the phone every day since their meeting, according to Pete, who is quick to note that his father does not drink or use drugs and is of sound mind.
Pete shrugs off the fact that Charles' thick North Carolina accent — "I'm from Middlesex, North Carolina," Charles said. "It's got about two stoplights. ... I came from a small town with big ideas" — makes it difficult for him to understand everything his father says to him; Pete's just happy they're talking.
"I tell him, 'I just love hearing your voice,'" Pete said. "About 60% of the things he says, I don't understand, but that doesn't matter ... I tell him, 'I just want to hear your voice.'"
Charles said he left Pete's mother, Angel Lutin — who now also lives in Sacramento, near Pete's family — because he was "wandering around California" 42 years ago. He landed in Las Vegas, he said, because "there's no more spontaneous place than Las Vegas. At any time, you can hit the jackpot."
"You've got your saints and you've got your sinners; It don't take long here to figure out which one you are," Charles said with a laugh.
Pete and the Harwards plan to help Charles gain some traction with his art, both with funding and exposure. Pete said a website featuring Charles' work is forthcoming.
Meanwhile, Pete is just happy to be connected to the man he spent his life searching for, and the man with whom the Harwards had faith they could connect him.
"We're a family of faith, so we see this as a redeeming moment," Pete said. "My father was in a place of bondage, in the sense of not having a family ... and it meant more for us as a family to redeem him, instead of condemning him."
Asked about his feelings about Brett Harward, who just happened to pull his father aside on that Las Vegas street 10 years ago and made the video that ultimately brought them together, Pete said that Brett and Catherine are now his brother and sister and looks forward to visiting them in Jackson.
As for his plans with his now-found father, Pete says he's ready for anything, just as he was on the day they met. He's just happy to finally be forging that relationship and isn't about to let go of it.
"If he would have took off running, I would have chased him," Pete said with a laugh.