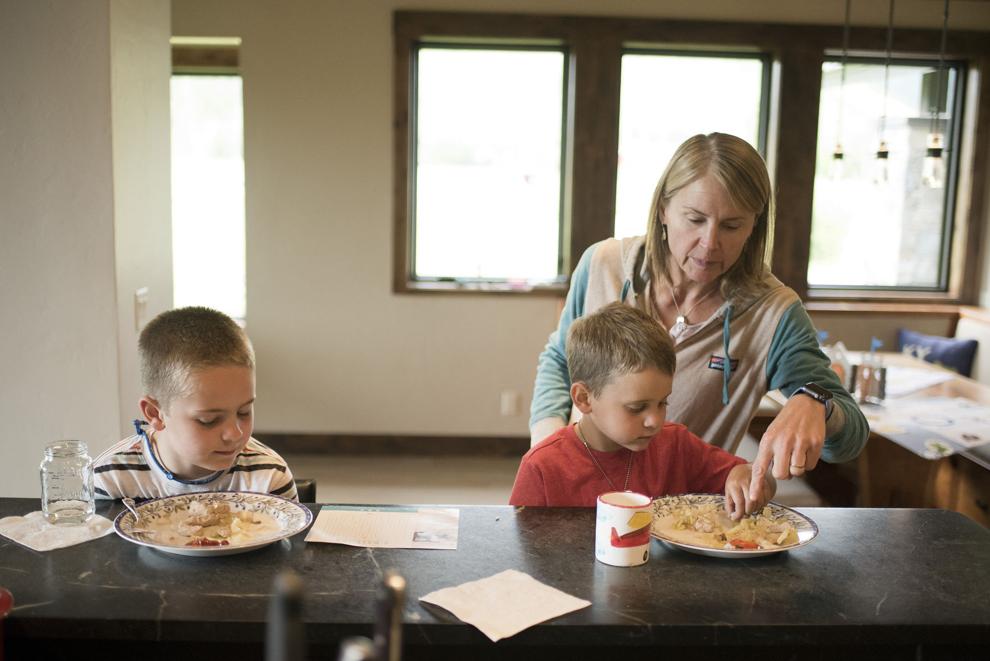 Cash Halpin shovels the last bite of rice into his mouth and asks for another serving.
"I ate all the carbs," he proudly announces, mouth still full.
"Yeah," says his mother, Mills Halpin, who rolls her eyes at her 6-year-old son. "Eat some protein."
His father, Mike Halpin, is beside him on an opened laptop, checking the latest data available from Cash's insulin pump. The boy is part of a clinical trial testing the Medtronic MiniMed670G, a system capable of continuously monitoring his glucose levels and making microadjustments to keep them consistent throughout the day.
Cash is in the youngest group of participants to be tested, ages 2 to 6. The same Medtronic model was approved by the U.S. Food and Drug Administration last fall for ages 14 and up.
Mike Halpin administers about a unit of insulin, a tiny bubble of hormone to handle the approximately 35 grams of carbs Cash is consuming for dinner. Manual adjustments are still required at mealtimes, but the new system offers his parents a little reprieve, something they haven't experienced since he was diagnosed three years ago.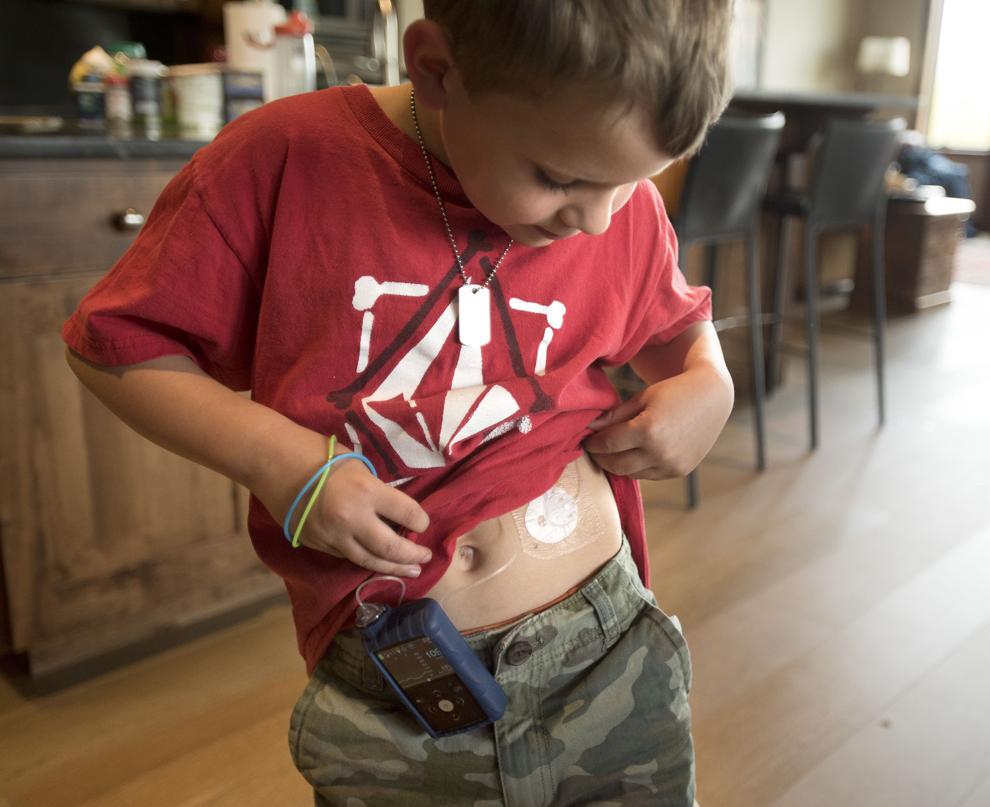 With this new system, if they are off a little — "you just can't be exact all the time," Mills Halpin says — the pump can adjust for it.
"I still don't know how people did this 10 years ago," she says. "I just hug any family who has diabetic kids in their 20s and 30s."
Mills Halpin knew what was happening when her toddler suddenly had an unquenchable thirst and a need to visit the bathroom several times an hour.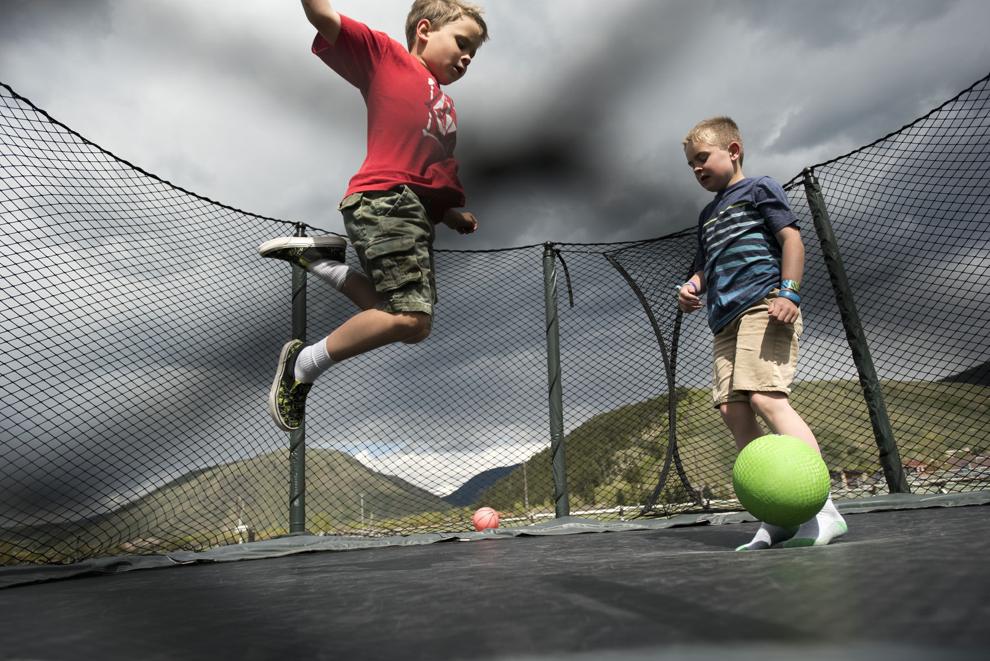 She was traveling, headed to a cousin's wedding in Nashville, Tennessee when the symptoms started.
"It was two flights, and he needed to go to the bathroom five or six times on each flight," she said.
And he wouldn't stop drinking. She couldn't give him enough water.
"Liters," she said. "Literally liters of water — couldn't get enough. That's because his sugar level had built up to the point where his body was trying to flush all the sugar out of his system."
She remembers turning to the internet, scrolling through pages and pages of Google results and looking for any other possible diagnosis. She had to get five or six pages down before she could find any other thing besides what she suspected: diabetes.
She admitted that she was in denial.
"He wasn't acting sick at all. He didn't feel bad. He was totally himself, other than those two things," she said. "I think I knew that he had it, but I didn't realize I should have been at the hospital."
The two stayed in Tennessee for a weekend, and she scheduled an appointment with his pediatrician the day they arrived back home. The family was immediately rerouted to Primary Children's Hospital in Salt Lake City.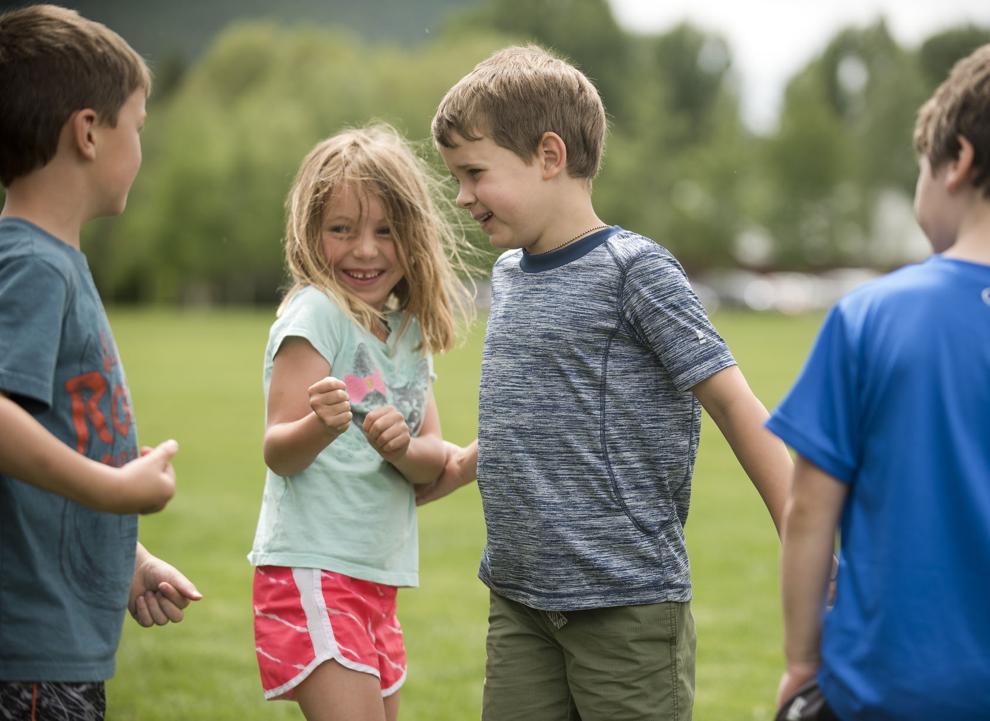 Cash was diagnosed with Type 1 diabetes, an autoimmune disorder marked by the inability to produce adequate insulin or, sometimes, any at all. Without this hormone, normally produced by the pancreas, glucose is left in the blood rather than moved to the cells. High levels of glucose in the blood can send the body into ketoacidosis, a condition that can lead to a coma and death if not treated.
Type 2 diabetes, by contrast, typically occurs when a person develops insulin resistance. Production still occurs, but the body loses its ability to efficiently utilize it, which can also result in high levels of glucose in the blood.
Lifestyle choices can help manage Type 2 diabetes, among other treatments. Type 1 diabetes requires lifelong insulin injections to maintain proper levels of glucose.
Cash's blood-sugar level was over 400 when he was diagnosed, Mills Halpin said.
"Normal is more like 100," she said.
They spent two days in Salt Lake City getting a crash course on how to administer insulin and count carbohydrates. Cash received five or six injections a day.
"He didn't understand at first, but he caught on very quickly for a 3-year-old," she said. "He understood this was something he had to have. He didn't have a choice."
It was hard for her and her husband. They had to stick their kid several times a day to get a reading, and it brought tears to her eyes.
"I was probably much more upset than he at the time," she said. "Well, still. He's handled it all with grace."
A week later they made their way to the Rocky Mountain Diabetes Center in Idaho Falls, Idaho.
"I find when parents first find out when their child has diabetes, they're kind of in shock," said Becky Sulik, a dietician and certified diabetes educator at the center. "At the beginning of diabetes there's a lot of stuff to learn."
Sulik, a Type 1 diabetic herself, is often the parents' point of contact for learning what lifelong disease management entails. She teaches parents how to perform needle sticks and what the numbers mean — what is too high and what is too low.
"Those are the things we call essential, meaning they really need to know those things right up front," Sulik said. "It's hard because you have a parent and a child who are overwhelmed. It's scary for them because they're afraid if they make a mistake it's really going to put their child in danger."
Cash was fitted for an insulin pump about two and half months after his diagnosis, a Medtronic MiniMed 530G.
Everything changed after the diagnosis.
His parents became experts at carb counting — milk has 12 grams of carbs, a banana has about 7. The 530G wasn't as technologically advanced as Cash's new setup — it still required a lot of manual interaction. For the past three years one parent or the other has slept in Cash's room to perform frequent blood glucose checks, administering insulin if he was too high or waking him up to shove gummy bears in his mouth if he dipped too low.
They reached out to Teton County School District No. 1 in advance of his kindergarten year at Jackson Elementary, explaining the issues their son would bring into the classroom. Carin Cusick, a paraprofessional educator, underwent special training along with a few other staff members before the start of the school year.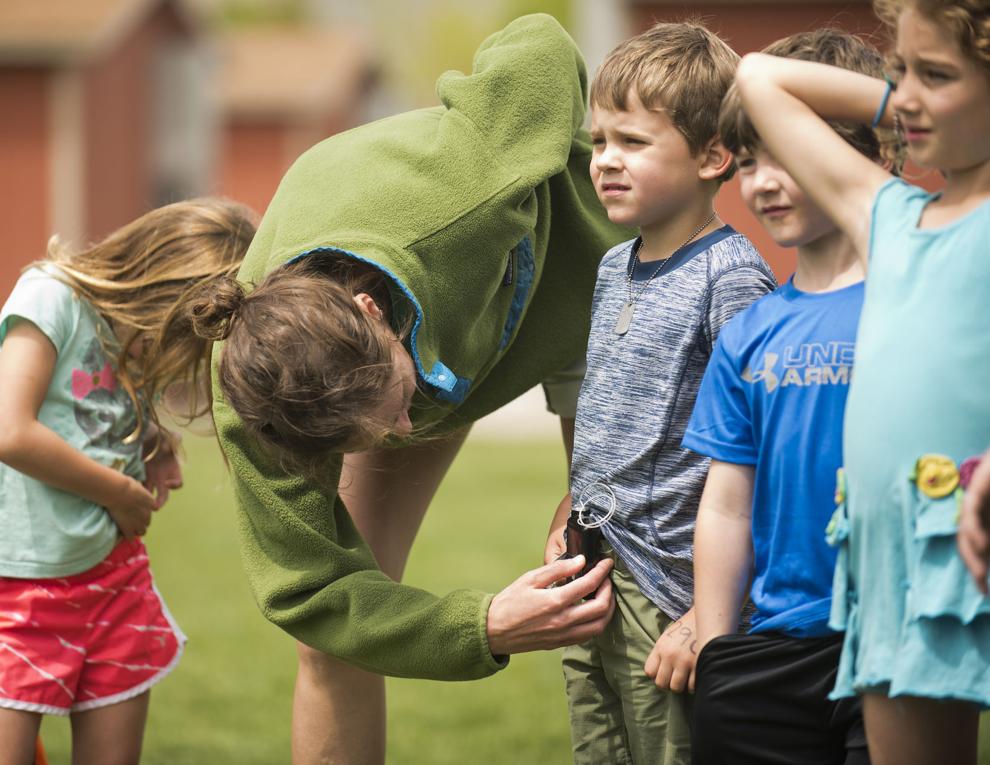 It was nerve-racking at first, Cusick said, being in charge of this little boy's health. She was in constant communication with Cash's parents for the first month. Cash's old pump linked to their iPhones, so Mom and Dad received updates on his levels throughout the day. The school nurse would frequently stop by to check in. She had a lot of support, Cusick said.
The small spikes he would have throughout the day — normal for a diabetic — became less and less alarming, she said. She soon learned PE after lunch twice a week was a good way to burn off energy if he was running high after the meal.
She memorized the amount of carbs in the common classroom snacks and documented every food he ate and every insulin dose she gave on a clipboard. Cash also has celiac disease, not an uncommon paired diagnosis for someone suffering from an autoimmune disorder. He's on a gluten-free diet to regulate associated gastrointestinal issues.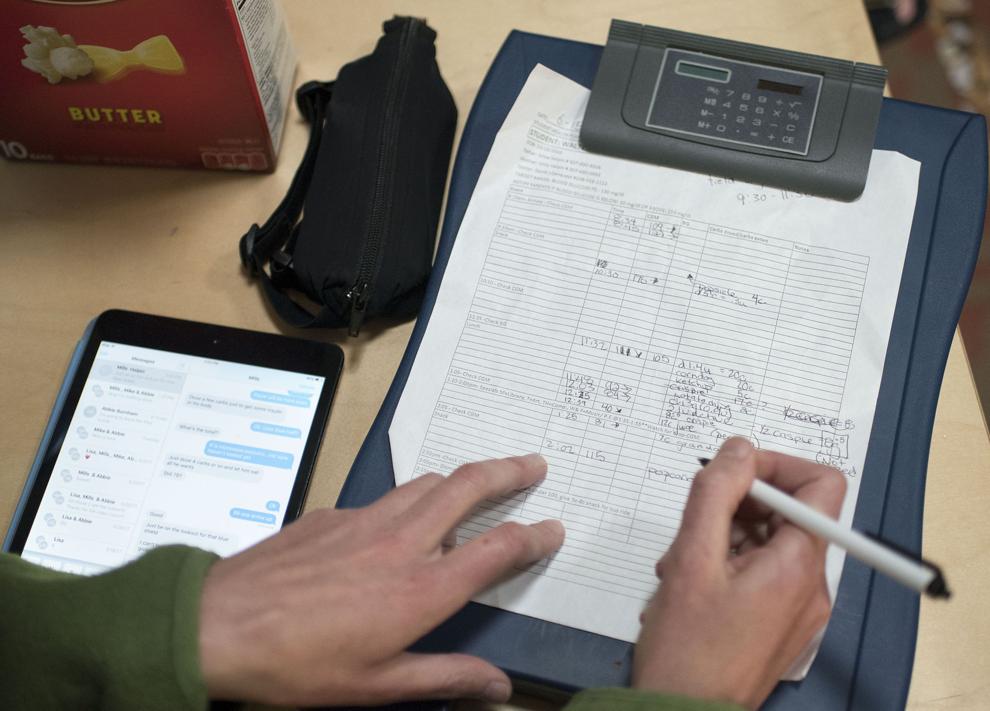 Although he is young, Cash is involved in managing his disease.
"He's very responsible," Cusick said. "He's so good about, 'Ms. Carin, can I have some more?'"
His older brother, Kane, senior to Cash by a year and a half, took on a new role after the diagnosis as well. The two have a designated spot on the school bus, side-by-side, right behind the driver. When asked about Cash's pump, Kane rattles off how it works and how it helps his brother. When Cash crashes his scooter Kane is the first to make sure he's OK.
Everyone has had to grow up a lot faster than planned, Mills Halpin said.
"It has changed our whole family's life," she said.
The new pump, however, has offered a lot of hope for the Halpins — and hopefully other children, as well.
"We've been in range for four days," she said.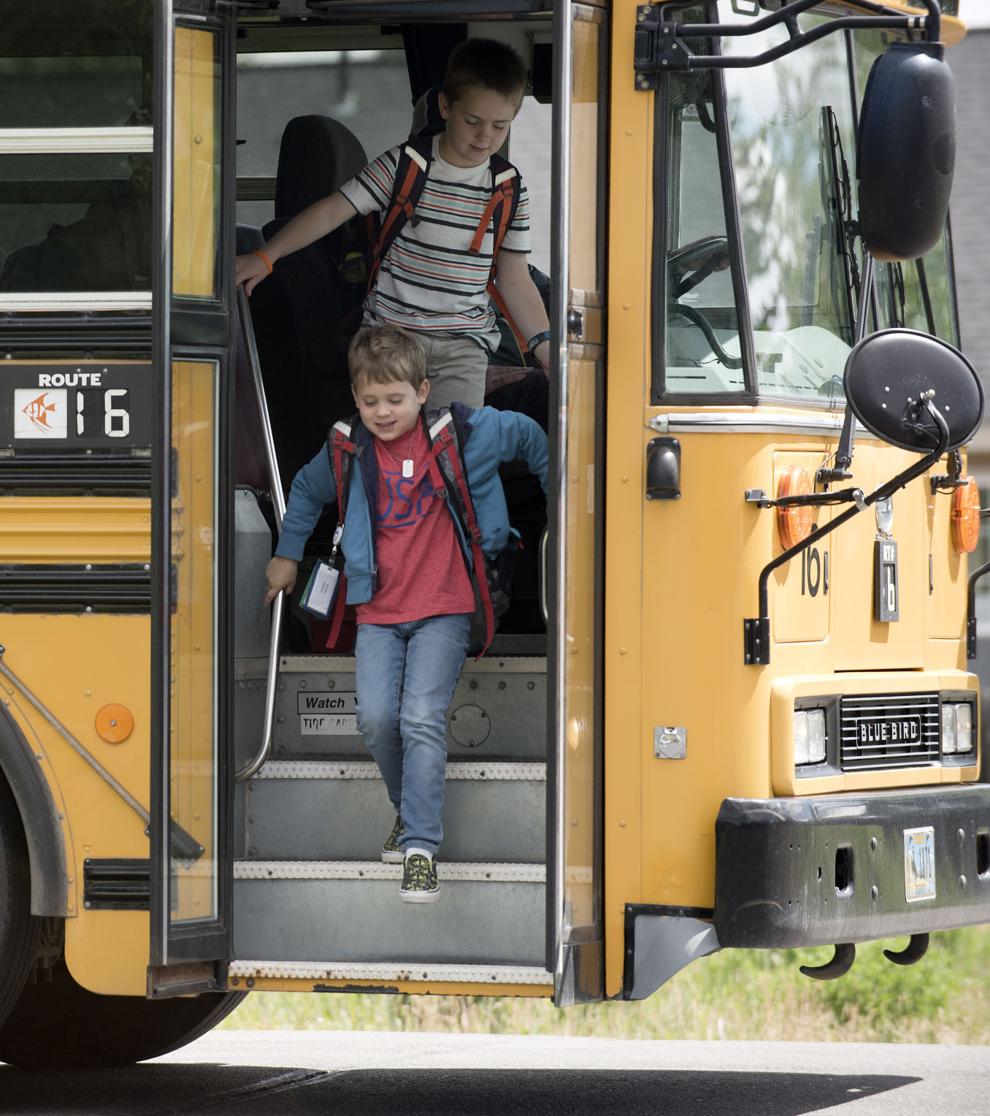 They have just started feeling comfortable letting him sleep alone. The couple joke that it's weird sleeping next to each other again. But things will never be completely normal for the family. They will always be aware of what he's eating, how much he is exercising.
"You're chasing a number," Mike Halpin explains.
Eventually Cash will have to take over management of his disease. Eventually he'll go to karate practice alone, instead of being carefully monitored by his parents, who call him over between kicks and punches to check his monitor.
"That's the one thing the pump can't determine is exercise," Mike Halpin says. "The algorithm doesn't figure that out quick enough."
They feed him fruit chews — about 4 to 6 carbs apiece — throughout practice, and his mom worries his infusion set will be ripped out during a fight where the kids are trying to grab straps from each other's belts.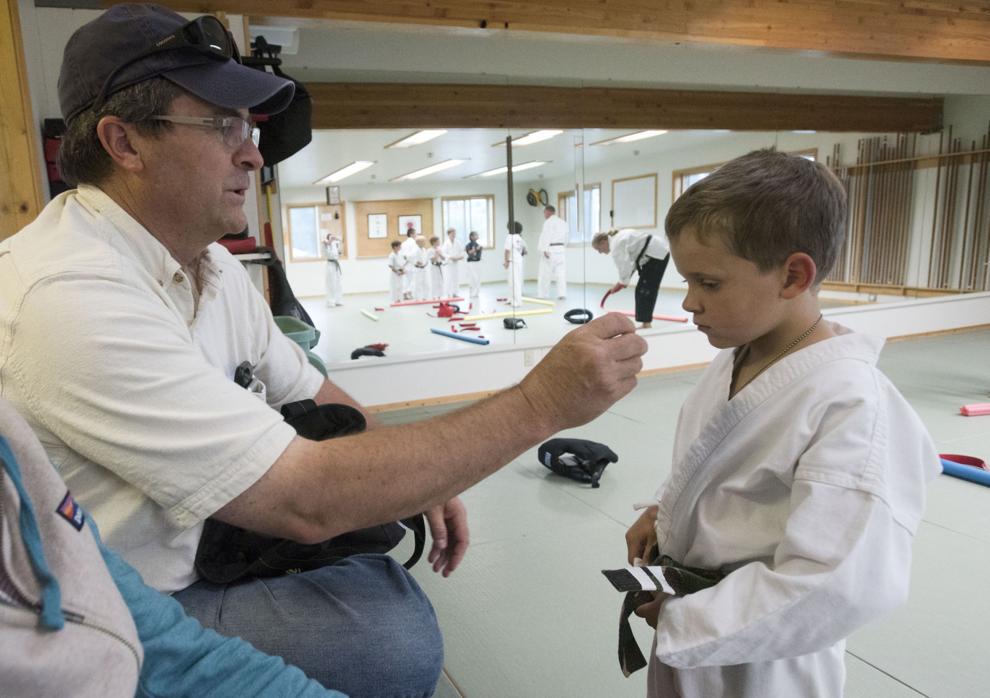 "His tube is sticking out," she says, leaning over to her husband. "Cash, come here."
He walks over diligently and presents his blue pump.
"You're scrappy," Mills Halpin tells her son.
"What does that mean?" he asks.
"Tough," she said, and sends him back into the ring.
It will be years before he attends sports practices alone, Mills Halpin says. For now, he's not bothered by his parents attention.
"He likes us being there for karate and soccer," she says. "Lots of other parents are there, so it doesn't seem unusual. I don't think he's crazy about our coming to, say, summer camp every day at lunch to dose his meal."
But they will continue to shoulder the burden of the disease as much as possible, until he's old enough to handle it on his own, she says.
"He's only 6," she says. "He's still a kindergartner. He has the rest of his life to be in charge of it."