As Bobbi Thomasma started recounting her favorite memories from her life in Jackson Hole, a loud slurping noise interrupted her thoughts.
"Ken, you're making too much noise!" she said, laughing. "I should have never made him that milkshake."
A darling duo of philanthropists, the Thomasmas are the recipients of the 2020 Senior of the Year award. Becky Zaist, executive director of the Senior Center of Jackson Hole, said this year marks the 35th anniversary for the award. Anyone over the age of 60 is eligible for a nomination — Ken and Bobbi Thomasma were considered along with three other nominees — and the Senior Center board of directors makes the final decision.
"It's amazing how much people do in this community," Zaist said. "And all four of these nominees are very deserving."
The Thomasmas moved from Michigan to Wyoming in 1976. Ken, now 90 years old, was an aspiring writer and wanted to live in the West where he eventually set his children's fiction series, "Amazing Indian Children." In 1999, he sent his nonfiction book "The Truth About Sacajawea" to the U.S. Mint along with a nomination for the Lemhi Shoshone teen who served as a guide for the 1804 Lewis and Clark Expedition for the face of a new dollar coin. He later went to the White House to champion his nominee and eventually succeeded.
Since retiring from her job as a teacher, Bobbi, 86, has spent her hours volunteering as a docent at the National Museum of Wildlife Art, assisting with polling centers for every election and, at one time, working as a deacon at the Presbyterian Church of Jackson Hole.
The couple also worked with their children and grandchildren to start Wyoming's first farmers market going on in the Town Square.
But despite all their incredible work for the community, the Thomasmas look back at their time teaching at the Kelly School as their favorite.
When they started teaching there in 1979, Ken taught kindergarten through second grade in one classroom, while Bobbi taught third through fifth grade in another room.
"We were like a mother-and-father school," Ken said.
Ken took an approach to teaching English that was different from that of other valley teachers: After recess, he would have a couple of sentences written on the blackboard, and all the children had to finish a story with their own sentences. He wouldn't allow any misspelled words, but an uncertain student could raise their hand, give him their word, and he would write it on the chalkboard.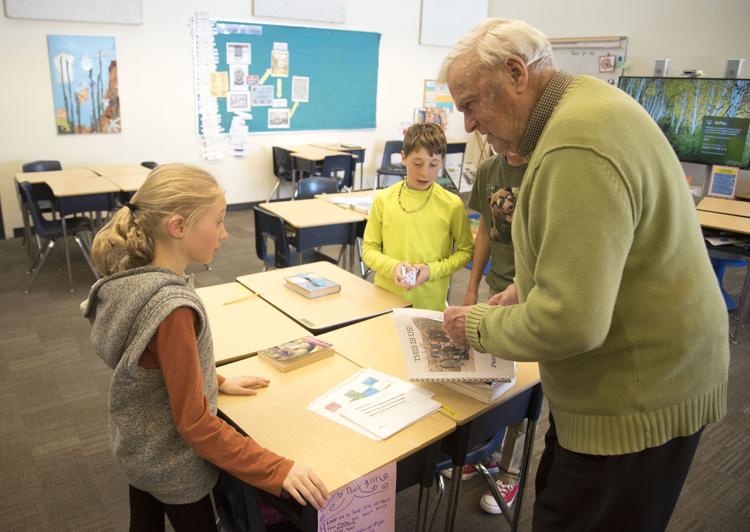 Bobbi could easily see the effectiveness of Ken's methods once students got to her classroom, allowing her to continue to challenge them.
Throughout his teaching career in Jackson, Ken developed a reputation for helping raise funds and community awareness for improvements in education — especially for the county's smallest  schools in Kelly, Alta and Moran.
One day, while Ken was checking out at Fred's Market, the woman working the register recognized Ken and started to cry.
"She said, 'My two boys play sports at the high school, and I can't afford to pay for them to play. I have had to tell them they can't do it anymore,'" Ken said.
So that day he asked the owner of the old downtown grocer if he could camp on the roof for a week and collect donations for children's sports programs. The owner agreed, Ken set up his tent, and Bobbi provided him with food. By the end of the week, they had raised over $13,000.
In addition to his nontraditional fundraising tactics, Ken also was responsible for getting many bond issues passed to pay for school improvements across the valley. One bond issue to build gymnasiums for the small country schools passed with 80% in favor — the most successful bond issue in Teton County history.
The Thomasmas say they don't see their service as unusual — they think of it as essential.
"We're not very wealthy, but we've been given a lot," Bobbi said. "So you just keep giving back. We don't even think about it."
Ken looks at America as a country where people step up and help each other. He said he and Bobbi have strong religious beliefs, and he sees love as their purpose on Earth.
"Love is more than just words; love has to be action" Ken said. "So, we see a need, and we feel like we're called to do something about that need to help our fellow-man. It's just that simple."