A little rain couldn't stop Addie Berezay from meeting her friends and grabbing lunch.
Addie isn't a socialite, not in the typical sense. She's an elementary schooler, one of many Teton County kids stuck at home because of the coronavirus outbreak. Even as rain peppered her Melody Ranch neighborhood Thursday, she and her brothers hopped on their bikes to ride across the South Park subdivision to the Sage Meadows parking lot.
There, Addie met her friend, third grader Sydney Beck, and she grabbed lunch from the roving meal delivery service Teton County School District No. 1 started in the face of the pandemic.
It's a routine Addie has become familiar with since schools were shuttered.
"We come pretty much every day," she said. "But sometimes we go on picnics or bike rides."
Giving kids like Addie a chance to stretch their legs and a chance to eat a hot meal twice a day is the exact intention of the school district's program. Food Service Director Wes Clarke devised the system in early April after it became apparent kids were going to be stuck at home for at least several weeks.
Clarke oversees food operations across the district, so he understands many families rely on school meals to feed their kids. Sixteen percent of families are on free and reduced lunch, but their kids aren't the only ones who eat school lunches.
"We normally feed over a little over 1,700 meals a day," Clarke said.
Families who don't qualify for the federal meal programs can still buy lunches for their kids. They might do so because the parents are busy in the mornings and it's easier to just have the children eat school lunches, or because kids like eating the same food as their friends.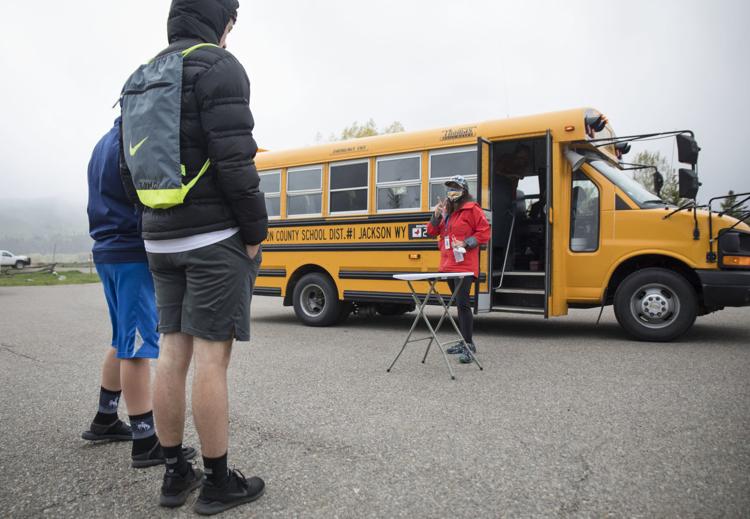 After schools closed March 16, the week before spring break, Clarke tested the idea of running a meal program out of Jackson Hole High School, without delivery. Parents and kids came to the high school to have breakfast and lunch brought to their cars.
The program grew over the course of the week, culminating in 371 meals being picked up that Friday, March 20. Even so, the highest day was only about 20% of what Clarke's food service program normally puts out.
He realized some families simply couldn't come to the high school to pick up meals. Maybe the parents didn't have reliable transportation and usually use public buses. Maybe they are essential workers whose shifts fell during the 7 a.m. to 2 p.m. window for collecting the food.
"I just made the assumption that due to how spread out our district is, people wouldn't be able to get here," he said.
Districts around the state are implementing meal delivery programs, like Uinta County School District No. 1 in Evanston and Sweetwater County School District No. 2 in Green River. The Wyoming districts' quick adjustments inspired Clarke, but such programs are a nationwide phenomenon.
Cities and counties around the country are finding ways to bring meals to needy kids, NPR reported. Franklin Pierce Schools in Tacoma, Washington, jumped into meal delivery in March after northwest Washington state became one of the first places in the United States to see an outbreak.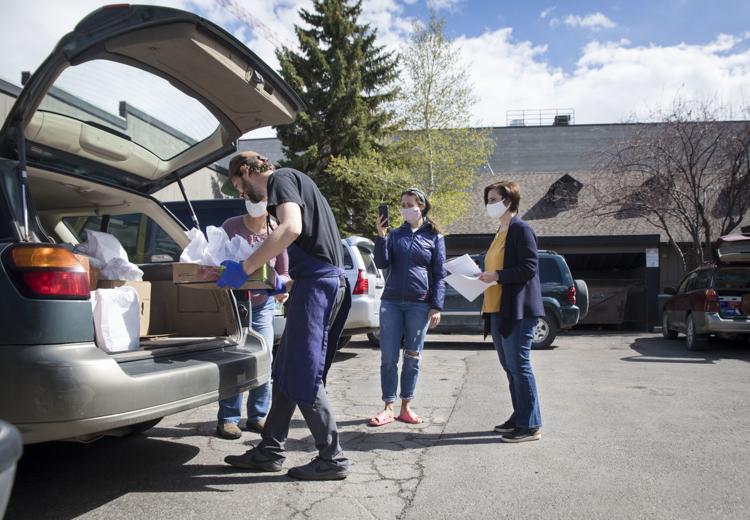 "Make the food, put it on school buses and then have our bus drivers drive routes," Nutrition Services Director Karen Brown told NPR. "Take it to our highest-needs apartment complexes and housing areas so that way the kids can just come to the bus rather than find a way to get to the school."
Clarke's program looks much like Brown described. He enlisted the help of the transportation department, which no longer had drivers running routes since children weren't coming to school.
"We use five daily routes," Transportation Director Colby Stevens said. "It's the same routes each day, and we cycle through various transportation staff and paraprofessionals."
Those five routes cover much of the district, from Evans Trailer Park near Hog Island to stops at outlying elementary schools in Wilson and Kelly. Clarke sent a survey to parents to determine where islands of need were, then Stevens ran that against his preexisting stops to determine which ones would have the most impact and be safe for kids to line up for meals.
On the first day of delivery, Clarke distributed 325 meals between delivery and pickup at the high school. Within just four days, that number had more than doubled, to 670. Growth continued over the next several weeks, cresting May 8 at 1,000 total meals.
When the bus pulled up to Melody Ranch on Thursday, paraprofessional Paula Crisp hopped out, unfolded a table, unfurled a tablecloth and set out the first meal. Kids queued, hip to the drill several weeks into the program.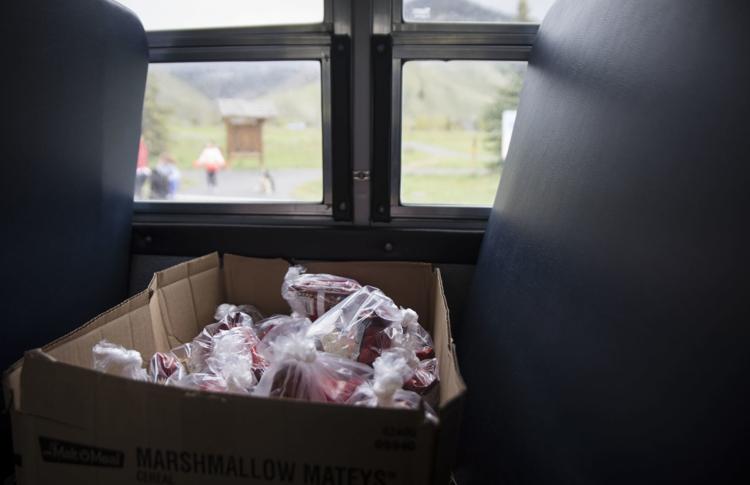 "You want a hot lunch? Beef nachos," she told them as they approached. If they said no, she handed them a cold-cut sandwich.
For educators like Crisp, the deliveries allow them interaction with students, something that is often missing from distance education.
"It's been really nice getting out in the community, because I miss the kids that I'm with," she said. "It's been great seeing them, giving them something to look forward to."
Numbers Thursday were fewer than usual, just five or six kids, probably because of the rain. But the kids there came out of luxury SUVs and Subarus, or rode up on bikes, their transportation modes revealing something crucial about the program.
It's not run under the same guidelines that dictate in-school meals. Instead Clarke receives funding through the U.S. Department of Agriculture's Summer Food Service Program, which he uses to provide meals at Colter Elementary School and Teton County Library most summers.
Under those rules, any kid younger than 19 is eligible for free meals, rather than just those who qualify for free or reduced lunch.
"There's a sort of a stigma about eating the school meals. This reduces it," Clarke said. "We've got all sorts of kids grabbing meals."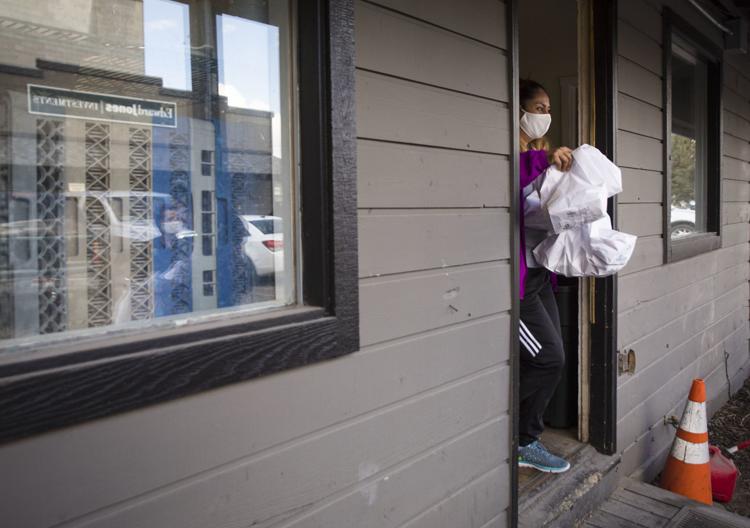 Usually the USDA program doesn't allow delivery, and kids are supposed to eat in person, rather than having the meals dropped off or their parents picking them up. The federal agency made several exceptions to permit Clarke's program, approving delivery sites and allowing parent pickup of food.
That has helped Clarke afford to run the program, because the district is continuing to pay its employees through the end of their contracts. The USDA funding doesn't cover all his costs, but it will come summer when nearly two-thirds of his staff are done for the year.
Similarly, Stevens' transportation department is receiving funding from the Wyoming Department of Education, including reimbursement for miles driven in the meal delivery service. That cushions the blow of paying drivers for their full contract, even though they are working fewer hours.
Those rule tweaks made it possible for Stevens and Clarke to develop such a program, and without them it might not be possible to maintain.
"Summer is a question we don't fully know how to answer yet," Stevens said.
The school district isn't the only organization working to alleviate food insecurity concerns in Teton County. Even though the district's program is for any kid under 19, Head Start Director Lety Liera knows some families might think it isn't for them because their kids aren't of school age yet.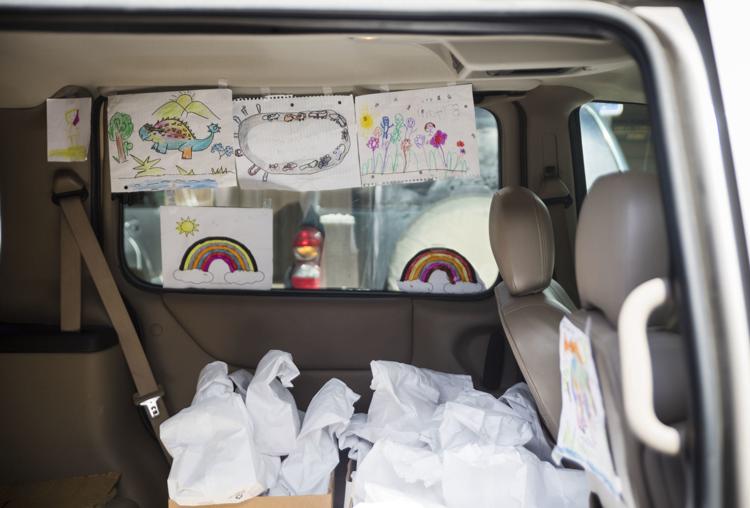 On a smaller scale than the district, Liera and a team of volunteers have taken a slightly different tack. Using philanthropic gifts, they buy groceries for some families, and they go to restaurants once a week to buy roughly 150 hot meals.
"It goes beyond just giving groceries to families that really need the food," Liera said. "We're providing economic movement. It has a little domino effect."
Like Clarke and Stevens, Liera isn't sure how long she'll be able to sustain such a program. She's received some grants, but finances could become a challenge if philanthropy dries up.
Clarke can always go back to running his typical summer program with set locations should the exceptions not be extended. However, that would reintroduce the transportation problem, with a new variable. Most of Stevens' drivers will be done mid-June, as are the paraprofessionals, so continuing the program into the summer would require the district to find employees to run the deliveries.
The USDA also approved the meal delivery sites only through June 30. Since the summer meal program generally operates with just a couple of centralized locations, without an extension of that approval kids and parents will need to start coming into town to pick up the meals at Colter and the library.
In addition, it's unclear how long the USDA will grant Clarke another exception that has made the pandemic meal program successful. The federal agency has said parents can continue to pick up meals through Aug. 31, but if next school year starts with distance education due to continued danger from the coronavirus, Clarke would need USDA approval to continue.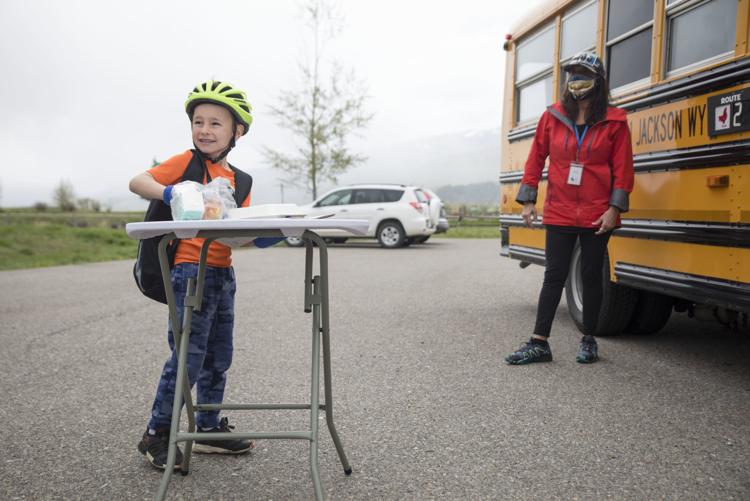 Even with the uncertainty, delivery may be crucial to the continued success of the summer meal program. The way Clarke is reimbursed, the more meals he distributes the better his margins are.
"I'd like for people to realize this program is just not for the 'people in need,'" he said. "If we don't get people who aren't in need, we'd have a tough time staying open."
Clarke's break-even point for the program is 847 daily meals, and based on the numbers in May, delivery is helping him get there.
He is averaging nearly 800 meals a day this month, with roughly 40% to 50% coming from the delivery side.
Liera, for her part, also needs an influx of cash, though from private generosity, not federal coffers.
Both she and Clarke want to continue feeding kids for as long as possible, because they recognize the coronavirus and the havoc it has caused won't go away quickly.
So until the funding runs out or the economy recovers dramatically, an armada of people will be cruising around town with one goal: feeding kids.