Kieleigh Davis has been a Moose Hockey fan since she was in utero.
She spent her first games in the belly of her mom, Jami Davis, a lifelong hockey fan herself who started attending Moose games when she was pregnant.
When Kieleigh was born, one of the first items of clothing she donned was a Moose beanie, and one of her first outings was strapped to her mom in a front pack to watch the team.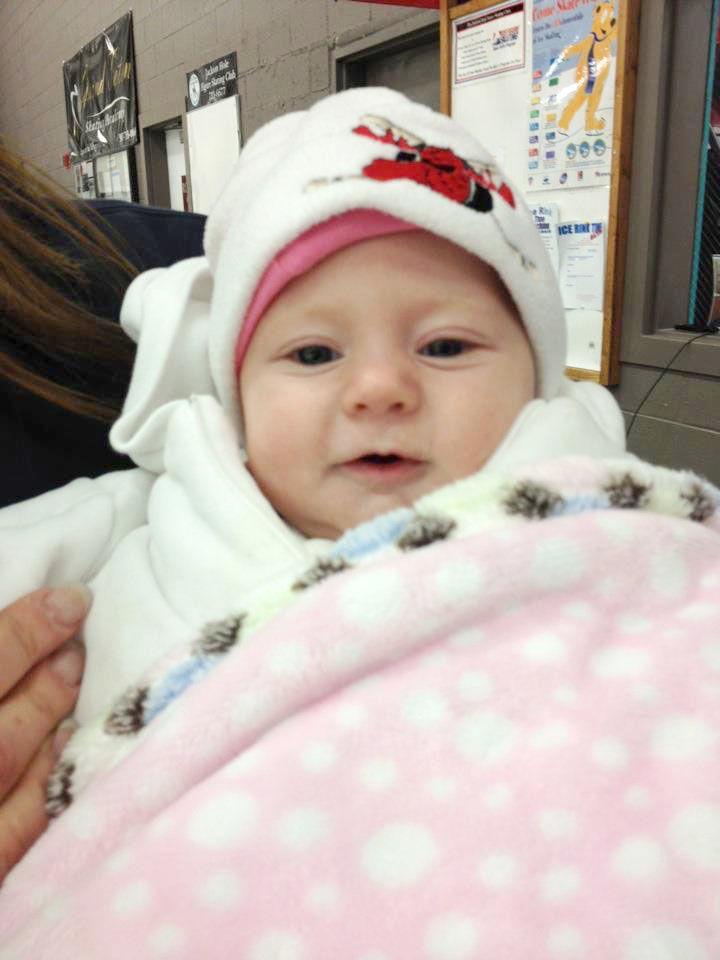 Now the 8-year-old fan travels most weekends from Star Valley to the Snow King Sports and Events Center, draped in her favorite Moose gear — a jersey signed by every player and a beloved Moose beanie, similar to the one she wore as a newborn.
"I have been coming since I was a baby baby baby," Kieleigh said.
The team's superfan has earned a special place with the players over the years, earning the privilege of being the opposing team's penalty box door holder and puck thrower for the referees.
The team even deemed her a "good luck charm," asserting every time she attended a game they would win, Davis said.
The title has become a bit of a bargaining chip to keep her attendance high.
"She's kind of made it a point that, 'Mom we need to be there so that the Moose can win,'" Davis said.
While Kieleigh said she loves all the Moose players, a few have earned a special place in her heart — like defender Sage Welch.
"I don't want to play favorites," Welch said, "but Kieleigh's special."
GALLERY: Moose Hockey's biggest little fan
Eight-year-old Kieleigh Davis is the self-proclaimed number one fan of the Moose Hockey team, but you would be hard pressed to find someone that disagrees. Her mother Jami Davis has been bringing Kieleigh to the games since she was pregnant with her and brought her to the first game she could after giving birth. Davis has earned a special place with the team, watching each game from the penalty box and helping out anyway she can.
Following each period, Welch escorts Kieleigh across the ice, a tradition she eagerly anticipates as she waits at the penalty box door.
"She's literally at every game," he said. "It seems like it's her favorite thing every single Friday and Saturday night and she's constantly excited. That excitement's contagious."
Moose Hockey is also her favorite team to celebrate on other special occasions, namely her December birthday. This year she brought the team Christmas-themed cupcakes to enjoy after the game, something she's made a bit of an annual occurrence.
"I just like to bring them treats on my birthday," Kieleigh said.
This year Welch planned something special for the pint-size fan, bringing Kieleigh to the locker room before the team's Dec. 14 home game — just a day before her birthday — where the team awaited to sing her "Happy Birthday." She was also presented with a Moose shirt, a signed program and a bracelet-making kit.
"It was nothing special," Welch said, "but it's just cool how much she appreciates that."
In addition to bringing the team sweets and celebrating their victories, she's also a vociferous defender of the players, especially with what has been deemed Kieleigh's famous death stare.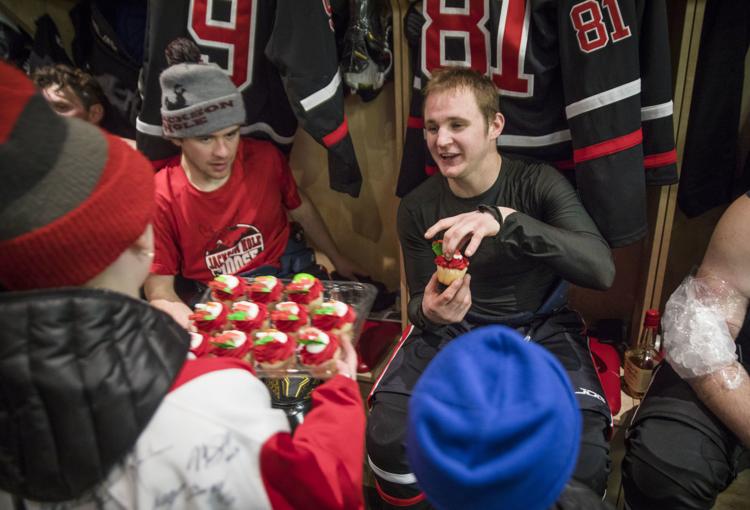 Opposing players are likely to catch the famous scowl if they find themselves in the penalty box.
"It kind of makes them have a hard time being angry when they're in the box and they have somebody dressed in complete Moose [gear] that's giving them the glare of death," Davis said.
Though she doesn't say it, her eyes scream, "'Don't hurt my players. I'll kick your butt,'" her mom said.
This year one team in particular — the Texas Titans — made the young fan's blood boil a little more than usual. After a questionable call against Welch led to her favorite player's ejection from the Saturday night game, Kieleigh couldn't hold back tears as she watched him leave the ice.
If it were her call, "they're banned," Kieleigh said. "They're not allowed back."
With eight years of games and dedication to the team under Kieleigh's belt, Davis doesn't foresee her daughter's love for the team ever fading.
"One day it won't be mom taking her anymore, it'll be, 'Oh, I'm going to hockey. Bye, Mom,'" Davis said.
"It's something that she has passion for," Davis said. "Not that she's going to play hockey, but she has the passion to be a supportive person to them."