Judges for the 122nd Wyoming Press Association Conference recognized the Jackson Hole News&Guide for stellar reporting, advertising, photography and design last week.
This year the News&Guide received the WPA Foundation Sweepstakes award, given to the publication that takes home the most individual Pacemaker Awards, and also took first place in advertising excellence, typographical excellence and photographic excellence.
The annual convention took place via Zoom.
"Tracking all the news events of this past year and conveying them in a timely and trustworthy manner required a herculean effort from everyone in the News&Guide newsroom," said Kevin Olson, the president and publisher of Teton Media Works, the News&Guide's parent company.
Editor in Chief Johanna Love shared Olson's sentiments, noting that the newsroom provided its usual meaningful government and community coverage on top of its pandemic reporting this year.
"During the never-ending breaking news cycle that is a global pandemic, it would have been understandable if other beats and topics took a back seat," Love said. "But we kept attending meetings, sending reporters and photographers into the field, and doubled down on our commitments to transparency and solutions reporting."
News&Guide director of visuals Brad Boner was named the overall photographer of the year for the second year in a row. He also brought home a first-place award in spot news photography and honorable mentions in general news and portrait photography.
Photographer Ryan Dorgan placed first in wildlife photography for capturing a moose last autumn. His photo of elk gathering during feeding won him second place in the scenic photography category.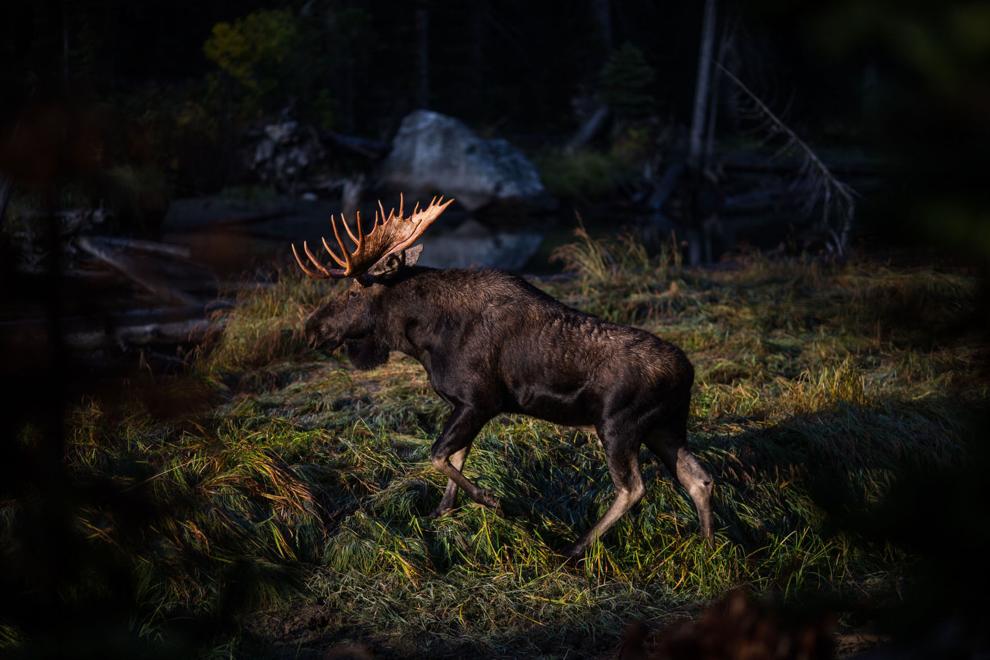 The newsroom staff was proud to be the sole recipient of the Freedom of Information Award among large weeklies. Reporters Emily Mieure, Billy Arnold, Mike Koshmrl and Tom Hallberg were applauded for their commitment to transparency.
"Teton County residents should be grateful to have you watching the elected officials," judges wrote.
Making sure the public's work is done in the public eye is at the heart of what the News&Guide does, Love said. While the recognition is appreciated, the staff is most thrilled that its work ensured public access to information, she said.
Mieure, along with photo intern Kathryn Ziesig, also won best long story video for their coverage of how the News&Guide operates during a pandemic.
Hallberg won second place for in-depth reporting award for his series on ways to keep avalanches off of Teton Pass. He also won first place in education reporting for his coverage of the pandemic's effect on local schools. Judges noted the quality storytelling in his school meal deliveries segment.
Koshmrl won first place in the news-feature category for his rescue tale about climbers who saved a man from a glacial crevasse. His "dedication to telling the story of how people and wildlife interact in the West," as judges wrote, also landed him first place in outdoors and environmental reporting.
Gabe Allen won first place for his feature story on a local Latino man's passion for climbing.
The News&Guide also won first and second place for its arts, entertainment and culture reporting. Allen's coverage of a Valentine's Day drag show came in second, and county reporter Billy Arnold's piece on the inner workings of a makeshift recording studio came in first.
Arnold was second in the general news story category for his article on whether texting violates open meetings law. His and Mieure's story on a series of hot-air balloon crashes won second for spot news.
Chance Q. Cook placed first in sports news for his in-depth coverage of the Pedigree Stage Stop Race.
Chief Designer Andy Edwards took first place in the graphic elements category. He was lauded for his use of enticing photos and graphics to draw readers into a story on wastewater treatment. Designer Samantha Nock placed second in the same category for producing a timeline graphic in a story about avalanche and vehicle collisions.
Edwards also won first place for his information graphic on "The colossal wealth of Teton county."
The photography and design staff were awarded the Best Use of Photographs award.
The News&Guide team placed first in the front page design category. The paper was chosen because of its clean design and fitting placement of eye-catching photography.
For Olson, the awards the newsroom won came hand in hand with other rewarding outcomes.
"I've seen firsthand their commitment to insightful and objective news reporting, and based on our gains in readers and subscribers, the community is responding in support," he said. "That's truly the best award for their combined journalistic efforts."