After the Japanese bombed the U.S. Navy at Pearl Harbor, Hawaii, Jacksonite Jim Richards enlisted.
The son of a well-known local, Homer Richards, Jim became a P-40 fighter pilot in what was then the Army Air Corps and was sent to the South Pacific.
In February 1944, the Jackson's Hole Courier reported, he wrote home to say that he had been on 16 missions over Rabaul and New Britain, and that while he "hasn't encountered any enemy planes," he "has strafed enemy supply dumps and trucks."
Richards said he had also encountered someone from home: Lonzo Coffin, an Air Corps mechanic who found Richards when he saw his plane with the inscription on its side: "Jackson Hole Special."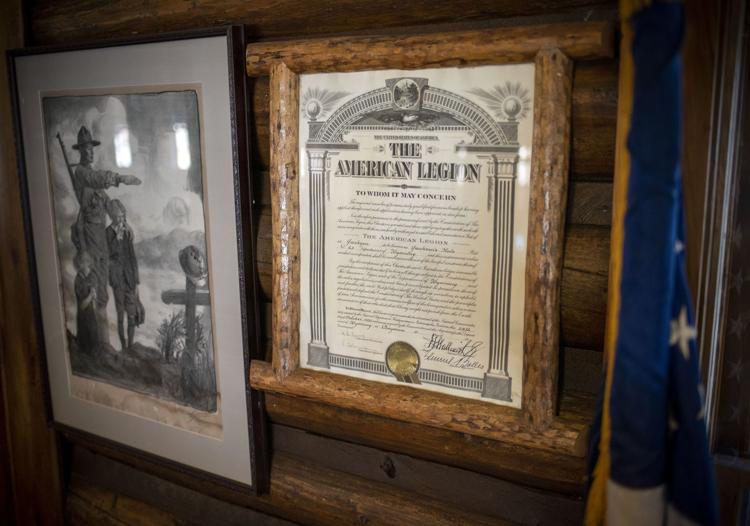 In late 1944 Homer and Eliza Richards were notified by the War Department that First Lt. James G. Richards had been listed as missing over Morotai Island on Dec. 4. He was 21.
More than three decades later, in 1976, Mr. and Mrs. Richards were on hand for the dedication of the veterans memorial on Town Square, a monument they had been leaders in erecting. Homer had donated and raised most the money.
Their son's name was on one of the brass plaques that honored Jackson Hole men who had served, from the Spanish-American War to Vietnam.
The plaques came down last year, and a new version of the monument was dedicated in May. The old brass plates now are stored in the basement of American Legion Post 43, at the corner of North Cache and Gill.
The post had hoped for a big show to celebrate the 100th anniversary of its founding. But COVID-19 canceled that plan, and the official Memorial Day dedication of the new monument was done by the dawn's early light by a handful of post members, Commander Joe Burke said.
"We did it Memorial Day with eight guys at 6 a.m.," Burke said. "I think two people saw it — a town worker in an orange vest who stopped and saluted, and another guy walking past who put his hand over his heart."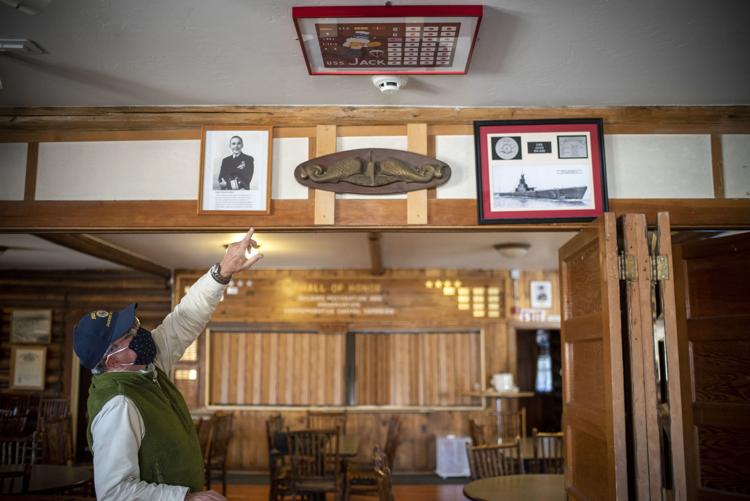 Post 43 has been the center of veterans' activities since it was founded in 1920 by young Jackson Hole men recently returned from fighting the Germans in the Great War, many of whom had gone to France.
But despite the pandemic, Post 43 will be out Wednesday morning, Veterans Day, for its usual ceremony. Legion members will be joined by members of Veterans of Foreign Wars Post 4274, which has shared the Legion building since it formed in 1947 (see sidebar).
"We didn't want to see that tradition, that chain, to be broken," Burke said. "Everybody felt that way."
Though anniversary commemorations didn't happen, the post is still reminding people that it is a century old. It was founded only a year after the Legion was created by Jackson men whose service had ended less than two years before. A photo in Post 43 shows 26 young men who were some the founding members. Among them are Buster Estes, Lester Leek, Percy Nowlin and Bruce Porter, the post's first commander.
For the first two years the Legionnaires met across the street in the Episcopal Rest House. The Legion bought two lots in 1922, raised money and in 1928 secured a $4,000 loan from Jackson State Bank. Their log post building was dedicated in July 1929 with a banquet and dance.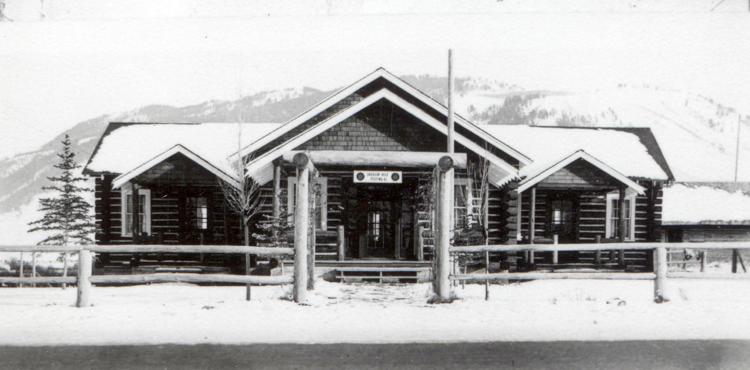 The new building was "of log construction in keeping with its setting," a story in the Courier said. "It is neat and attractive and of good size considering the size of the post."
Over the years the building has been and still is the site of many community events. In 1938 it was the temporary home of Teton County Library, before its own log building on South King Street was built, and the town's first kindergarten was there in 1939. There used to be gambling in the basement.
The interior today includes a bar and donated furniture with brass plates naming donors to the post. The walls are lined with photos of locals who served, including George Larson, Bob LaLonde, Harry Baxter, Jim LaRue, Dick Scarlett, Bob Kranenberg, TR Pierce, Don Clark, Larry Kummer and Rich Schreiber.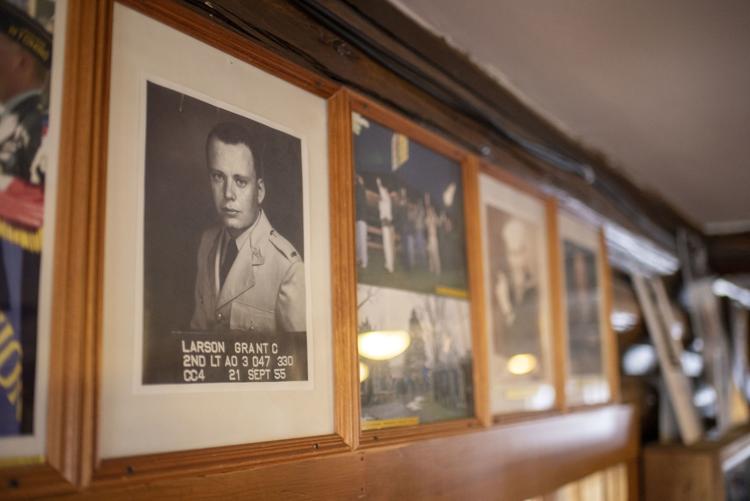 Though there are estimated to be about 700 veterans in the area, the post operates with about 110 members, Burke said, and the Legion is open to any honorably discharged service member. VFW Post Commander Ed Liebzeit leads 24 active members. They'd both like to see more come out to enjoy the place and work on Legion programs in the community.
"I know many people work hard, have two jobs or live far away," he said, "but we really need an influx of people to help us out.
"We all served our country," Burke said, "and this is an opportunity to continue to serve."
Liebzeit, a Vietnam pilot, said, "We welcome all veterans who have served in a conflict on foreign soil."
Burke, a Coast Guard vet, said he knows a lot of vets think there's nothing in the Legion for them.
"I didn't have anything to do with the American Legion post until I retired, eight years ago," he admitted.
But it's a good place to gather, a place, he said, that "fosters camaraderie ... but no war stories."