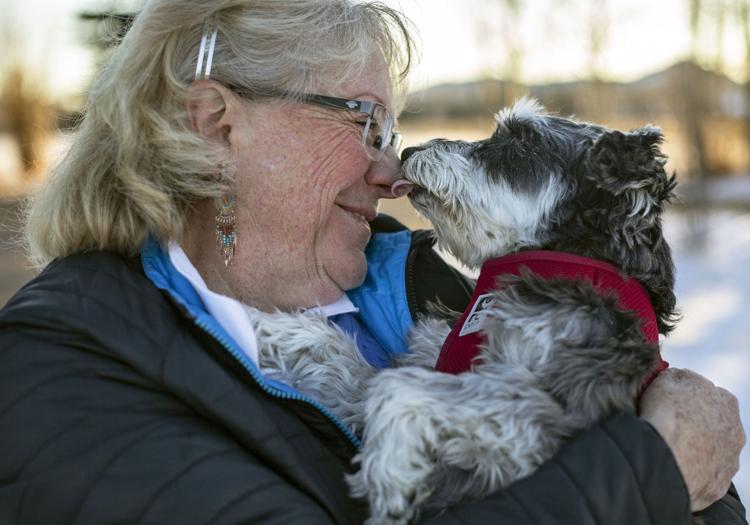 Richard was roaming the streets of Riverton in late July. His hair was unruly — even more unruly than usual for a schnauzer — and he had developed severe periodontal disease. No one knows how long he had been on his own.
But on the morning of Aug. 14 he was taken in and had all but four of his teeth removed. And by that afternoon he had been given a second chance at life.
Jackie and Bob Skaggs had a miniature schnauzer named Pepper for 14 years. He had died in 2016. They weren't sure they had enough room in their hearts to love another "little duffer," as Jackie called them. But that changed after they found Ricky up for adoption through the Animal Adoption Center.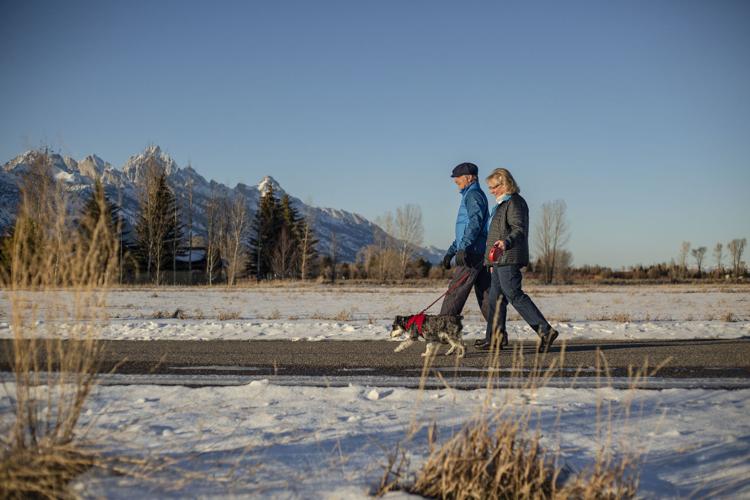 "Because of the isolation and the lockdown that we've experienced since March, it just seemed like we couldn't travel, we couldn't do some of the things we normally liked to do," Jackie Skaggs said. "We'd been thinking about, you know, getting a little four-legged to become part of our family again. It just felt like it was the time to do that."
They took him home to foster for a few days, fell in love and quickly gave him a new home, a new life and a new name — changing his Adoption Center name from "Richard" to "Ricky" — like the bluegrass musician.
"He doesn't play the mandolin," Skaggs joked, "but he can sing a little."
Ricky and the Skaggses aren't alone. In 2020 the Animal Adoption Center broke its all-time annual adoption record of 404 cats and dogs, set in 2006. The current number is 452 and counting. Executive Director Carrie Boynton says 220 to 250 is average for the year.
"It's amazing," she said. "We're so lucky to have such an incredibly supportive community. It's a special place that we live in, so many people willing to open their hearts and their homes to animals and give them a chance as a foster or as a new family member. It's pretty special stuff."
The Animal Adoption Center is generally an intake center rather than a source shelter, meaning it has room to take animals from areas that are overflowing. Boynton's team regularly works with shelters and rescues in Texas, Arizona, California, Utah, Idaho and Wyoming.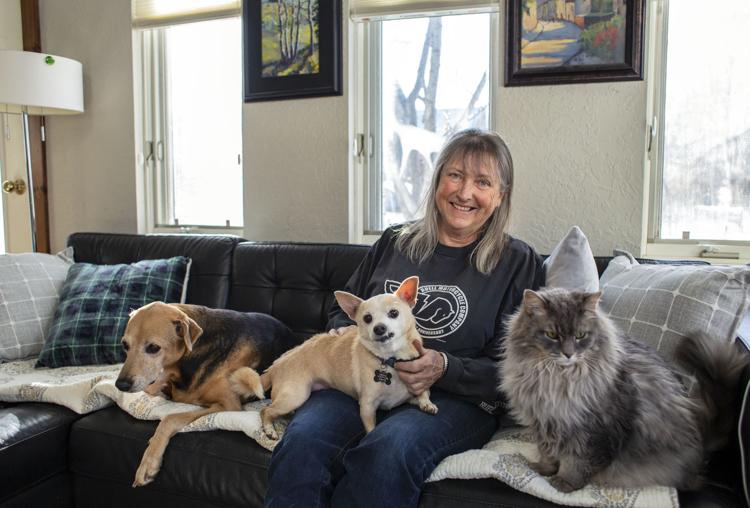 In addition to families adopting for emotional support and companionship, like the Skaggses, many adopters have had more flexibility and time because they are working from home or were waiting until after a certain trip that ended up being cancelled.
"The phone was ringing off the hook, and the emails were just flurrying in, and they still are," Boynton said. "Every time we post new dogs, we get so much interest of people either wanting to foster or adopt or dog walk. It's been super inspiring to see our amazing community just rally around homeless pets and want to do good even during these trying times."
Ricky is dark gray and scruffy with white eyebrows, muzzle and legs. He's about 10 years old but still energetic, enjoying long walks and sniffing out vole nests, though he can't hurt or bite anyone or anything, Jackie noted, because he's "just gums."
Skaggs' vet told her Ricky "wouldn't have had much of a life without you" because of his age. The couple, both considered at-risk for COVID-19 because of their age, had been turned away when trying to volunteer their services during the pandemic.
"It does make me feel good that even though I couldn't help people during COVID, I've helped this little four-legged lost soul and given him a second life for as long as he has," Skaggs said.
But unconditional love is a two-way street for the Skaggses. They never had kids and haven't been able to visit nearby family because of pandemic safety guidelines.
"We're at loose ends because we're not connected to our humans like we used to be," Skaggs said. "Having Ricky now has given me that comfort in having something to love, something to cuddle, something to hug and just feel that connection, that other being connection."
She has noticed her blood pressure drop and he anxiety ease simply by snuggling and petting Ricky.
"I admit I was depressed," she said. "There have been times where I've gotten really angry and actually cried and, you know, frustrated over the way things have been through this COVID pandemic time. And so I feel like [Ricky has] been a savior for my mental health — even though I live with a licensed professional counselor."
Kate Day, a massage therapist from Driggs, Idaho, had never adopted a dog as a puppy before, because of her full-time schedule. She had fostered two dogs through the Adoption Center when someone there asked if she'd like to adopt one of three puppies that were coming from Texas. She said yes in June and adopted Rosie, now 8 months old.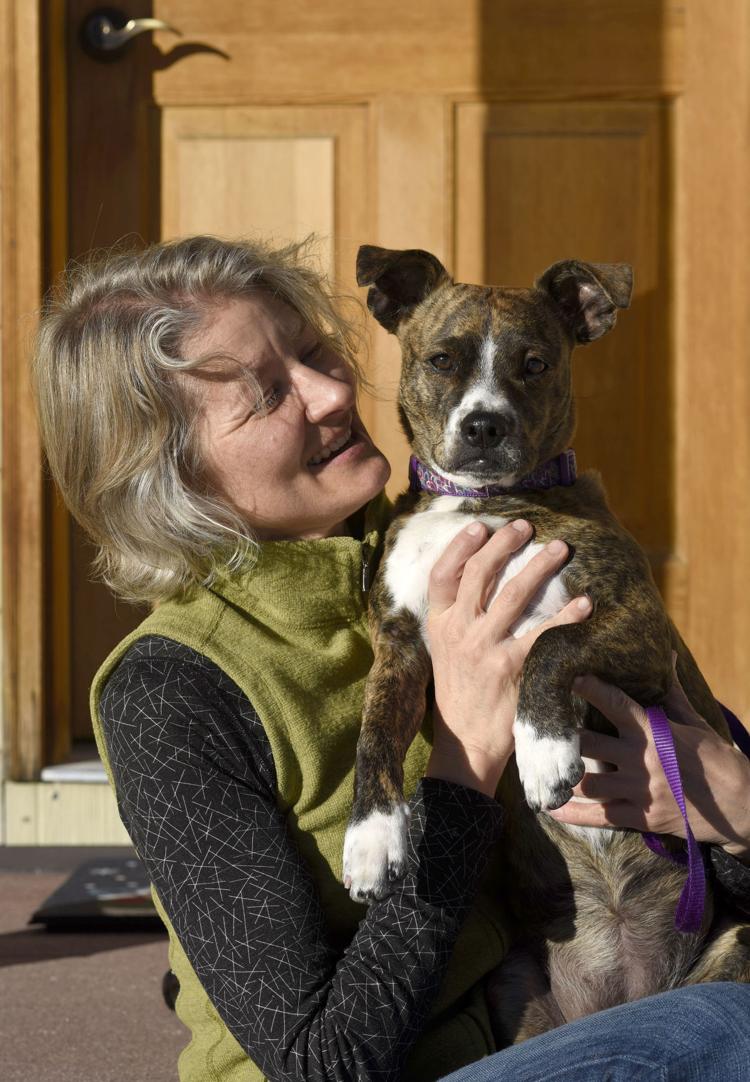 "I happened to be in this really unusual COVID-induced situation where I actually could have a puppy for once," she said. "You know, just more space and time in my life."
A DNA test revealed Rosie to be part Boston terrier, part Chihuahua, part pitbull, part boxer, part poodle and part miniature schnauzer, adding up to a 30-pound brindle mutt with a long body and short legs. She's very agile; an Adoption Center employee dubbed her a "speed sausage."
Rosie was a lot to handle at first, but she's learning the ropes of domesticated life. Day said she's spunky and playful and loves other dogs, but she has become a snuggler, too.
"I do think it is so therapeutic," Day said. "Having an animal in your life, it just keeps you in touch with the basics of another being's needs or impulses or joy that is just constant. It's not changed by the pandemic. ... It's all untouched by this craziness and all the interruptions in our lives."
Adopting Rosie and walking or running her every day "forced normalcy" on Day's life in a healthy way. Other adopters agreed that their pandemic pets have given them something to focus on "other than the woes of the world," as Skaggs put it.
Kate Birmingham and Guillermo Esteves adopted two ginger American shorthair cats from the center this summer, initially as friends for their other cat, Gus Gus, who had been "cat depressed" since the loss of his previous companion in May, Birmingham said.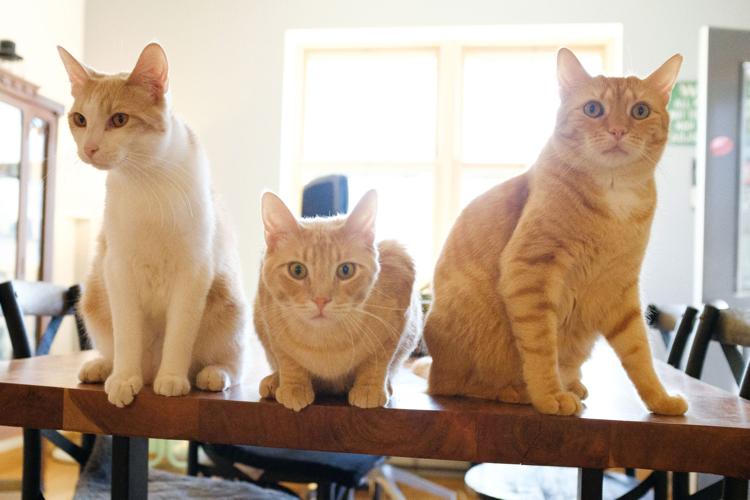 "They're our family," she said. "You can focus on your little, soft, friendly family members and cuddling with them and just not having the mire of everything in the outside world to fixate on."
Birmingham and Esteves were attracted to the two cats because their orphan names were Brioche and Crepe. They have always given their cats pastry nicknames, and they love Persephone Bakery. They adopted Brioche in June, renaming him Teddy, then came back for Crepe in August after he hadn't been adopted. They renamed him Charlie, but they still use the felines' pastry names as middle names — calling Teddy "Theodore Brioche" when he's in trouble, for example.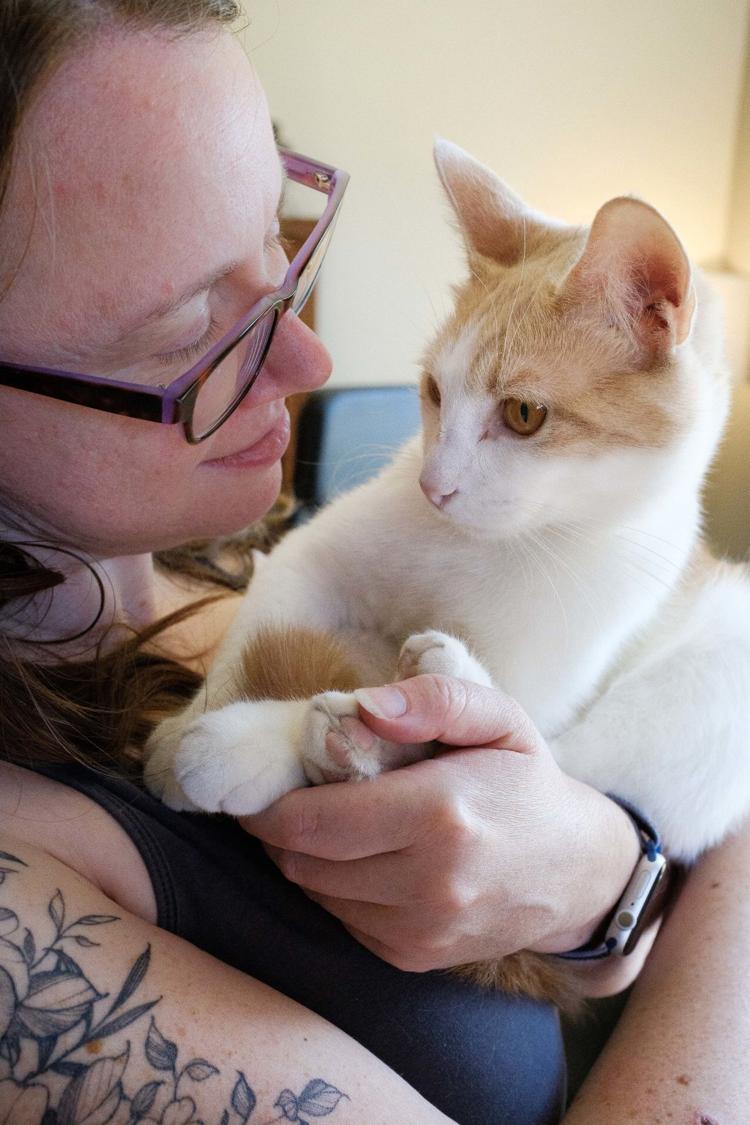 They started an Instagram account for the cat trio (@thepastrybrothers) to remotely share their antics with friends and family during social isolation. But in addition to being social media models, the cats relieve stress and are work-from-home companions.
"I'm a software developer," Esteves said, "so I spend my entire day in front of the computer. Just having a warm, purring cat on your lap, it just makes the day so relaxing. I can't imagine not having them. It's not the most ergonomic way to work — you're contorted trying to type on a keyboard with three cats — but I have no complaints."
"No complaints" was the general attitude about the adoption process, as well. All of the adopters praised the Animal Adoption Center for its communication and support throughout.
A year ago none of them knew that a pandemic would conspire to lead them to open their doors to new furry family members, but they've found the comfort, companionship and love that pets bring has made these trying times a little easier.